For a long time now, people have avoided many of Perth's most stunning beaches due to frequent shark sightings. Now, these same beaches are absolutely packed with smiling faces looking to go for a swim as far out as they wish to. You may be wondering what the reason is for this massive change, and the answer is shark nets!
There are currently seven shark nets, also known as shark barriers, located throughout WA. While three of them have been installed within the Perth area, the other four have been installed at beaches in WA's southwest region. While they are somewhat of a new thing in WA, they have already given so many people the serene peace of mind to once again enjoy the cool water on a warm day.
Now, you can swim without having to constantly freak out when you see a shadow underneath you that could be a clump of seaweed or a shark. It is important to know that there is a big difference between a shark net and a shark barrier. Shark barriers are more often made from anchored materials which don't impact smaller marine life.
Shark nets, on the other hand, are used in other states to trap sharks and are not used in WA. Now that we have deciphered the difference, let's check out some of the best places in WA to go for a swim without having to worry about sharks.
Which Beaches in Perth Have Shark Nets?
Coogee Beach
Coogee
Only 10 minutes to the south of Fremantle, Coogee Beach is always crowded with people. This is mainly because it is a hugely popular swimming spot with pontoons, a jetty, and delightful waters. It is super kid-friendly which makes it a desirable spot for everyone.
You can swim in peace knowing that shark nets have been deployed and that Surf Life Savers are on the sand every Saturday from 8 am to 12 pm and Sunday from 8 am to 3 pm. If you're wanting to make a day of it, you can take a short 20-minute walk or a 2-minute drive to the Omeo Wreck Dive Trail which is situated roughly 4o metres offshore.
It is a lovely place to explore while snorkelling. As part of a four-month trial, the eco shark barrier was installed here in 2013. However, it became permanent when it began to draw in thousands of visitors to this hotspot.
This net is roughly 75 meters wide, and 300 meters long, and made of eco-friendly materials. It extends from the sea floor all the way up to the surface in order to create a safe swimming area for everyone who visits.
Cottesloe Beach
Cottesloe
Cottesloe Beach is one of the most famous beaches in the area. This is why it comes as no surprise that there is a shark net installed here to keep swimmers safe. Known as the Cott Eco Shark Barrier, this safety net is over 170 meters long and extends out 140 meters from the shore.
Swimmers have plenty of space to splish, splash, and do long laps. Originally installed in 2019 for the summer swimming season, it is now a permanent addition from October to March. Now, it is the go-to destination and attracts large crowds every single day.
For those concerned about the environment, it is important to know that this net is made from 100% recycled materials to ensure that no damage is done to the ocean.
Quinn's Rock Beach
Quinn's Rock
Located slightly North of Mindarie Marina, Quinn's Rock Beach is a great choice for people nearby. You can enjoy a lovely stroll along the 9km oceanside trail which is the perfect way to spend your weekend. Along the way, you will spot plenty of places to eat and relax while watching the stunning waves crash into the shore.
Installed here as a shark barrier is the award-winning Aquarius Gen 2 Barrier shark net. Installed back in January of 2017, it is located slightly north of Portofino's restaurant. The shark barrier extends out for around 85 meters and runs for 300 meters along the beach.
It is installed in the summer months and removed during winter. Here, you can head off for a walk, hop in for a swim, and then enjoy a hearty breakfast.
View this post on Instagram
Busselton Jetty
Busselton
Busselton Jetty is famous for a huge variety of reasons. This excellent location is situated on a lovely foreshore with eateries, a brewery, an underwater aquarium, and a long jetty for you to wander out on. In fact, Busselton Jetty is one of the most popular destinations in the southwest of Western Australia
It is excellent for families as the beach area is so expansive, you can always find a quiet spot to sit together. There is also a massive playground to keep the kids entertained. On the 1st, 3rd, and 5th Sunday of every month, you can enjoy the Busselton Foreshore Markets after a swim too!
This beach offers Australia's one and only Ocean Guardian Electrical Shark Barrier. It is located at the very end of the famous Busselton Jetty which is over 160 years old. This unique set-up has 3 ladders with one reaching the ocean floor where Dive Tours and Underwater Helmet Walks operate from November to April.
The technology is said to be some of the best in the world as Sharks have very sensitive and intelligent electrical receptors. This causes spasms to the sharks when they come near the barrier which turns them away and ensures that everyone can swim in peace.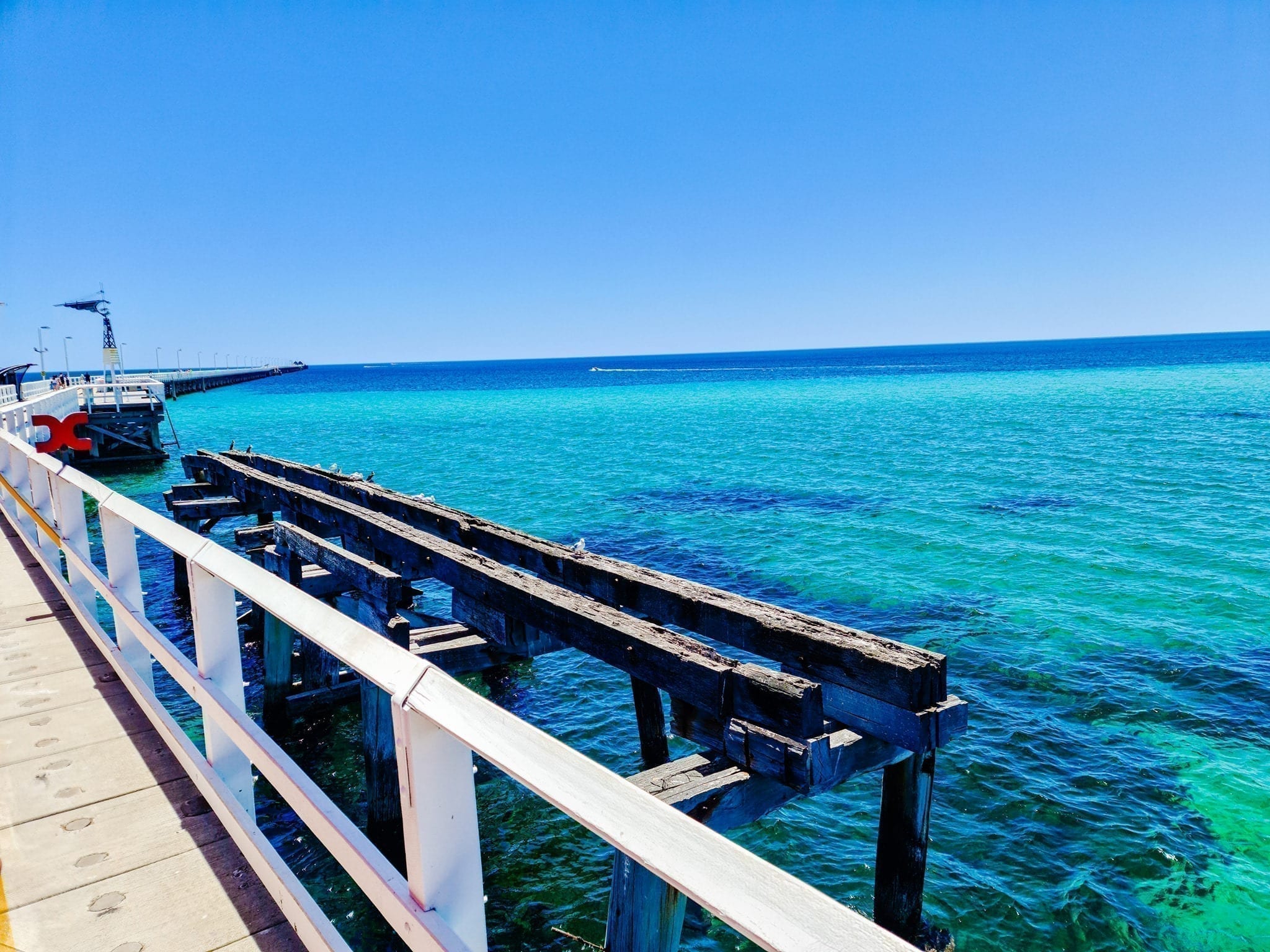 Old Dunsborough Beach
Dunsborough
For many years now, both locals and visitors have felt very safe in the calm, shallow waters of the Old Dunsborough Beach. However, it is now gaining even more popularity due to the fact that an Eco Barrier shark net has been installed to make it safer than ever before. The net stretches out for about 100 meters and runs for roughly 300 meters to ensure that families have plenty of space.
You can enjoy a swim and head off on a morning stroll to enjoy coffee from the popular Silver Bullet Espresso Coffee Van that opens every morning from 7 am. Every Tuesday, Thursday, and Saturday evening, you can enjoy very popular food trucks as well.
View this post on Instagram
Esperance Foreshore
Esperance
Esperance is well-known for having some of the finest beaches in the world with glistening white sand and crystal-clear water. In 2020, a large, 300-meter-long shark barrier was installed in Esperance Bay to keep visitors safe and deter sharks. This enclosure is rather unique due to the fact that it encloses the Taylor Street Jetty and a lap pontoon with great lane dividers.
This makes it the best place to enjoy a swim without worrying about anything. After you've enjoyed a refreshing swim, head along the foreshore and enjoy a bite to eat.
View this post on Instagram
Ellen Cove
Albany
The shark net at Ellen Cove is quite new considering it was only installed towards the end of 2020. This shark net is very strong and flexible which means that it will successfully last for the next five years while keeping everyone safe. This whole project has undergone plenty of consultation to ensure that there are better craft access points, positioning of white swimmers' distance market floats, beach anchors, and signage.
It is a great place to enjoy a paddle after a nice walk without having to worry about sharks in your area.
View this post on Instagram
If you're looking to enjoy a paddle in peace, check out which beaches in Perth have shark nets above. Say goodbye to worry and dread when you swim over a shadow and hello to a whole new world of peace and serenity while enjoying a swim! Let us know if you've visited any of the destinations above in the comments!
Sorrento Beach in Hillarys used to have a shark barrier but this has been permanently removed.
Find the best beaches in Perth for kids