Dwellingup, based in Western Australia, is the perfect place to truly enjoy a weekend getaway. Say goodbye to the hustle and bustle of the city and hello to serenity amongst nature as you've never enjoyed before. Only a small town, Dwellingup is located in the Peel Region and is just over an hour's drive from the city.
This awesome bush getaway is perfect for people who need a break from the Perth City life without an exorbitant amount of travel being involved. If you're looking for a country escape that you can enjoy without actually having to head to the country, Dwellingup is the place to be. This natural delight has a stunning forest, lovely campgrounds, a plethora of bushwalks, and plenty of mountain biking trails set up along the Murray River.
Even if you're not a fan of nature, Dwellingup has so much more than just nature to offer. You can visit wineries, cafes, creative galleries, heritage destinations, and so much more. If you need a breather from the busy city life, head out to Dwellingup and enjoy the clean air and forest feel.
Keep reading to check out our guide to Dwellingup!
Visiting Dwellingup in 2023
Treetops Adventures
Formerly known as Trees Adventure, Treetops Adventure is a super fun and exhilarating tree-top obstacle course adventure. Found at Lane Pool Reserve in Dwellingup, you can enjoy a massive variety of zip lines and challenges when you embark on this journey.
The courses are suitable for everyone, and even children as young as 3 years old can enjoy this adventure! If you need a nice hot or cold drink and some snacks, the on-site kiosk has plenty available for you to enjoy. Adults and older kids can take advantage of the thrilling heights of up to 20 metres!
Kids aged between 8 and 12 must be supervised at all times by an adult who is on course. If you're looking for a fun day out for the whole family, make sure you check out Treetops Adventure.
Tickets for Treetops Adventures can be booked online at www.visitdwellingup.com.au
Read our review of Treetops Adventures
Ranger Red's Zoo
Ranger Red's Zoo is a must-visit attraction for animal lovers in Dwellingup. This family-owned and operated zoo is home to a wide variety of native and exotic animals, including kangaroos, koalas, and dingoes. Visitors can get up close and personal with the animals, with opportunities to hand-feed kangaroos and cuddle with koalas. The zoo also offers educational talks and animal encounters, making it a great destination for families and school groups. Ranger Red's Zoo is committed to animal welfare and conservation, and visitors can feel good knowing that their admission fees go towards supporting the care and conservation of the animals.
Tickets for Ranger Red's Zoo can be booked online at www.visitdwellingup.com.au
Ride on a Train
While time travel is not real, you can experience what time travel would feel like when you ride on the iconic Hotham Valley Tourist Railway. Established back in 1974, this historical adventure is full of heritage, information, and even mystery! You can take your pick from three historical trains- Steam Ranger, Forest Train, and Restaurant Train- while you journey through forest and farmland while viewing the state's last surviving lightly built railway.
If you're a Harry Potter fan, many people have said that this experience reminds them a lot of the iconic Hogwarts Express! Every Saturday evening, you can hop on the Restaurant Train and enjoy an amazing five-course dinner in an antiquated Vintage Dining Car from 1919 and an 1884 Club Car.
As you enjoy this amazing once-in-a-lifetime dining experience, the train chugs through the forest. It is honestly an experience you will never be able to forget!
Read our review of Hotham Valley Tourist Railway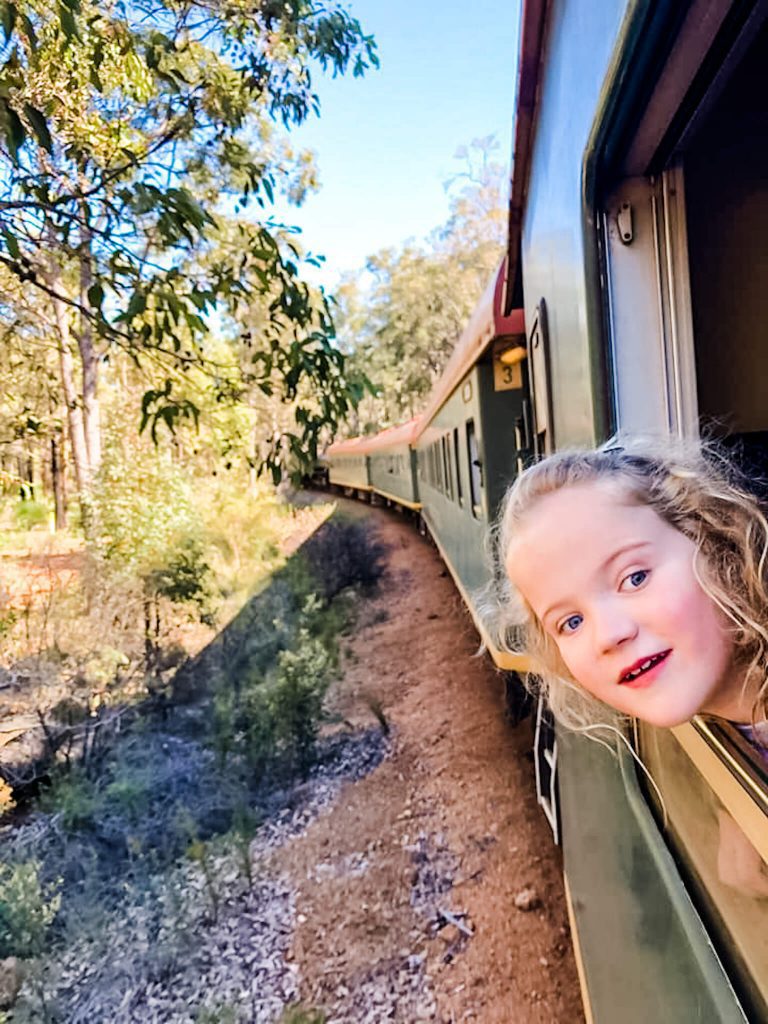 Dive Into True Inspiration
If you like to diversify your knowledge and add a touch of culture to your holidays, check out the wonderful multi-purpose artist-run exhibitions, garden café, and holiday accommodation in Dwellingup. Lost Eden Creative was built in 1940 and has since been refurbished.
It is a 150 square metre exhibition space and has a whole lot of interesting group and solo exhibitions that you can enjoy as you venture through. The gallery is open from Wednesday to Friday from 11 am to 2 pm. On Saturday and Sunday, it is open from 10 am to 4 pm. Garden Eats (the café) is open Friday to Sunday, 8am – 3pm, and host dinner events during the summer.
Visit Lane Poole Reserve
For a long time now, Lane Poole Reserve has acted as a sort of drawcard for people who are looking to camp in Dwellingup. This area is an absolutely stunning place for visitors to go swimming, picnic, launch canoes, and even have a nice barbecue. There are also plenty of bushwalks in the area that you can embark on.
They vary in length with the longest being 18km and the shortest being 1.5km. They also vary in difficulty. The fresh air here is second to none, especially in wildflower season. Even if you're not looking to camp here, the Dwaarlindjirraap area is the perfect place to spend a day out picnicking or canoeing.
The Murray Valley Mountain Bike Trails are located within Lane Poole Reserve or there are more family friendly cross-country style mountain bike trails in town.
If you visit, try to visit during the wildflower season as that is truly when this gorgeous area comes to life. Get your dose of nature in the Jarrah forests when you visit on your weekend getaway.
Keep an Eye Out for Dwellingup Wildflowers
If you enjoy spotting wildflowers, Dwellingup is certainly the place for you to visit. In spring, there are so many ways for you to spot the beautiful wildflowers in the area. In the Lane Pool Reserve alone, there are plenty of trails you can take that feature over 500 species of wildflowers!
The famous Bibbulmun Track also passes through the Lane Poole Reserve which means that you could start in one section and walk on to enjoy lots of wildflowers while you hike. Take on one of the shorter walks such as Island Pool, King Jarrah, and Nanga Brook. These trails offer plenty of wildflower spotting experiences.
Learn At Forest Discovery Centre
Learn more about the gorgeous Jarrah forests surrounding Dwellingup when you visit the Forest Discovery Centre where the learning experiences never stop. This centre based in Dwellingup is actually shaped like a leaf!
Better yet, it is only a gold coin donation if you want to do the cool Dwellingup Tree-Top Walk, visit an art gallery, walk to an old campsite and timber cutters cabin, and enjoy a massive range of forest-based crafts. Kids love this walk as it challenges them to use a massive range of essential skills. In fact, the bush essentially becomes their natural playground.
All children need is their imagination to make it happens. The nature-based play offered here allows kids to unlock many new skills and thought processes. If you plan to visit during the school holidays, consider contacting the centre beforehand to check out what activities they're hosting.
Drop By Dwellingup Town
Take a wander around the very quaint town of Dwellingup. It truly brings visitors the small-town feel that they may be searching for. There's a small playground, a great skate park, an awesome pump track and so much more.
Grab a Bite to Eat
There are several places where you can grab a bite in Dwellingup.
The Dwellingup Pub, known lovingly by locals as 'The Dwelly Pub', is a gorgeous place with a great atmosphere. It has huge picnic tables inside and outside with plenty of space for kids to run around and get some of their energy out. They even have a huge, grassed area underneath a shady tree. The whole family can enjoy a great pub feed here.
Waypoints Café is located in the Dwellingup Trails and Visitor Centre precinct, near the playground, skate park and pump track too. It is open daily for breakfast and lunch and is great for kids as it has a play corner and a massive lawn outside to run about on.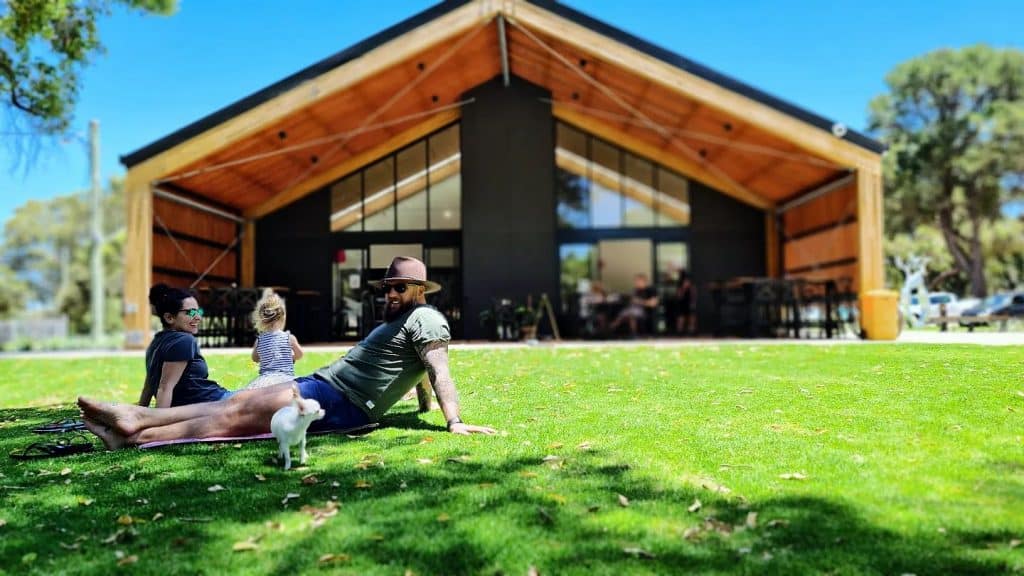 Blue Wren Café is a very cute option when you're looking for a bite to eat. The food here is absolutely lovely and the staff will make you feel at home! However, if you have busy kids who want to play, this probably isn't the place as the space for kids to play is very limited.
Longriders Cafe & Restaurant is open Weds – Sunday for Breakfast and Lunch + Dinners on Fridays and Saturdays. They offer a family-friendly menu with stonebaked pizzas and burgers, plus they host amazing Texan BBQ smoke out days throughout the year.
Embark on Some Walking Trails
There are plenty of walking trails in the Dwellingup region. The walking tracks vary in difficulty and are most often based within Lane Poole Reserve. The walks will have you busy and exploring all day long.
There are walks available for just parents or the whole family! For those interested in guided hiking tours, make sure you check out Off The Beaten Track. These tours are more targeted toward parents, as there is a reasonable distance of hiking involved with most tours.
Read our review of Marrinup Falls Walk
Go Mountain Biking
If you're an avid mountain biker, you will be pleased to know that Dwellingup has nearly 80kms of purpose-built, high-quality mountain bike trails – as part of the Dwellingup Adventure Trails network. This includes Murray Valley Mountain Bike Trails, a massive 35km network of trails that opened at the end of 2020. You can enjoy all-mountain descents, cross-country trails, and so much more! Plus, the iconic Munda Biddi Trail runs directly through Dwellingup and can be a great option for mountain biking with families.
There are plenty of trails suited to beginners, intermediates, and experienced riders. No matter your experience level, you can hit the trails in Dwellingup!
Check out Dwellingup Adventures
If you love to get active, you have to head over to Dwellingup Adventures. This is the place where you can book in to do some more fun things that will get your adrenaline pumping. You can go on a peaceful paddle down the Murray River or go Fast Water Rafting.
If you prefer to stay on land, go exploring on a mountain bike or enjoy a range of other activities! You can also enjoy a self-guided mountain bike tour or hire gear to explore Lane Poole Reserve by yourself and on your own terms.
You can book a range of tours through the Visit Dwellingup website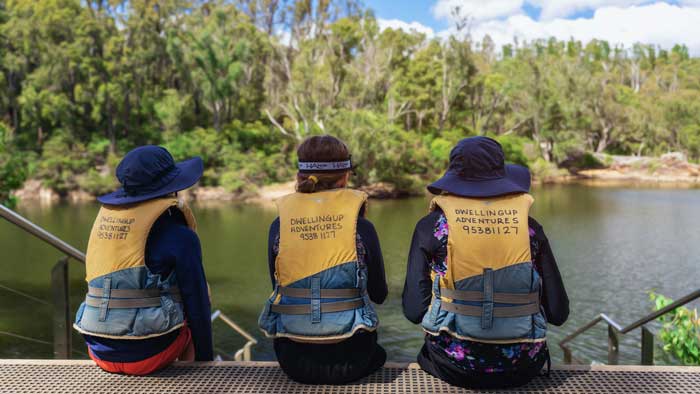 Stock Up on Fresh Fruit
Before you leave, you have to stock up on some fresh fruit from Vergone's Fruit Stall. Open from Thursday to Sunday from 8 am to 5 pm or daily during December and January, this massive fruit stall stocks a huge range of fresh fruit and veg, soups and jams, homemade treats, and even Pinjarra Bakery pies!
If you plan to visit, you have to enjoy the seasonal fruits. If you manage to get your hands on the orange cake made fresh from Harvey produce, make sure you savour every piece as it sells out fast! Vergones also offers seasonal fruit picking – Raspberry picking is always great fun with the kids in summer!
If you plan to visit the Dwellingup area, make sure you check out some of these awesome spots while you're there!
For more information on things to do in Dwellingup and to book tours and experiences, head to Visit Dwellingup.