Perth is the proud home of some of Australia's very best beaches. While they're beautiful, sometimes it's nice to not have to get all sandy when you're wanting to cool down and go for a swim. It is also nice not to have to think about stingers, sharks, and other types of scary creatures.
This is where the best hotels with pools in Perth come into the picture. Sure, you'll have to stay the night at most of these destinations, but it is so worth it to relax in these absolutely amazing pools! Enjoy relaxing, swimming, and reading a book in the shade while taking advantage of poolside ordering at these hotels.
Book a staycation and get ready to stay cool at one of Perth's best hotels with pools!
The Best Perth Hotel Pools
The Ritz-Carlton
Based in central Perth, everyone knows that The Ritz-Carlton is the best of the best which makes it very hard to go past when you're looking for a luxurious staycation in a great area. They offer a super expansive view of the city with their infinity pool. You can enjoy views over the CBD, Bell Tower, and Swan River.
This spot towers over the Swan River and Elizabeth Quay and is simply spectacular. Aside from the pool, this spot offers up some pretty amazing accommodation facilities and other areas to soak up the gorgeous sun. You could even make the most of your relaxing visit and enjoy a treatment at the spa.
There are even saunas and outdoor heated vitality pools with jets for your relaxation needs. Come on, spoil yourself, you know you deserve it. This is one of the best hotel pools in Perth.
Crowne Plaza Perth
Based in East Perth, The Crowne Plaza hotel Perth has an absolutely stunning 20m open-air infinity pool that offers gorgeous views of the green Langley Park and Swan River just across the road. You can make yourself comfortable on the deck chairs while indulging in some great poolside cocktails.
Nothing screams relaxation more like a cool pool, great drinks, and a view! Better yet, this place boasts luxury for a far more affordable price. You can enjoy a relaxed and upmarket experience without having to set yourself back or break the bank. This hotel in Perth features so much for you to take advantage of and enjoy being in the Perth City centre.
Read our review of the Crowne Plaza Perth
DoubleTree Northbridge
Based in the very heart of Northbridge, DoubleTree by Hilton is all about bringing some glitz and glamour to the area. Part of the appeal of this hotel definitely comes from the stunning outdoor pool which is very impressive. You can wander up to the third floor where you will find the poolside bar, pool, and views of the stunning Perth nightlife district.
Not only does this spot have awesome facilities, rooms, and customer service, but you can also enjoy a warm choc chip cookie on arrival! That is what we call excellent service! Better yet, you can order from the poolside bar for food orders from the Hames Street Bar + Kitchen below!
The Westin Perth
While the pool at The Westin Perth is only small, it very much makes up for it due to its expansive city view and excellent bar service. There is so much on offer at this small but mighty hotel. The pool is the perfect place to go after enjoying a workout in their large gym.
Make the most of your stay and try out all of the excellent facilities!
Aloft Perth
Families visiting the Aloft in East Perth will enjoy making use of the 18 metre heated outdoor splash pool which is connected to the hotel's W XYZ Bar meaning you can supervise the kids in the pool from the comfort of your sun lounger with one of their signature cocktails in hand.
Duxton Hotel
The Duxton Hotel has an amazing outdoor heated pool that opens up as early as 6 am. If this sounds like a good thing that suits your needs, you definitely need to head on over and check out the Duxton. The pool is open every single day from 6 am until 9 pm and allows you to soak in some gorgeous city views right from sunrise to sunset.
It is a very grand and enchanting hotel with valet services and so much more. It is a must-visit when visiting Perth or booking a staycation.
Hyatt Regency
Hyatt Regency offers up comfy deckchairs, incredibly well-manicured lawns, and a very well-sized rooftop pool. This makes it very hard to go past this stunning outdoor pool. In fact, it is the largest heated pool in all of the Perth CBD.
If size is something that really matters to you, you will find Hyatt Regency suits your needs when staying in the city. This hotel in Perth City has so much to offer with friendly staff and great rooms.
Esplanade Hotel
Many people know this hotel as Fremantle's biggest hotel. However, it is so much more than that. It houses a very delightful secret that people love, a pool! This luxurious outdoor pool is lined by a stunning palm tree oasis and is equipped with an excellent bar.
On weekends, it is the perfect place to enjoy a little pool party vibe. If you're looking to spend the weekend swimming, head down to the beach as well to keep as cool as possible! Everything is within walking distance of the Esplanade Hotel. The huge outdoor pool here allows you to soak up the sun and reach your ultimate zen.
DoubleTree by Hilton Perth Waterfront
This gorgeous hotel is set right on the Swan River Waterfront. You can enjoy stunning views of the Swan River from the rooftop pool and bar on offer at the DoubleTree by Hilton, Perth Waterfront. Head on down and enjoy a walk around Elizabeth Quay or a nice drive up to Kings Park.
Then you can come back, perch up by the amazing pool, and watch the gorgeous Perth sunset as the sun goes to sleep. This spot is a favourite amongst many Perth-ites who just want to enjoy a little staycation.
Read our review of the Doubletree by Hilton Perth Waterfront
Parmelia Hilton Perth
The Parmelia Hilton in Perth is one of the best places to go if you're searching for a luxurious experience without the massive price tag. Here, you can find the amazing Samuels on Mill restaurant and bar, an Executive Lounge, and newly renovated rooms for your comfort.
Best of all, this spot has a great outdoor pool that makes for the ideal place to laze around on warmer days! There is plenty of shade around the pool to ensure that those who like to avoid the sun can do just that without hassle. Better yet, the Parmelia Hilton is in a great location which makes everything accessible.
Joondalup Resort
If you're looking to venture a little further outside of the city, you should check out Joondalup Resort. It is the perfect place to go and enjoy some physical activity with excellent golf and tennis on offer. Then, you can enjoy their outdoor pool to cool off and unwind after a day of exercising.
The facilities here are absolutely stunning and the large pool just adds to this appeal. This is one of the best Perth hotels with a pool.
COMO The Treasury
If you're really looking to treat yourself to the ultimate staycation, they can even provide a playhouse tent for kids, it will be very difficult for you to go past one of Perth's most luxurious hotels. COMO The Treasury is a very minimalistic yet elegant hotel that provides a luxury getaway for everyone who steps in the doors. Better yet, this hotel offers up a very cool pool with panoramic city views that will make it hard to leave.
Add a couple of cocktails to your pool venture and you will have yourself lined up for the ultimate relaxing staycation! This Perth accommodation option offers so much, and paired with the outdoor swimming pool, it is easy to see why it is one of the best options for accommodation in Perth.
Rendezvous Hotel Scarborough
If you'd prefer to stay a little further out of the city, you should definitely consider checking out the wonderful Rendezvous Hotel in Scarborough. This spot has been a favourite in the Scarborough skyline for many decades now. But its biggest drawcard is most often the stunning pool.
The pool area here offers amazing tropical vibes with a gorgeous little waterfall, lush palm trees, plenty of tropical vibes, and a wonderful outdoor bar that overlooks the glistening Indian Ocean. If you can bring yourself to leave the pool, check out the foreshore area below as it is full of great restaurants and parks including the Whale Playground and Scarborough Skate Park
Read our review of Rendezvous Hotel Scarborough
Tradewinds Hotel
If you're looking for a pool area that is a little less crowded than the popular ones, you should head on over to Tradewinds Hotel. While the pool is a lot smaller than many of the ones on this list, it makes up for this due to the tranquillity you can enjoy. There are even cabanas here if you want to spend the day just lounging around.
The pool area is open from 7 am to 7 pm every day. You can order a few margaritas by the poolside, grab a good book, and enjoy a truly relaxing day in the heart of beautiful Fremantle.
Read our review of the Tradewinds Hotel
Crown Metropol Perth
The pools over at Crown Metropol have long been a very famous spot. You can choose from a massive amount of comfortable day beds on offer or order some salty chips and champagne from the Poolside Bar & Grill to enjoy the ultimate relaxation session. You can even be waited on hand and foot when you splurge on the cabana at The Pavilion. The kids will be entertained for hours with the water slides and water playground.
Read our review of the Crown Metropol
Crown Towers Perth
The hotel pool at Crown Towers most definitely gives off luxurious lagoon vibes with plenty of shade sails and deck chairs to ensure you enjoy your little staycation. You can choose to hire the plush daybeds or kick it up a notch and book a luxury cabana in The Enclave. There, you will find sunbeds, a couch, a tv, a minibar, and a dedicated host that will provide you with pretty much anything you need.
You can also enjoy a private infinity pool that overlooks the stunning river. If you're looking to enjoy a truly relaxing pool day treat, head to Crown Towers! Located in Perth, you will be in your element.
Read our review of the Crown Towers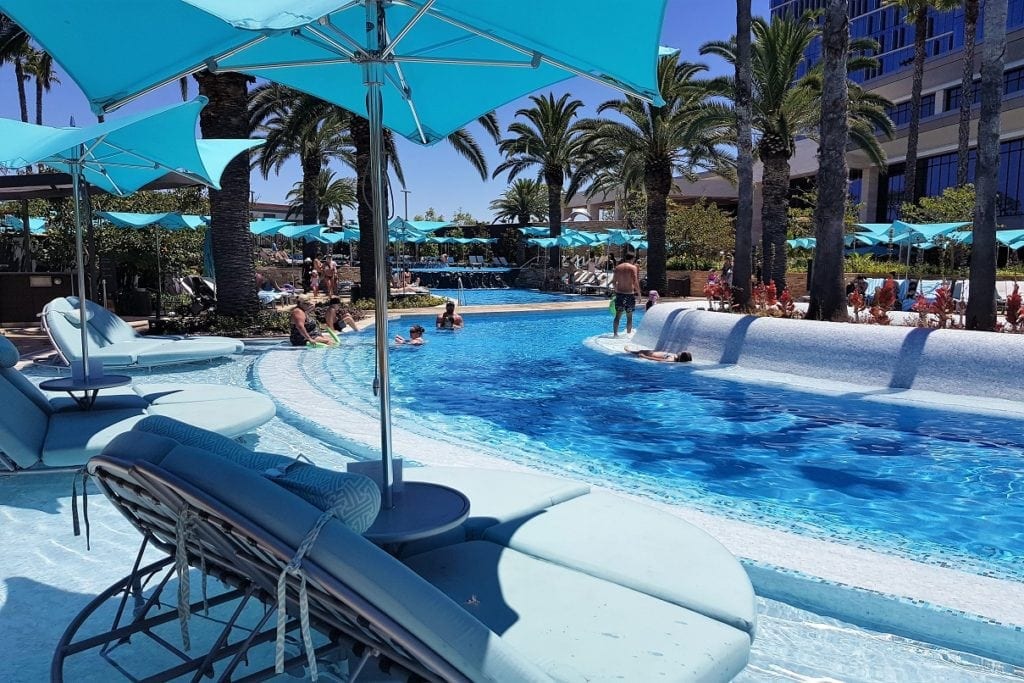 Looking for a staycation destination in Perth with a great pool? If so, all of the places above will go above and beyond to suit your needs!
Find the best swimming holes in Perth
Find the best beaches for kids