Whether you're actually an insanely good singer or someone looking to badly bust out a few tunes, karaoke is always a fun activity. You can enjoy some good old High School Musical or kick it up a gear with some old fashion tunes from Elvis! The whole family can enjoy karaoke at these awesome places below.
Great for family day outs, work functions, or some late-night karaoke, Perth has some of the best karaoke bars you will ever find. Just walk in, pick a song, and dance and sing like nobody is watching! Even the shyest people will come out of their shells in all of the great locations listed below!
So, without further ado, let's take a look at our extensive list of the best karaoke bars to plan your next day or night of karaoke fun! Let's go!
Karaoke in Perth
KARA Karaoke Perth
KARA Karaoke, based on Lake Street, is always going to be a very firm winner for us. If you like your karaoke with a no-fuss, fun, and carefree vibe, this is the place to be. You can get started early or head in later for a fun night of late karaoke.
The staff here are super friendly, and the atmosphere is insane. You can enjoy a great night out while singing your favourite songs at this sweet little singing spot. If you're looking for a truly authentic and exciting karaoke experience, you have to check out this karaoke bar in Perth.
Prince Lane Bar
Prince Lane is an awesome place to be that has multiple areas. It has the Glamour Bar, the Public Bar, the Rooftop, and the specially serviced Karaoke Suite in the upstairs area. There is so much fun to be had here.
The only catch is that there is a minimum spend of $600 in this room. However, it is a massive room that can easily cater for up to 38 people. The more, the merrier and cheaper really! The Prince Lane's space is perfect for groups and the karaoke suite is designed for comfort and quality.
If you're looking for a spice that offers room hire, this suite is designed to cater for exactly that. Just book your spot and waste the night away while singing great tunes!
Strike Bowling
If you're not down to enjoy a game of mini golf or bowling at Strike, you could always opt to check out their awesome private karaoke rooms which are perfect for the whole family! All drinks are delivered directly to your room. Better yet, all of these rooms are equipped with top-of-the-range audio and visual systems.
Each room is home to costumes and props for all of your photo opportunities. If you're looking for a karaoke venue with an awesome karaoke system and so much more, this is the place to be.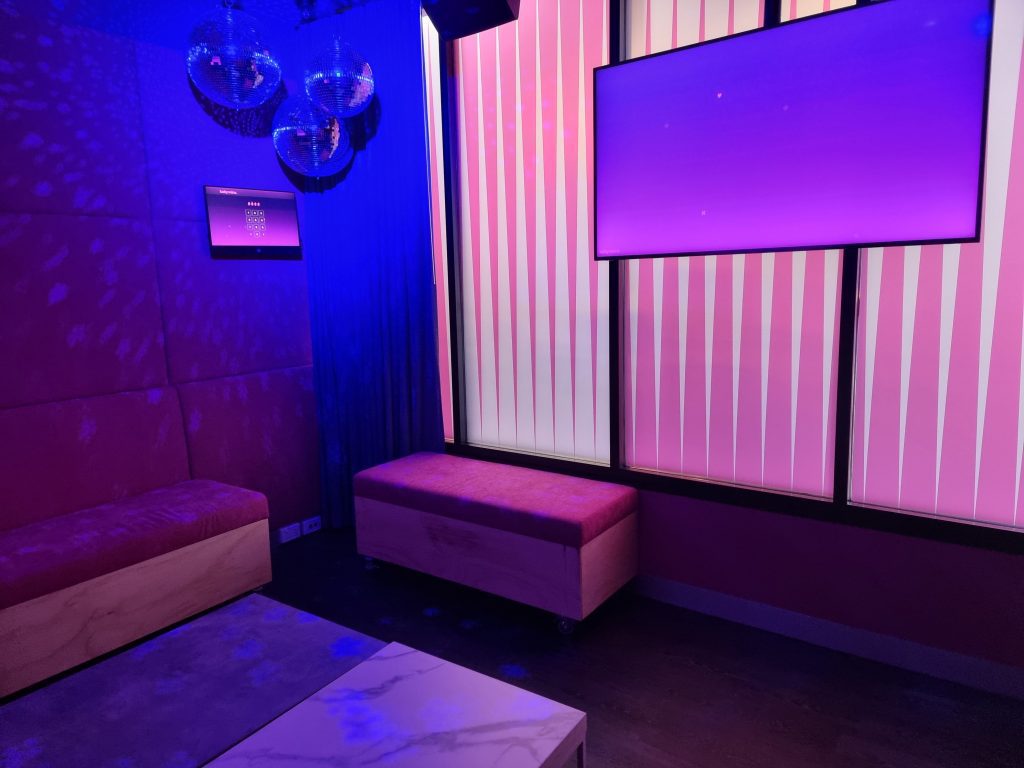 The Royal
The Royal is a cool little place decked out in stunning red velvet couches, a disco ball-esque chandelier, record covers, and the best retro vibes you'll ever experience. This will set the tone for a beautiful evening with family while you belt out some music classics.
You will not be able to get enough at this cool little karaoke bar. This room can be booked from Tuesday to Sunday and can fit between 6-15 guests. Please also note, there is a minimum spend at this venue.
This spot will make you feel good and reach new levels on the microphone!
Ferrara
Ferrara Bar, based on the beautiful Queen Street, has been around for almost 30 years now. This means that it is one of the best karaoke spots around that truly knows what it is doing. Tuesday features amazing drinks at excellent prices while Thursday is used as Musical Theatre Night.
However, there are no private booths at this venue. So, just make sure you're keen to put your performance hat on. At this venue, you can dress to impress to fuel your confidence on the stage. Ferrara Karaoke Bar, you will fit right in.
Crown Karaoke and Hit Studio
Crown Karaoke is a super awesome location that is based smack bang right in the middle of Chinatown. Crown has a great menu of delicious menu items and share dishes that will keep you full and ready to sing. It is a fully licensed venue, but you can BYO wine or sparkling if you're wanting to.
The private room has a minimum $250 spend which will be very cheap if you head down with a group of people. The team here also look after Hit Studio which is situated right around the corner. Hit Studio Karaoke offers many different packages depending on your event or party.
You will be taken straight to your room to enjoy an awesome song selection, an intimate experience, and so much more. All you need to do is book a room and have a good time.
Galaxy Lounge Karaoke Restaurant
Galaxy Lounge is a favourite spot for people in Northbridge. It offers a super cool variety of the very best and latest R&B and hip-hop tracks from artists such as Post Malone and Cardi B. This spot in the heart of Northbridge is always attracting celebs so you may even get lucky and see some there!
This spot offers awesome food selections and the luxurious set out will have you living out your popstar fantasies. Seriously, you won't want to miss spending time at this awesome destination. This exclusive karaoke restaurant definitely deserves a spot on the list of Perth's best karaoke bars due to the immense amount of fun to be had here.
Next time you're in Perth, make sure you check out all of these amazing karaoke options! Enjoy a night or day of singing your heart out to some awesome tunes and enjoying time with your family and friends. Once you've been, come back and let us know about your experience in the comments below!
Whether you've got family to take or friends, you're guaranteed to have fun because karaoke brings people together!