Perth's Outback Splash in Bullsbrook offers the ultimate family day out! With 20 year-round attractions and 7 vastly different water attractions including 4 brand new waterslides, it is the perfect place to be creating lasting memories this summer for families with children of all ages!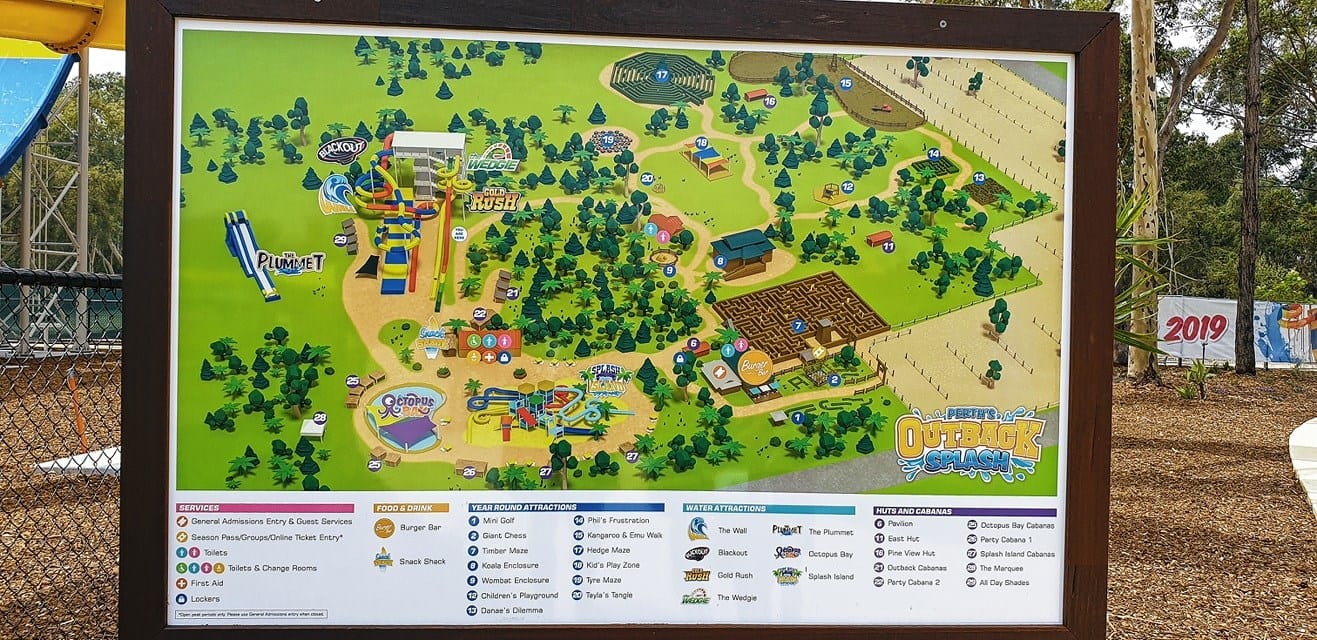 The latest attraction is a huge 17.5 metre high waterslide tower – the slides have already been dubbed as Perth's most thrilling waterslides! The tower features The Wall, Blackout, Gold Rush and The Wedgie, the minimum height requirement for all 4 slides is 120cm. The 101 steps to the top is a great workout 😉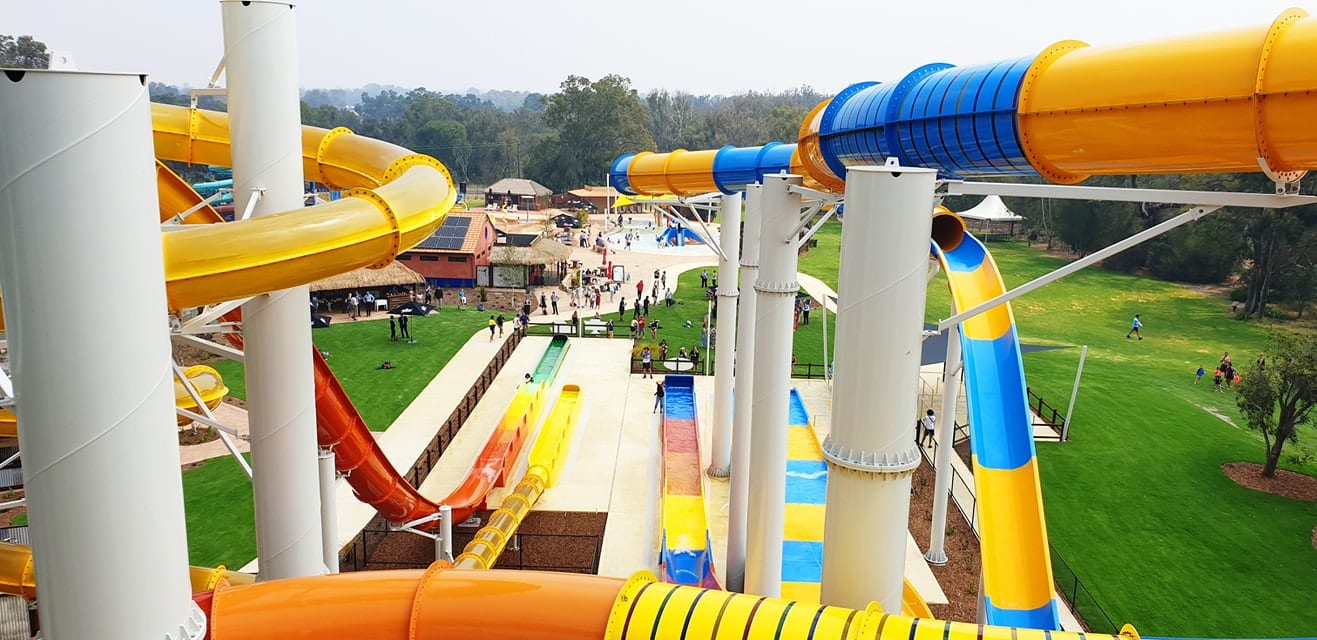 The Wall is a mammoth quarter-pipe raft slide and the only one of its kind in Western Australia. It features natural light effects and an almost free-fall drop, engineered to deprive you of your senses – it definitely gets the heart-pounding! The Wall is a 2 person raft slide.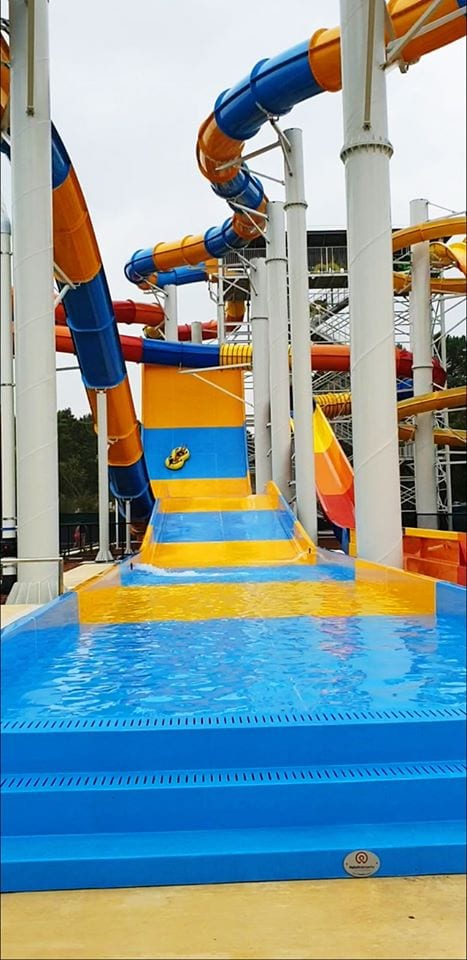 Blackout features a sequence of pitch black and overwhelming natural light effects that are mind-blowing! This twisting turning slide is a 2 person raft slide.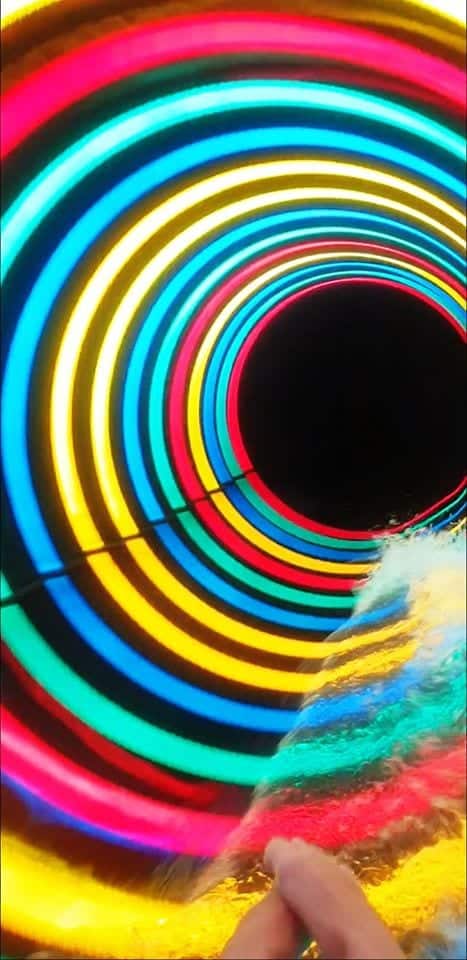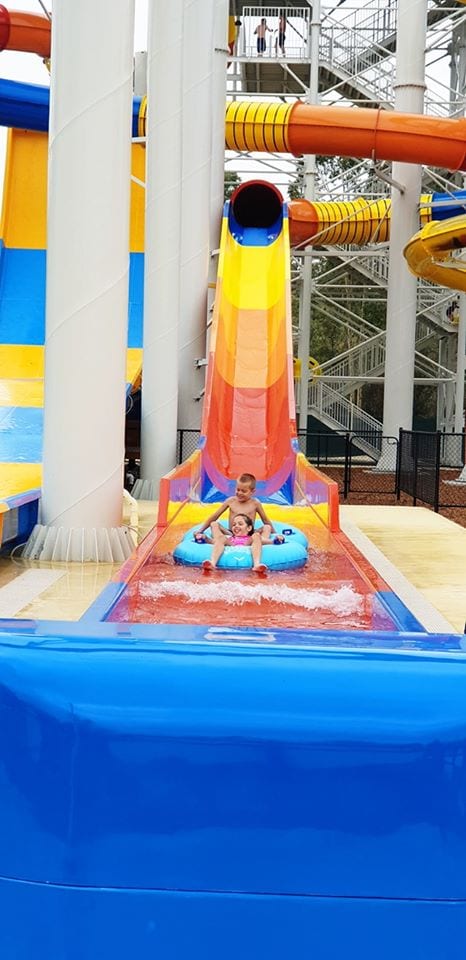 Gold Rush is a great one to build your confidence as it is tamer than the other slides, the translucent gold slide means the rider can not only see out but spectators can watch from below. The Gold Rush is a 1 person body slide.
The Wedgie is for extreme thrill-seekers and the name says it all! At 75 kilometres per hour, The Wedgie is WA's fastest body slide.
Younger children will love Octopus Bay which caters for children aged 0 – 10 years.
Octopus bay features a shallow, beach entry splash pool partly covered by shade sails which are perfect for younger children to cool off in.
A popular feature is the Octopus slide which consists of 3 slides covered by a water umbrella.
For the little ones, there is a super cute rainbow fish slide.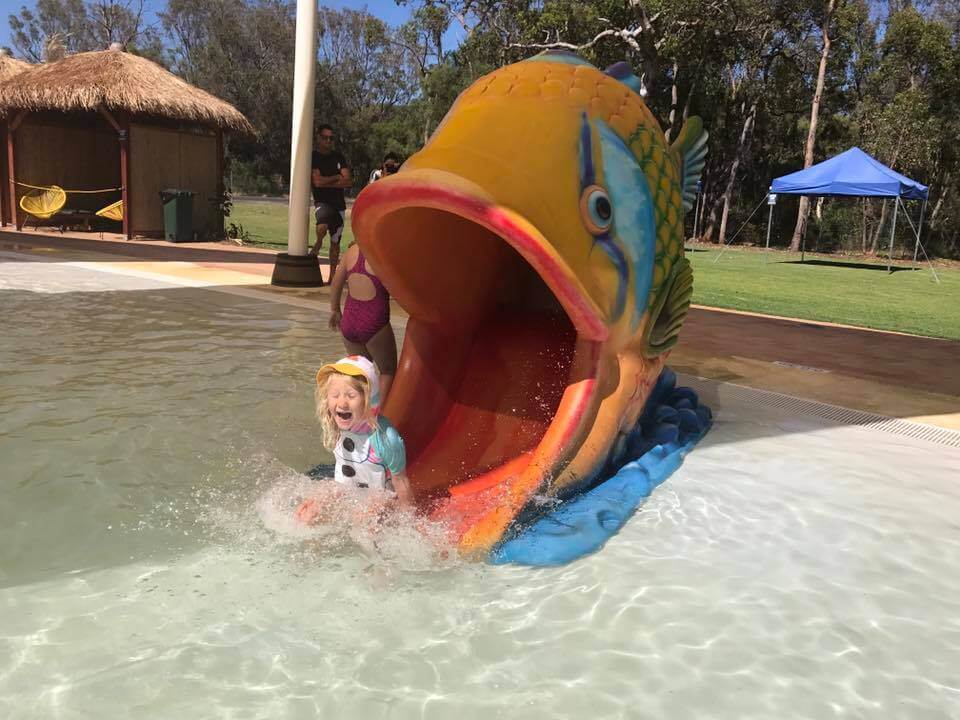 The kids really enjoyed the mini tipping bucket which showered down water at regular intervals. This is great for the younger kids who find the tipping bucket at the big slides a bit too heavy for them – my 6 year old was knocked off her feet with the force!
The main water attraction at Outback Splash is Splash Island, the 3 storey offers something for all ages with 6 water slides – 2 lane toddler slide, a family slide and 4 larger slides.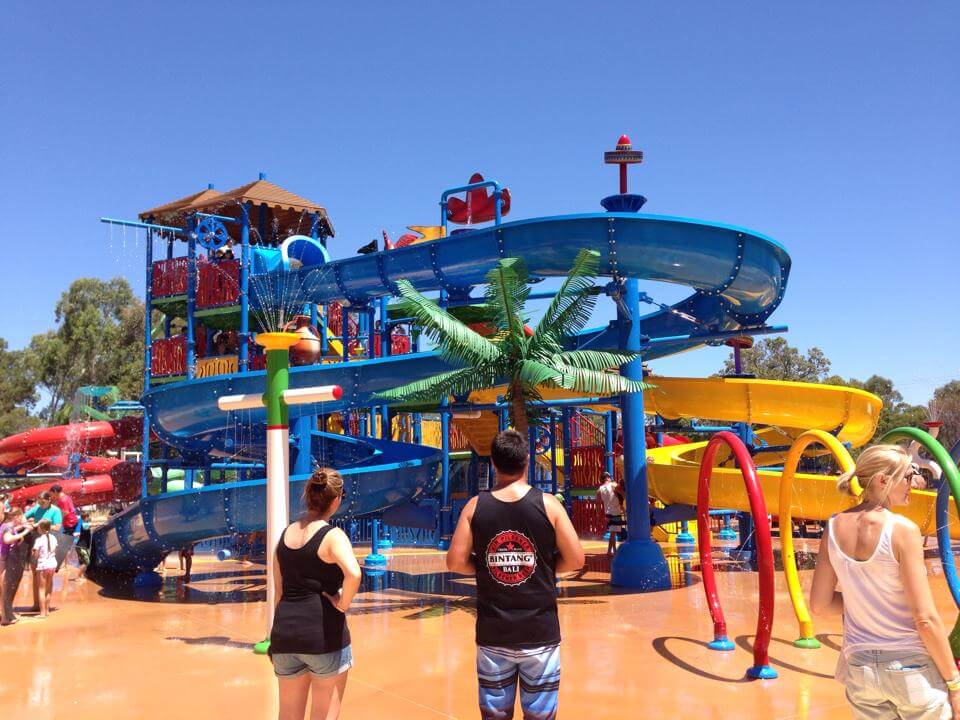 Families with young children will enjoy the 'splash' area which has a multitude of water jets and showers.
The two-lane toddler racing slide is a big hit with the younger kids. Even on a busy day, you don't have to wait more than a minute for your turn.
Kids must be 100cm tall to ride the yellow and red slides and 120cm tall to ride the green and blue slides. Only one person is allowed to go down the slide at any time.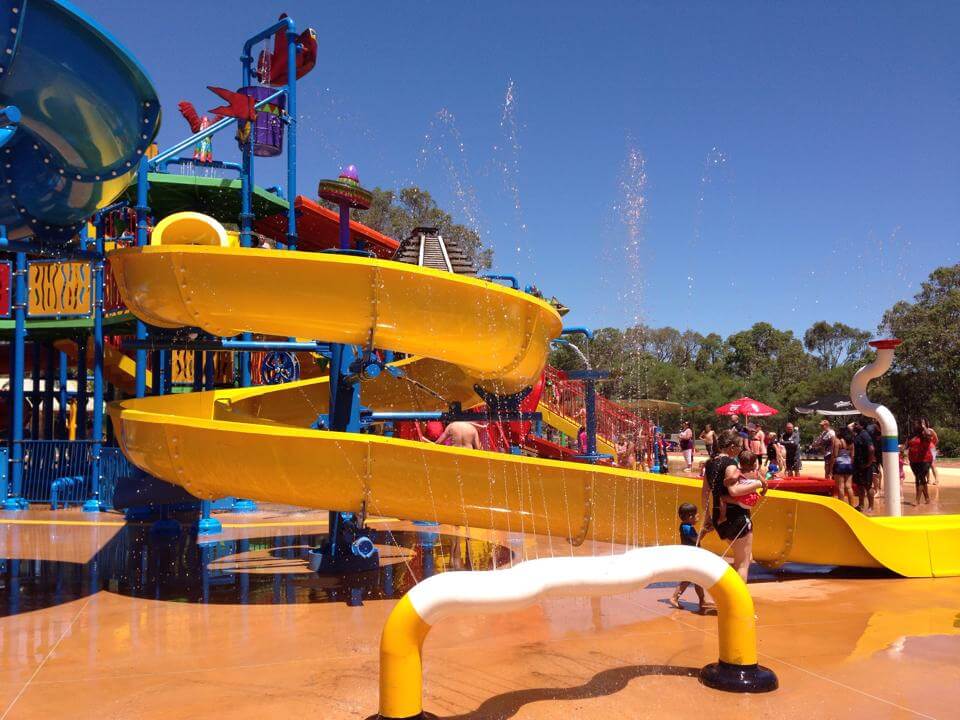 There is a large blue family slide which enables 3 people to ride at once. The younger kids love this one and again the queue for this goes down very quickly.
The centrepiece of the slide structure is a huge tipping bucket which, without warning, tips out 1,000 litres of water. If you are stood underneath, nearby or are queuing for a turn on one of the slides – you will get wet!
If you are feeling brave you can take a turn on The Plummet, a 10-metre inflatable slide with a 7-metre drop! Not one for the faint-hearted! Riders need to be 110cm.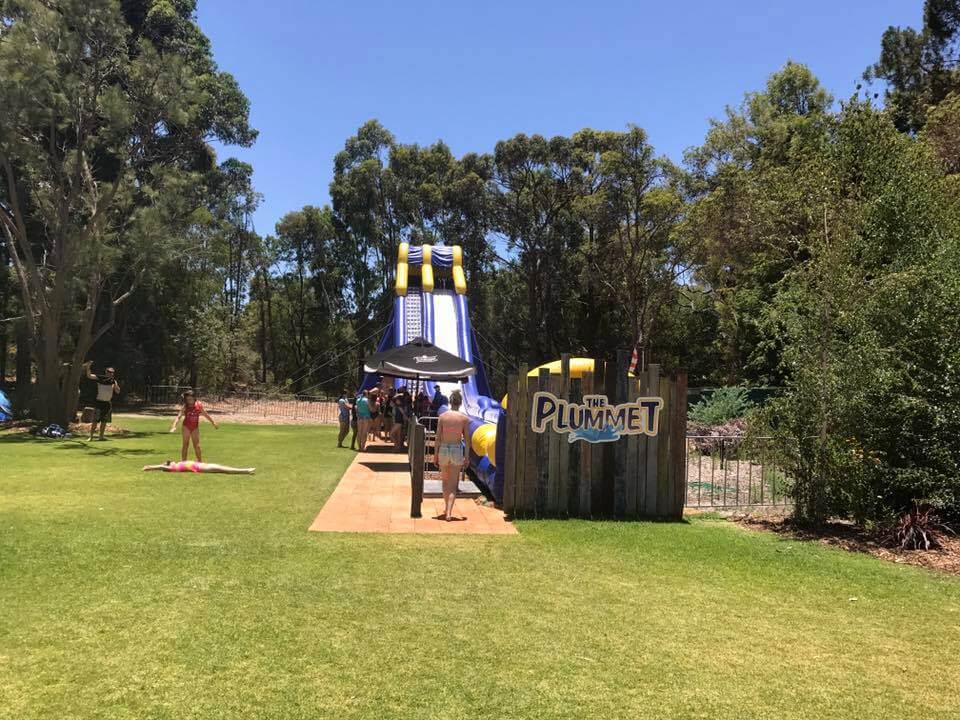 Around the perimeter of the water playground is many sun loungers – most of which have shade. If you wish to secure a couple I'd recommend arriving early or later in the day when people start to leave.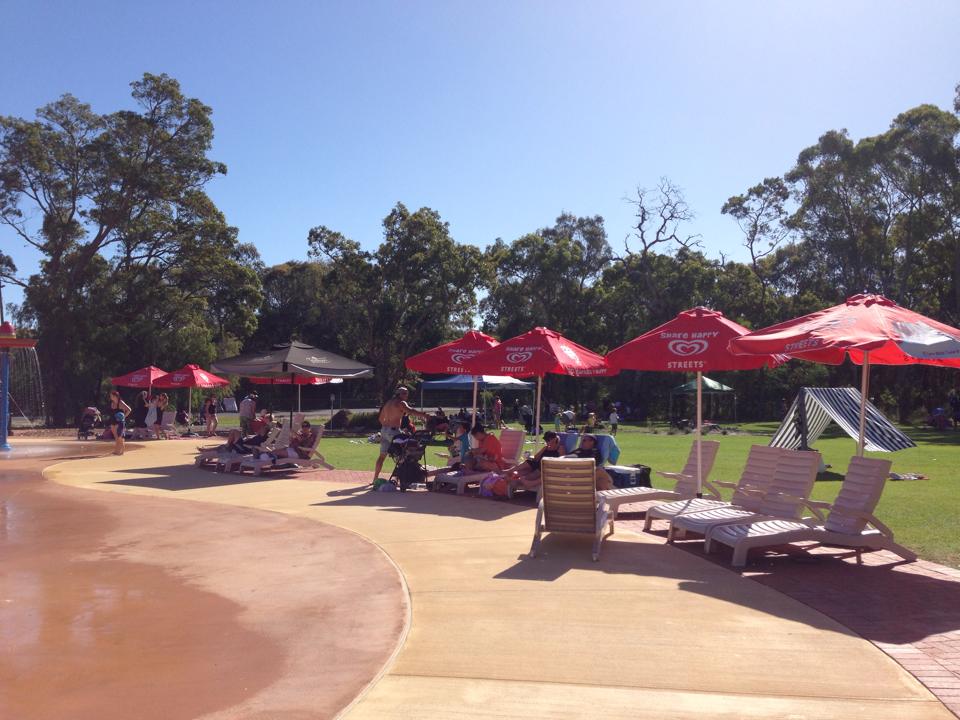 If you are willing to splash the cash then you can hire out one on their cabanas for the day. Available to hire for $75 are Splash Cabanas (2 available) located next to the waterslide playground and Bay View Cabanas (5 available) located next to Octopus Bay. The cabanas are suitable for 4 -6 guests and include 2 sun lounges,2 deck chairs and 6 complimentary bottles of water.
If you have a larger group then check out the Party Cabana which includes a large picnic table, 4 sun loungers and 12 complimentary bottles of water.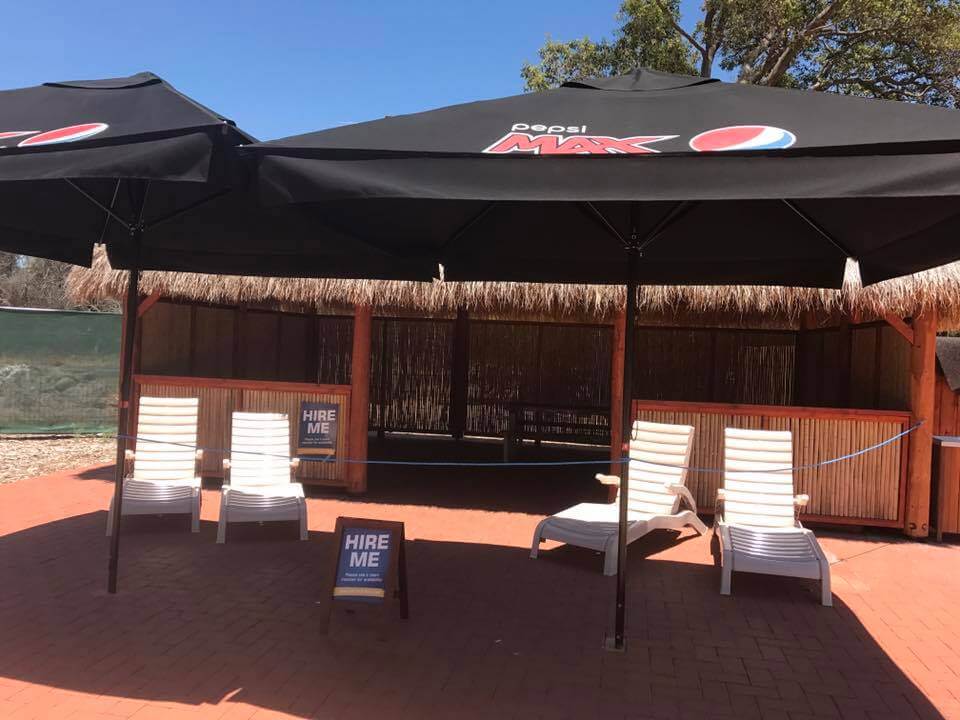 If you do miss out on securing a lounger there is a huge grassy area next to the water playground where many families had pitched up with their own sunshade from beach umbrellas to large gazebos.
Look out for Pablo, the mascot of Outback Splash, who pops up every now and then and squirts people with his super soaker!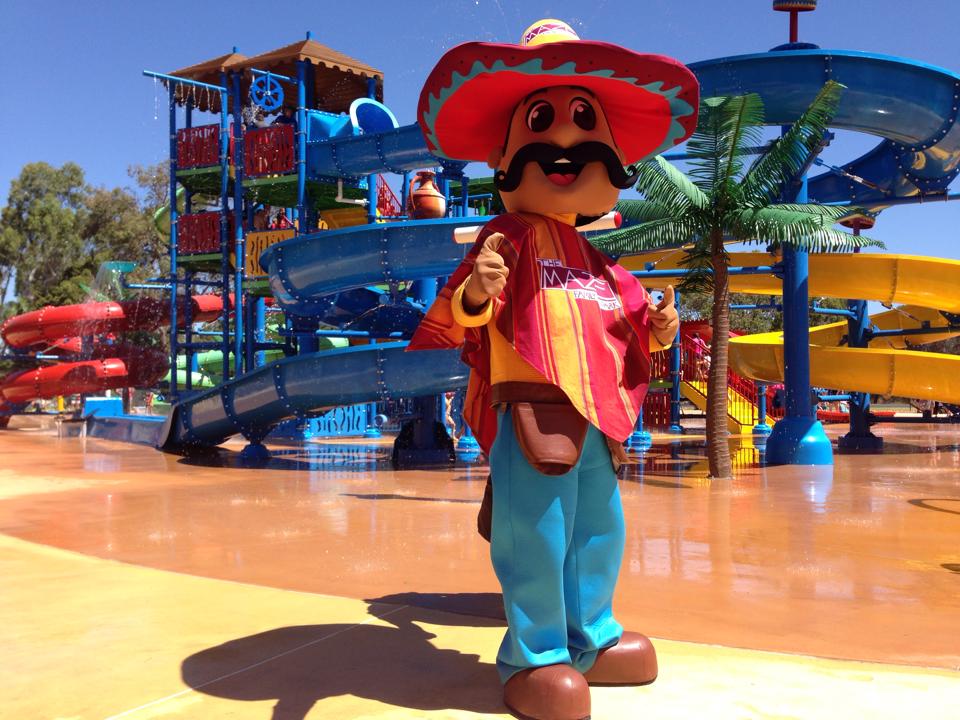 Right next to the water playground is a toilet block that includes showers and changing rooms. You'll also find lockers to store your belongings.
Feeling hungry? There a snack kiosk serving pies, sandwiches, sausages, ice-creams and cold drinks. If you need a coffee or a more substantial meal then you'll find these at Café Iguana.
Once you've finished getting wet and wild don't forget that The Maze has so much more to offer! You'll find mini-golf, many mazes, a playground, koalas, emus and camel rides. There are many free BBQs dotted around so why don't you bring along your sausages and burgers! You can mind out more in our review of The Maze.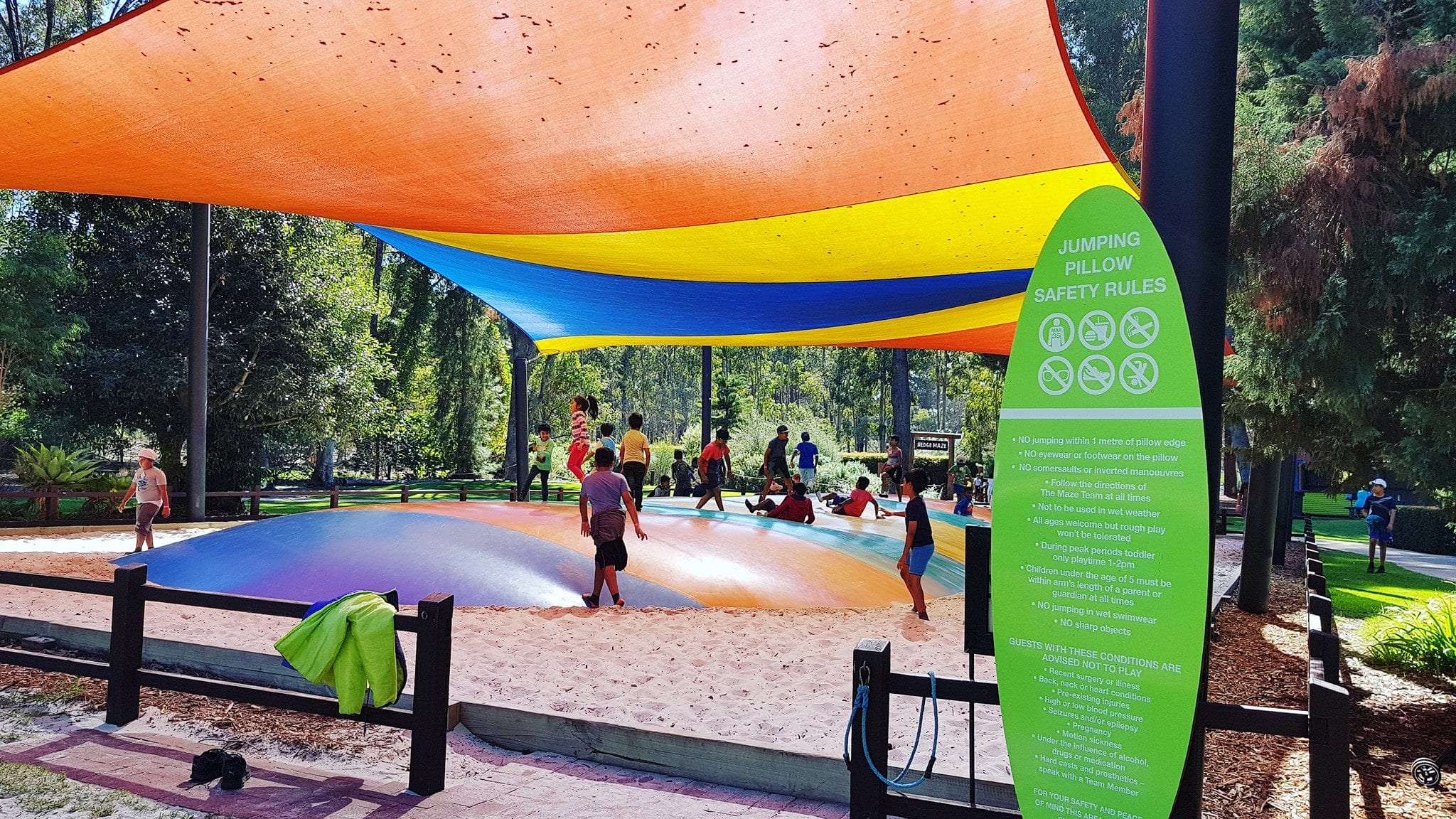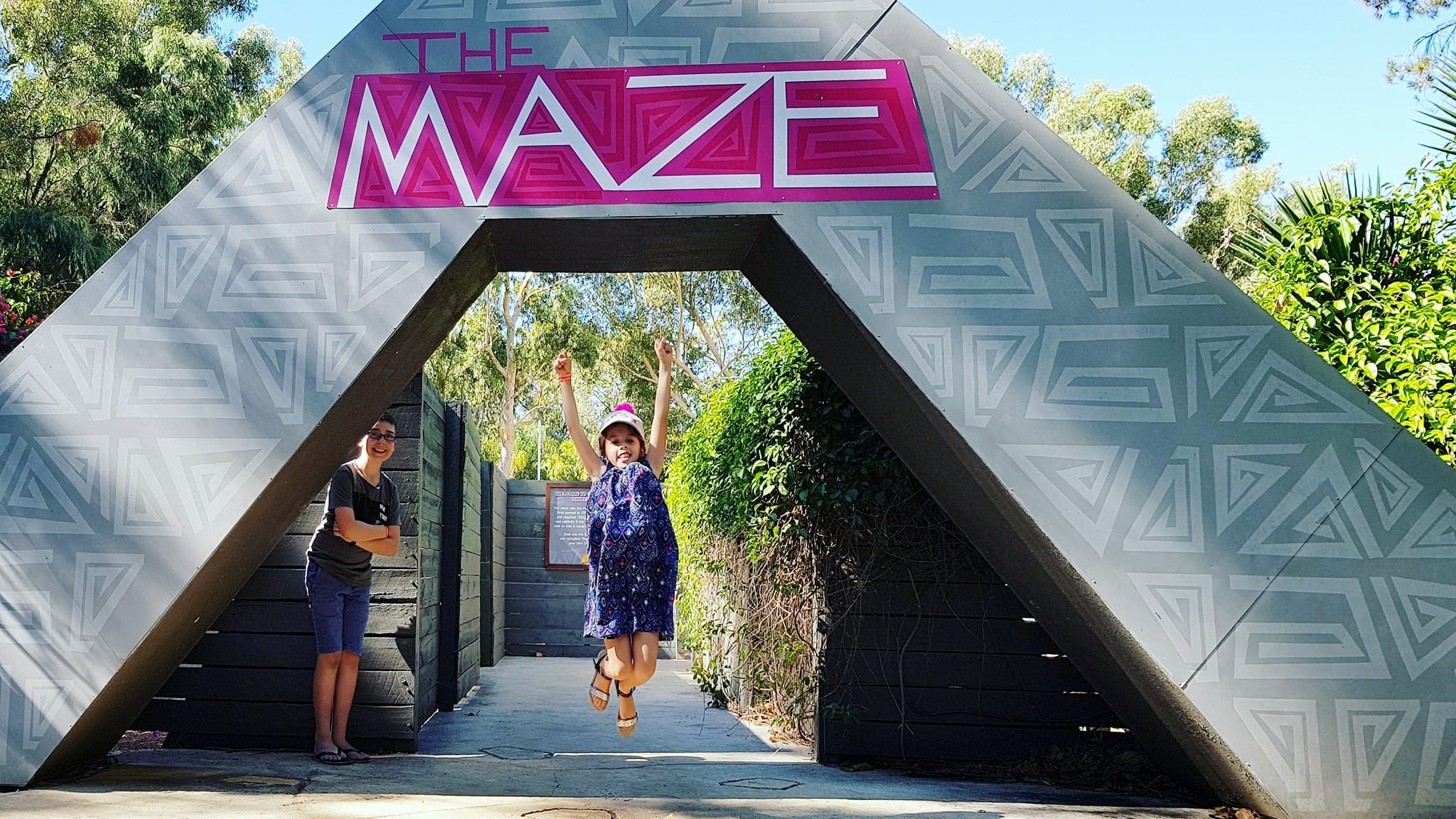 Perth's Outback Splash
Outback Splash is open Wednesday to Sunday during the school term and every day during the school holidays. Also, open all WA Public Holidays excluding Christmas and Boxing Day.
For more information visit the website.
Find more places to visit in Perth
Find more water parks in Perth