Leisurepark Balga is a family-friendly swim centre and gymnasium situated in the heart of Balga.
With the weather warming up, we've been getting out and checking out nearby pools. Miss 3 has been loving it!
On entering the pool section after changing, we found two heated indoor pools. The leisure pool was of main interest to Miss 3. This has a gradual beach-style entry, which goes from ankle deep water to 0.70m deep towards the middle.
In the centre of this shallow, toddler-friendly beach section, is a cute fiberglass stingray. Miss 3 thought he was great to climb up and slide off. In front of Mr Ray, as we called him (a shoutout to Finding Nemo!), there are some small water jets to play in, both under and at the shallowest part of the water. Mr Ray has a line of small holes along the edges of his wings, so we're not sure if he maybe sprays some water too.
Attached to the leisure pool is a 0.20m deep paddling pool, perfect for the tiniest of swimmers. Miss 3 enjoyed a splash in this to kick things off. We also found a bucket with a few kids pool toys to play with by here, as well as having brought a couple of our own.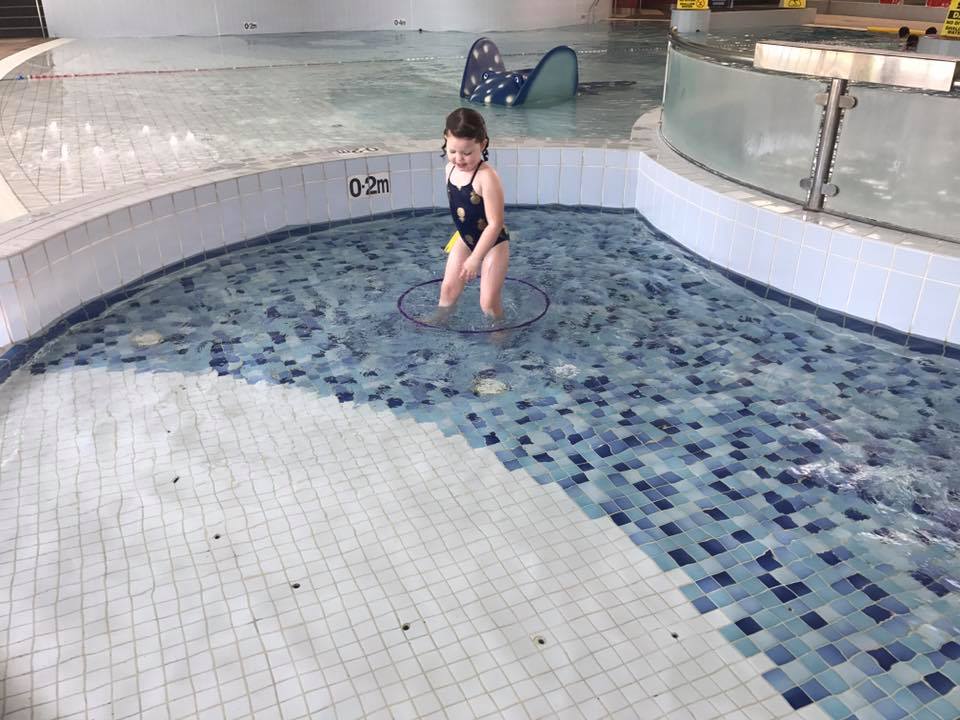 Also attached to the leisure pool is a slightly deeper 0.90m turbo channel ride. This has jets in the side of the pool which swirls the water around and adds resistance if you choose to swim against them, and a whirlpool in an alcove.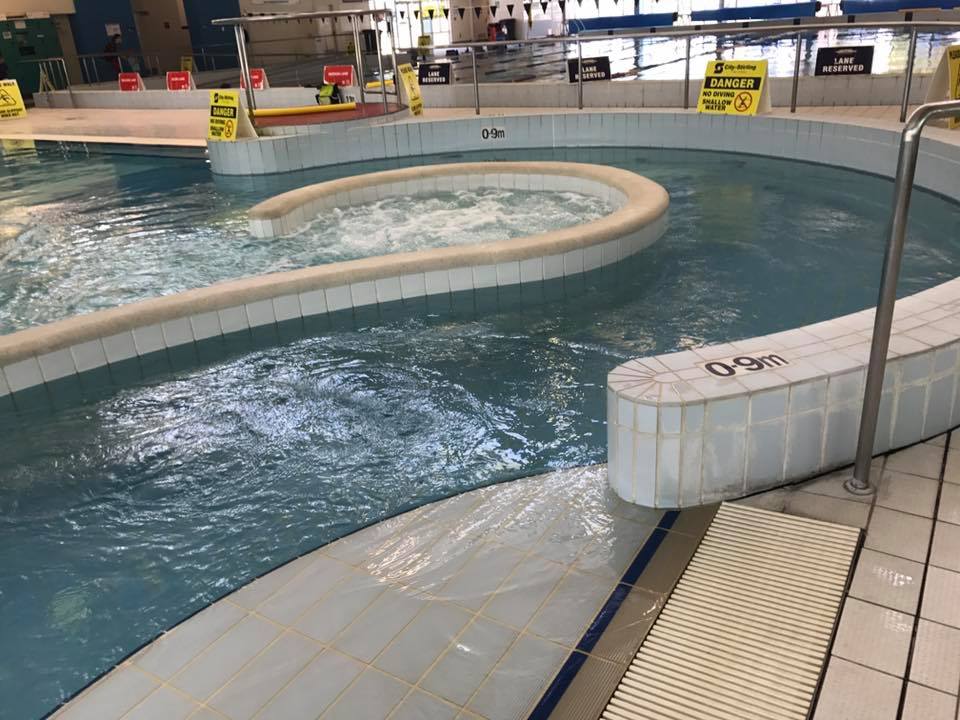 Miss 3 thought this ride was fun to navigate through on a pool noodle with Mummy helping. It's a section that adults and bigger kids with kickboards or floaty toys would get more enjoyment out of though.
Walking through the leisure pool, it takes you across through the 0.70m deep water to a slightly more shallow 0.60m section with steps. Here we saw instructors giving lessons to primary age children. They seemed gentle and patient, incorporating fun into their lessons. We haven't tried out the lessons here, but would consider it having seen the instructors at work.
Through the doors at the back of the centre, past the leisure pool, is an outdoor splash pad. It was unfortunately far too cold and windy on the day we visited to enjoy it, being about 19 degrees outside, but we did see the water in action and it would be a fun play area in summer. There are water jets that spray out of the ground, an arched structure to run through with jets spraying in different directions, and a tree-like structure with buckets which fill up and randomly dump water on anyone waiting below, similar to the one at Hyde Park.
Inside, towards the front of the centre, in front of the changing rooms, is a 25m lap pool. The depth of this one starts at 1.1m and is also heated. Each lane is clearly signposted for different activities or speeds of swimming. Parts of this was in use for older primary school children having swimming lessons in the day we visited.
One of the big rules of visiting this pool is for parents to put their phones away. This is for safety reasons, as parents should be watching their children around the water at all times. I was asked to by a lifeguard as I'd taken mine in to snap some photos, and only got the okay to have it with me briefly when I explained why I had it. So be prepared to grab a happy snap before you go in, then put that phone away.
As of mid-October, we noted that the centre seems to be undergoing a bit of a facelift. There is some scaffolding at the front, the reception looks brand spanking new, and the cafe is currently closed, so we assume soon to be undergoing a refresh too.
In addition to the cafe and pool, we also found a crèche available for pool and gymnasium users. If you're a busy parent or carer wanting to exercise, but you need someone to watch the kids, this looks a convenient option. The crèche is open from 8.30am-12.30pm Monday to Friday, 8am – 12.30pm Saturday, and 8am – 12pm Sunday.
As previously mentioned, we haven't tried out the swimming lessons here. However, the instructors seemed to be gentle and encouraging. The kids involved in the classes seemed to be having fun whilst learning confidence and safety in the water. See the website or enquire at reception for further details.
Leisurepark Balga also has a Kindy Gym program available for children aged 12 months to 4 years. This is a group class, and a great way to meet other mums and dads, as well as developing your child's social skills and exercising through fun and play. Bookings are essential.
Leisurepark Balga is located on Princess Road, Balga, near the corner of Balga Avenue.
Leisurepark Balga is open 6.00am to 8.30pm Monday to Friday, and 7.30am to 7.00pm Saturday and Sunday.
www.stirling.wa.gov.au/Recreation
Find more aquatic centres in Perth