Perth is known for its lovely beaches. However, there are also many pools, dams, and lakes that deserve recognition for many reasons! Pack your very best bathers, start your car, and check out some of these great swimming holes this summer around Perth.
Swimming Holes to Visit in Perth, WA
Rocky Pool
Kalamunda
Situated in the Kalamunda National Park, Rocky Pool is a great freshwater swimming hole. All you need to do is head out for a hike on the Rocky Pool Walk Trail and end with a swim in the refreshing water.
The walk starts at Spring Road and ends at the pool. However, if you'd like to go to the pool directly, just go on a short drive to the parking area on Schipp Road which is only a very short walk away from the pool. The pool is always in full flow after heavy rainfall, so this is said to be one of the best times to visit.
However, it is always gorgeous. In summer, just find a shady spot along the bank, and enjoy a dip at this secret swimming spot near Perth.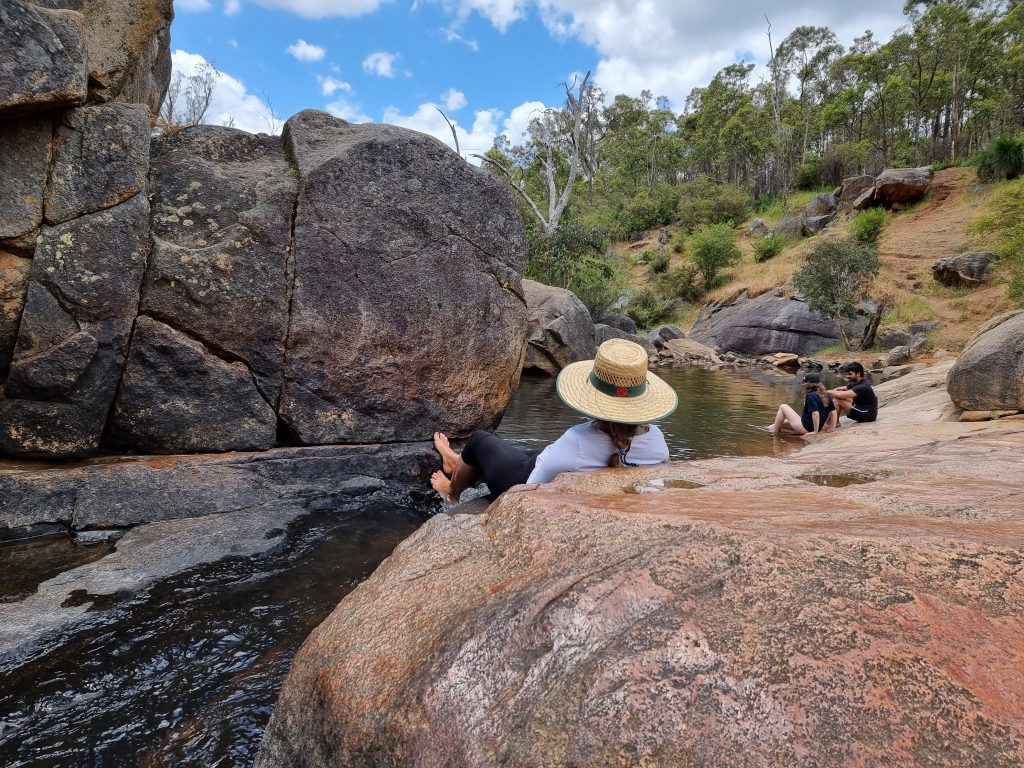 Lake Leschenaultia
Chidlow
Only a 55-minute drive from the CBD, Lake Leschenaultia is a gorgeous and tranquil swimming spot located within Chidlow. It is surrounded by natural, native bushland and has plenty of shade around the area. The lake itself is surrounded by picturesque white sandy beaches and a pontoon sits in the middle of the lake.
This is a very family-friendly swimming hole as the water is very calm. It makes for a great day trip and is best to visit in the warmer months. There are multiple natural swimming holes in this area. Get some sand between your toes and visit this natural spot that makes for the perfect day trip.
Oakley Dam
Pinjarra
Oakley Dam is very close to Pinjarra and only a 1 hour and 15-minute drive from the city. This is one of the hot spots and is super popular and sits right alongside the famous Munda Biddi Trail. Park at the end of Scarp Road and enjoy a small walk to the water to access the dam.
This spot has plenty of upsides including picnic tables, bushwalking trails, and a breathtaking view of the dam itself. Swimming is excellent here, though you will need to be wary of leeches.
View this post on Instagram
Logue Brook Dam
Harvey
Logue Brook Dam is a very popular spot for many reasons. Not only is it peaceful, but it is absolutely gorgeous. Best of all, it is dog-friendly which means that the whole family can come!
This spot is ideal for paddling, swimming, fishing, and even kayaking! Only 10 minutes out of Harvey, this dam also has an area for water skiing for thrill seekers! The dam is surrounded by nature trails for you to adventure on.
You can even try out the Bibbulmun Track as it weaves through the bushland surrounding Logue Brook Dam. You never know, you may even spot a kangaroo or two!
Honeymoon Pool
Wellington National Park
Situated near Collie, two hours from Perth, Honeymoon Pool is one of the hottest tourist destinations right now. This lovely swimming pool is situated in an enchanting and secluded setting nestled along the lovely Collie River. Camping is available here and swimming is a given.
With gorgeous peppermint trees overhanging, the pool itself is very shady and cold, even in the warmer months. There is also a nice decked area that allows the pool itself to be very accessible. It is one of the top swimming holes in the Perth region and only a two hour drive from Perth.
View this post on Instagram
Black Diamond Lake
Collie/Allanson
If you're on social media, we are certain you've seen this picturesque lake near Collie. In fact, Collie only really hit the tourist map due to this body of water! This swimming hole is known for its crystal-blue waters that provide once-in-a-lifetime opportunities for kayaking, swimming, and even just some sightseeing!
The blue hue of Black Diamond makes it the perfect place to snap some photos. On a sunny day, the way the sunlight reflects off the water and limestone rock base makes it sparkle. The Shire of Collie doesn't recommend putting your head underwater as it can result in sickness.
It is often noted as one of the most famous swimming holes in Perth and Western Australia. It is always at the top of the list when it comes to swimming holes in WA. If picturesque swimming is what you're after, Black Diamond is the place to be.
Serpentine Dam
Serpentine
Serpentine Falls, also known as Serpentine Dam in the Serpentine National Park is a very popular destination. Situated only 55 km south east of Perth, this flowing waterfall swimming hole is stunning. Just make sure you show up early as it gets very busy, very quickly. Trust us, you will want to beat the crowds!
The gates open at 8:30 am, and there is an $15 park fee. Better yet, hit some of the natural trails and then enjoy a cool-off session in the water.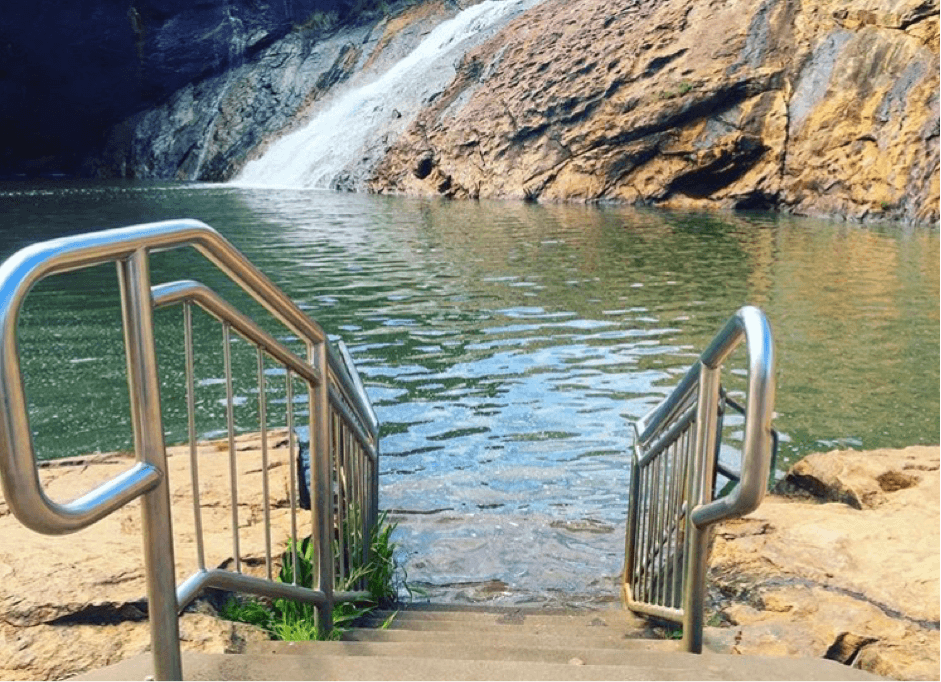 Lane Poole Reserve
Dwellingup
Situated in Dwellingup, Lane Poole Reserve is a peaceful spot along the Murray River. There is plenty of space to enjoy canoeing, mountain biking, bushwalking, and SUPing. You can also camp here if you're looking to make it more of a weekend adventure and enjoy natural swimming.
It is one of the nicest swimming holes within the Perth region.

Pemberton Pool
Pemberton
Visually, Pemberton Pool is absolutely spectacular. In fact, when people see photos of it, they tend to think it's photoshopped. However, we promise you that Pemberton Pool boasts pure, raw, and unfiltered beauty.
This massive dam was created by damming Lefroy Brook and is flanked by the beautiful Karri Forests along one side. The water itself reflects the scenery around it which creates a mirror-like image to make this destination even more striking.
The small flow of this fresh pool makes it a lovely place for the whole family to swim. There are three different sections around that make the whole experience safer. There is a small toddler pool, a kid's area, and the main area which is very deep.
All the other areas are shallow to ensure safety for toddlers and kids. A small jetty in the pool makes an ideal place to dive into the freshwater at this great spot.
Big Brook Dam
Pemberton
Built back in 1986, Big Brook Dam is a great dam for recreational activities. There is also a sandy beach area which is a favourite for people who want to swim. You can also walk along the sealed 4km walking trail that follows the outside of the dam.
Better yet, it is entirely accessible for wheelchairs, prams, and bikes. Dogs are allowed at this site. However, they must be on a leash and they are not allowed around the beach area.
If you enjoy fishing, this dam is filled with trout for people who enjoy casting a line.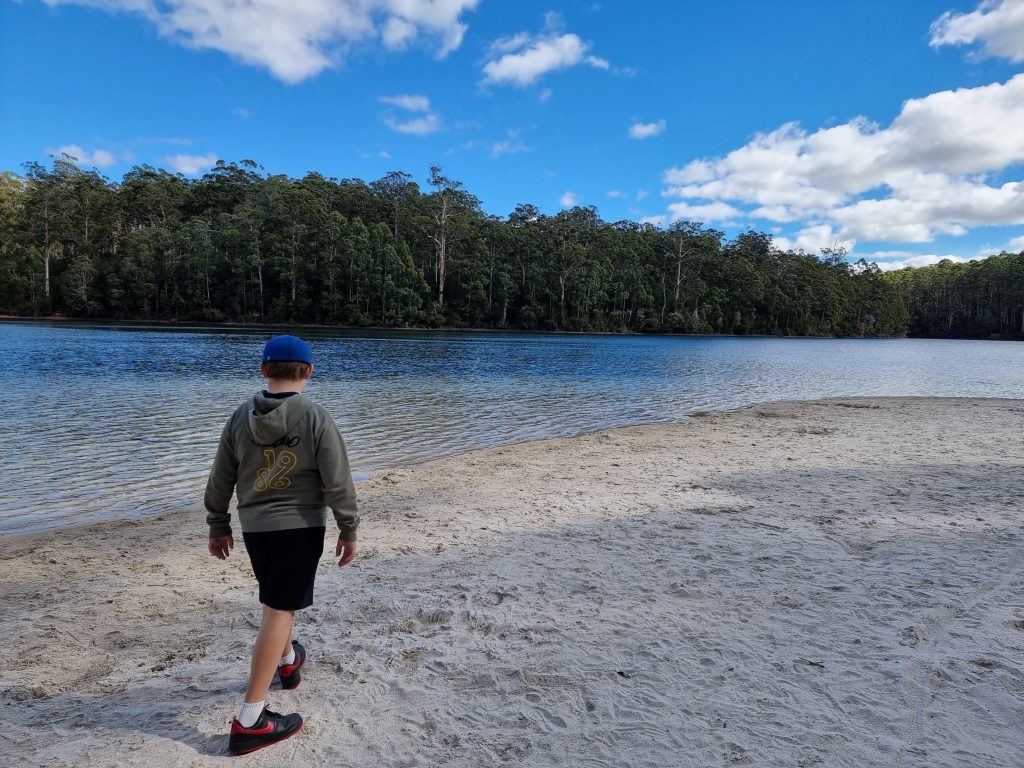 Drakesbrook Weir
Waroona
This weir isn't overly popular, but it certainly should be! Drakesbrook Weir, also known as Lake Moyanup, is a stunning gem based in Waroona. It makes for a perfect weekend drive for a nice family outing.
You can go swimming, have a picnic, or even go canoeing in this lovely area.
Stockton Lake
Collie
Stockton Lake was originally a coal mine. The underground mining began in 1927 with the pit being created in 1943 for open-cut mining. However, in 1960, the pit was filled and turned into a recreational lake.
Nowadays, it is a very popular spot for people who enjoy camping and water sports. You can explore the town nearby, hike some beautiful trails, and even go mountain biking. This lake is super popular and only a 15-minute drive from the famous Black Diamond Lake where you can also take a dip.
The turquoise waters practically glow in summer which also makes it a very Insta-worthy place. Even your pooch will enjoy their visit to this perfect spot! Just make sure your canine companion is on their lead at all times. It's a popular camping spot with calm waters.
Now that you have read our ultimate guide to exploring Perth's best swimming holes, you will know exactly where to go next time you are looking for swimming holes near Perth.
Which one of these destinations is your favourite? Let us know below!