When in Bali it can be hard to drag yourself away from the hotel pool. But if the kids need a change of scenery check out Circus Waterpark. While smaller than Waterbom, it is a lot quieter and cheaper with heaps to do for little kids.
Located in Tuban, just north of the airport, it's really popular with locals. If you visit mid-week it's really quiet, we've been twice and on our last visit had the entire park to ourselves! Entrance only costs 230,000Rp (approx. $23) for adults (inc. 1 towel hire) and 150,000Rp (approx. $15) for kids (inc. 1 bottle of water). Lockers are only 10,000Rp (approx. $1) and cabanas start from 35,000Rp ($3.50) per hour. A small café is on site. You cannot BYO water or food but you can leave them at the entry and collect them when leaving.
Upon entry, the first thing you see is the large splash pad area for younger kids. At its centre is a big boat with slides coming off it. You'll also find small slides, fountains, sprayers, a family slide and a huge tipping bucket. The floors are paved with dark local stones and can get hot so make sure your toddlers know to walk only on the giant blue foam mats shaped like feet.

The cabanas are in the centre of the park and ringed by the lazy river which starts and finishes at the main pool.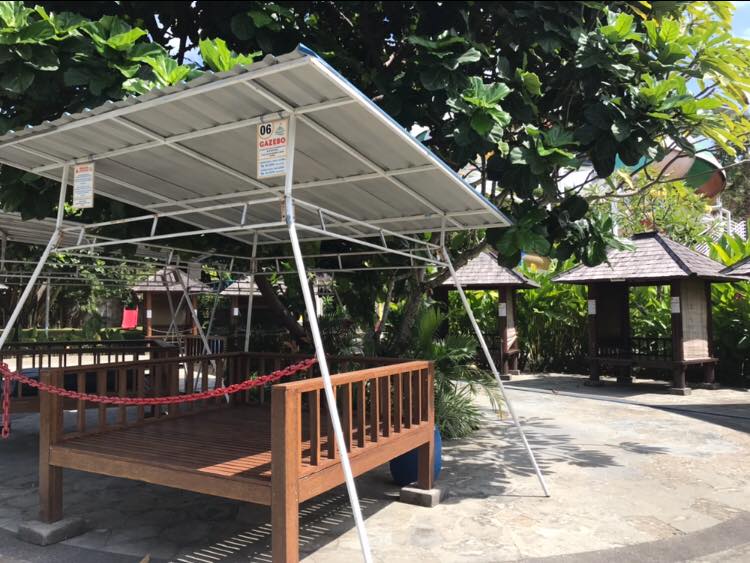 Beyond the cabanas are two huge winding tunnel slides, one of which you can ride tandem with the kids. On the other side are some straight speed slides, another spiralling slide and a massive "U" shaped wave slider. If you want a workout you can use the lap pool for a small additional fee.

There may not be some of the huge thrill seeking rides found at other parks, but we don't go on those anyway! There is enough to keep the kids entertained for a couple of hours. There's no lines or queues to get on a ride, though you may have to wait for a staff member to turn it on for you if no one is using it!
www.facebook.com/CircusWaterParkBali