Would you rather be a kid in a chocolate shop or an adult in a coffee shop?
What if you could have both??
I discovered Commonage Coffee Co. Café and Roasting House recently and it was the ideal place to meet friends for a coffee, tasty treats and to let the kids run around in the huge gardens. What I was not expecting was it to be attached to Yallingup Chocolate – its sister company.
Absolute BONUS!
We took a long look around the chocolate shop enjoying the delightfully sweet aromas, beautiful chocolate displays and a sample taste of their delicious chocolate. There is so much choice I really was like 'a kid in a sweet shop'.
I settled for a jar of Raspberry Sherbet rock candy which I can highly recommend!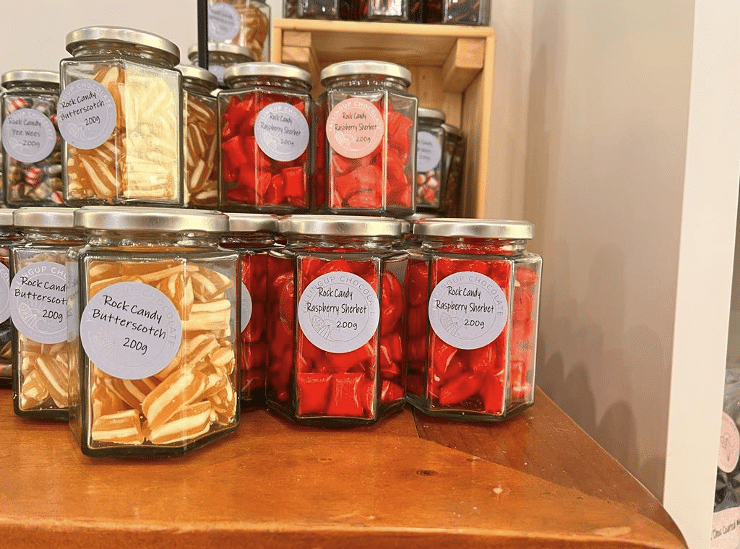 And a bar of milk chocolate cashew rough. Again, I definitely recommend!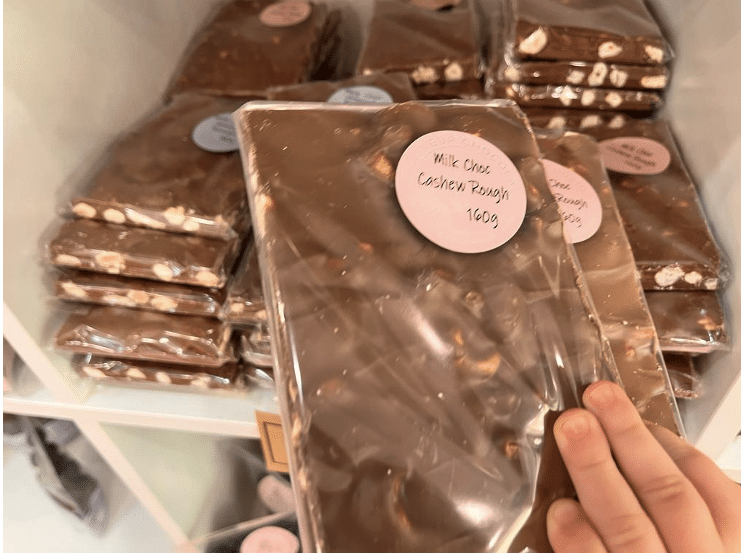 Next time I think I will try a bottle of chocolate dots, but it will not be easy trying to choose a flavour.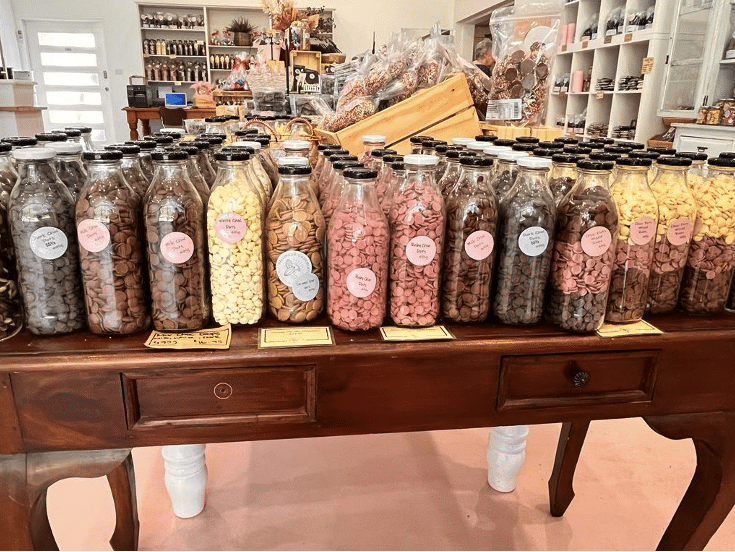 Staff were friendly and attentive. The shop is immaculately clean, tidy, and well thought out with room to manoeuvre a pram or wheelchair. It is ideal for buying a thoughtful gift for friends and family or treating yourself. The website boasts that the chocolate is hand made with love and it really shows!
It wasn't long before the welcoming scent of coffee filtered through and had us heading through the adjoining room to see what we could find. The café has a welcoming seating area and comfortable sofas to retreat to. Staff were welcoming and friendly.
We headed up to the counter to order and it took us a little while to choose from the tempting cabinet. There was a plethora of croissants, bagels, toasties, and sweet treats. I opted for the white chocolate and raspberry muffin which was huge!! It is one of the tastiest muffins I have ever had, and I have eaten a lot!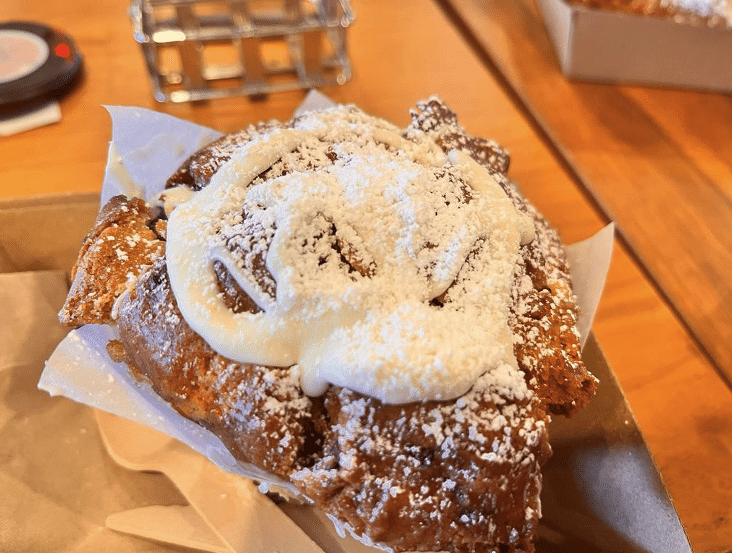 The coffee is excellent as you would expect from somewhere roasting the coffee beans they use, which are all ethically sourced. You can purchase a bag to take home ranging from 250g to 1kg.
If cold coffee is more your thing, they make their own cold brew which I am told is delicious.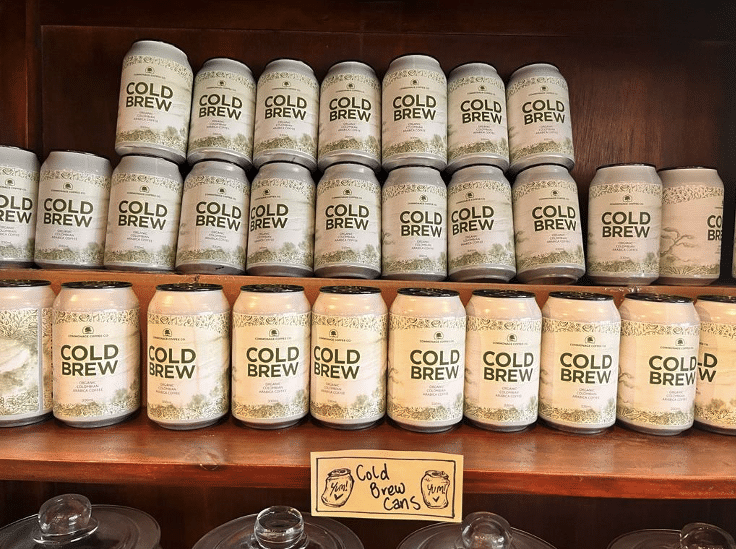 There is also a wide selection of tea.
There are outdoor seats and benches which are great in the warmer weather and an amazing space for the kids to run around and play. The view from the outdoor seating area is breathtaking.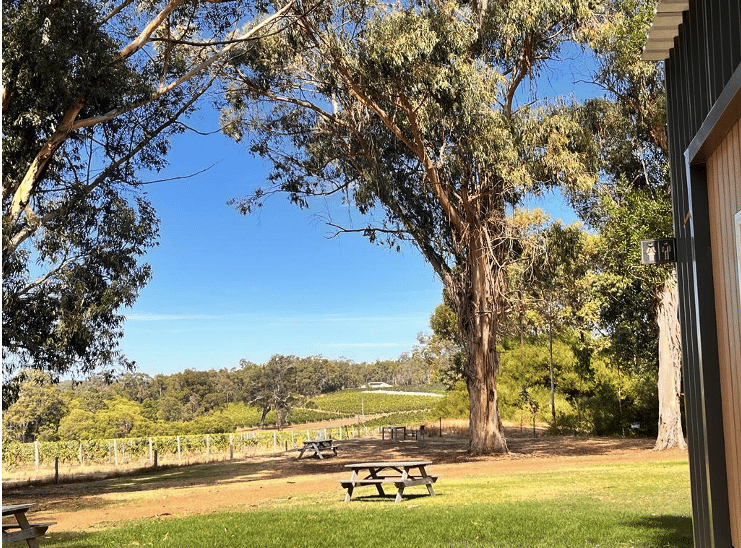 Location
You will find the café and chocolate factory on Commonage Road, Yallingup. There is ample parking space, and it is a great reason to get out and explore the beautiful South-West. Although public transport in this area is not available, there are companies offering bus tours which include this relaxing destination.
Facilities and useful information
There is one large bathroom outside the café, suitable for disabled use, large enough for a pram and there is a baby changing table. The café is also dog friendly and they have an online ordering system if you want to get ahead of the queue.
Opening hours are Thursday to Sunday 8am to 4pm.
If you are visiting the area, pencil in a trip to this great roasting house, café and chocolate factory. You will not be disappointed!!
For more information visit yallingupchocolate.com.au
Find more things to do in Margaret River