The Ruth Faulkner Library has moved to the brand new Belmont Hub building and it is the most incredible library!
The library has been so thoughtfully designed with so many great spaces with loads of little nooks and workstations.
There are also meeting rooms that can be booked – these seem to have all the capabilities a business meeting would need including video conferencing.
The children's area is amazing. It's a large, bright space. There's plenty of inviting seating and some comfy reading nooks. There's also a couple of tunnels and a small slide that toddler and young children will love to play on – I've never seen anything like this in a library before!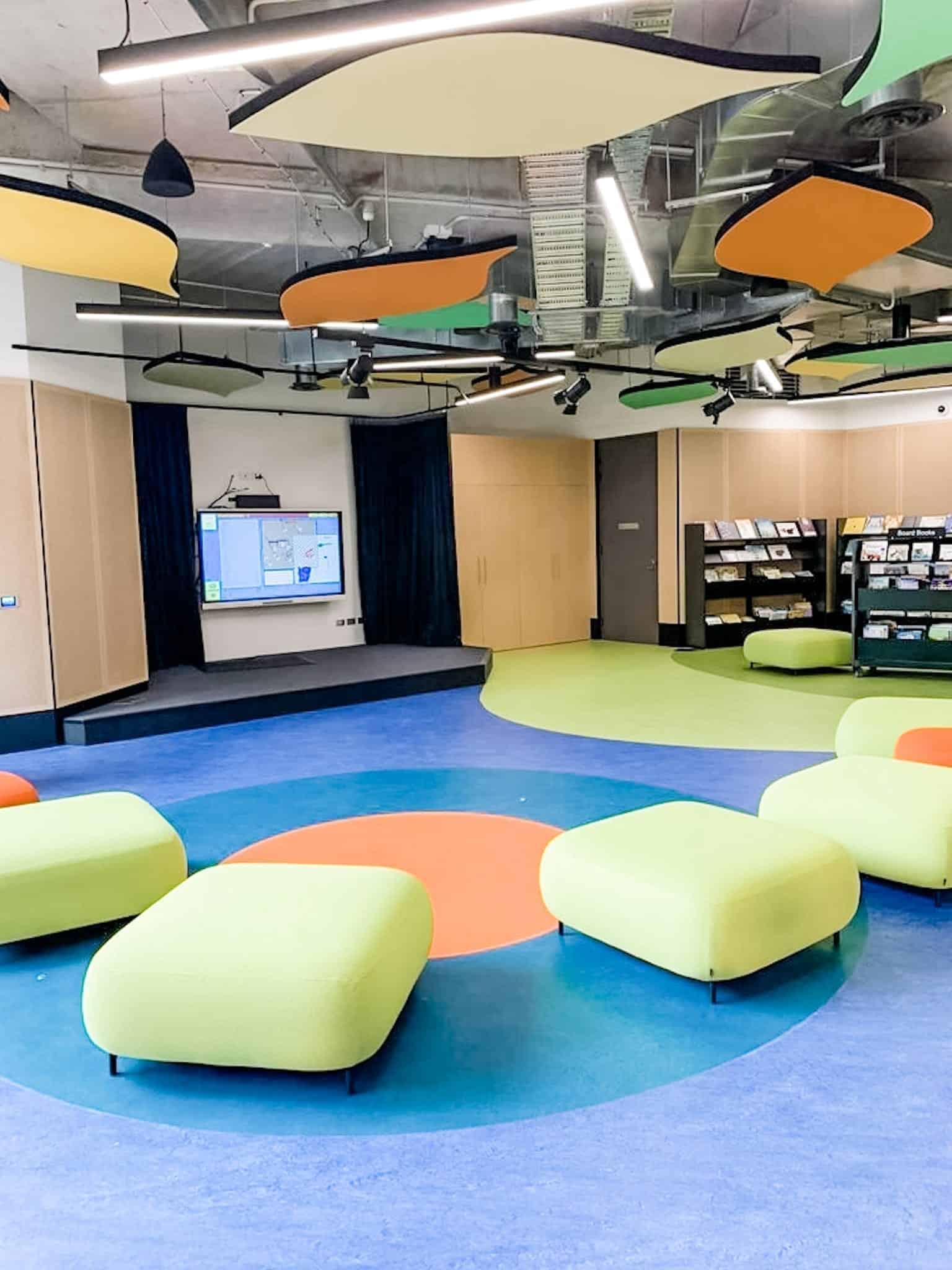 Attached to the children's area is an outside area that will be used for some messy play or craft activities from time to time.
There's also a colourful water fountain and a handwashing sink out here – both lower enough for children. This really has been very well thought out.
Within the library there is also a recycling station where you can recycle not only paper but also household batteries, mobile phones and fluorescent light globes.
Another great feature is the inclusion of a shop that sells artworks from local artists. There's some really great stuff in here and I love the idea of supporting local artists!
Upstairs there is further meeting rooms and work stations including a parent's digital room! Inside the parents' room there's a tv, small toys and books for the kids and also charging points and comfy chairs so this would be very handy for parents who have some work to get done.
Upstairs you'll also find the Belmont Museum. Once you visit the kids will be asking to go back (mine are!). There's lots to see, including some old Qantas seats in a mock airplane, but the most exciting feature is an amazing interactive screen where you colour in a picture of local wildlife, scan it and then it comes to life on the big screen. This is a lot of fun!
The whole building is beautifully designed and filled with natural light with so many spaces to explore.
The Ruth Faulkner Library at Belmont Hub is now open 7 days a week Monday to Friday 9am-7pm, Saturday 10am-3pm and Sunday 1pm-4pm. They offer a range of programs which all require pre-registration for at this stage (including rhyme time etc) so jump on to their website to see what's on offer.
For more information visit www.belmont.wa.gov.au