Pasta in the Valley is a fairly new addition to the Swan Valley and an absolute must visit! Walking into I couldn't help but notice the huge pasta machines and pasta hanging from enclosed racks running along the ceiling which is such a cool touch!
We sat outside next to the great play area. It was morning and freezing outside but there were plenty of heaters to keep us warm.
The play area at Pasta in the Valley has a large grassed space for running around, a good-sized sandpit and 2 play structures. One play structure is wooden with a swing attached and the other plastic with a slide. There's also a few small toys for the kids to play in the sand with. The whole area is well shaded – with the outdoor heaters and the shade this space is really usable all year!
We were there fairly early so I ordered the kids scrambled eggs on toast and a baby chino for breakfast little miss. This was a really good size and super yummy.
After breakfast we noticed the kids pasta making area being set up so we checked that out. Miss almost 4 loved it! She fed pasta sheets through the pasta machine, cutting it into spaghetti or fettuccine – she was so proud of her big box of pasta! The pasta making costs $7 for 500g of pasta is on every day Tuesday to Sunday 9am – 11am. Bookings aren't required.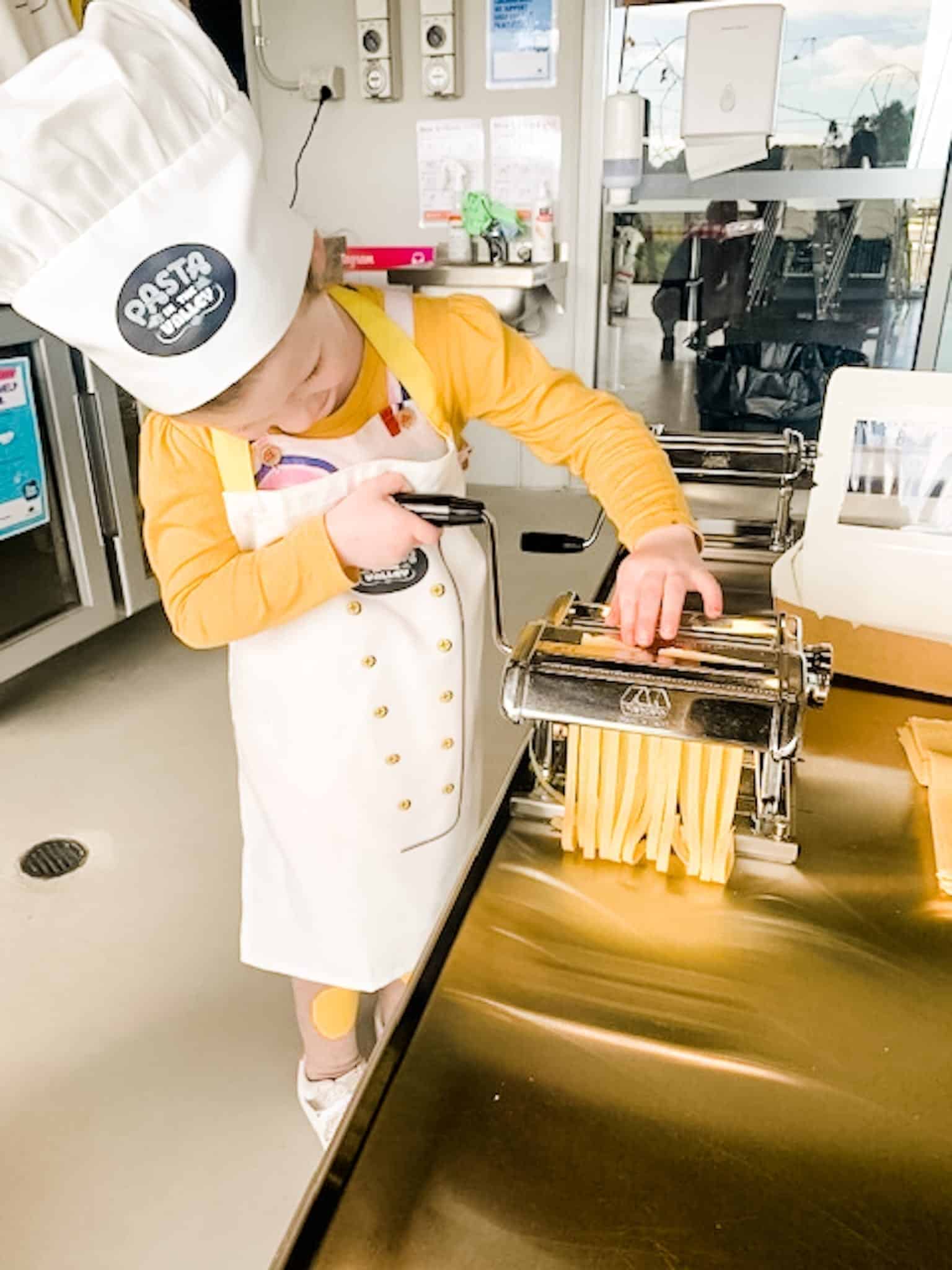 On the way into the car park, I had noticed a sign that said free cannoli with a coffee purchase! So I ordered another coffee and enjoyed it with my free cannoli while little miss chose to have an ice cream! Keep an eye out on your way in to see if there's a special you can enjoy!
On our way out we grabbed a take away carbonara sauce to add to our pasta and to make a super easy, delicious dinner!
We loved our visit to Pasta in the Valley! It is a great venue for everything from coffee catch-ups to large family dinners!
Pasta in the Valley is located at 2931 West Swan Road, Caversham and is open 8.30am – 7.30pm Sunday and Tuesday to Thursday and 8.30am to 8.30pm Friday and Saturday (closed Mondays)
Pasta in the Valley
2931 W Swan Rd, Caversham WA 6055
Find more Family-Friendly Restaurants