Kids will love to unleash their inner Spiderman at an indoor climbing centre in Perth. As their love of climbing progresses, they may like to try something a little more adventurous than your typical playground climbing frame. An indoor rock-climbing centre is a tone of fun for the whole family. From colourful click and climb to realistic rock climbing, check out our guide to the best spots to go rock climbing in Perth:
Rock Climbing Centres North of Perth
Rockface Indoor Climbing Centre, Balcatta
Rockface has been Perth's favourite climbing gym since 1996, and recently they have moved from Northbridge to Balcatta. With 9m top-rope walls and a 2.8m kids bouldering wall, your child will find lots of climbs to challenge their critical thinking and expand their physical abilities.
Find Rockface Climbing Centre at 7B Ledgar Rd, Balcatta.
Summit Rock Climbing Centre, Malaga
Summit Climbing, an indoor rock climbing centre has a series of climbing walls that are suitable for beginners, intermediate and advanced climbers. Children are welcome to go along and give it a go from the age of 5. There's a handy café onsite too. Read the Buggybuddys review here.
Find Summit Indoor Rock Climbing Centre at 2/26 Harris Road, Malaga.
BOUNCE inc, Joondalup
There's not just trampolines, parkour, and rope course to discover at BOUNCE inc! There's 180 meters of climbing fun with 14 unique walls, equipped with an auto belay device that makes climbing safe. Participants are clipped into a harness by a member of staff. Read the Buggybuddys review here.
Find BOUNCE inc at 35/37 Joondalup Drive, Edgewater.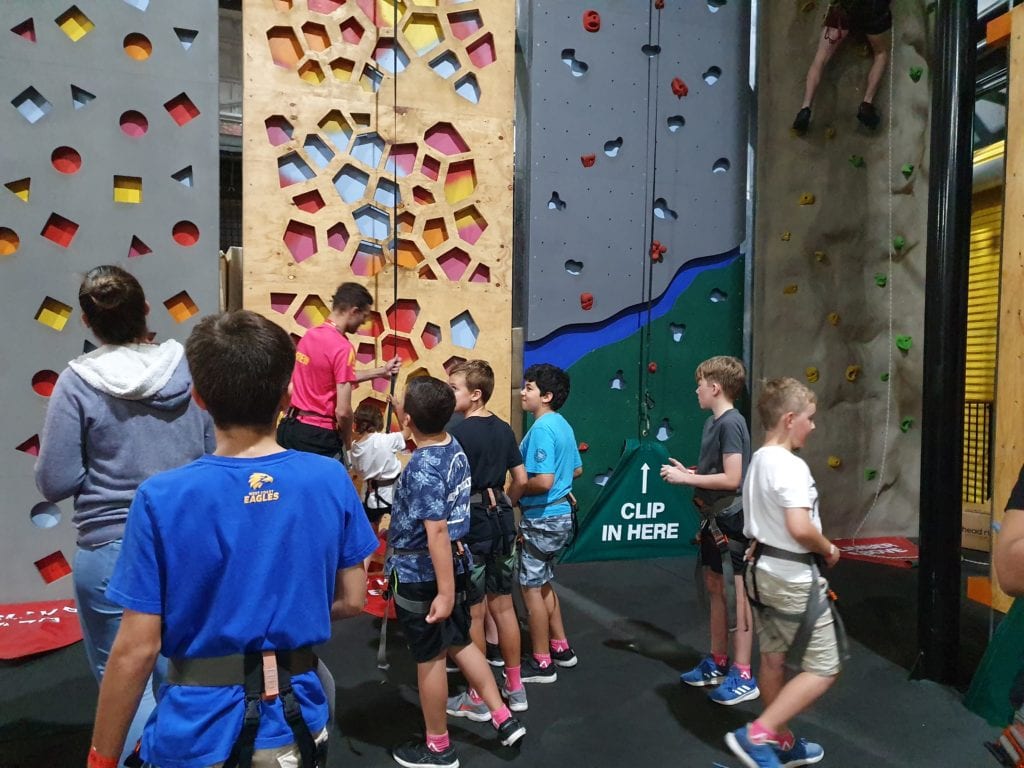 Lollipops Playcenter, Butler
As well as a huge indoor playground, another fantastic feature of Lollipops Butler is the clip and climb rock climbing walls. Kids (over the age of 5) are harnessed and fully supervised by a trained staff member during rock climbing sessions. Read the Buggybuddys review here.
Find Lollipops at 2/294 Butler Boulevard, Butler.
The Climb Zone, Bullsbrook
Located at Kerem Camp in Bullsbrook, next door to Perth's Outback Splash, The Climb Zone offers fun open day sessions each and every school holidays. As well as a fun rope course, there is also a challenging rock climbing wall, where you can race your friends to the top! Read the Buggybuddys review here.
Find The Climb Zone at 100 Kirby Road, Bullsbrook.
Rock Climbing Centres South of Perth
Adrenaline Vault, Belmont
Adrenaline Vault is the largest bouldering facility in Perth. Bouldering is rock climbing with the use of ropes and harnesses. Rent a pair of climbing shoes, then head to the walls, where the holds are graded in colour starting at yellow for beginners through to black for the experts with varying levels in between. You are guaranteed to be challenged on the courses whatever your skill level. Read the Buggybuddys review here.
Find Adrenaline Vault at 72 Robinson Avenue, Belmont.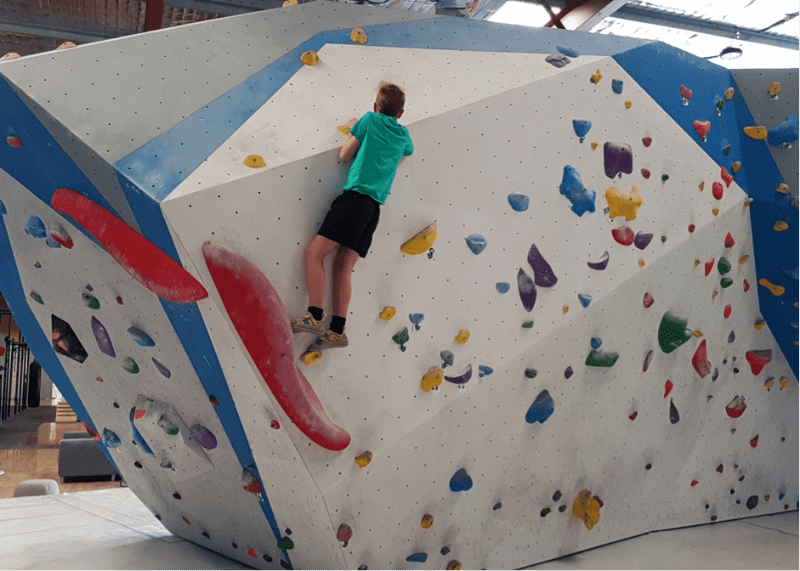 iPlay Clip n Climb, Cannington
iPlay, found within the Westfield Carousel Rooftop Dining Precinct, features a fun Clip n' Climb! There are 7 vibrant walls, equipped with an auto belay device that makes climbing safe and exciting. It's a fun introduction to vertical climbing. Arcade games and dodgems at iPlay are also guaranteed to be a huge hit with the whole family. Read the Buggybuddys review here.
Find iPlay Carousel at 1382 Albany Hwy, Cannington.
Rock Climbing Centres in Regional WA
Albany Indoor Adventures
Rain, hail or shine, kids and adults alike, will have a fun time at Albany Indoor Adventures. Younger climbers (aged 5 and up) can enjoy Boulder Island, a multi sided freestyle boulder climbing wall. As well as that, there's ninja obstacle courses, an Albany and Aussie Movie themed mini golf course, kid's adventure playground and much more. It's amazing what's been packed under one roof! Read the Buggybuddys review here.
Find Albany Indoor Adventures at 140 Albany Highway, Albany.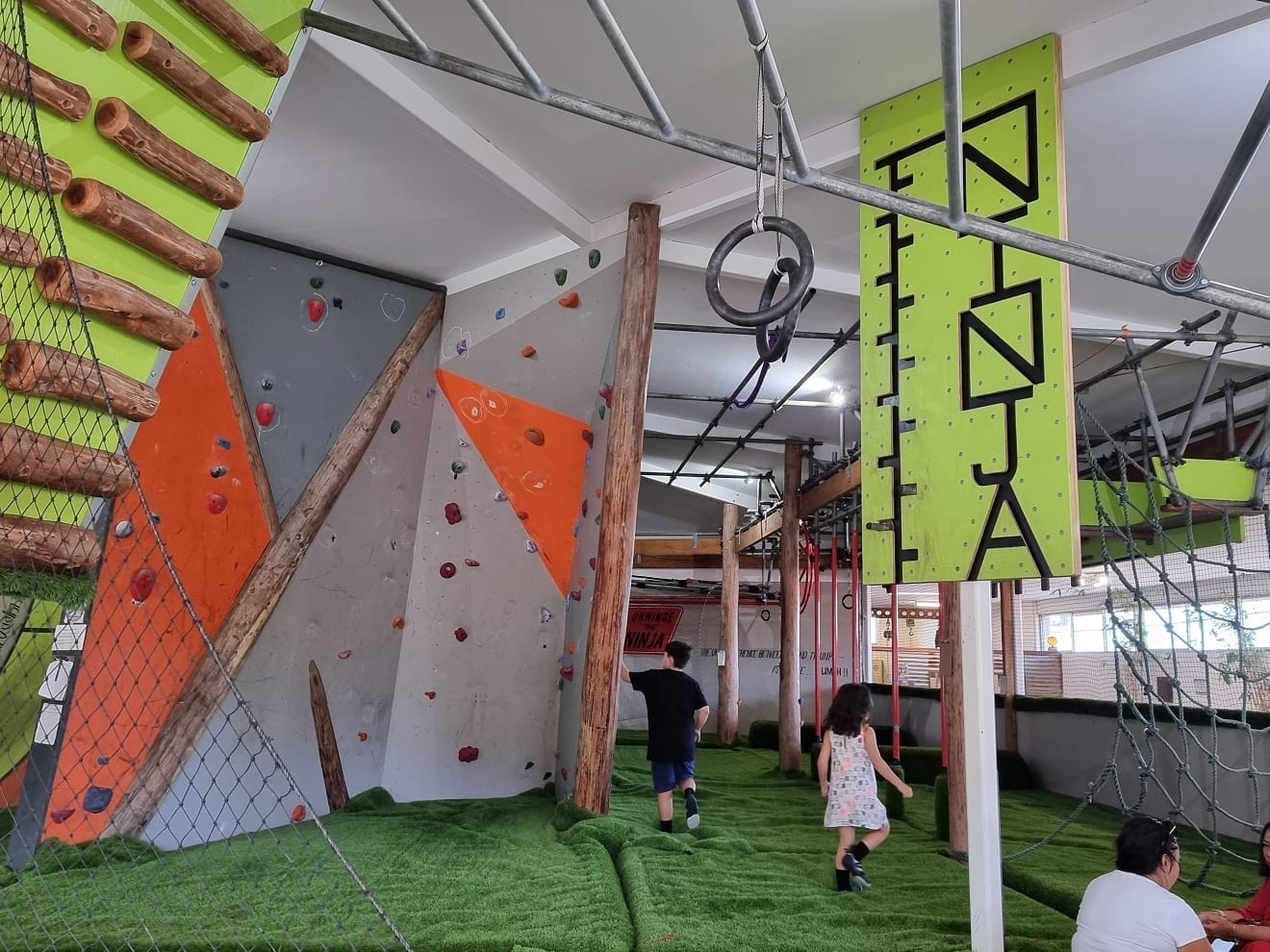 Other spots to check out…
Summit Climbing, West Perth
The Boulder Hub, Wangara
Portside Boulders, O'Connor
After a fun session at a climbing centre, your kids will be scaling the walls and ready to tackle bigger challenges in no time. Have we missed any of your favourite rock climbing centres in Perth? Let us know in the comments below!