Grasshopper Soccer Perth
Grasshopper Soccer is a non-competitive sports program for children aged 2 to 12 years. The 8 week program focuses on fun and participation while working on children's soccer skills.
We headed along to a session in the Northern suburbs on a chilly Saturday morning. On arriving, we were greeted by a friendly gent who pointed out the different coaches and explained the different age groups. We joined in the Intro to Micro group, which is suited to 5 to 6 year olds. This program helps younger children learn the game without their parents participation, whereas earlier age groups are more focused on balance and coordination.
The duration of the Intro to Micro group was 60 minutes. But this varies by age group. The Mites 2-3 year old group sessions run for just 35 minutes, where on the other hand the Micro and Micro+ groups run for 75 minutes.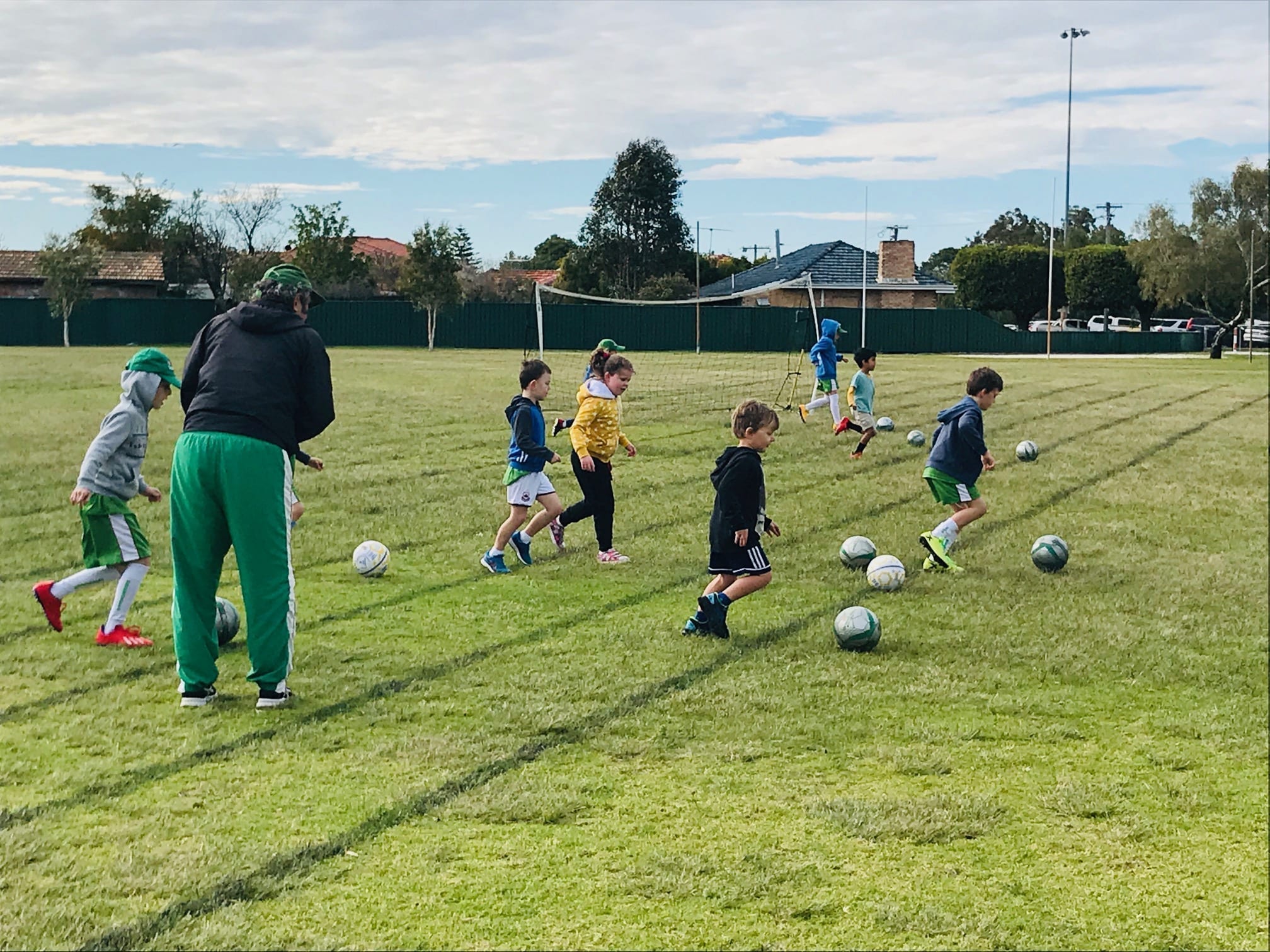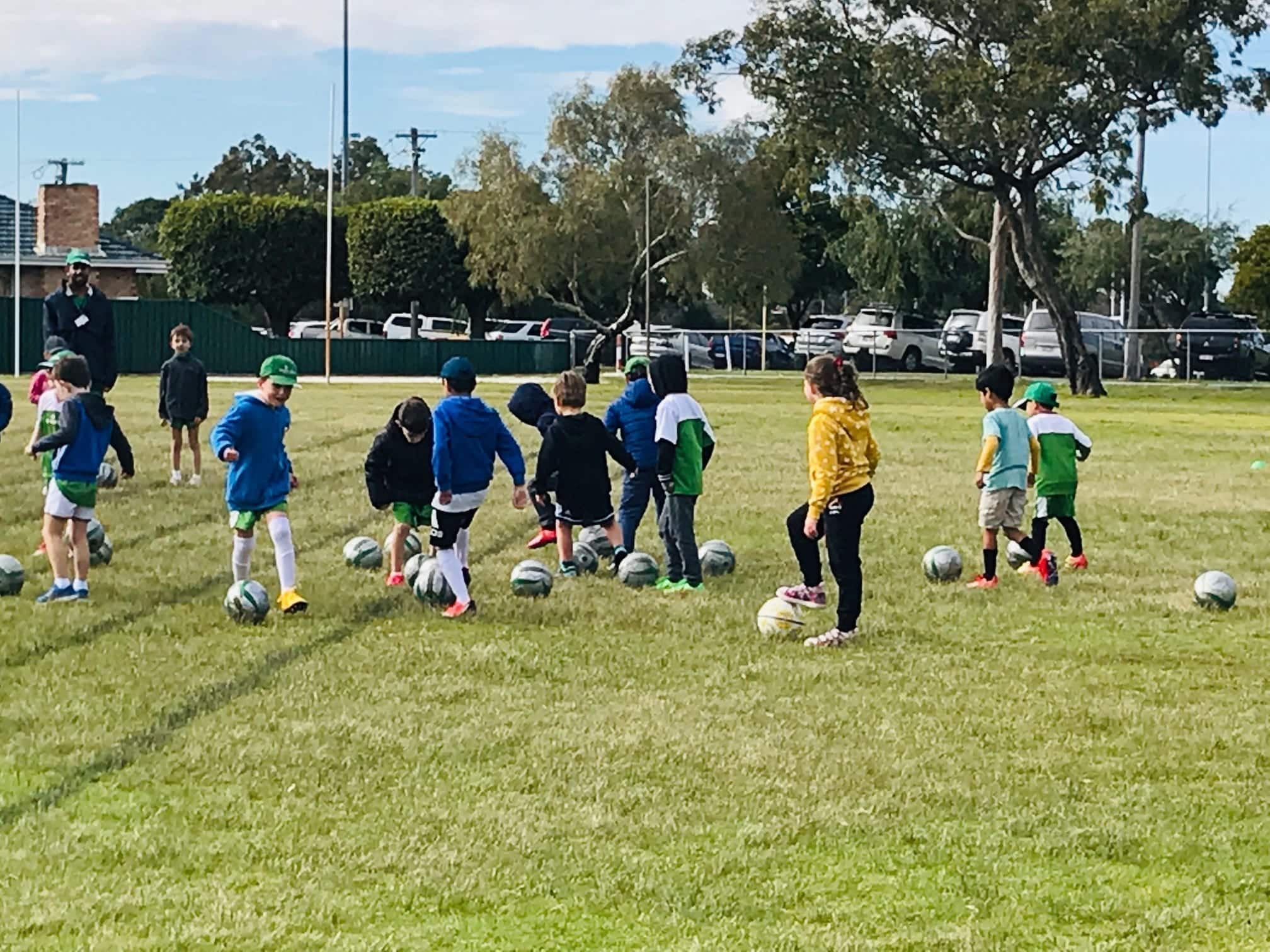 To begin the session, the children lined up with a ball and met the coaches. After that, the children did some short warm up exercises. The first was running while dribbling the ball. The second was running while throwing and catching their ball. This not only warms up little muscles, it also works on coordination skills.
Following the warm up, our session moved into a game of Cats and Mice. A handful of children were selected to be cats. The remaining children had to carefully kick their ball down the field, around a cone, and avoid being touched by a cat or their ball. If they were touched, they too would become a cat! The last mice standing win the game. This fun play-based exercise helps work on ball control while running.
After that, the couches split the children into four teams. The children were moved over to an obstacle course. The children bunny hopped over a hurdle, ran through two posts, collected their ball and kicked it down the field to try and get it past a parent or coach.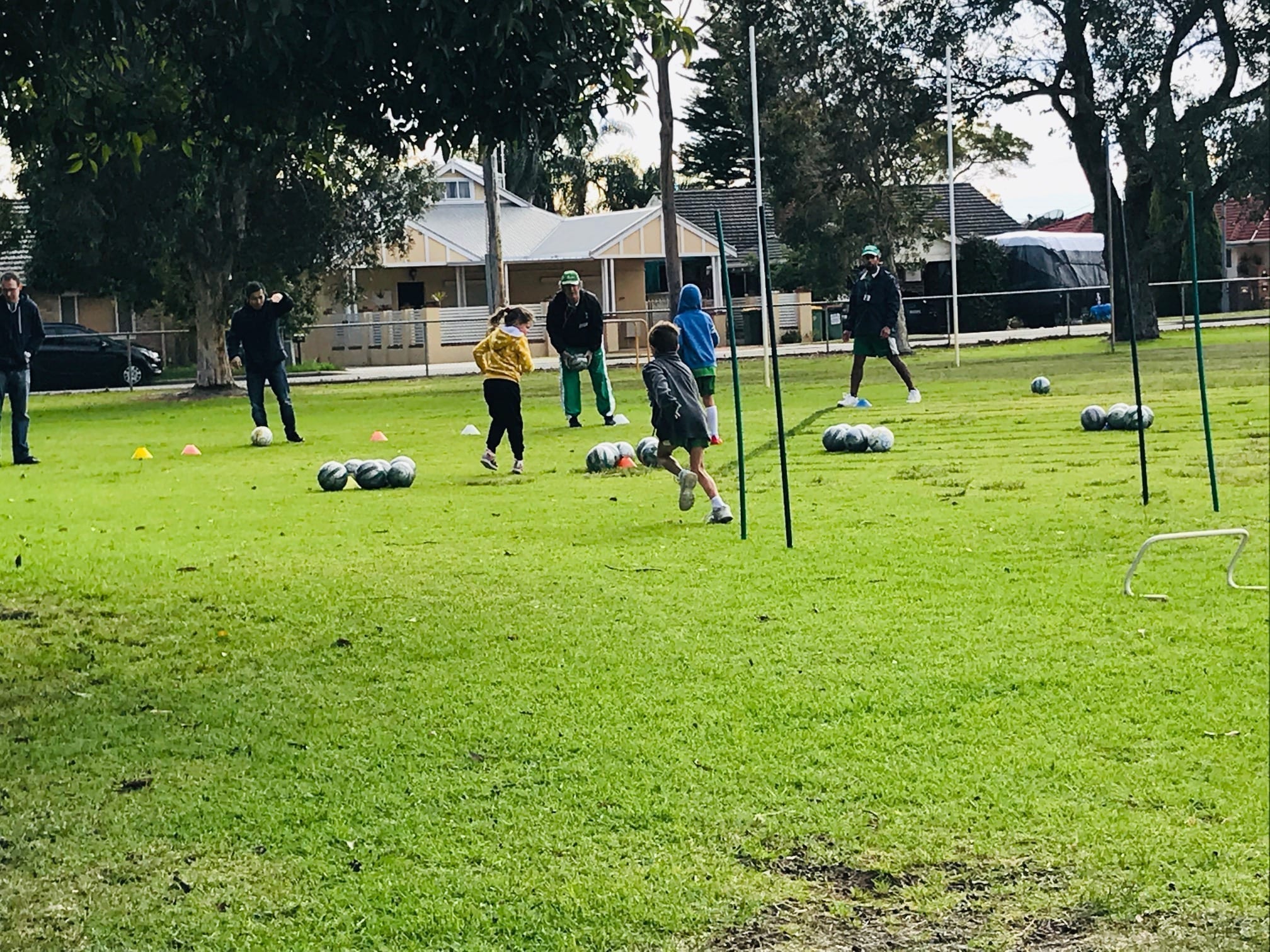 While the children were in teams, this exercise didn't really seem to be competitive. I don't believe any one team was declared the winner. Miss 6 had fun and came back smiling from this activity.
After a short drink break, the coaches brought out colourful bibs and again split the children into four groups. There were about 6 or 7 kids per team. Two groups then went to different fields for a casual match. This wasn't played with the full rules. It was more about practising the skills the kids have learned and learning to play as a team. For example, keeping an eye out for other players, thinking ahead to where they'd need to be on the field next and listening to the coaches advice.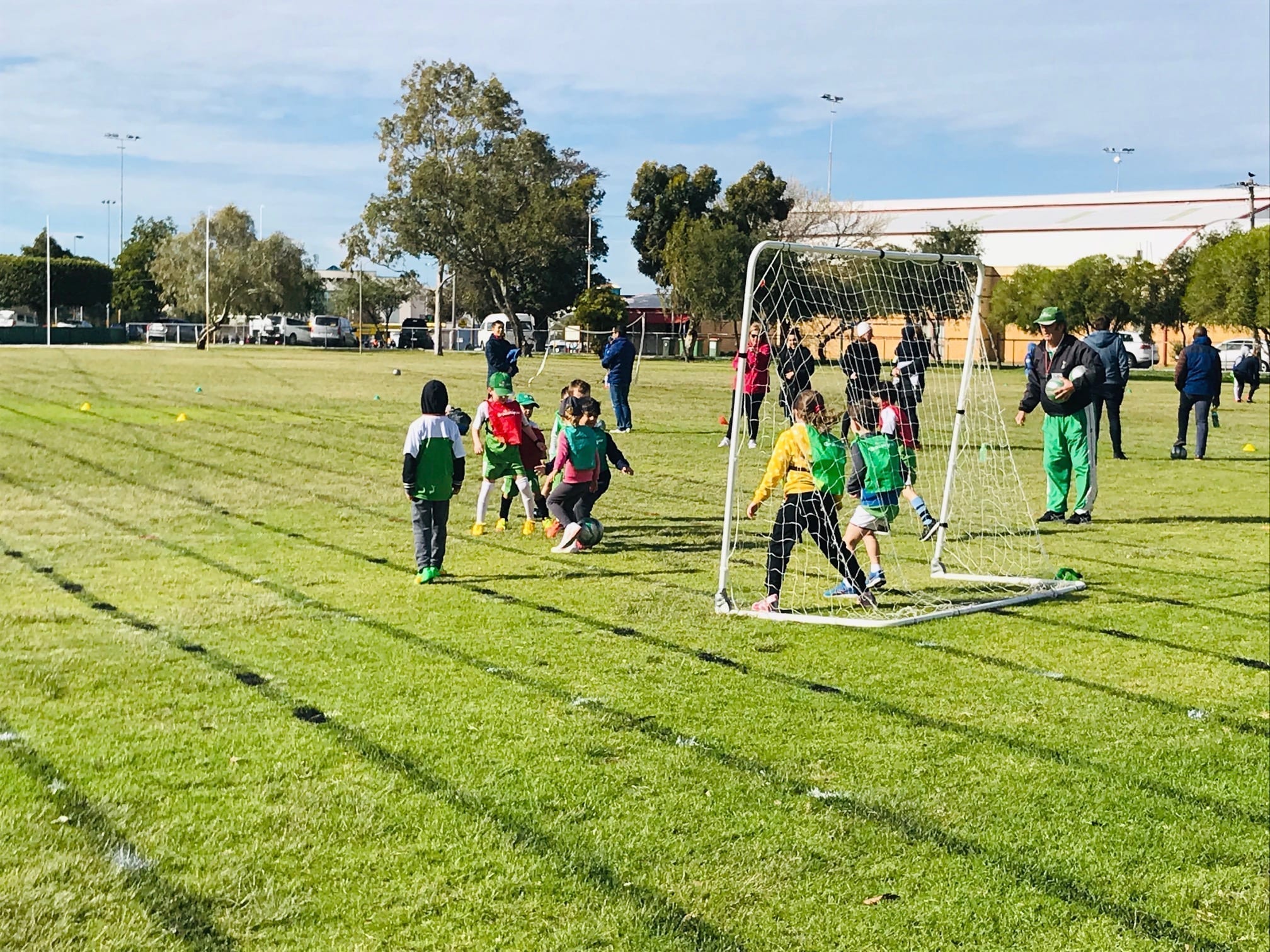 Children get a try both on field and in goal. Miss 6 quite like being a goalie for example, and was quite good at defending her goal. The coaches try to make sure everyone gets a go at both position, and everyone gets a try at kicking the ball. During the game, the Grasshopper Soccer coaches are there with encouragement and suggestions about what to do next. It's a very relaxed experience and there's no pressure.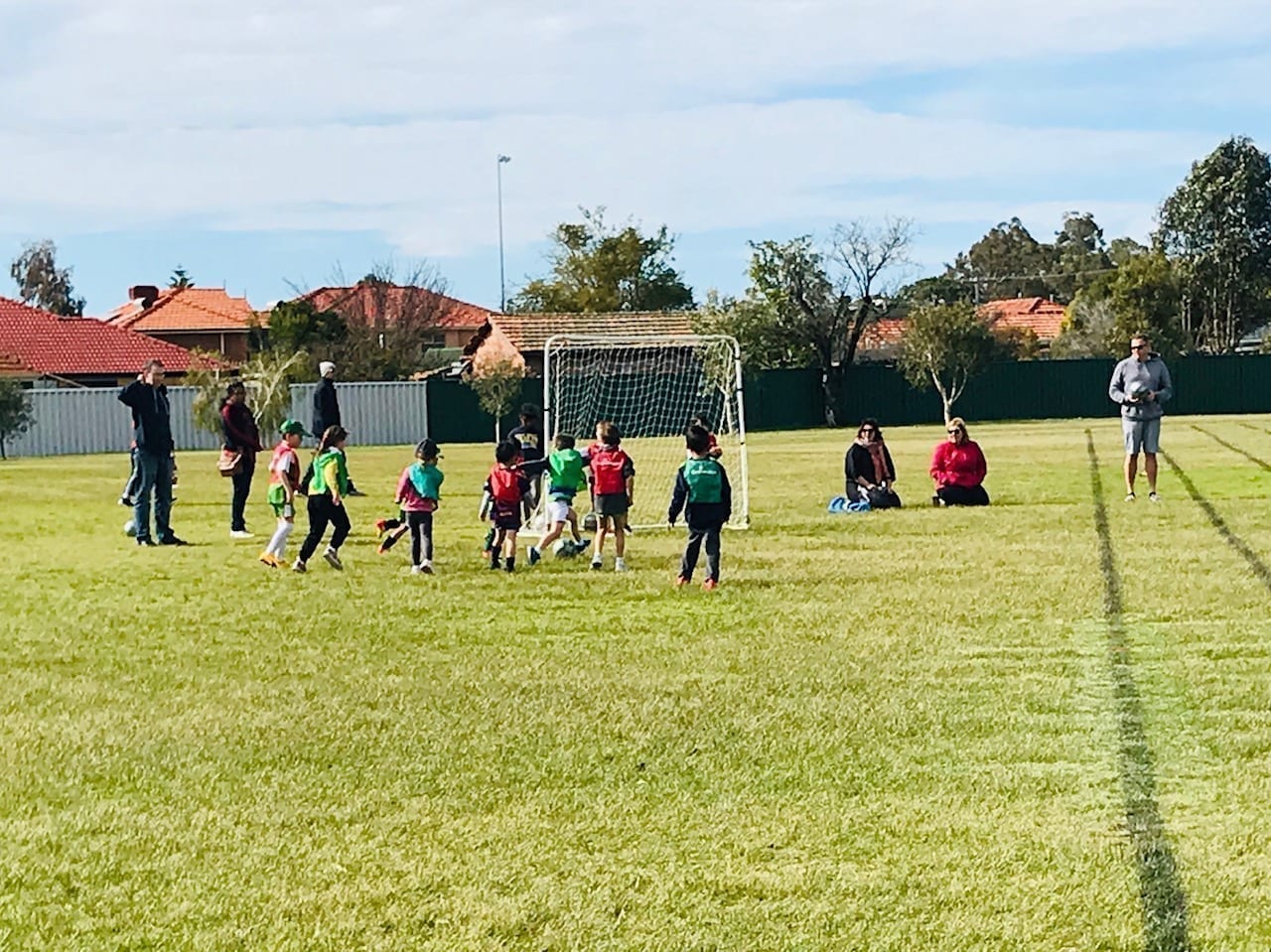 At the end of the session, the coaches gathered the children together and did a Grasshopper Soccer cheer. After that, all children received a sheet of stickers to take home. Miss 6 left smiling and said she had a good time. In addition, she said she made a friend during her experience.
As a parent, I liked that the focus was more on having fun and developing social skills for these younger players. There's no pressure to win. Prior to heading along, Miss 6 was nervous, this being different from her previous sports experiences. We explained she wouldn't be playing a big soccer game. She was just going along to make some friends and have fun. That was exactly how it played out.
Grasshopper Soccer
Grasshopper Soccer programs run at various locations across Perth and the south west. To find out more information visit the  Grasshopper Soccer
website
for more information.
Grasshopper Soccer programs are run in accordance with health and government regulations.