We visit Burns Beach Café a few times a week for our coffee fix, and an ocean-side walk. We park next to the café, grab a coffee and take the coastal path south to Iluka Foreshore Playground, which is a beautiful 3km walk along the rugged coast.
Burns Beach Cafe is very popular with walkers, people brunching and is brilliant for a family meal too, as it's found right next to the beach and also opposite a the Burns Beach playground with a large grassy area.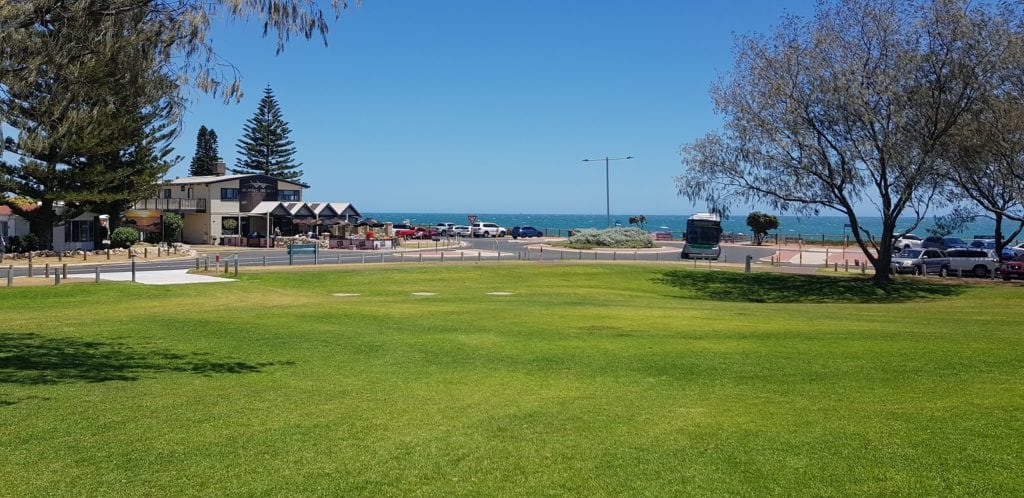 The bustling café is dog friendly too, with alfresco areas for your fur-baby to sit with you, water bowls and even a 'Doggy Num Yum's' menu with Pupsicles, porky ears and more.
Most of the seating is found alfresco. You can enjoy an ocean view from many tables, though there is a road/small car park in-between, so watch little ones.
On the menu, there's a wide selection of food and drinks for breakfast, brunch or lunch. The coffee is top notch and Little Chef loves their milkshakes. Lately we stopped by for both breakfast and lunch.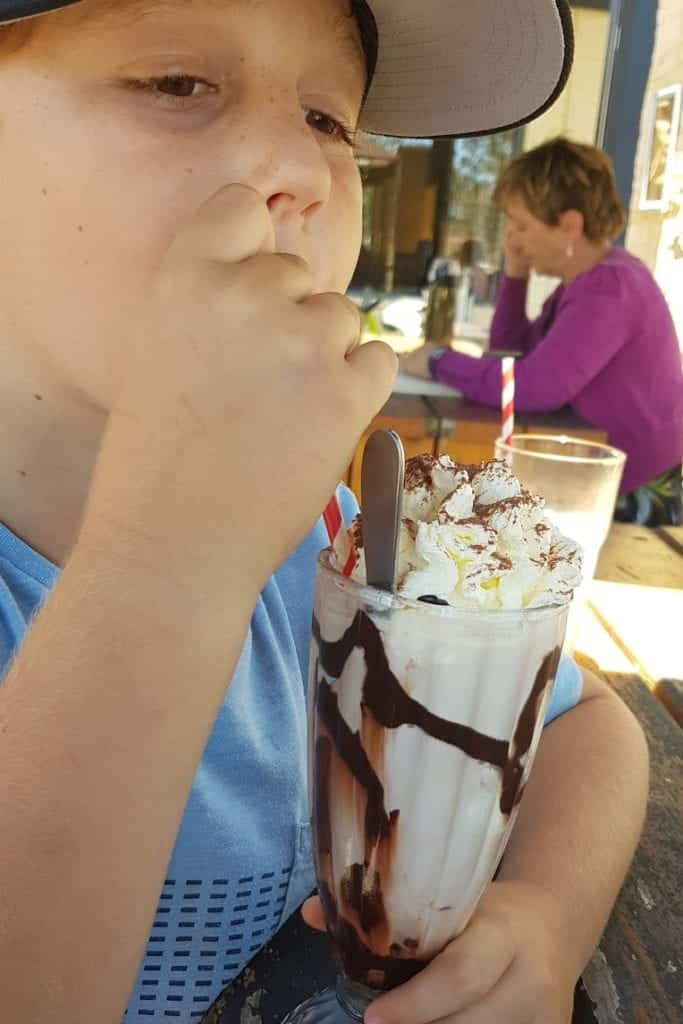 Breakfast
There's a lot of tasty dishes to choose from on the breakfast menu, served until 11.30am. I love the Potato Rosti dish ($18.50)! The tasty and crisp rosti is served with bacon, runny poached eggs, a Branston style chutney, spinach and rocket. I love it when gluten free doesn't equal bland.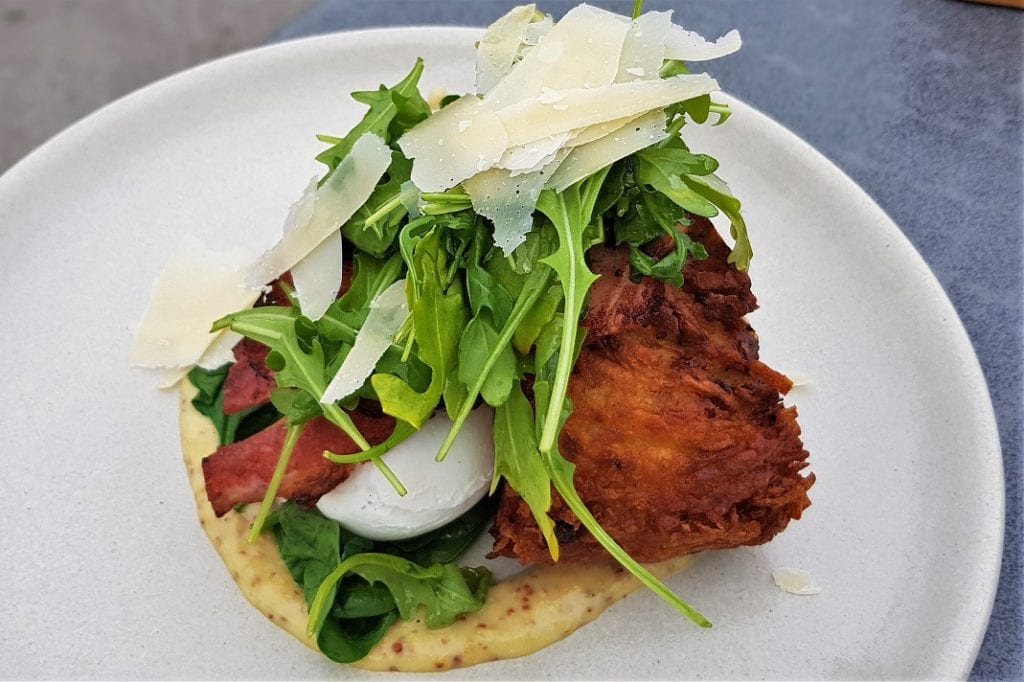 A small kid's breakfast menu is available which includes bacon and eggs on toast or waffles with ice-cream, strawberries and popping candy! Colouring in and high chairs are also available.
Lunch
The lunchtime menu has a lot of choice with share plates and large plates, as well as hands on foods to keep to yourself, like some bloody delicious burgers. Chef raved about the deep fried crumbed Pork Belly Burger, with mildly spicy white miso kimchi, Kewpie mayo and a fried egg – sunny side up. All burgers are served with a side of chips.
If you're after something a bit healthier, the pumpkin salad ($25) will fit the bill! The massive bowl is brimming with roast pumpkin, grilled haloumi, broccolini, quinoa, walnut pesto and half an avo. Another GF gem. I have a pretty big appetite but I couldn't finish this.
There is a small kids menu, which also doubles as an over 65's menu – good idea! This offers chicken nuggets and chips, spaghetti bolognaise and Little Chef's favourite – fresh battered fish and chips with a salad. All are generous portions and use good quality ingredients.
Inside, there's daily specials listed on the chalk board, as well as a display cabinet full of delicious cakes and raw treats. There is a large car park opposite, though it can still prove difficult to find a parking spot on a warm, sunny day.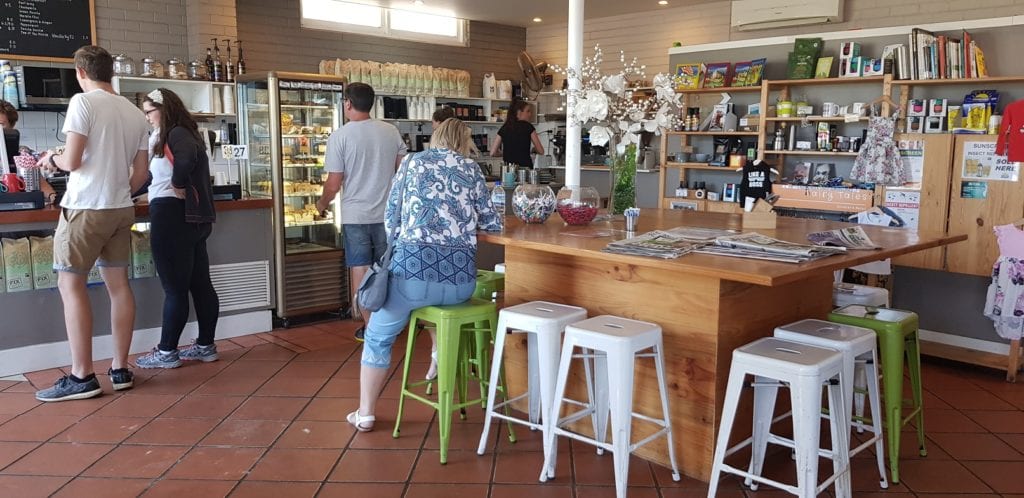 If you have kids in tow, you can also grab a takeaway coffee and an ice-cream and head over to the park opposite, where there's loads of grass to throw down a rug, while the kids play on the playground, which is shaded in Summer.
Whether you're after a delicious meal, or takeaway and play in the park, Burns Beach Café holds lots of delicious options for all families.

Burns Beach Cafe is located at 35 Ocean Parade, Burns Beach.
Find out more at burnsbeachcafe.com.au
Find more family friendly restaurants and cafes in Perth here.