If you are down in the beautiful Porongurups – don't forget to check out the Granite Skywalk.
There are fees that you pay at a ticket booth near the car park. There are drop toilets nearby which your party might want to visit before taking off as there are no more loo chances once you set off. On the day we went there was water and suncream provided at the base and there is a box of unclaimed hats if you forget yours and don't mind wearing a strangers cap.
The walk is 2.2km (up and back) and with kids and highly unfit Mum's like myself approximately 2 hours – give or take a few hundred – "I'm just going to check out this view" (code for "SOS I cannot BREATHE!!") pit stops. Going up is a bit of a slog and the track is often a little rocky and uneven. However there are plenty of places to pull over and even more with great views the higher you get.
If you are very unlike me and actually maintain a fitness level not akin to a sloth – you should be fine. In my defence the day we went the weather was uncharacteristically boiling with not a breath of wind until we reached the top. No matter the weather be sure to TAKE WATER. Enough for everyone as kids in particular can get dehydrated quick, especially on warmer days.
We've considered doing the Skywalk before, but our children were just a bit too young and my husband would have inevitably ended up carrying our daughter for most of it. However at 8 years my daughter had nearly as many "rest stops" as me – but some jellies and grapes soon recharged the batteries and off she happily went. My 11 year old son was like a mountain goat. If only he put that amount of stamina into cleaning his room.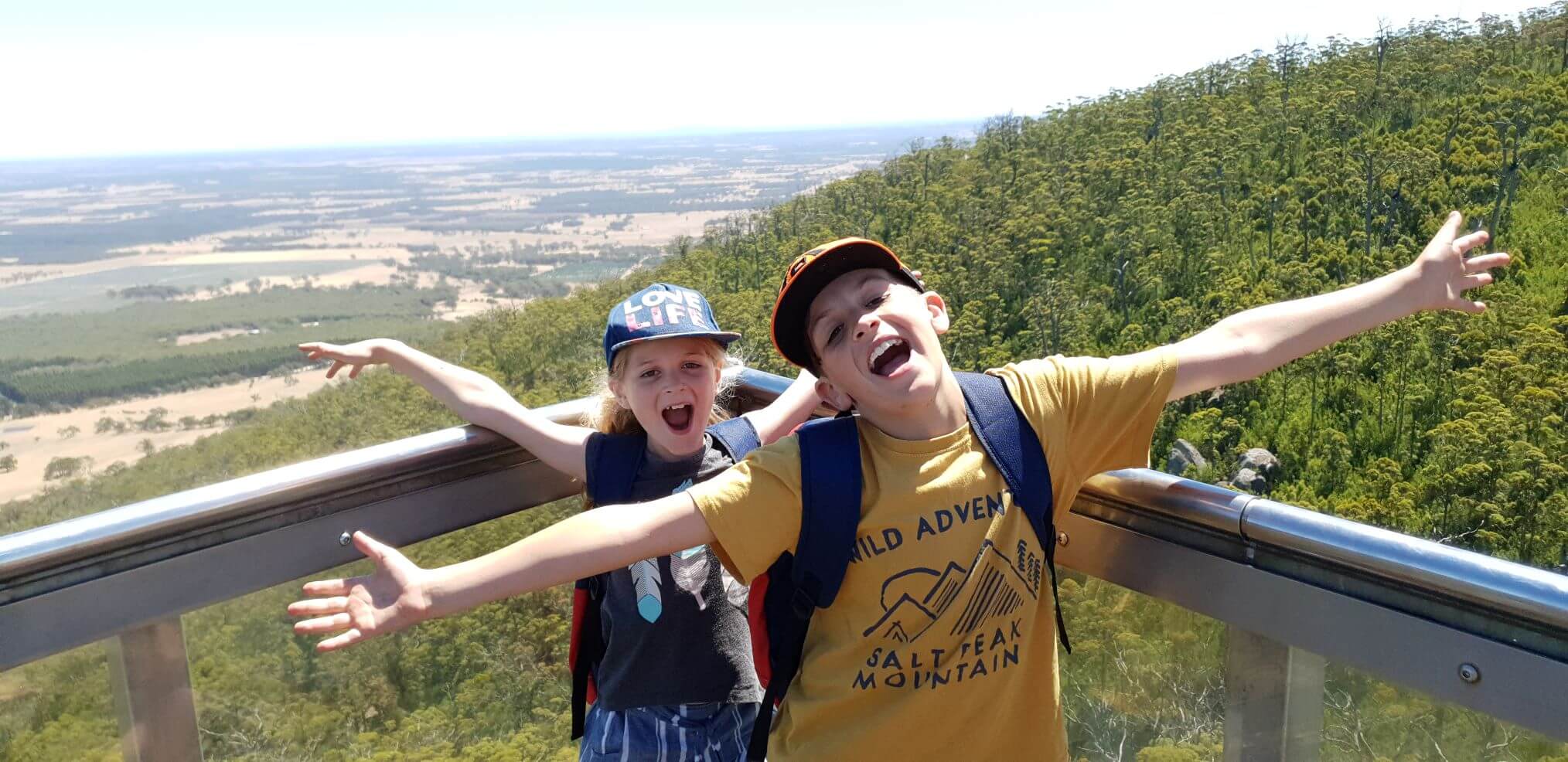 Make sure to wear appropriate shoes and definitely something cool in the warmer months. It is a dirt track and you will get grubby. Climbing poles are recommended, but a good old branch stick will do the trick just as efficiently.
You know you're getting close to the goods when you see the Balancing Rock. 
It's exactly as it sounds – a big ole rock randomly balancing. It is both a cool sight and a green light that the viewing platforms are close.
There are two viewing platforms. One is lovely, uncomplicated, easily accessible with a walkway and a most appreciated bench. We took a well earned lunch break to recharge for our next venture to the second platform that my Mum described as "a little tricky."  She was right. Platform 2 is the more challenging route to take, however it is very rewarding once you do. This is more for budding rock climbers. A bit of bend and balance will also lend to navigating your way up, around and through. There are grab handles you'll need to pull yourself up onto (and climb back down on return) to get through the first gap and then more further ahead. Once you have conquered those there is a closed in ladder which leads to the viewing platform.
I won't lie, I found this challenging, as did my extremely fit Mum with her dodgy knees and my daughter who had a few hairy moments where she was a little overwhelmed by it all.
There was no danger as we were guiding the kids and helping each other out. However, there are a few challenging areas that if you a bit uncertain, could result in injury. So if you have very little ones or are afraid of heights or are not super agile – probably give this one a miss and enjoy the still stunning views of pleasy-breezy-much-more-easy – platform 1.
If you do decide to go for it – the reward is spectacular.
The views go on for days and though you may look like a bedraggled cup of noodles by the end of it – this is the perfect spot for happy snaps and sweaty selfies.
So much to marvel at – the engineering, the spectacular views, the unique landscape along the hike, the journey. And you totally will marvel at it all. For me personally, I still marvel at the fact that the Royal Flying Doctors didn't need to airlift my puffy carcass off the side of the mountain. Yay me. 
But seriously – GO YOU and your FAM! Granite Skywalk is truly awesome.
Granite Skywalk, Castle Rock
Where: Porongurup National Park, Porongurup