There is nothing more satisfying than stumbling across a great find by mistake especially a historical one! Thankfully my children are still at an age of awe and wonder where "oh wow!" is still interpreted as fun, rather than educational! Mwa ha ha, Mum for the win.
We've accepted that visits to most museums and quaint little pioneer dwellings were on hold for a few years. A gold coin donation just wasn't going to cover the carnage my kids are capable of in wall to wall rooms filled with artefacts and precious heirlooms of yesteryear. They are both equal portions of enthusiasm and tornado-ism. Fortunately, this day was a little different.
If you are a lover of history especially local, Azelia Ley Homestead Museum is truly an amazing snapshot of life over a hundred years ago! The setup is more than impressive and has been well thought out. Thankfully a lot of the displays are behind glass cabinets which is wonderful for grubby yet inquisitive little hands to appreciate but not maul.

There are ten sections which are former rooms of the home and each tended to with much detail and artefacts still preserved in wonderful condition! The Manning room is the first room where the guide walked us through. The wedding dress worn by Azelia stands proudly in a glass cabinet which my four-year-old daughter found most impressive. The very patient and kind guide played a record on the gramophone for the kids who proceeded to search for a swiping device so they could skip to a better song!
The Pioneer room, Heritage room and Gilmore room are home to furniture first brought to the colony in 1827, as well as clothing worn by Azelia Ley and her mother Florence Manning. There are also beautiful books from Azelia's personal library as well as camera's, typewriters and other gadgets from the era.
The Hallway gallery and the Entrance house photos of the settlers and their families of what is now the City of Cockburn as well as the districts military memorabilia.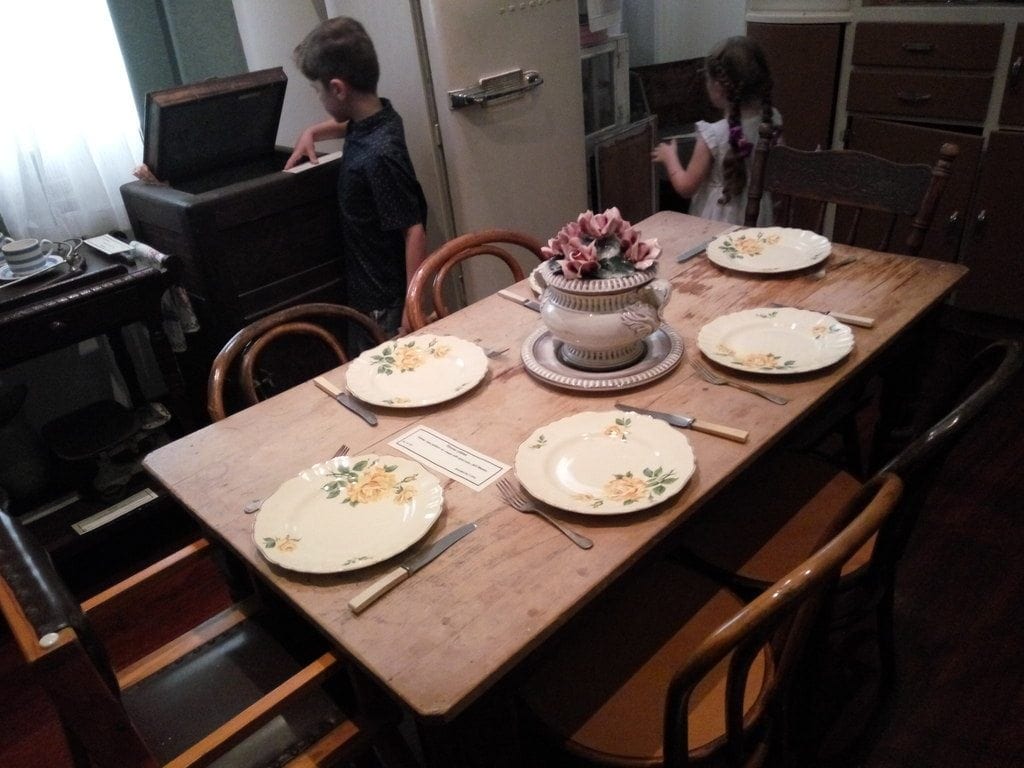 Things got more interesting in the display rooms set up as the family may have lived back in Azelia's day including the bathroom, and a very well equipped kitchen. The Davilak room was a winner with a grand four poster bed and full of dinky toys and children's garments. Azelia Leys bedroom was also a favourite with my daughter who was delighted with the baby crib.
Some rooms are set up with a traditional museum feel with detailed displays relating to the Manning family as well as artefacts from the people of Cockburn. There is a lot of interesting history on the Cockburn area as well as some fascinating information on the pioneer founders. We had not intended to stay as long as we did so if you do manage a visit, allow some time as it is very thorough.
People with prams should be ok in most rooms, it may get a bit squishy in the kitchen and bathroom sections and keep in mind this house was built in 1920 so it's a bit narrow in sections.
Check out their very impressive website full of interesting facts and details on the Manning Family and Azelia Ley. There is even an interactive option with a 360 view inside of some of the rooms to explore.
The Azelia Ley Homestead Museum is situated in Manning Park, Hamilton Hill Open Sundays: 1.30 pm to 4.30 pm.
Azelia Ley Homestead Museum is also open to schools and other groups on weekdays by appointment.

Find more places to visit in Perth