One of our favourite ways to spend a weekend is relaxing at a family friendly winery in the Swan Valley. If you're looking for a child friendly winery in the Perth Hills or Swan Valley you're in luck – we have the ultimate list of the many Perth wineries that are fun for the whole family – not just Mum and Dad! These wineries feature fun playgrounds, indoor play activities and children's menus, giving the adults time to enjoy a glass or two of wine. Cheers!
Family Friendly Wineries in the Swan Valley
One of the Swan Valley's biggest wineries, Sandalford Estate, has enjoyed a revamp. It's restaurant has been modernised and now feels more welcoming for families. Outside, kids will be delighted to find a brand new playground! If you've got a special occasion to celebrate, then the Sandalford restaurant is a great option to dine with family.
For Kids: a kids menu, and a shaded playground.
Find Sandalford at 3210 West Swan Road, Caversham.
Mandoon Estate, a family-friendly Swan Valley winery, is set in gorgeous surroundings on the Swan River. It's a must stop winery for foodie families seeking that Margaret River vibe. The modern winery has loads of class, whilst still keeping a laid-back, feel. And the food at adjoining Homestead Brewery is very tasty too!
For Kids: a kids menu, and a fenced and shaded playground.
Find Mandoon at 10 Harris Road, Caversham, Perth, WA.
The winery's casual restaurant overlooks a lake, rolling lawns and vineyards, making it a lovely place to enjoy a family lunch. The food is very good, and there's lots to do. Its easy to spend a whole afternoon there, there's peddle boats on the lake, giant garden games and fishing too!
For Kids: Children's menu, large lawn area, outdoor games, boats and fishing.
Find Oakover Grounds at 14 Yukich Cl, Middle Swan, Perth
Chapel Farm
Chapel Farm is a quirky spot in the Swan Valley. The casual winery offers laid back pizza and share menu that the whole family will love. And if you're not a wine lover The Tap has an extensive beer list too. Kids can explore the secret garden!
For Kids: a kids menu, activity books, a couple of farm animals and gardens to explore.
Find Chapel Farm at 231 Toodyay Road, Middle Swan, Perth WA.
Edgecombe Brothers winery has a family-friendly burger bar open every Friday night. Nestled amongst the vineyards, there is a lovely grassed area where kids can run around and play ball in the view of most of the outdoor tables. It's also a great place to pick up some fresh local produce.
For Kids: a kids menu, colouring in and a large lawn area.
Find Edgecombe Brothers at 1733 Gnangara Rd, Ellenbrook WA
Carilley Estate has a cellar door, brimming with lots of wines to taste. There's an outdoor play area covered by shade sails and shady tree, perfect for the kiddies, keeping them occupied while you enjoy a bite to eat.
For Kids: kids menu, shaded playground and large grassed area.
Find Carilley Estate at 45 Hyem Rd, Herne Hill, Perth, WA.
Olive Farm Wines
This is a great spot to stop ! Olive Farm Wines has a large cellar door with kiddie corner with toys and a tablet, so parents can taste their excellent wines with a little peace.
For Kids: touch screen activities and toy corner.
Find Olive Farm Wines at 920 Great Northern Hwy, Millendon, Perth.
Family Friendly Wineries in the Bickley Valley, Perth Hills
La Fattoria (meaning "the farm" in Italian) is set in a beautiful working orchard in the Perth Hills, just up the road from CORE Cider House. The cellar door and restaurant (Bookings essential for the Nonna's Table lunches), have views over lush lawns, vines and orchards. Kids will love exploring their nature play area, meeting the farm dogs and pretending to be a farmer on their old tractor.
For Kids: kids menu (Nonna's table only), nature play area and colouring in.
Find La Fattoria at 211 Merrivale Rd, Pickering Brook, WA.
Packing Shed at Lawnbrook Estate
Packing Shed at Lawnbrook Estate is a fantastic family spot for a brunch or lunch in the Perth Hills. Taste wines at the Lawnbrook cellar door and then enjoy a glass or two with lunch on the patio, as the kids play on the lawns. In winter, dine inside by the cosy wood fire (they do fantastic kid's platters!) and there's a small nook with kids books and colouring in to keep them busy.
For Kids: kids menu, indoor activity/toy corner, big grassed area.
Find Packing Shed at Lawnbrook Estate at 19 Loaring Road, Bickley, WA.
This Bickley Valley winery has a French twist. A patio area is home to large wooden blocks under shade sails, where kids can build some marvelous creation, while parents relax. The food is excellent for kids and adults alike.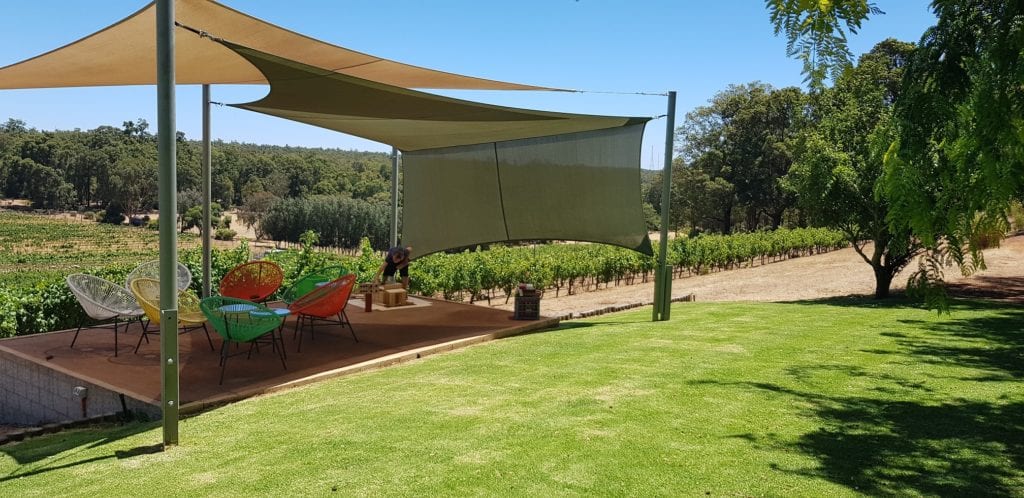 Find Mistelle at Hainault Estate, 255 Walnut Road, Bickley.
For Kids: Children's options, garden games and large grassed area.
Other Family Friendly Wineries in Perth
If you take a family drive out to the Chittering Valley, be sure to stop at Stringybark Winery. The Stringybark vineyard is one of the oldest in the Chittering Valley. Enjoy a lunch in their cosy restaurant or in the garden where there's endless things for the kids to explore outside. If you aren't the designated driver their award-winning wine is a must try too!
For Kids: a children's menu, big garden outside to explore.
Find Stringybark at 2060 Chittery Road, Chittering, WA.
The rustic Noble Falls Estate, on the outskirts of Gidgegannup, is home to the Wild Goose Café. Here you'll also find a cellar door with many varieties of wines for tasting and a soap factory. The café offers casual family dining, overlooking picturesque gardens.
For Kids: a children's menu, big lawn.
Find Noble Falls Estate at 2927 Toodyay Road, Gidgegannup.
There's such an abundance of child friendly wineries in Perth, it's easy to make your own wine tour, for a fun-filled and delicious family afternoon. Have we missed your favourite? Let us know in the comments below!