If you're looking for a spot for a family meal, you'll be welcomed like part of the family at La Fattoria. La Fattoria or "the farm" in Italian, is set in a beautiful working orchard in the Perth Hills, just up the road from CORE Cider House. The traditional trattoria has a cellar door and restaurant, with a delightful view over the lush lawns, vines and orchard.
We were greeted by owner Lucy and she introduced herself as if she was an old friend, which truly made us feel like we had popped by to a friend's place for lunch. And that is just how they want you to feel at La Fattoria. It's not a typical Italian restaurant where you can order a carbonara from the menu. This is a unique dining experience, with no menu.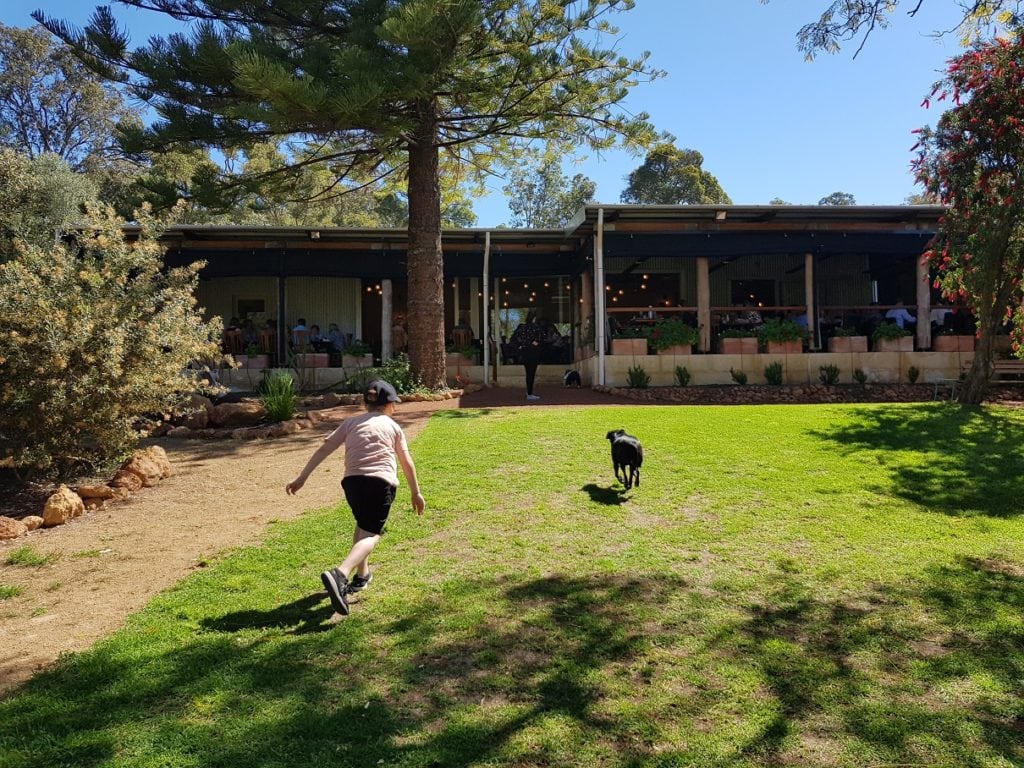 There are two dining options. Book ahead and enjoy their Nonna's Family Table lunch or turn up on a whim (like we did) and tuck into a "choose your own platter. Nonna's family table is a mulit course feast. Expect courses of antipasto, pasta, simple produce-driven main courses and desserts showcasing the fruit grown on the property. The idea is to break bread and share a hearty meal with family and friends, in the traditional Sicilian way.
Before our platter arrived we started with a tasty chisciol appetiser. The traditional Italian dish is a sort of mini pancake, topped with fresh rocket, eaten soft taco style.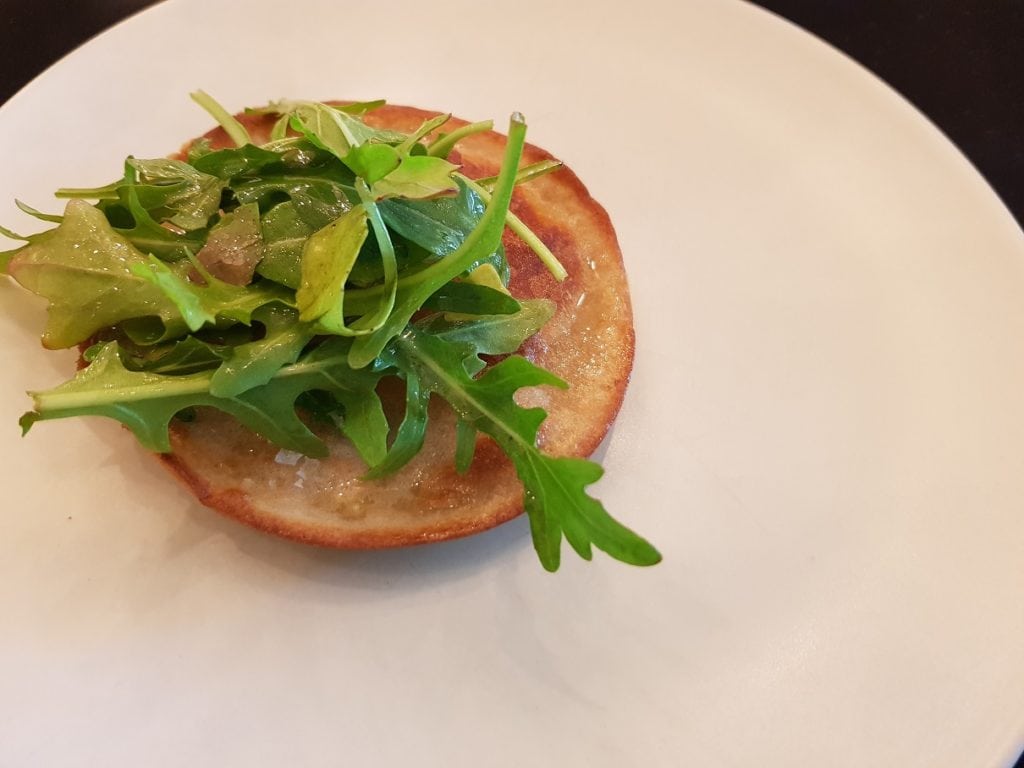 The blackboard of platter options changes regularly and is brimming with delicious morsels. The Bambini menu is only available with the Nonna's Family Table option, but luckily there was enough meat, cheese and bread to satisfy Little Chef.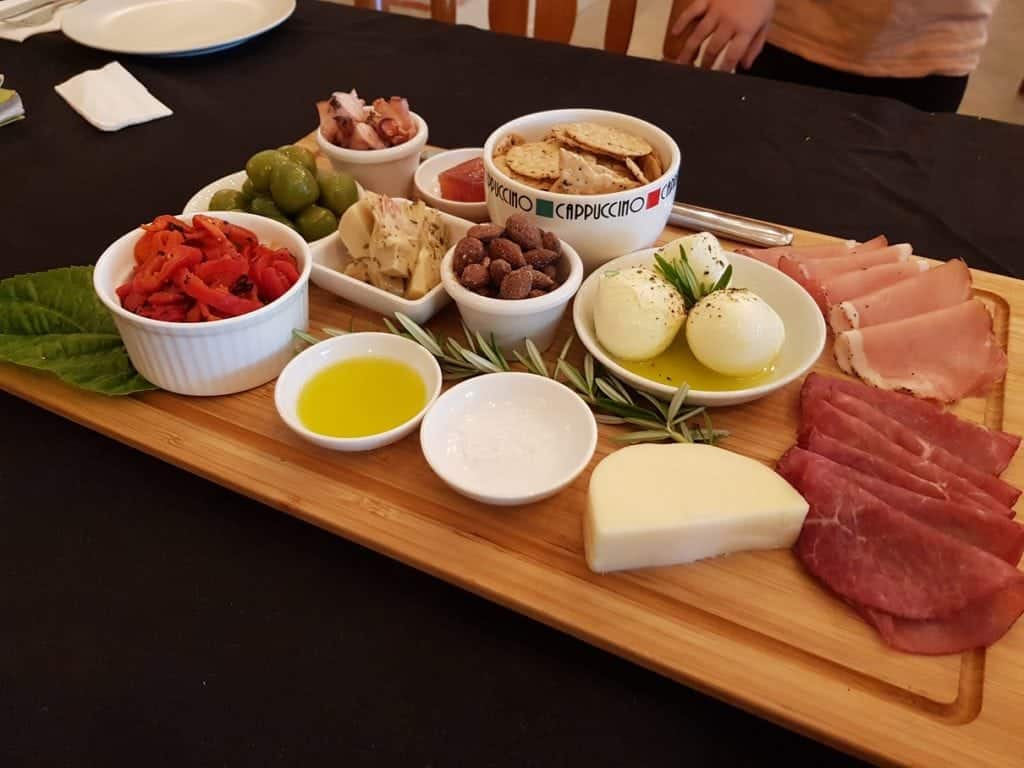 We ate coppa and bresaola (salt dried beef), tender Freo pickled octopus, Sicilian olives, marinated sweet peppers, marinated artichokes, and a pear and ginger paste. All that is accompanied by fresh bread and rice crackers. And no grazing platter is complete without a bit of cheese! I loved the provolone. The creamy balls of boconcini were oh-so-tasty too!
Outside kids will love to meet the winery's friendly dogs, Rani and Jessi.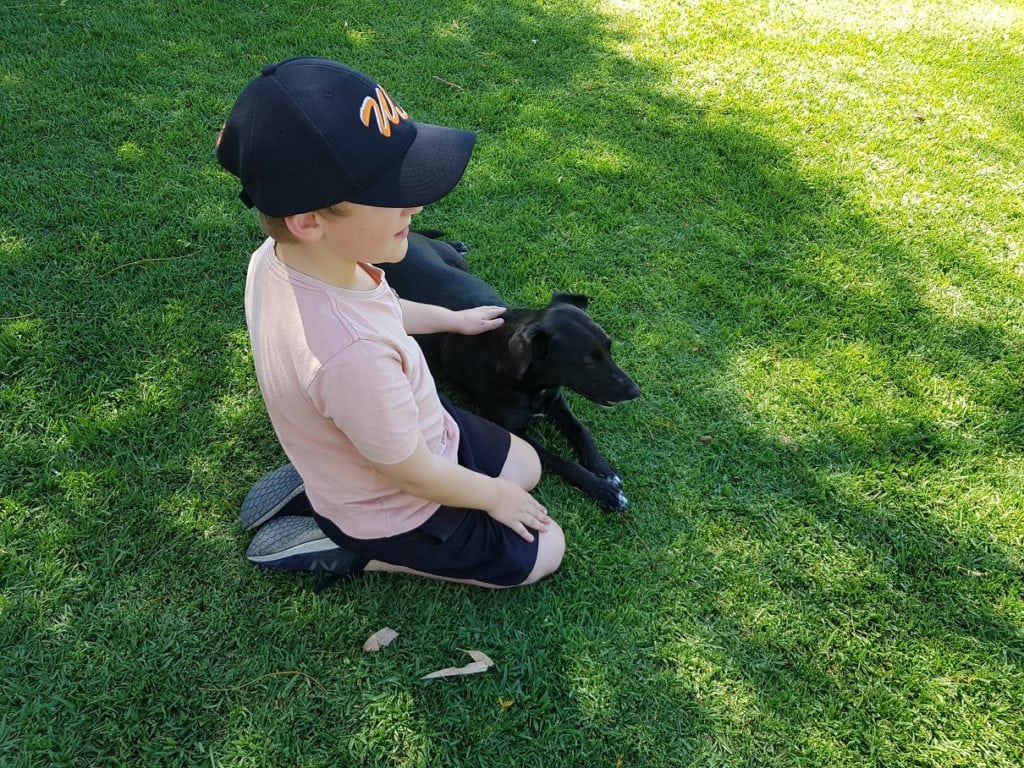 There's also lots of wide open spaces to run about, visit the chickens, see the fruit and vegetables being grown on the trees and an old tractor, on which Little Chef liked to pretend to be farmer.
Children will love exploring the nature play area.
There's logs to scramble over, pathways to explore and flowers to smell!
Bigger kids will like to climb 'the mountain", but you'll want to watch younger children on that, as it's quite steep and gravelly. It's good old fashioned fun!
The lawn is a good spot for enjoying platters and wine on picnic blankets under the shady Jacaranda tree.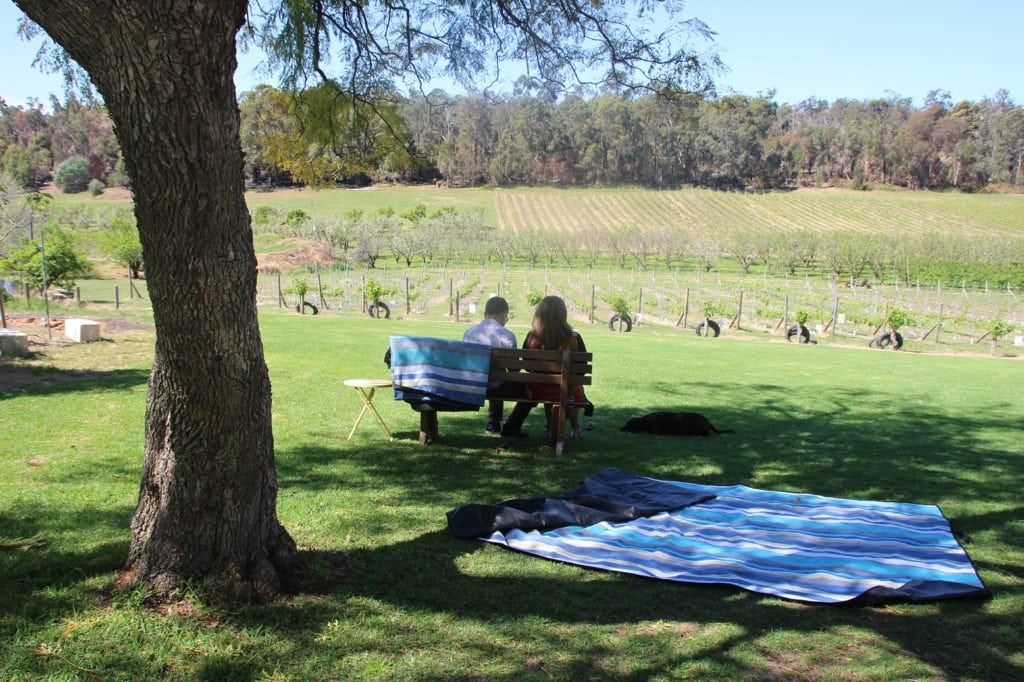 There's highchairs available for little ones, as well as some colouring books etc in a corner of the restaurant.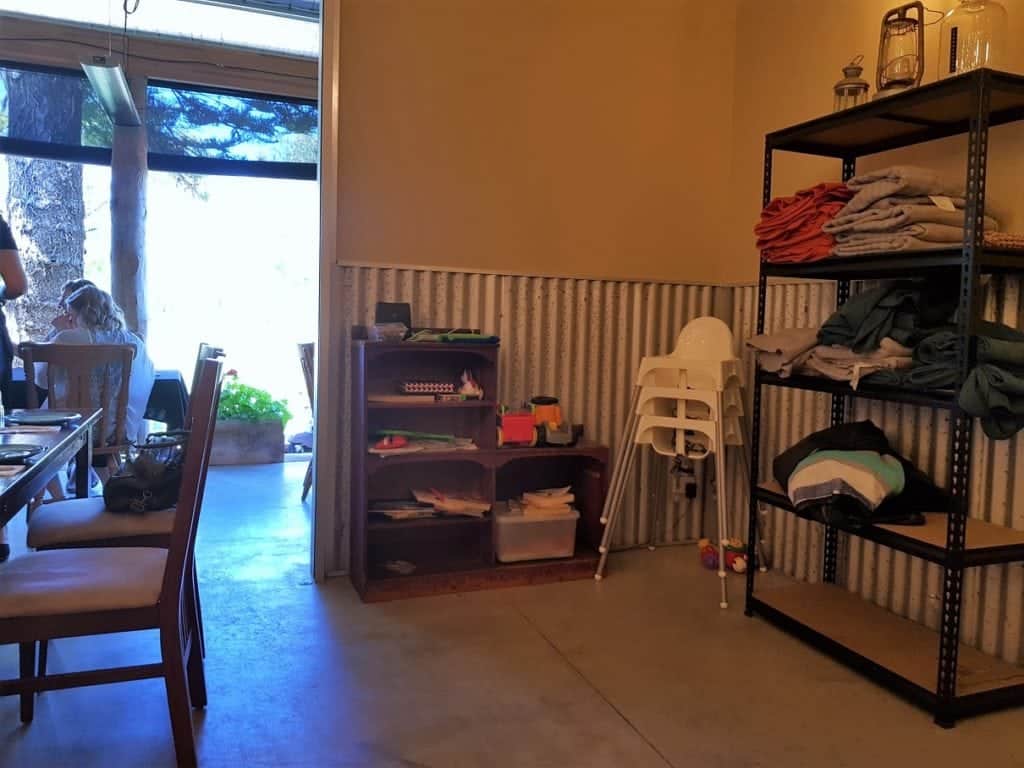 Of course the main attraction on the drink's list is La Fattoria's wine (they also offer a cider and non alcoholic drinks). I particularly enjoyed the sparkling red, a Brachetto, which I've never tried before. And if you're driving? You can also enjoy coffee and a freshly baked slice of cake.
Before you leave, visit their fresh produce outlet "Fruit Loop" in the packing shed and take home some freshly picked apples, pears, plums, figs, passionfruit, avocados – or whatever else is currently in season. Whether you're hankering for an Italian feast or prefer a tastebud tempting platter while relaxing on a picnic rug – you'll feel right at home at La Fattoria.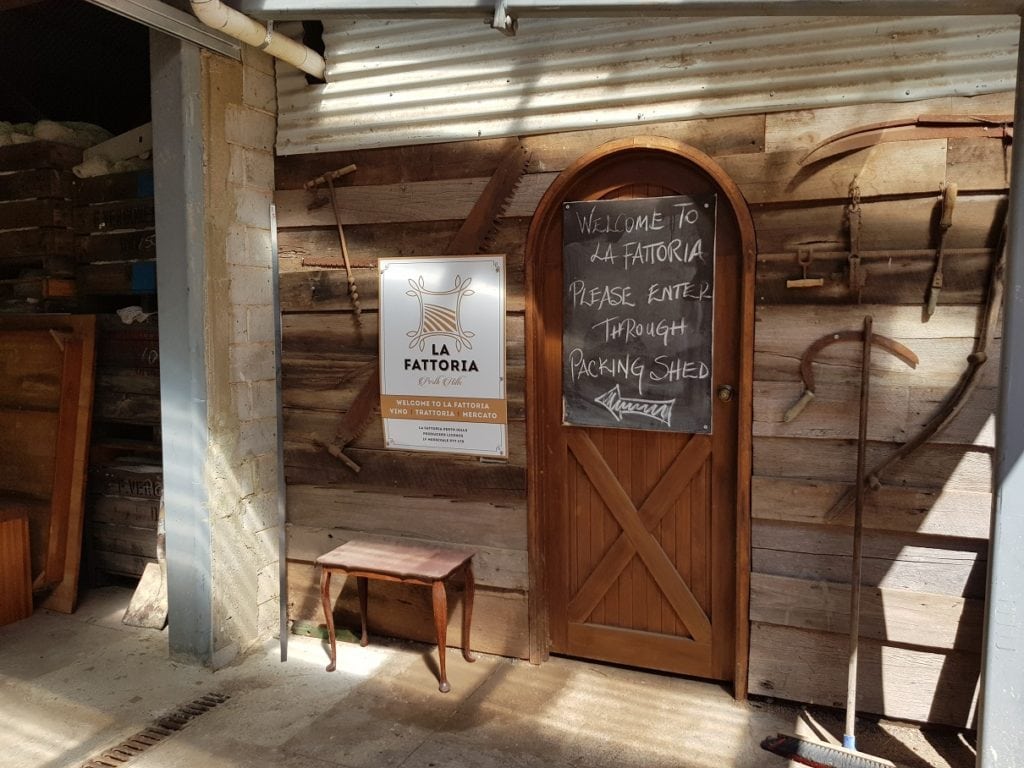 Find La Fattoria at 211 Merrivale Rd, Pickering Brook, WA.
https://www.lafattoria.com.au/
Find more family-friendly restaurants in Perth