Take a weekend drive with your family to Mundaring Weir in the Perth Hills – there's so much to do! Mundaring Weir with kids is a great day out. From bushwalks, picnic spots, playgrounds, pubs and a museum, it's easy to spend hours here. It's not just a pretty dam, there's a fascinating story behind it, and without Mundaring Weir, Perth may not have become the city it is today. With the wealth and migrants from the early gold rushes – it was so important to establish a drinking water supply to the remote goldfields. This is Mundaring Weir's main purpose to this day… and it's also a great place to explore with kids.
Dam Wall
First things first. You can't visit the historic site without taking a stroll and a few snaps along the top of the Mundaring Weir dam wall. There are carparks on both sides, for easy access. There's often an ice cream van parked on the south side. The service building, hallway across the wall has recently enjoyed a fresh coat of paint too.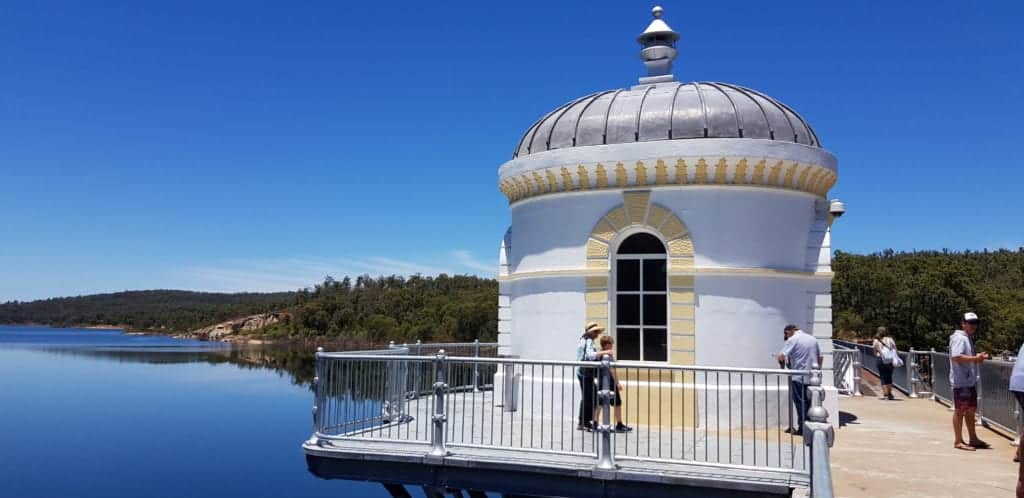 CY O'Connor Hub Playground
Some people may not know there's a lovely park hidden in the bush on the north side of the dam wall. There are historical, natural, play and educational attractions in the "CY O'Connor Hub". Accessed by a road behind the Mundaring Weir Hotel, there's picnic tables, shelters, BBQ facilities, toilets and lawn for kicking a footy or throwing down a rug. Kids will love the colourful pipe themed playground, with stepping stones and tunnels. Read more in the Buggybuggys review.
No 1 Pump Station
If you want to delve deeper into the story behind Mundaring Weir, a trip to the No1 Pump house museum is a must. Found at the bottom of the dam wall, at the restored Pump Station you'll learn the fascinating story of the Engineer who dreamed up the grand scheme, CY O'Connor. There's also lots of facts and old photos on the building of the pipe line and the weir. Here, you can also see the immense machinery that was used to pump water from Mundaring, all the way to Kalgoorlie in the goldfields. There are a few interactive displays for kids. No 1 Pump Station is open Sat, Sun and Public Holidays, 12 – 4pm. A small admission fee applies. Read more in our Buggybuddys review.
South Ledge Lookout
If you're going to Mundaring Weir with kids, take a drive up the gravel track to South Ledge. Here, take a short 400 meter bushwalk and you'll be rewarded with a view of Mundaring Weir from a different angle. Read more in our Buggybuddys review.

Bushwalks
Did you know that the epic Bibbulmun Track runs straight through the Mundaring Weir area? This may be too long for you (you can walk smaller section). There are plenty of other long and short bushwalks around this area. The are particularly lovely in winter and spring, when the wildflowers are blooming.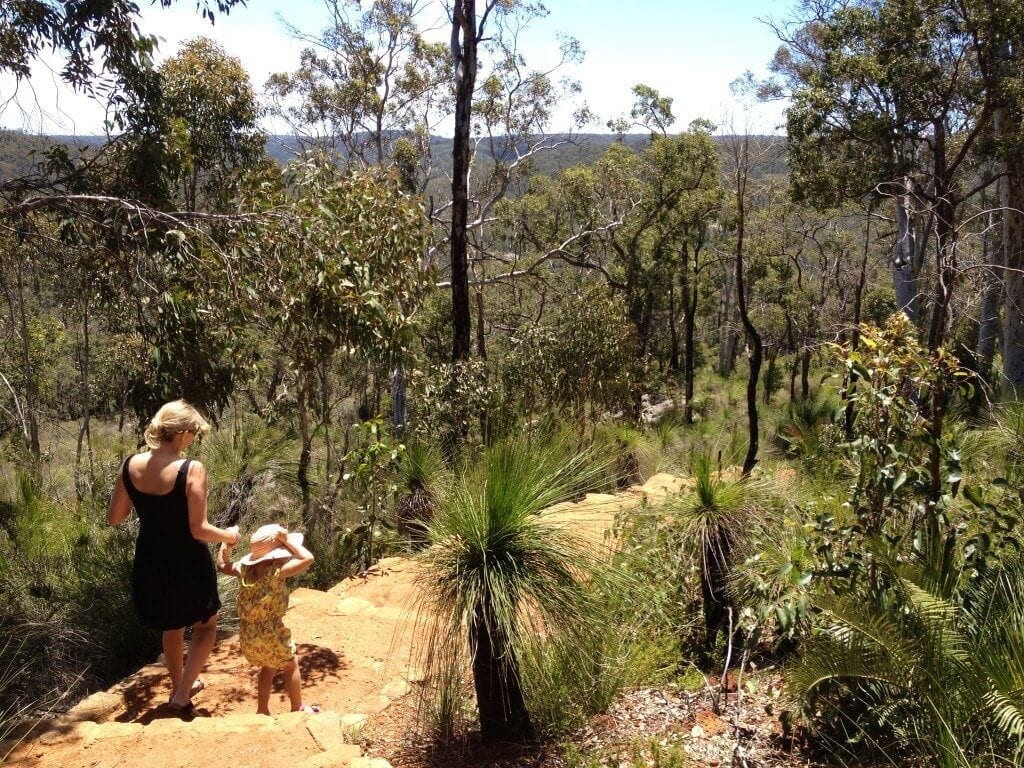 Picnic Spots
As well as picnic and BBQ facilities at the CY O'Connor Hub and South Ledge Lookout, there's another lovely picnic spot right at the base of the weir wall, across the bridge from the No 1 Pump Station. Here there's shelters, toilets and even special picnic tables for wheelchair users.
Mundaring Weir Hotel
And after all that, you will have worked up an appetite, so a trip to the Mundaring Weir Hotel is always a good idea. The pub, which is over 110 years old, is just a two minute drive from the Mundaring Weir dam wall, has huge gardens and an amphitheatre. Find the giraffe's head peering out from the bushes, where a wonderfully shady children's playground is hidden behind the stage. Sunday afternoons are a good time to visit, when there's live music and their famous lamb spit roast from 3pm. Read more in our Buggybuddys review.
Find the Mundaring Weir Hotel at Lot 502 Hall Road, off Mundaring Weir Road, Mundaring.
Outdoor Cinemas
In summer, the popular Kookaburra Cinemas are held near the weir at Allen Road, Mundaring. You can even camp overnight!
So head to the Perth Hills for a great day at Mundaring Weir With Kids!
How to get there
From Kalamunda Town, drive straight down Mundaring Weir Road from Railway Road.
From Mundaring Town, drive straight down Mundaring Weir Road from Great Eastern Highway.
Find more family friendly things to do in Perth here.