Drakesbrook Weir, Waroona – I won't disguise my reluctance to put up this review. We have visited the Drakesbrook Weir (also known as Lake Moyanup) twice now and both times my husband and I have questioned if we want to share this gorgeous gem! But how can we deny our wonderful Buggybuddys readers?! This is the PERFECT Sunday drive/family outing for swimming, canoeing, picnics and long lazy lunches in a picturesque setting.
If we hadn't stopped at the Waroona Visitors Centre and spoken to their delightful volunteer who divulged the quirky little town's best kept secret…we would never have known the weir even existed!
She did mention that it is becoming a bit of a tourist hot spot and there are plenty of locals near and far who enjoy it in the off peak times. Both days we went there were a few tourist buses stopping in as well as community groups enjoying a fun day out. So the word is definitely getting out there!
Constructed in 1932 the weir has had a makeover in recent years which is great for families. There are toilet facilities as well as gazebos with tables, chairs and shelter. There are also free barbecues and bins scattered around. If you're lucky Mr Whippy comes on the weekends and during school holidays for a sweet treat.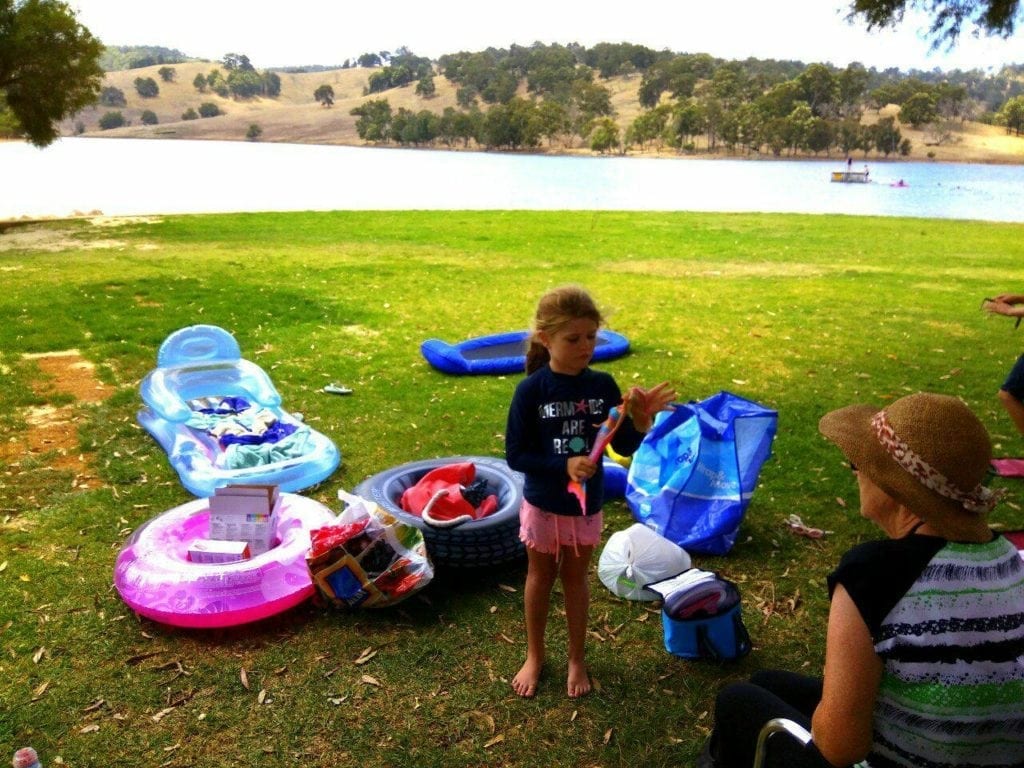 They have also created "shorelines" with actual beach sand which is wonderful for littlies who just want a paddle or children who are still learning to swim.
The depth is a bit inconsistent, in some areas we were able to walk out and wade barely to our knees, where as in other spots it becomes quite deep not too far from the shore. There is also a lot of rocks including random boulders which sometimes can't be seen, so be cautious when swimming or diving.
There is a great pontoon that is popular for all ages. This is safe to jump off of.
There is a fantastic grassed area that you would be hard pressed not to find a spot for a picnic rug, camper chairs or a beach tent. Some people had put up a huge gazebo and it barely took up any room. There is a lot of shade, however the closer to the water, the less shade there is.
From the Waroona website:
These are some of the activities the Weir is used for: Swimming, canoeing, swimming classes, school swimming carnivals, bushwalking and fishing. Sometimes events like Australia Day celebrations, family picnics and raft building competitions were held there.
The backdrop of the weir is stunning. Even on a cloudy day it looks like a painting. Rolling hills with scattered trees and some cattle happily grazing on the hillside and drinking from the shorelines. It is truly breathtaking.
There are no motorised boats allowed at the Drakesbrook Dam which is actually a wonderful thing. Someone brought their mini remote control boat and it was so noisy that everyone on the shore had a look of disapproval. It's not that those things aren't awesome, it just took away from the calm and peaceful vibe that Mother Nature was providing. Lake Navorino is nearby for all the boating/water skiing enthusiasts.
You will also need to leave your fur baby at home. Dogs are prohibited.
This is becoming a popular spot for those who don't want to make the trek to Black Diamond Lake and with easy access shorelines and fantastic facilities, this is a definite must for families with not only young children, but kids of all ages to enjoy.
Drakesbrook Weir
Where: Weir Road, Waroona
Find more beaches in Perth
Find more picnic and walking spots in Perth