If you're looking for a family-friendly spot for fish and chips near the ocean, and a view of the sunset, Cicerello's in Fremantle could be your way to go. Stop off and visit the famous statue of Bon Scott, and grab a bite to eat!
Miss 3 asked to have dinner near the sea so we could watch the sun go down. So we took a drive to Fremantle and grabbed a seat in the breeze outside at Cicerello's.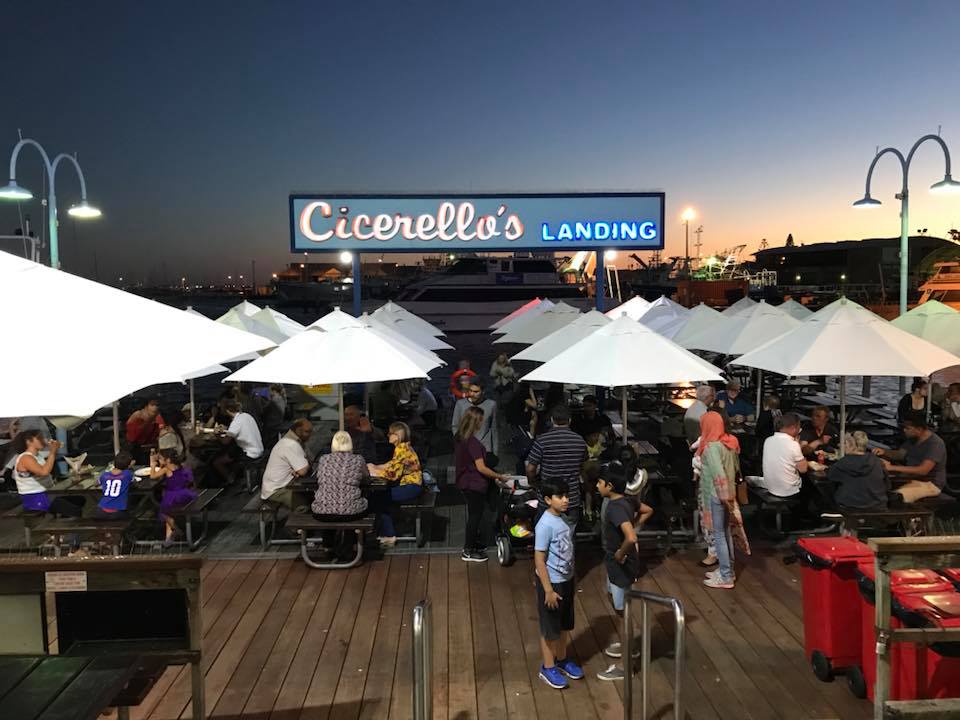 Dining here, you can choose to sit inside or outside, either undercover on the verandah or under the umbrella seating on Cicerello's Landing, off the boardwalk. If you have a little runner, inside or on the verandah may be your better seating options as the boardwalk isn't completely fenced off, so little ones will need to be watched. We found there were plenty of high chairs available for littler diners, and we found a tv screen and lots of crayons and colouring in sheets available inside to keep bigger kids busy.
Inside the restaurant, including the hallway to the restrooms, has a number of marine aquariums full of colourful fish. Miss 3 found these fascinating and kept trying to find Dory and her family among each one.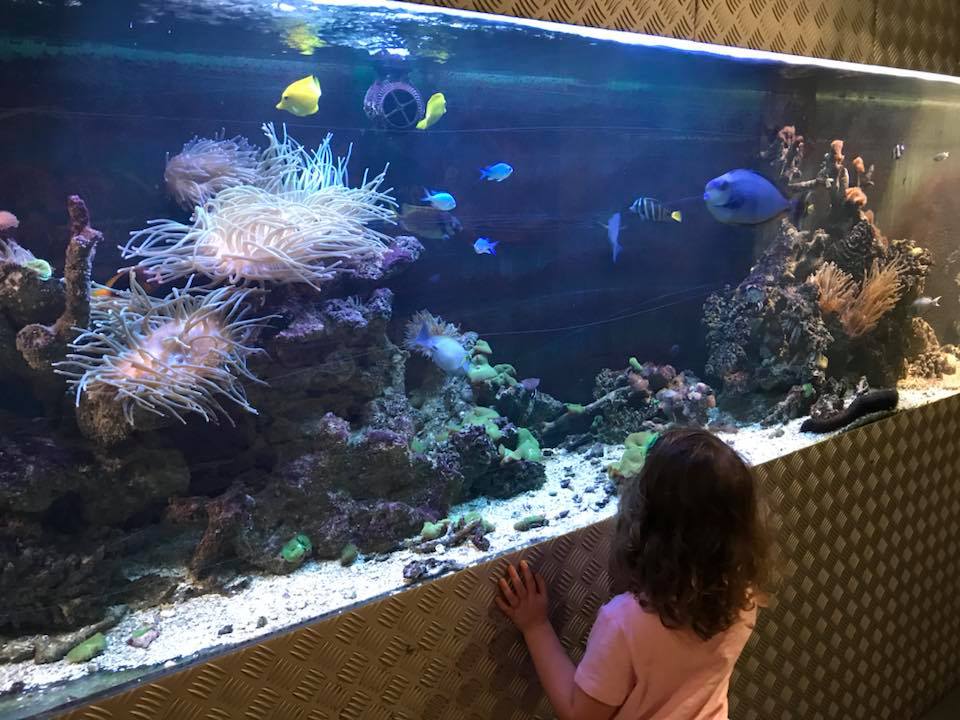 If that's not enough to keep kids entertained, you can purchase small tubs of fish pellets from the little cafe at the front of the restaurant for $1 each to feed the fish outside on the boardwalk. Miss 3 loved this! The fish swim to the surface and jostle for the food, much to kids delight. We went through two tubs of fish food, and Miss 3 would have liked to have fed them more.
The menu has a mix to suit all kinds of cravings. In addition to the fish and chips and grilled fish options you'd expect, Cicerello's also offer a variety of pizzas, burgers and pasta dishes to choose from. They have a small selection to choose from on their kids menu, including chicken nuggets, chicken strips and a fish basket. The chicken nuggets option suited my Miss 3 just fine. All kids menu options come with chips and tomato sauce.
While Miss 3 enjoyed her nuggets, her Dad opted for a crab stick and two pieces of the "standard" fish, which is hoki. This is snap frozen at sea, and tastes fresh and mild, and not too "fishy", so great if your not a big fish eater like myself. As well as sampling his fish and helping him with his generous serve of chips, I opted for a dim sim, a potato cake and a pineapple fritter. It all came out hot and not too greasy for fried food. It ended up we couldn't finish it all, as the meals come with loads of chips.
If you've still got room after your meal, desserts such as cake and gelati, or coffees can be purchased from the cafe at the front of the restaurant. The cafe also stocks small tubs of lollies if you just want to stop in to feed the fish and share a sweet treat.
If you're keen to see the sun go down like we did, you can take a short walk to the end of the boardwalk, and watch the sun sink into the sea across the road on the water's edge. Otherwise, the view from Cicerello's Landing, with the sun setting over the harbour and the statues of the fisherman is also amazing.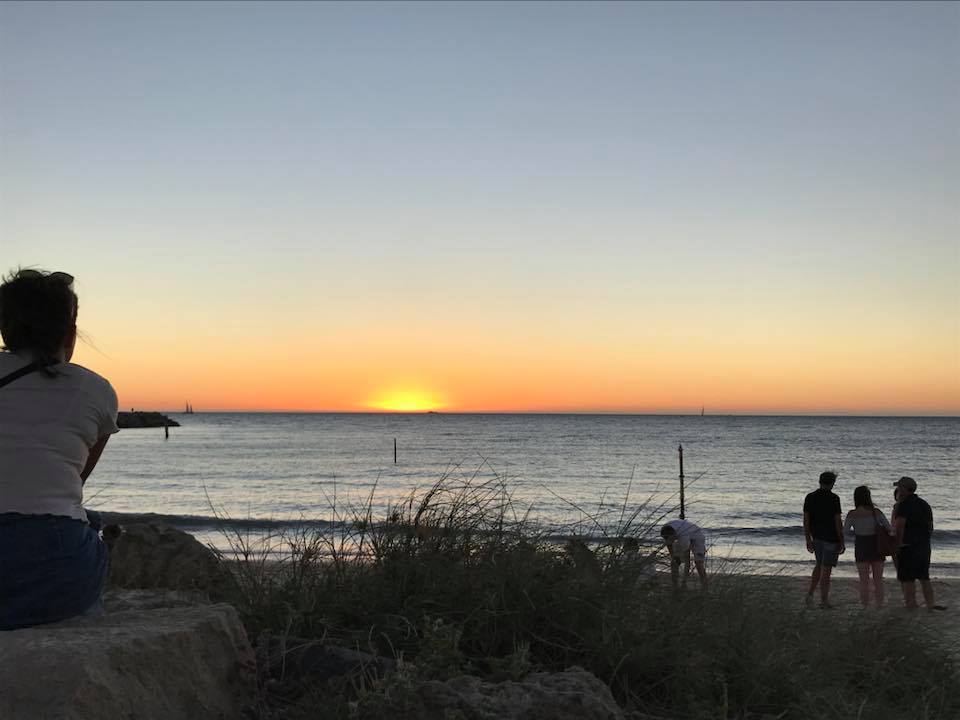 Alternatively, Cicerello's is a short walk across the railway line from the Ferris wheel and playground, or you could walk down the boardwalk for ice cream at Baskin Robbins. So you could always walk or play off dinner, then come back for some dessert.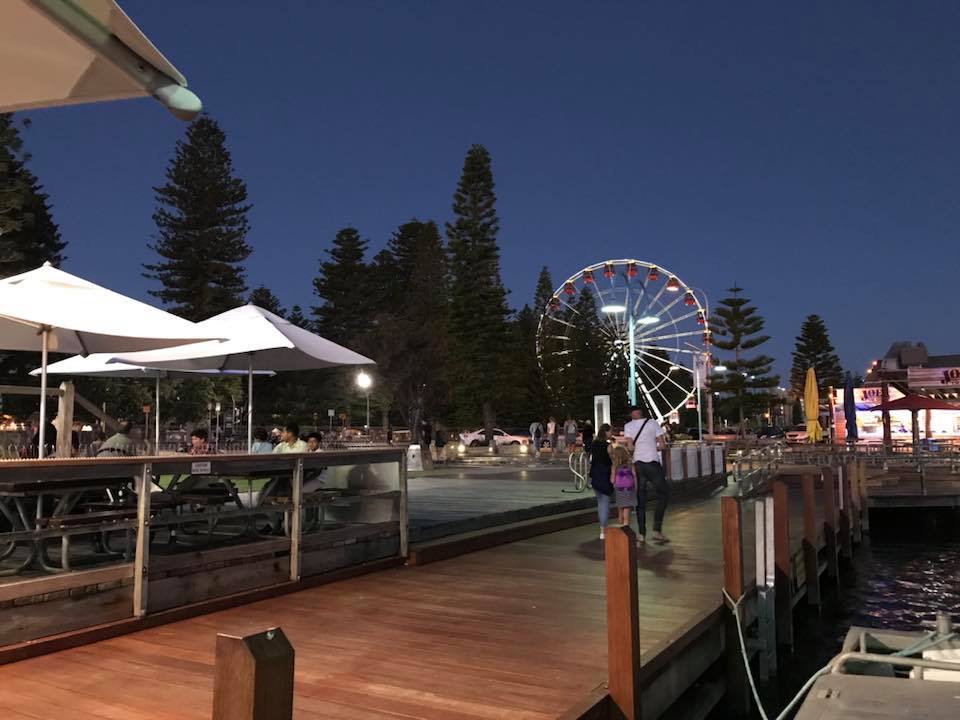 Cicerello's Fremantle
44 Mews Road, Fremantle, at the Fremantle Fishing Boat Harbour.
Open seven days a week from 10am until late.
www.cicerellos.com.au/fremantle/fremantle-menu