Each and every Sunday morning, the lovely Perth Hills town of Kalamunda is bustling. The delicious Kalamunda Farmers Market is a great event, perfect for stocking up my fridge with fresh, locally grown fruit and veggies, and to enjoy a tasty breakfast. We buy lots of fresh produce from the various market stalls. The prices are often much better value than the supermarkets. Much of the produce I bought was spray-free and picked from Bickley and Walliston vegetable gardens the night before. You can't get much fresher than that!
If you love some freshly made artisan food, there's baked goods, macarons, honey, cheese, fresh seafood, and olive oil to taste and buy.
The large range of artisan stalls changes frequently, so there's always something new to check out.
For foodies with green thumbs, there's a wide range of potted herbs, vegetable seedlings and chilli plants. The plant stall also sells a variety of indoor plants, and succulents.
Treat yourself to a bunch of blooms!
For kids, there's always a free bouncy castle to have a bounce on.
There's often other activities too. The morning we visited there was a face painter there.
Fur kids are welcome too (on leads). There's plenty of water bowls for dogs too.
Live entertainment created a vibrant atmosphere.
The Kalamunda Farmers Market is also a great spot to have a tasty feed. Little Chef always makes a bee-line for the giant frypan of snags. The German sausages with fried onions and sauerkraut are so tasty!
The Farmers Wife, who has a juice stall, is a favourite of mine. She's hills local and her juices are always deliciously refreshing. We love the community feel that the Kalamunda Farmers Markets bring. It's also the perfect way to start a day in the hills; there are lots of lovely gift shops and cafes in Kalamunda. Afterwards, enjoy a drive around the Bickley Valley Wineries and stop somewhere for lunch.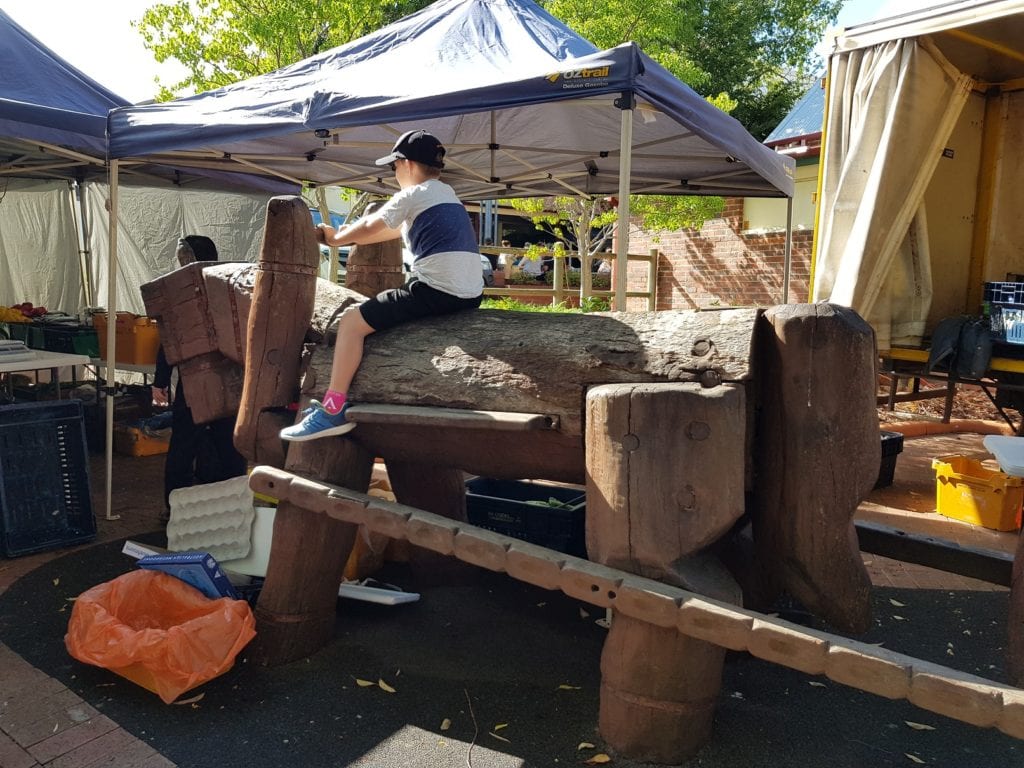 Find the Kalamunda Markets on every Sunday in Central Mall, Kalamunda, 8am until noon.