Romancing The Stone Gardens
Romancing The Stone Gardens is an amazing garden located in the south east of Perth. It's a wonderful place to appreciate nature and discover a world of fairies.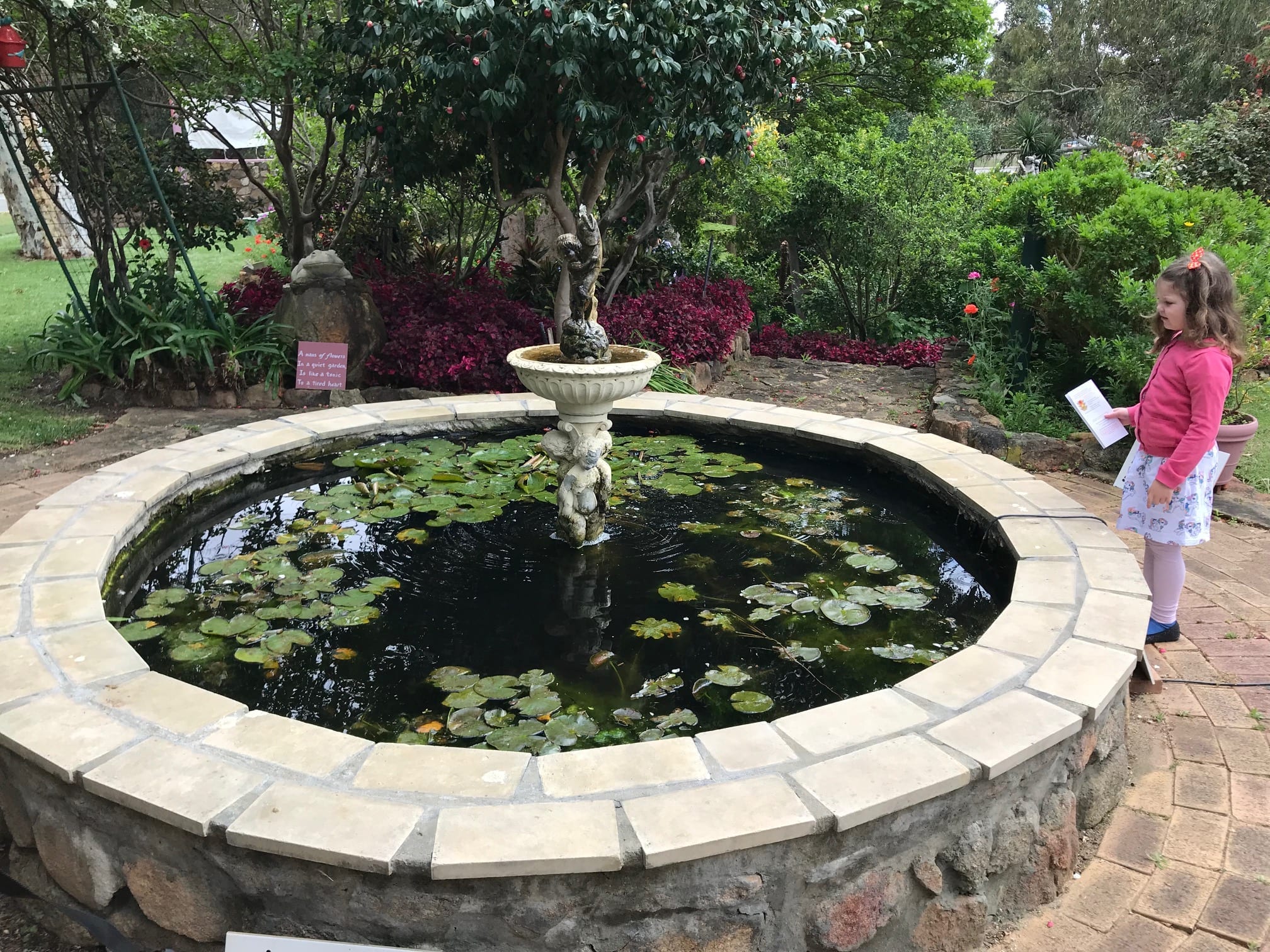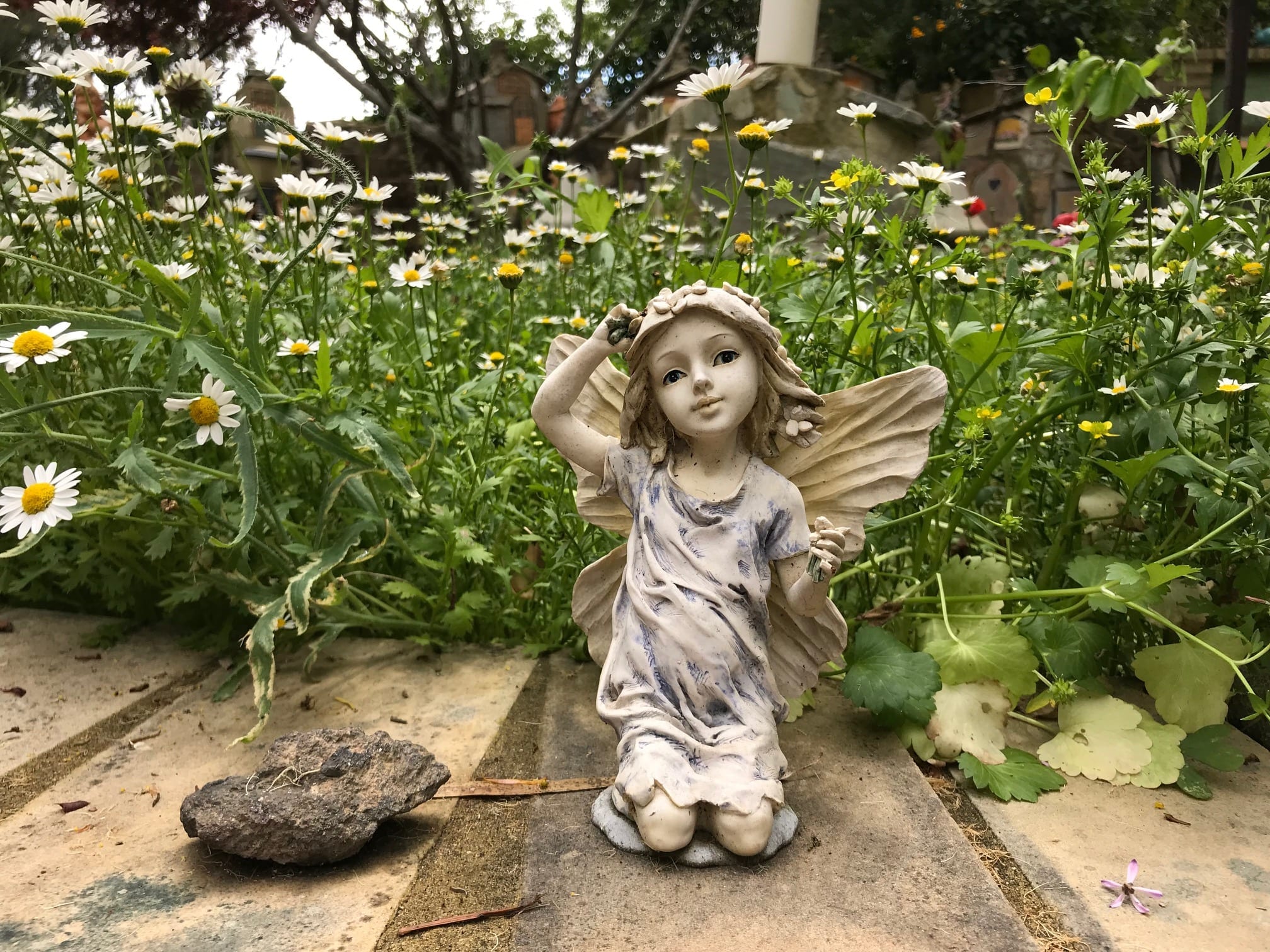 Perth artist, Tom Hogg, created the gardens he called "Romancing The Stone", building parts of it by hand himself. It's a rambling mix of Australian natives and more traditional English style garden beds. All around, you can find stone statues of different types.
For curious children (and the young at heart!), there is lots to explore. On entering the gate, the first thing to grab our attention was a pond. Miss 5 spotted tiny fish swimming beneath the lilypads.
Adjacent we found a section of green lawn surrounded by garden beds, statues and a sign barely the garden's name. It is here that garden tours meet. We found a bird feeder here also for local wildlife.
As we kept walking through, we found a set of steps leading down to a stream and a gravel path. We followed this along, finding more statues and a mosaic, before coming to an amphitheatre. It is hear that that concerts and garden talks are hosted. This picturesque spot can also be hired for weddings.
Across a wooden bridge, we wandered into Fairyville. This is a mish-mash of garden gnomes, fairy statues and other fairytale creatures. Miss 5 was delighted to discover Snow White and the Seven Dwarfs and a tiny mouse house.
Following the paths on, we walked up the top of the garden and came to an orchard. This connects on to a rose garden, and overlooks the rest of the garden and stream. Not having a lot of garden ourselves, Miss 5 was happy to get up close with the poppies and rose bushes. She was delighted to see bees collecting pollen from the roses.
From here, the paths lead back down through the trees and bushes, past the stream and more beautiful stone statues. It's a peaceful spot and you can see a lot of hard work has gone into creating and maintaining this place. If you're looking for somewhere for a family outing with older family members, this would be a great place to visit.
During our visit, there was a plant sale, an art stall and both a sausage sizzle and devonshire teas for sale. Up in this section Miss 5 found a spring rocker to play on while we looked around. There was also a lovely chap doing facepainting for the kids by the gazebo.
On the day of our visit, Romancing The Stone Gardens was open to raise funds for The Amanda Young Foundation, raising money for meningeccocal disease research. Our entry cost $6.00 for adults, and school children were free.
Generally, however, the garden only is open to the public for tour groups of ten or more people. Once a year in October, the garden opens for a weekend for fundraising. Othertimes, it's open for concerts and special events. So, it's worth keeping an eye on their Facebook page for open days. Depending on the event, costs vary from around $8.00 per head for a tour of ten or more, to around $25 per head for concerts.
The gardens can also be booked privately for weddings or special events. Therefore, with this in mind, why not book a tour for a gardening loving family member's next birthday?
Pathways vary as you wander the garden. It's not what I would call pram or wheelchair friendly, with rough stone steps and a steep ramp the ways down to the stream and to Fairyville. As there are areas of open water, smaller children will need to be watched.
Romancing The Stone Gardens
Located at 3 Lilian Road, Maida Vale, on the corner of Hawtin Road.
Romancing The Stone Gardens is open by tour group appointment or during their open garden every October. Check their Facebook page for upcoming events and tours.
Tours can be booked by calling Romancing The Stone on 9454 4298.