Sue and Tim's Strawberry Farm in Wanneroo is open for Pick Your Own 2023! Their first open day is Saturday, September 9th. be sure to get there early as there is limited fruit. The farm is open 8am until sold out.
I couldn't believe at the ripe old age of 10 (and 30-something), Little Chef and I had never gone strawberry picking. Well, we were certainly missing out!
Sue and Tim's Strawberry Farm in Wanneroo is found conveniently off Ocean Reef Road. The best way to get there from the Mitchel Freeway is to exit at Ocean Reef Road and head in an easterly direction. Parking is available on the roadside at Sue and Tim's Strawberry Farm. It was fairly busy when we went, but there always seemed to be people coming and going and parking available.
Begin your visit at the tent, where you buy a box to fill with ripe berries (cash only). It is $15 for a level box of strawberries (approx 3kgs). The farm is also sells a range of drinks. It is a really good idea to stay hydrated while you pick, and to slip, slop, slap. The stall also has pre-picked a trays of strawberries, if you're short on time and don't want to pick your own. I also noticed avocado and freshly picked garlic for sale. The staff at Sue and Tim's Strawberry Farm are friendly and helpful.
Certain areas of the field are closed to the public, and we found that the best strawberries were found past the halfway mark in each row.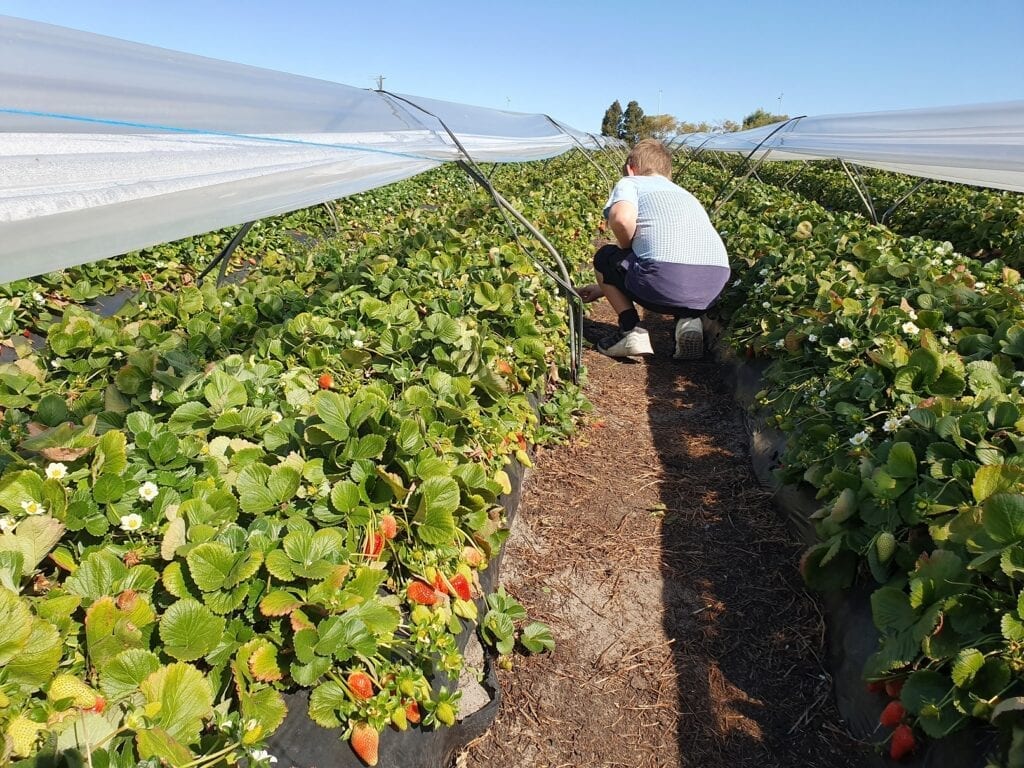 Once Little Chef and I selected an empty row, we made our way along each strawberry plant, picking the strawberries that looked the reddest and juiciest. Sometimes, these were hiding under the lush leaves, so it's a good idea to have a gentle poke about.
You can even eat a few strawberries as you pick. You really can't beat ultra-fresh strawberries. Little Chef couldn't stop eating them! Little Chef and I had a bundle of fun and we left with a delicious haul to make strawberry jam with.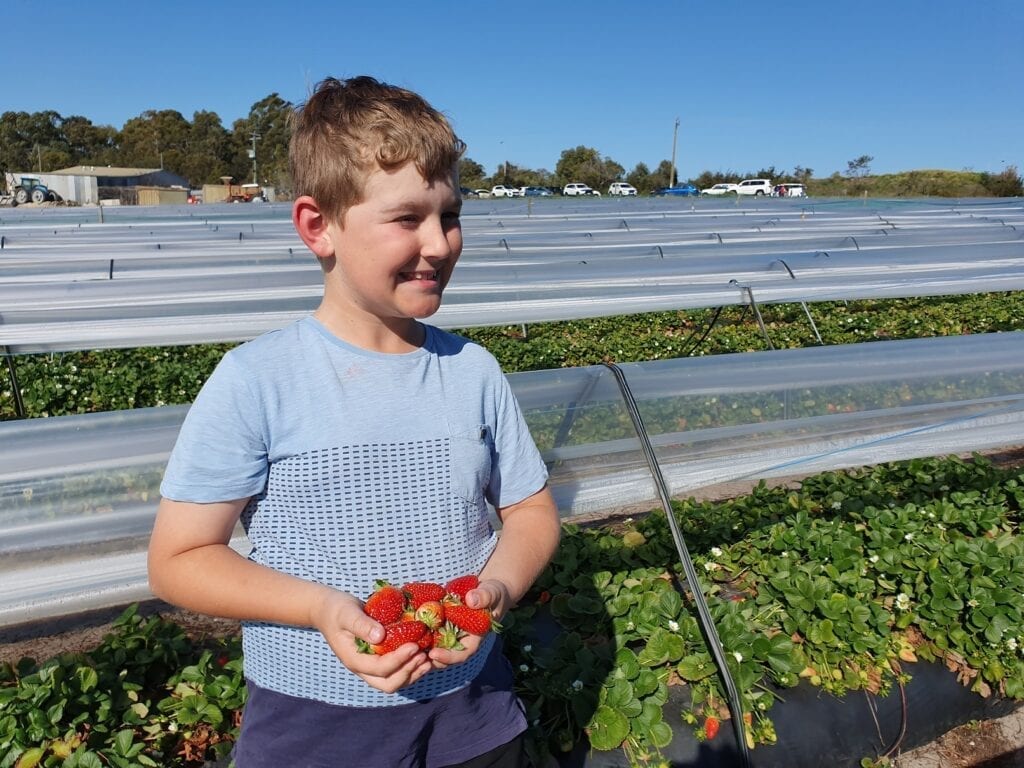 Strawberry picking is a good cheap family activity – perfect for a sunny spring afternoon.
Strawberry Picking Tips
Bring Cash.
Bring a drink.
Wear a hat, sunglasses and sunscreen.
It's best to wear old clothes, I got a few strawberry stains on my shirt.
Wear closed in shoes, as the soil can be quite sandy.
The area is not suitable for prams, so don't forget a baby carrier for infants.
See the Sue and Tim's Strawberry Farm Wanneroo Facebook page for up to date information on opening times (usually Saturdays in Spring).
Find the farm at 157 Badgerup Road, Wanneroo.
Find more strawberry and fruit picking in Perth here.