The gorgeous South West town of Denmark boasts BIG4 Ocean Beach holiday park situated 8km from the town, where the Wilson Inlet meets Ocean Beach.
The park is large and well-kept with plenty of shady trees and grass, and is only a short walk or drive to the river and beach. Accommodation includes chalets, cabins and powered as well as unpowered sites.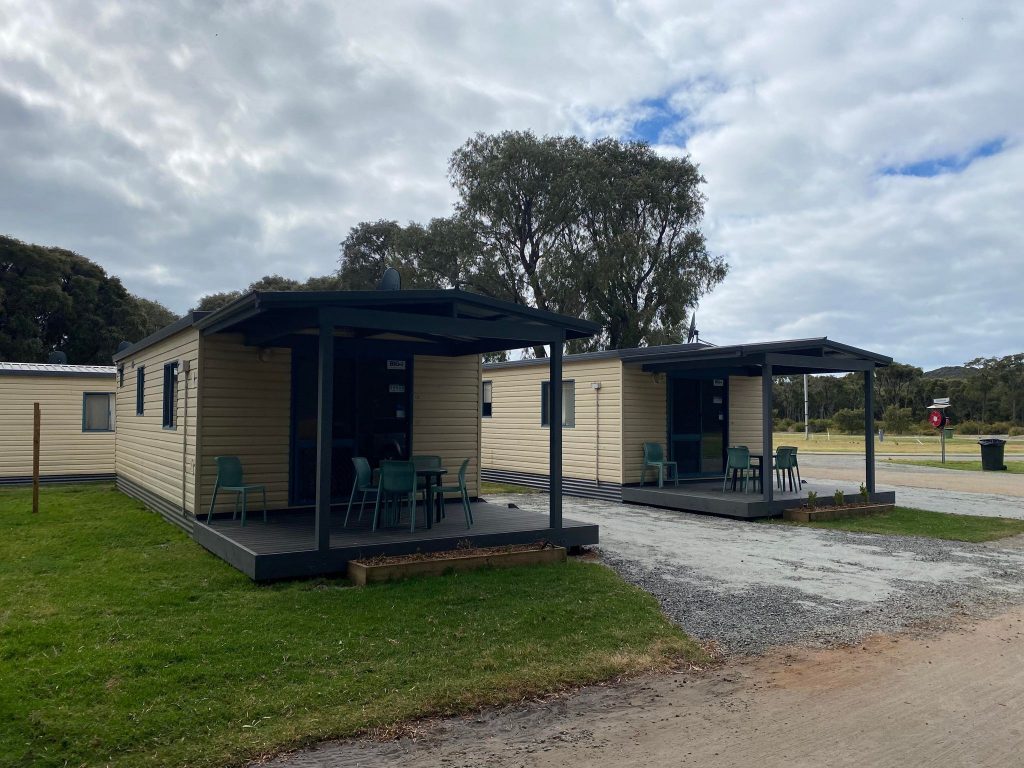 We have a camper trailer and opt for the powered sites near the back of the park, which feel luxuriously spacious with plenty of trees and grass. There are smaller sites with cement slabs too.
We love seeing the kangaroos that roam freely through the park. In the early mornings over the summer months, you can often view mummy Roos with Joeys in their pouches. Kookaburras can be heard daily and various birds visit the shady peppermint trees. The dappled light makes for a gorgeous setting to put your feet up with a good book.
BIG4 Denmark Ocean Beach Holiday Park facilities include:
a Tennis Court
Mini Golf (free to play with a $1 deposit for equipment)
Jumping Pillow and Playground
Pedal Cart Hire (xxx).
Campers' Kitchen with a tv and seating area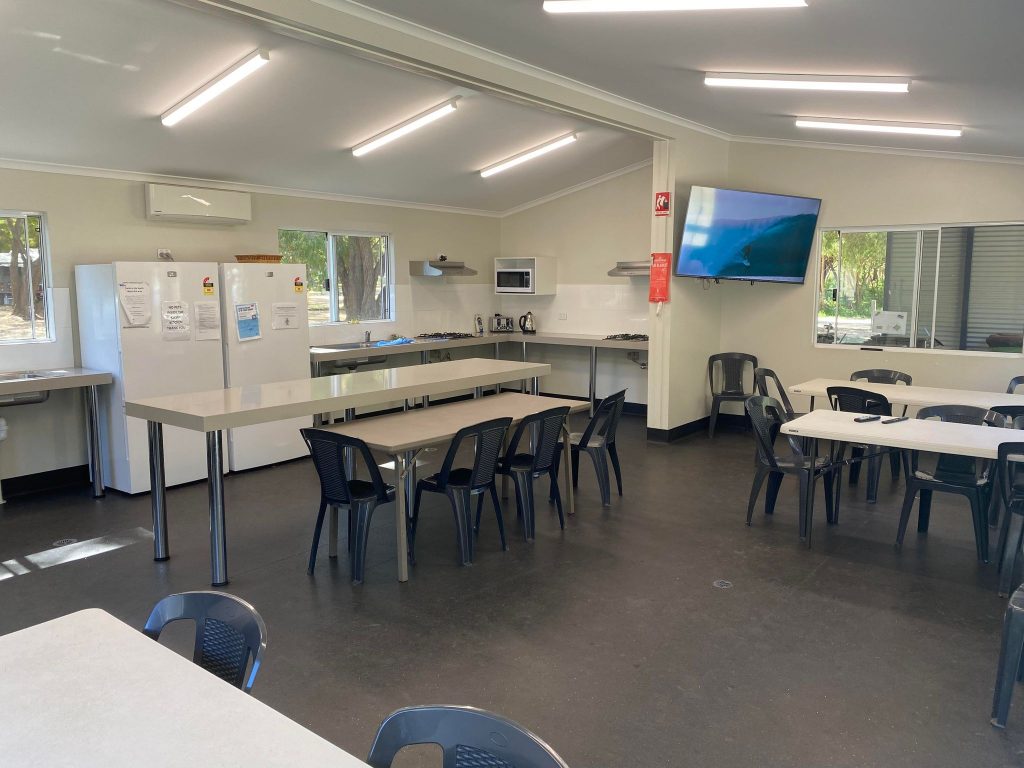 Communal BBQs dotted around the park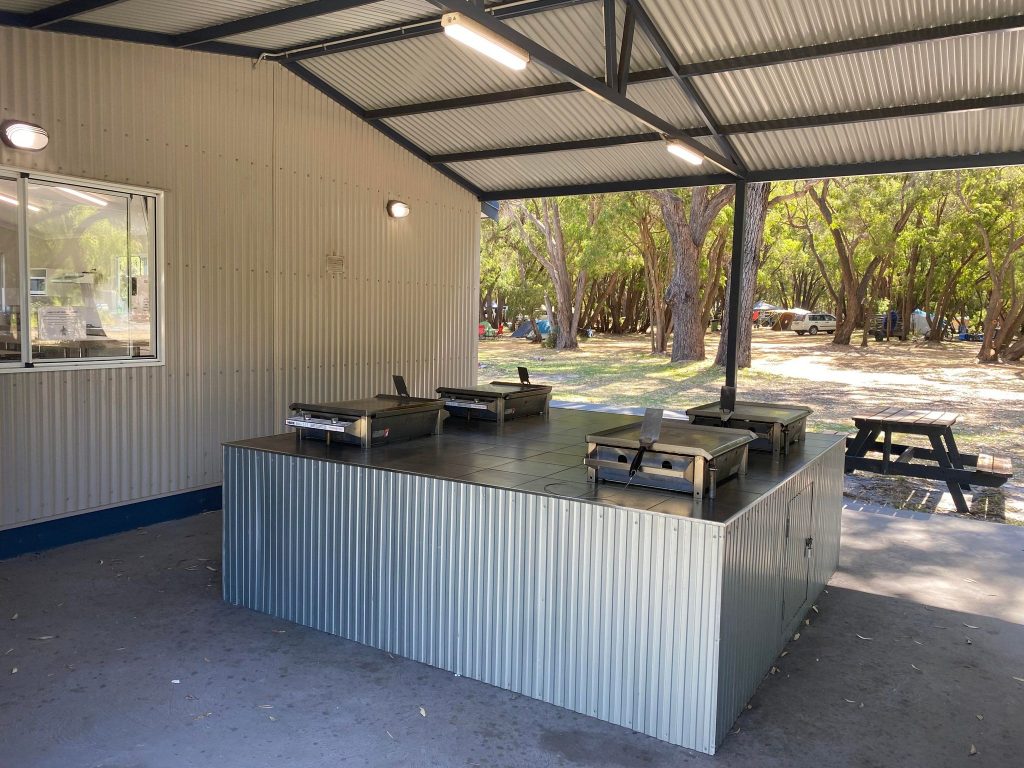 3 Ablution blocks (we found these to be well kept and cleaned daily.)
Laundry room (4 washing machines and 4 dryers – $4 each cycle).
A fish-cleaning station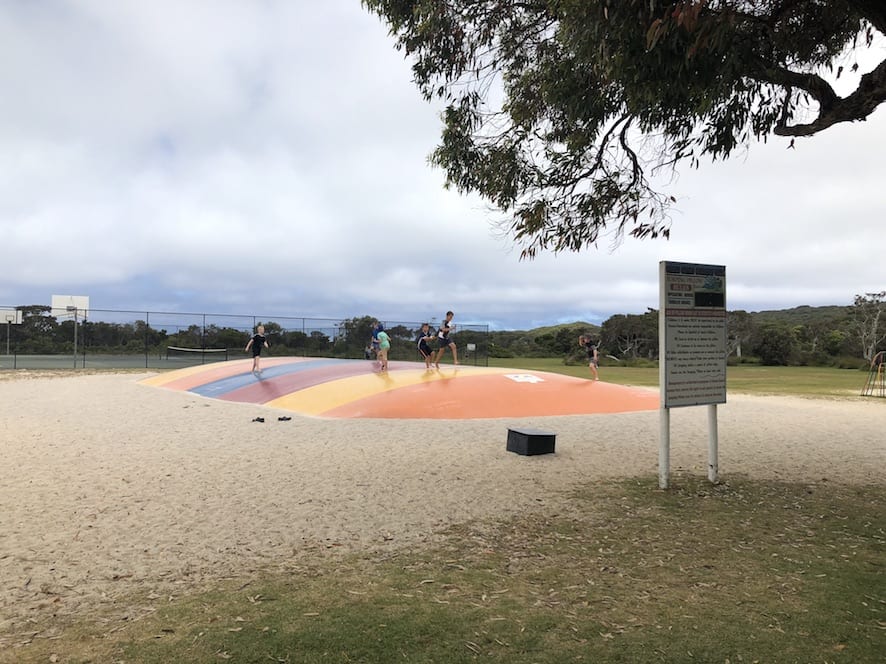 Also available:
Shuttle service to Boston Brewery (enquire at park reception)
Ice and ice-creams for sale at reception
Wifi is free but not so good towards the back of the park
In December 2020 a new, all ages playground was completed. The playground, which sits on an ocean themed soft fall, features 2 towers, swings, a rope climbing frame, a pirate ship and just next to it is a double flying fox.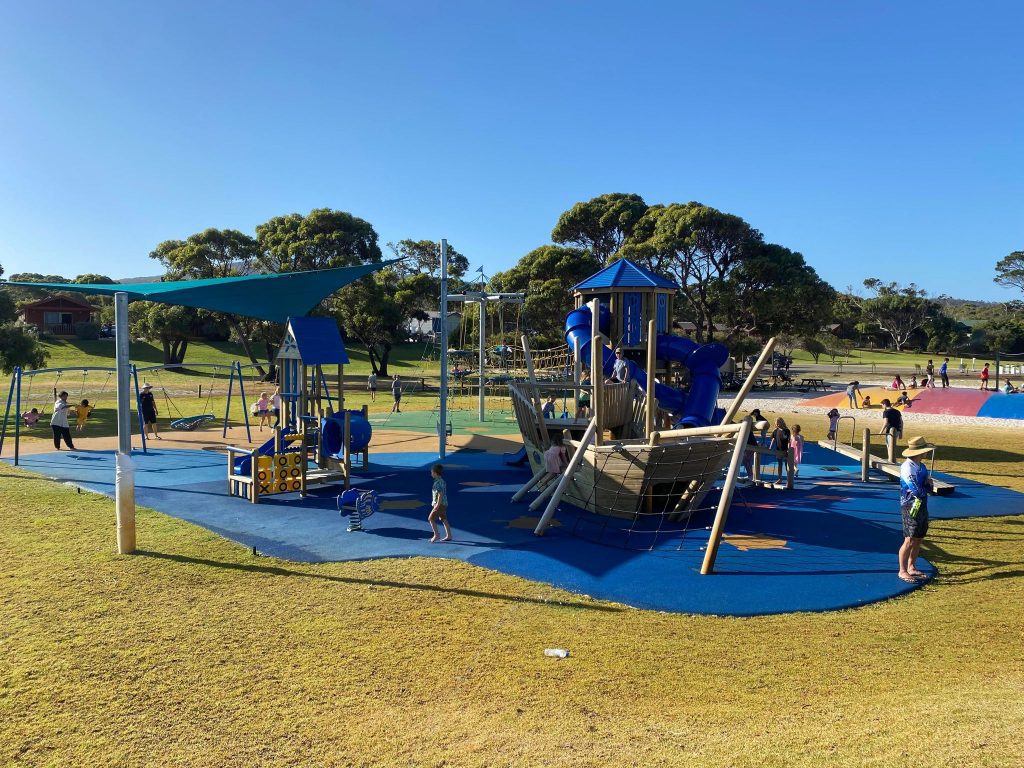 The main tower has 3 slides on one side as well as an interconnecting bridge on the opposite side which leads straight to our climbing frame via the rope bridge.
A second tower designed for the younger age kids boasts a smaller slide and climbing wall as well as a tunnel.
The jumping pillow is still in arms reach of the playground so kids can utilise both our new playground and existing jumping pillow.
The fact that it is located near the front of the park, away from the campsites, is actually a godsend for noise! But for little kids, you may feel uneasy letting them roam to and from the playground unsupervised as it can be quite a distance depending on where you are camping.
For two years in a row we have booked a week over Christmas and New Year. We have found that the days before Christmas are quieter, and then from Boxing Day the place starts to fill to capacity. There is a great family vibe of celebration over the festive season, but the management keeps an eye on the 10pm noise curfew and generally we have had nothing but pleasant evenings and peaceful sleeps! Between Christmas and New Year a friendly and non-pushy Christian group puts on free kids activities such as slip-slides, pancakes, paella night, movie night and kids craft.
There is so much to do in the Denmark area that you are spoilt for choice. The river is a short walk away but we usually drive down with our kayak and paraphernalia to spend whole mornings there. There are limited car parks along the river edge, and a cycle/walk path that winds along the inlet in both directions – great for bird-watching walks. A pedestrian bridge allows you to get across the river (and if you continue along the path through the open bush you can access the beach this way too).
We like to find a sandy patch along the river to set up. The river water is usually quite warm and has a lot of shallow areas making it ideal for small kids. This is not a muddy river, so it is a great swimming spot! There is a jumping rope the kids love to use on repeat.
Other ways to spend your time:
Visit any one of the amazing beaches on the coastline. Ocean Beach itself is beautiful with white sands and good surf, and a lifeguard flag area complete with a kiosk for coffees and light meals.
Greens Pool – best to head to this popular spot early to get decent parking. There are steps down to the beach and the natural pool is usually beautifully clear and calm – ideal for snorkeling and safe swimming for small kids. There is usually an ice cream van in the parking area too.
Elephant Rocks – amazing boulders and shallow waters
Lights Beach – for surfing and fishing
Parry Beach – good for kitesurfing
River mouth evening walks
Collecting shells on the beach
Flying kites on windy afternoons
Denmark town – bakeries, a well stocked IGA, plenty of hippy arty shops and galleries and cafes…
Valley of the Giants and Tree Top Walk – about 30min drive from Denmark
Visit towns of Walpole and Albany
For more ideas there is a Tourist Information office in the town of Denmark
TIP: On check-in you will need to put down a refundable $10 deposit for the keycard that gets you in and out of the park securely.
For more information visit www.big4.com.au
Find more places to stay and things to do in Albany and Denmark