Cape Leeuwin Lighthouse – During a camping trip to the Margaret River region, we decided to visit the Cape Leeuwin Lighthouse near the town of Augusta. This lighthouse is Australia's tallest mainland lighthouse, situated at the most south-westerly tip of Australia, where the Indian and Southern Oceans meet.
The lighthouse was built in 1895 and is a working lighthouse that offers tours that take you inside and up the spiral stairs to the top balcony to experience spectacular views of the rugged coastline. Matthew Flinders, the early 19th-century explorer, named Cape Leeuwin after the first known ship to have visited the area – the Leeuwin ("Lioness"), a Dutch vessel that explored the coastline in 1622.
The lighthouse is a solitary 39m high sentinel surrounded by the stunning Leeuwin-Naturaliste National Park. The ocean waves roll in from three sides and the wind whips across the low heath – so on very windy or wintery days they often need to cancel tours as it can become too dangerous. However, the location makes for dramatic breathtaking scenery.
The converted lighthouse keeper's cottage houses a small museum and gift shop where you purchase your tickets, as well as the Cape Leeuwin Café and toilet facilities. It is a short 5-minute walk along a slight incline to reach the lighthouse itself, so be sure to allow time for this if you have booked a tour time.
You can buy a ticket to explore the grounds only with a self-guided audio-tour radio included. This is available in English, Mandarin, German, French and Malay. The tour of the lighthouse itself is an extra cost. These tours take place every half an hour punctually and last about 25 minutes. Consider a package deal ticket if you are visiting other tourist attractions in the area. We bought a cave & lighthouse deal which saved us money.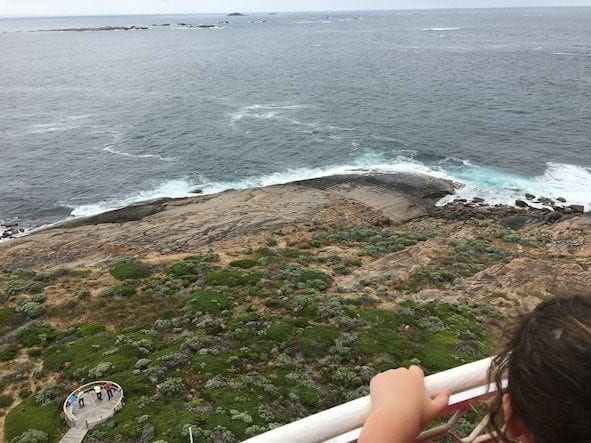 During the tour, you will learn about the lighthouse's history and hear stories about the tragic shipwrecks that dot the coastline as well as rescues from the treacherous seas. The 176 spiral steps that wind up the inside of the lighthouse are not easy on the legs, especially for little ones but my 4-year-old did manage albeit slowly. There is a safety railing to hold onto but the steps are narrow. There is the occasional window along the way to give you an excuse to catch your breath. (Children Under 4 are not permitted to climb the lighthouse tower.)
After the lighthouse tour, we enjoyed exploring the coastal paths and viewpoints – one has a coin-operated telescope. We then enjoyed a delicious coffee and cake afterwards at the Cape Leewin Café, protected from the elements but with beautiful views of the rugged landscape.
Open 9am – 5pm Daily.
Leeuwin Rd, Augusta WA 6290
Cape Leeuwin Lighthouse is a non-profit heritage-listed tourist attraction.
Find out more www.margaretriver.com/members/cape-leeuwin-lighthouse

Find more things to do in Margaret River