Coogee Beach Playground – it's been many years since I visited Coogee Beach. Thankfully not much has changed. The beautiful lush grass strip is still there and is perfect for a game of cricket or dusting off the old frisbee or kicking the ball around. My daughter thought it was her racing track and proceeded to show off her running skills to who ever was interested.
There is a park for the kids with swings, flying fox and a slide which madam was content with for an hour or so. There is also a fair amount of shade sails right next to it which was ideal after a swim to dry off out of the wind and re-group on the grass.
Of course, Coogee beach is right over the hill and even though it was a windy day, it wasn't that rough. We parked up under the jetty for shade but I'd say these spots get snapped up early, so if you prefer to stay out of the sun, probably pack a beach tent or umbrella. There is also the shark net barrier that we chose to swim within, though a lot of others were swimming up along the strip of coast. Overall it was lovely a swim and a pleasant beach. There were heaps of Mums around with little ones who were happy splashing at the shore and others like mine who were just thrilled chasing the waves and building castles.
There is plenty of parking and also the Coogee Beach Cafe is handy for lunch and a drink. We took our own snacks so little miss was happy with an icy pole treat after her swim.
There are also plenty of gazebos lined along the outskirts of the grassed area. These probably get occupied quickly in the hotter months, so probably arrive early.
There's nothing mind-blowing about this playground. It has the standard equipment, plenty of shade and a lovely patch of grass. Coogee has copped a bit in the past for perhaps being a bit "rough", however it seemed safe, secure with mainly families and retirees around who were all quite friendly and civil. It's convenient and uncomplicated which sometimes is all one really needs.
Coogee Beach, Powell Road Coogee 
Find more playgrounds in Perth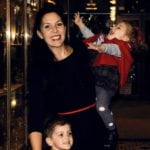 Stephanie Rae - Mother of Dragons, Writer, Bollywood Dancer
Stephanie Rae - Mother of Dragons, Writer, Bollywood Dancer
Location
No Records Found
Sorry, no records were found. Please adjust your search criteria and try again.
Google Map Not Loaded
Sorry, unable to load Google Maps API.
Member Reviews