When you think "Wheatbelt" thoughts of sky high waterslides are probably not going to come to mind. Cue Kulin – one of the most innovative and friendliest towns we have visited. We discovered it last year on a trip to Wave Rock when my husband was looking up points of interest and couldn't believe something that cool (pun intended) could be plonked in the middle of the dry Aussie landscape.
The aquatic centre opened to the public in 2001 – but only because the shire (concerned Kulin would become another ghost town) asked the community what they would like to see in their town. This included the youth of Kulin whose overwhelming response was for a water-slide. Smart kiddos. So, after finding a second hand slide in Queensland and with funding from a very generous farmer, locals made the trek across the Nullarbor, loaded up four trucks, five trailers and headed back to Kulin with their prize. The gamble paid off as locals and tourists far and wide have enjoyed the slide for nearly two decades. The 182 metre long behemoth is the largest in the state (outside Perth) and you don't have to sell an organ to enjoy this magnificent slippery dip.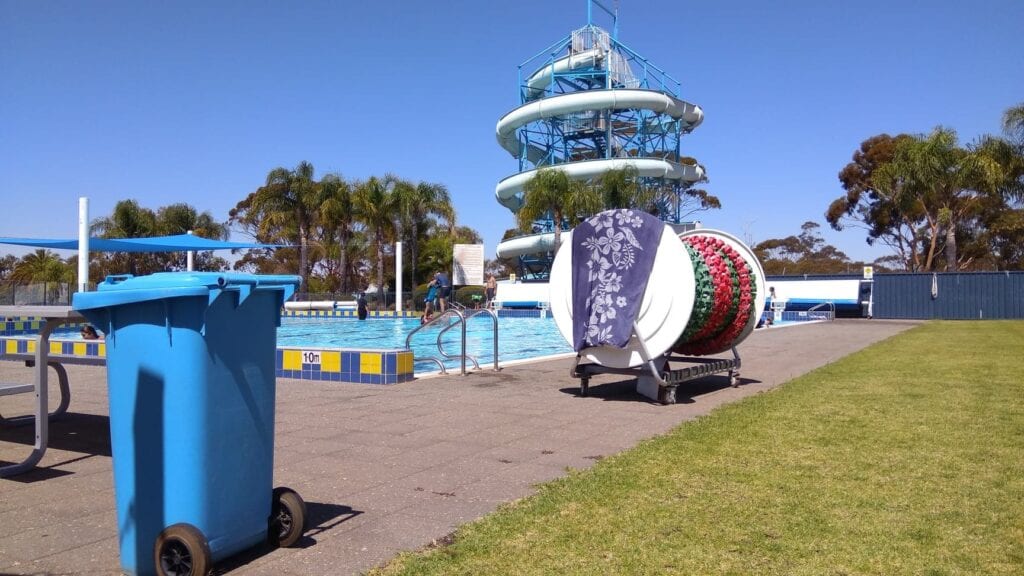 The park itself is a delight as was park manager – Mark Gilbard who could not do enough for us. He and his staff run a well-oiled ship with friendly, country charm. We spent the entire day there and witnessed Mark do multiple safety checks and on every lap he would stop and have a chat with patrons (including kids and teens) making sure everyone was enjoying themselves. It was refreshing. Bonus – for cannon ball enthusiasts Mark allows all types of bommies (as long as it's safe) just no back-flips.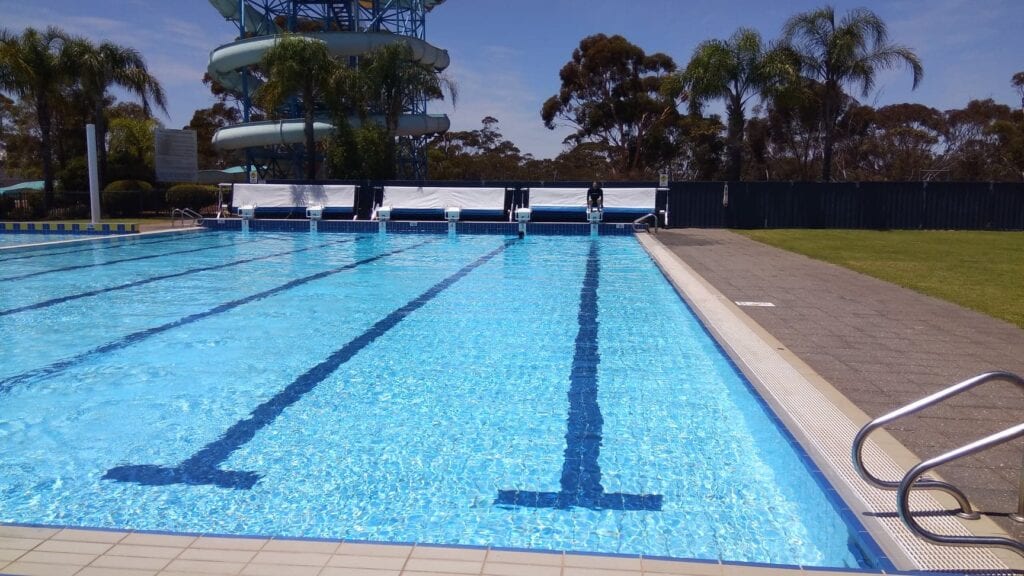 The pool is an absolute dream and because we went on a fairly quiet day – we basically had the entire thing to ourselves at opening and near to closing time. It was a sparkle-darkle dream! A spectacular 50 metre competitive pool with individual diving blocks to re-live those non-existent gold medal glory days was a treat.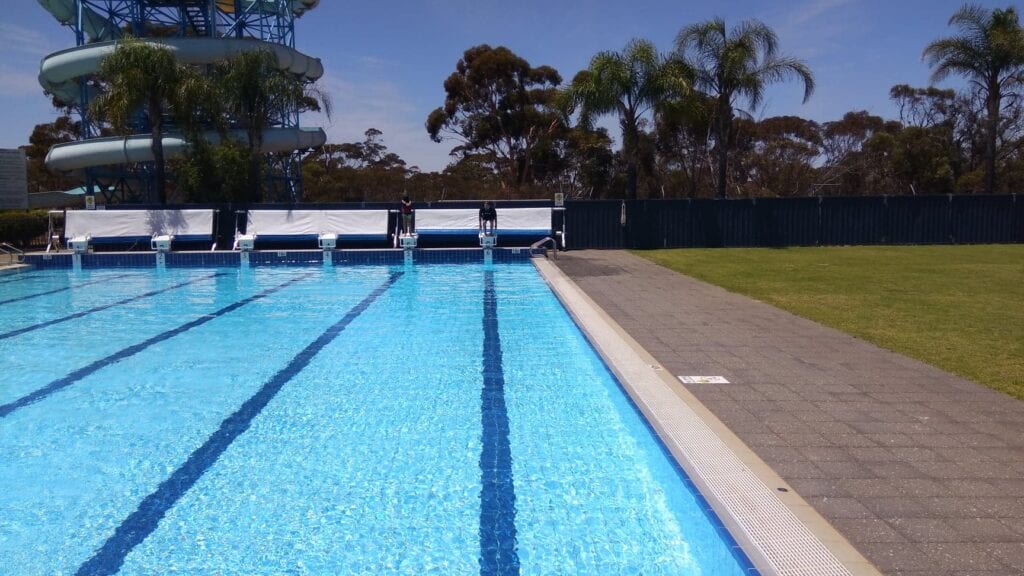 There is also a mini bucket splash and a water fountain in the shallows.
The slide! The best thing about the slide is you can go down with your kids, which was great for us as our daughter was a little reluctant to begin with. The staff are not over the top, however they don't tolerate shenanigans either (no going down on your tummy, or backwards, or group trains, or if you grew up in the eighties – no randoms in tight black jeans hooning up behind you etc) and they tell you when to go – to avoid landing on a bunch of kids, or ending up with some teenager's toe up your nostril.
It's an open slide and it is HIGH. There is a climb. So. Many. Stairs. But the ride down is super rewarding. You don't need to be a cross-fitter, but a bit of stamina may be in order, particularly for the last leg. If you find yourself needing some lung respite – take a moment to breathe (literally) in the views of the Wheatbelt landscape. They are phenomenal.
Everyone needs a mat to go down and it's not one of those slides that scars you for life if you happen to lose it, or it drifts off before takeoff. Yay. It may seem a little daunting at first for younger children, however most seemed to get over their fears after the first go. My kids (and husband) could have spent the entire day sliding. I definitely relived my youth a few times – though middle-aged me would have liked to bypass the staircase and hopped on one of those automatic granny chairs to the slide entrance. But that's just minimal-endurance me. Everyone else seemed to cope fine.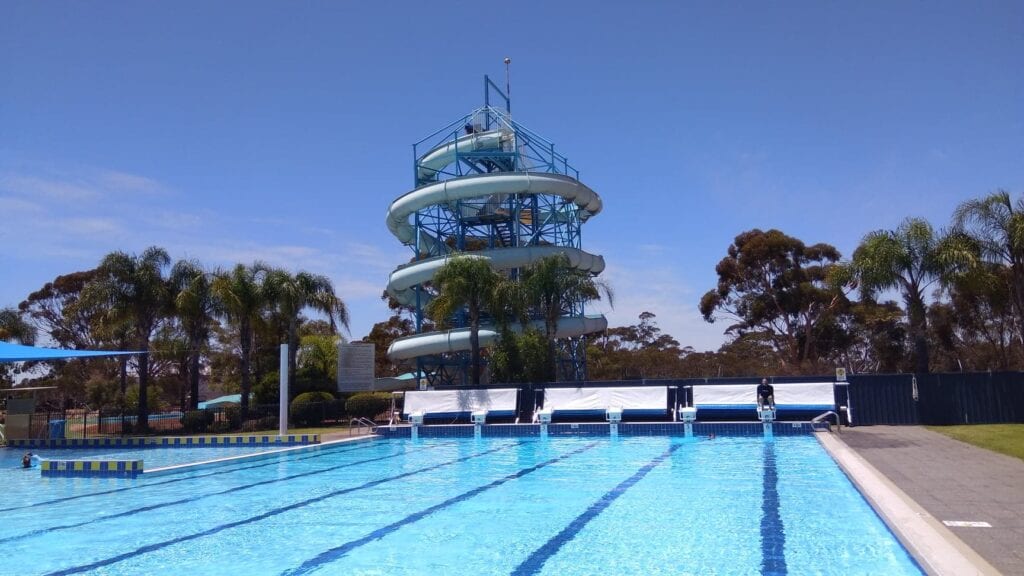 The facilities are amazing and there is nothing that makes a woman want to bust out the running-man than clean, spacious, modern toilets and showers. #bathroomsthattwinklewhenyoutinkle
There is ample shade around the grounds to lay down a rug. Plenty of people brought picnics though there is basic kiosk food available. We BYO'd lunch and bought some ice creams and other treats during the day. There are also bbq facilities for a cook-up.
A huge grassed area was great for frisbee…
and basketballs are provided if you feel like a little half time b'ball (just watch your feet don't burn on the concrete – she gets hot midday).
Be sure to check out the website and DEFINITELY give either the pool itself or the Visitors Centre a call before heading there. When we made the pilgrimage – we arrived to find the park closed and half the town without power and water due to a random power outage. It was a very "Wally World" moment.
However a visit to the Kulin Visitors Centre put us at ease. The staff were so apologetic, offered to help us in any way and gave us the Aquatic centre manager's number. They kept us updated and I cannot praise them enough for going beyond the call of customer service.
KULIN AQUATIC CENTRE
Pool and Slide Manager: Mark (Jones) Gilbard
PH: (08) 9880 1222 (during pool opening hours)
EMAIL: pool@kulin.wa.gov.au