We recently enjoyed a few days in Kalbarri staying at the Kalbarri Edge Resort. We chose the resort as it offered two-room apartment-style accommodation and we like having the option of kitchen facilities when staying somewhere for a few days. The resort also had a pool, a restaurant on-site and was close to all the attractions of town.
After the long drive, with stops at Cataby for coffee, Geraldton for lunch and
Hutt Lagoon
to see the pink lake we arrived in Kalbarri mid-afternoon. The resort was easy to find and check-in was quick and simple.
Our room was upstairs and was actually two rooms with a connecting door so we had lots of space. The smaller room had a double bed and a single bed, kitchenette (fridge and tea /coffee making facilities) and bathroom. The apartment had a living area with a kitchen, dining table and seating area. There was a balcony with a bbq and outdoor seating. The bedroom was large with a double bed. The bathroom was also large and had a spa and washing facilities. The room was clean and well presented when we arrived.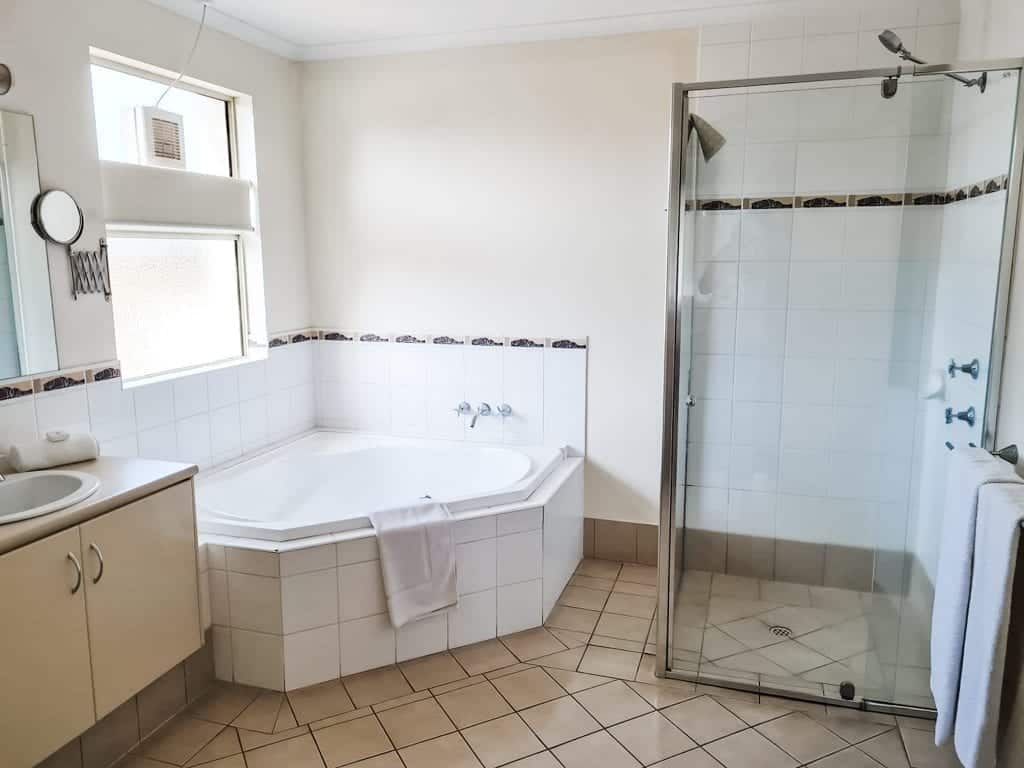 We stayed during the
school holidays
and the restaurant within the resort was fully booked so I was glad we had booked in advance. We ate at the restaurant a couple of nights as it was convenient and the food and service were good. There was a small kids menu offering chicken nuggets and chips, fish and chips and pasta with Napoletana sauce. When we stayed the restaurant wasn't operating for
breakfast
but there were other places in town that were.
The pool area was small but refreshing, especially after a hot day sightseeing in the gorges. There were a few sun lounges around the pool area and a giant chess set.
The Kalbarri Edge Resort is conveniently located across the road from the skatepark and recreation centre which has a good play ground, football oval with cricket pitch and basketball hoops. Our daughter loved being able to just go across the road and have a scoot around the
skate park
and a play on the play equipment.
It was only a 5-minute walk down the road to the foreshore, pub and bakery. The IGA and
pelican feeding
are all within walking distance. We found that once we got to the resort that except to go sightseeing in the gorges or cliffs we didn't need our car.
The resort luckily wasn't badly damaged in the cyclone that tore through Kalbarri just after we left and is now open again and ready for visitors. We enjoyed our Kalbarri stay and found Kalbarri Edge resort to be clean, comfortable and well located. We would definitely look at staying here again next time we visit Kalbarri.