During the recent school holidays, my daughter and I did a canvas paint pouring session at Creative Soul Sessions. Aptly named The One With Ya Kid this session is specially designed for parents, carers or other adults to do with their children. You work together to create two works of art in the 3-hour session.
When we arrived we were greeted warmly by Sandy and Pete. We chose a work table and donned our aprons. We were offered a drink and had a look at other pieces of art on display while everyone arrived.
Once everyone was there Sandy introduced us to the session, how it would run for the day and let us choose our colours. Each parent/child group chose four colours. My daughter and I chose two each, and luckily we chose colours that worked well together. Then Sandy started to demonstrate the art of paint pouring to us.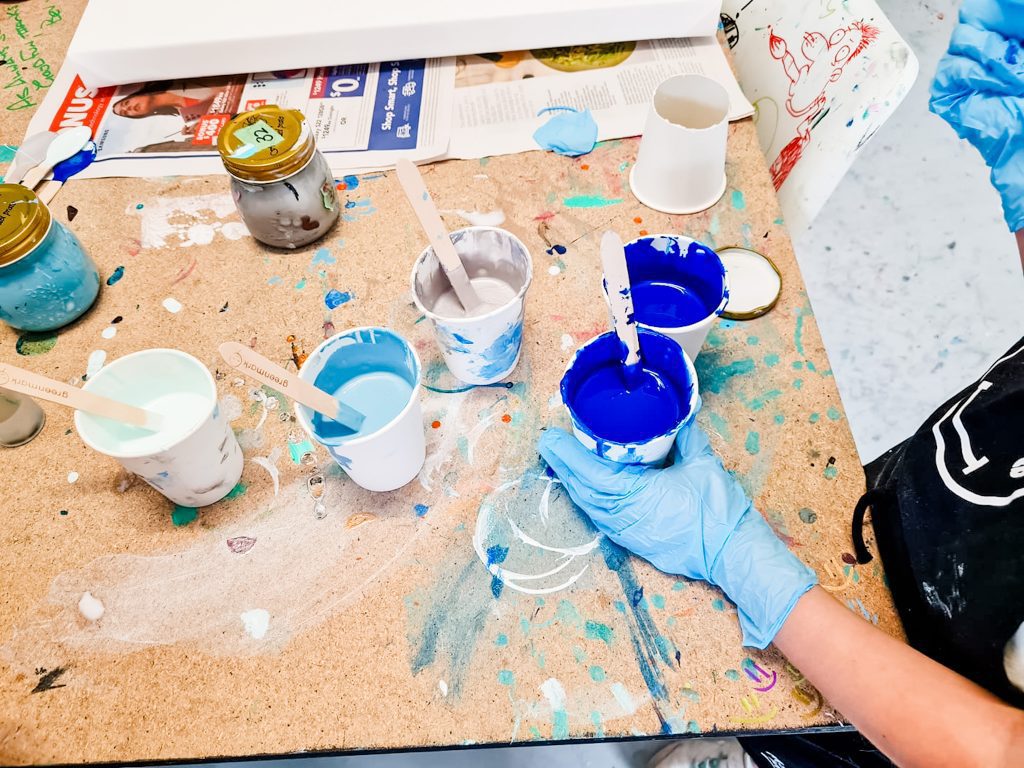 There are a number of steps that need to be followed to make sure the paint is prepared properly, consistency is very important. But don't worry even though Sandy demonstrates the process to everyone once you are back at your tables you work as a group through each step and the paint mixture is checked before you start pouring.
The first canvas you work on is the smallest canvas, and your practice run for the big masterpiece. If you don't like your colour combination, something doesn't work well, or you have problems working together to get the pour happening then Sandy will work with you to get it right for the big canvas.
I like that before we started on each canvas Sandy had us turn it over to the back and write on the wood or edge. One family were there for Mum's birthday so wrote happy birthday and the date, my daughter just wrote our names and the date. It's a nice little touch.
Once the paint is prepared it's time to prepare the canvas by squirting the edges with prepared glue and also putting two large blobs in the middle of the canvas. This will help the paint move over the canvas and across the edges to make sure there is a nice finish to even the edges of the canvas.
We each had a paper cup with the bottom cut off. We each placed our cup on one of the glue blobs and then started pouring the colours in. Once the cup starts moving it's time to work together with your kid and move the paint around the canvas until it is all covered. Sounds easy but you do need to work together and very quickly your cup, with all your paint, can slip off the canvas so quick reactions are also needed. Once you are happy with your pour you take off the cups, do a final tilt to spread any paint from the cups and then stand back and admire your work.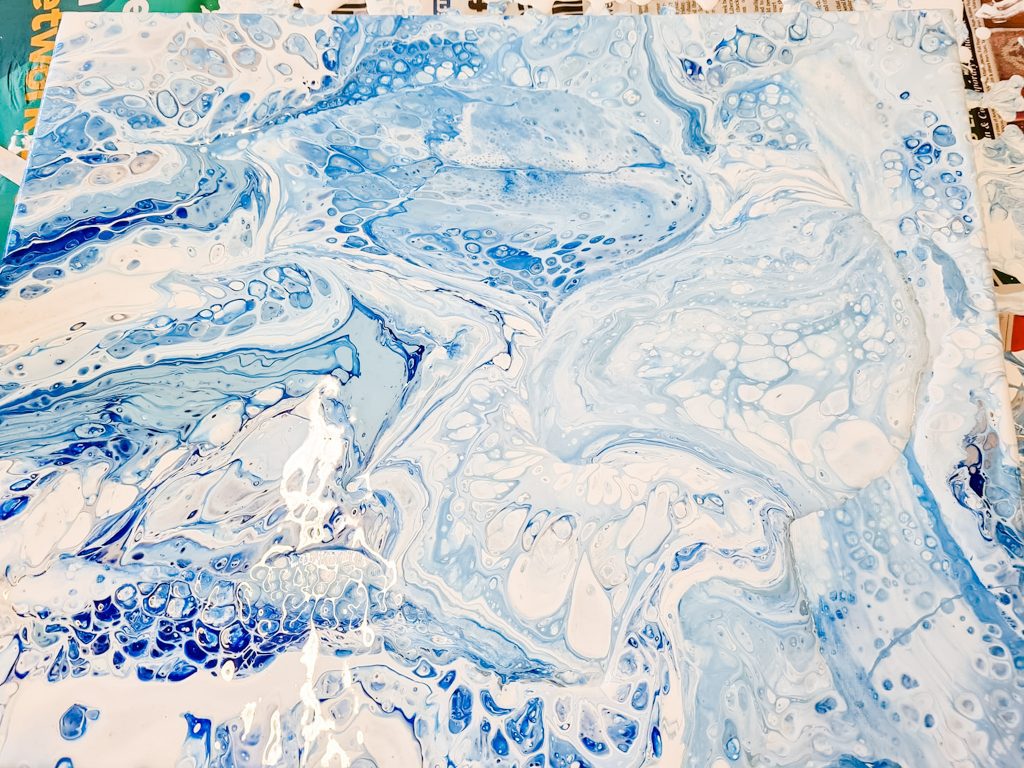 After you have finished the first paint pour, you break for lunch. A second room is set up with a long table for lunch, the table is set with games such as noughts and crosses, Jenga blocks and poscas to leave a message and even some play dough. On the menu is pizza which are served on boards and placed on the table sharing style. There is a drinks list with soft drinks, juices and even wine, your order is taken and delivered to the table. We also had two dessert options; an award-winning brownie and ice cream tempted most of us but the other option was waffles and ice cream which was ordered by a couple of the kids. This long table set-up gave us an opportunity to chat with the others in the group and the kids interacted with the games provided.
After lunch, it was back out to the studio for round two and the big canvas. While we were eating lunch Sandy and Pete had put our finished canvas away for drying and reset the workspaces. As the canvas was larger we had to mix larger quantities of paint this time, but otherwise, the process was the same. Even though we used the same colours the pour looks different.
We had lots of fun at the paint pour session, and it was great to do something together with my daughter. My daughter had been wanting to try this for a little while, and I'm glad I didn't try this at home as it can be messy. Aprons and gloves are supplied, but It is suggested you wear clothes that you don't mind getting paint on.
As the paint needs to dry you don't get to take your paintings home with you. We collected ours the following week and were very happy with our artwork. As well as this school holiday session Creative Soul Sessions also run term-time kids workshops.
Creative Soul Sessions
213 Railway Av Kelmscott.
Find more kids activity classes