If you've ever wanted a taste of tiny house living, or to see what living sustainably would be like – a Heyscape escape is for you! While their portable tiny cabins are found at farms and vineyards all around WA, they are mainly geared toward romantic couples' getaways. There's good news for kiddos… their newest cabin "Ashleigh" is all about having a tone of FAMILY fun in the fields. Check out this review on Heyscape Northern Valleys Cabin Toodyay!
After less than an hour's drive from Perth, "Little Chef" and I arrived at this isolated spot on the outskirts of Toodyay. The portable cabin has been placed on a working sheep and canola farm. This was a perfect spot for a spring break, relaxing with my son with the beautiful backdrop of rolling green hills.
Unlike the other Heyscape cabins, what makes Ashleigh family friendly is that it sleeps 4 people comfortably, or 5 with a porta cot. The kids will be fighting for the top bunk for sure.
The eco-friendly part comes in the form of lights etc being powered by solar panels and the loo even being compostable. With all that in mind, we were extra mindful about having short showers, not leaving unused lights on, popping on a jumper instead of the heater etc. The reverse cycle air-conditioned cabin is fully equipped with all that we need to spend a relaxing few days;
For Sleep
A comfy queen bed (inc dreamy linen)
Bunk bed for 2
Porta cot
Hot water bottles

For Cooking & Dining
Two-burner gas stove
Mini fridge (no freezer)
Kitchen sink and filtered drinking water
Pots, pans, cooking utensils.
Enamelware plates & bowls.
Toddler friendly cutlery.
Pantry Staples – salt & pepper, EVOO
Quality tea & coffee (BYO milk)
Outdoor chairs & picnic table
Gas hooded BBQ
Picnic rug
In The Bathroom
Composting toilet. (no flushing required!).
Rain & handheld shower heads.
Quality towels.
Eco hand & body wash.
A step for little ones to reach the sink.
First aid kit & a snake bite kit.
A super fun feature of the Ashleigh cabin is the BIG hammock. It has got to be the perfect place to laze and switch off. Simply watch the clouds drift by and listen to the birdsong.
Winter and early spring are a brilliant time to spend at the cosy cabin – particularly if you love an outdoor fire pit. Little Chef loved toasting marshmallows, as the sun set behind us.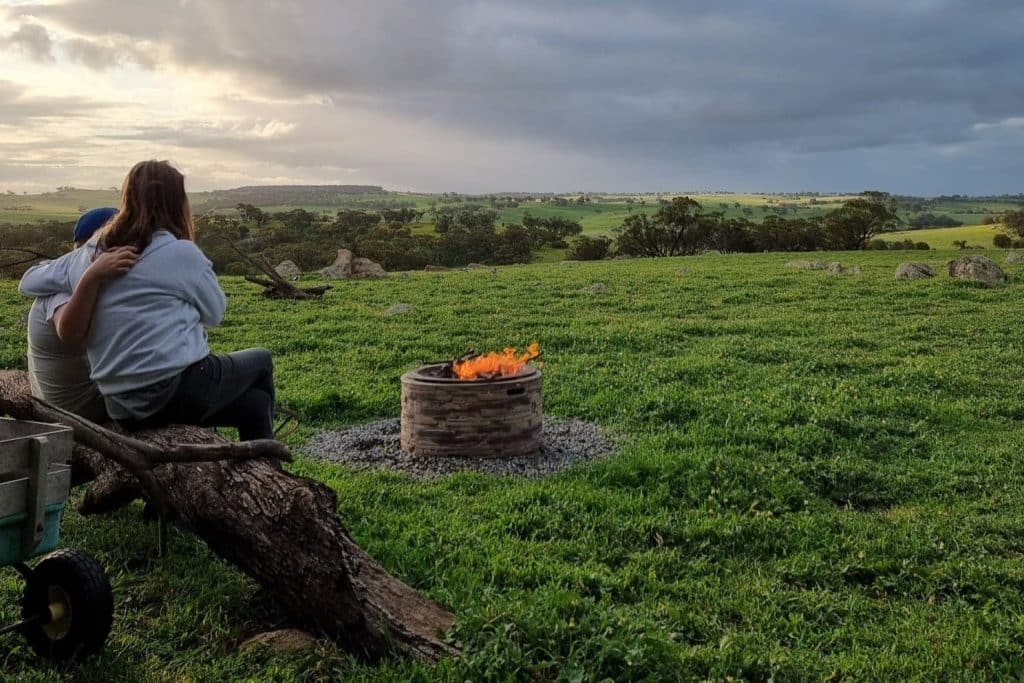 Despite it being chilly outside, we didn't need to use the air con. The well insulated cabin was very cosy.
Things to do at the Heyscape Ashleigh Cabin
There's plenty to do. Though, the cabin's simplicity does challenge kids to get imaginative and make their own fun too.
Climb a tree – there's some really climbable trees right by the cabin. Or make a cubby house from big sticks.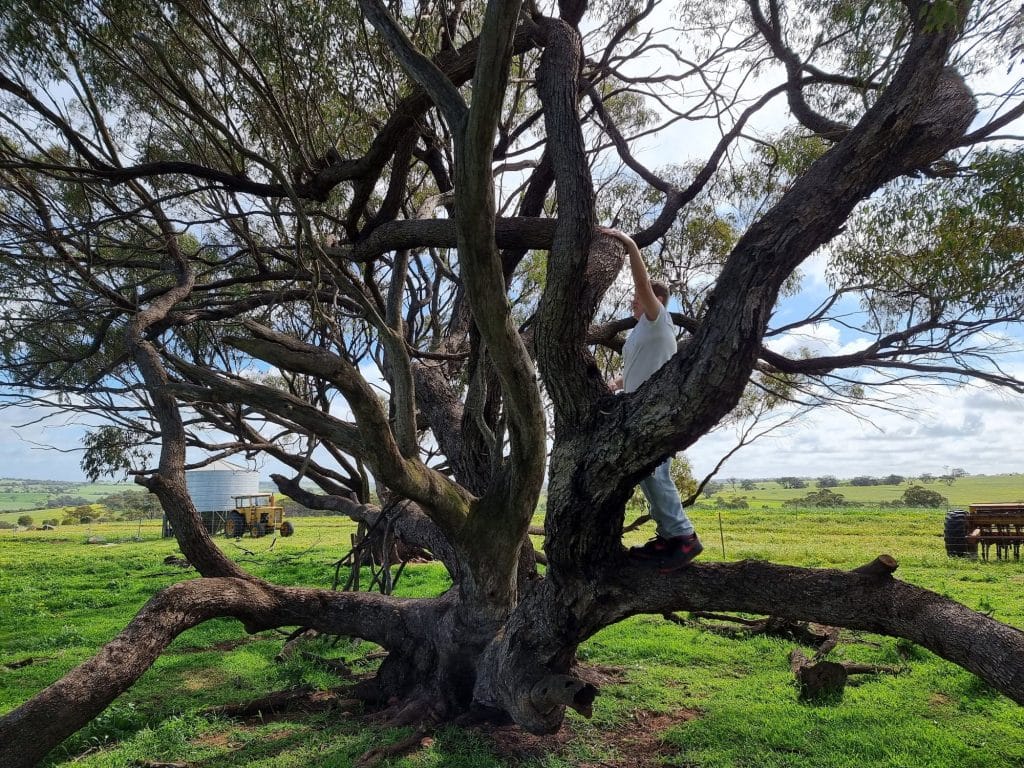 Spy sheep, kookaburras and more with the binoculars.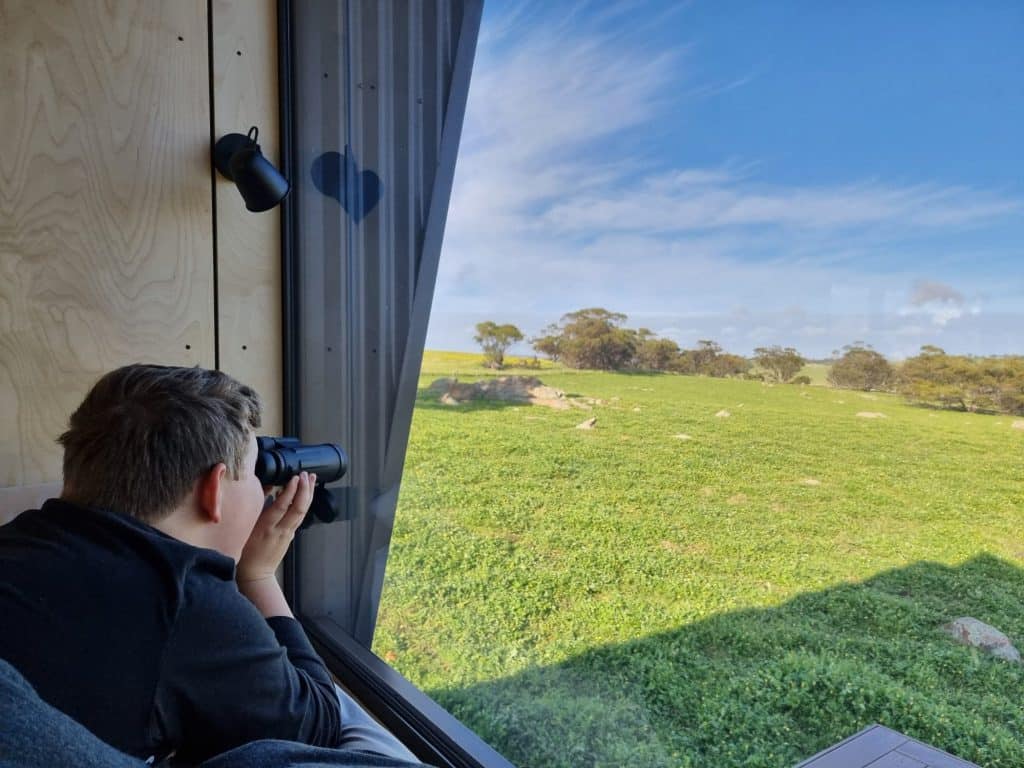 Play garden games and boardgames – there's Pictionary, Monopoly, Jenga and more.
Read books – there's something for kids and the adults. Fun fact – Ashleigh is named after another Aussie legend Ash Barty!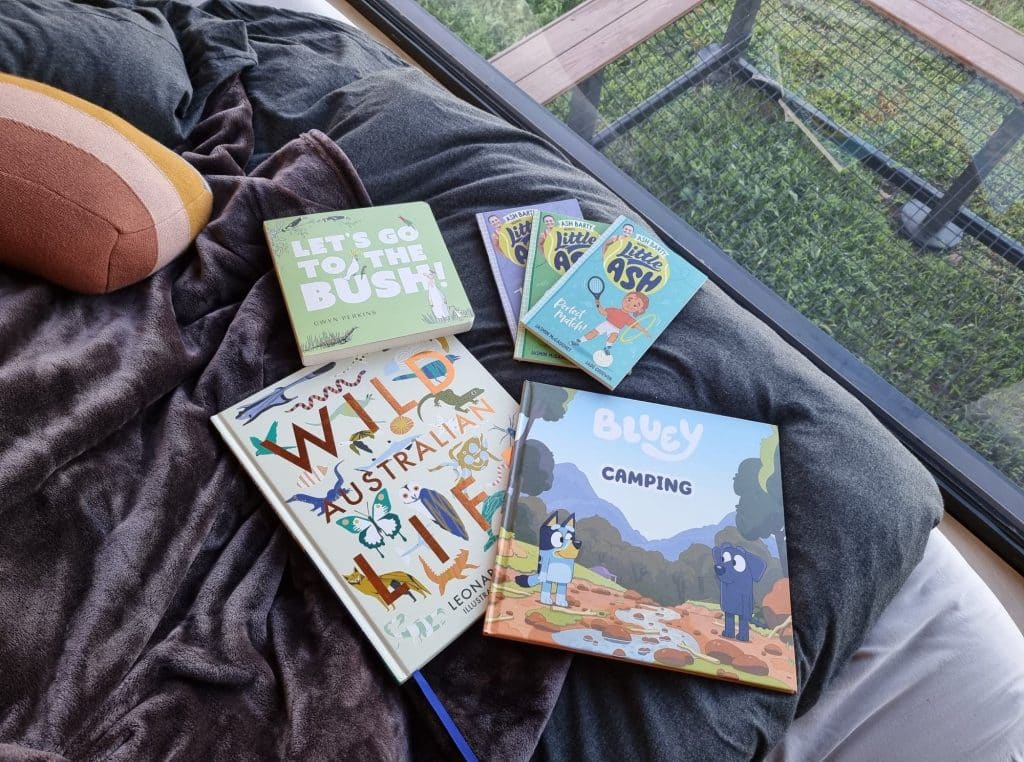 There's plenty of space to run and roam. Just be mindful of not scaring the sheep – they seemed quite timid, even though we kept out of their way.
Things to Do in Toodyay
We spend a little time exploring the town of Toodyay. The award-winning bakery (with kids' corner) is a must-stop. It's nice to have a stroll down the main street.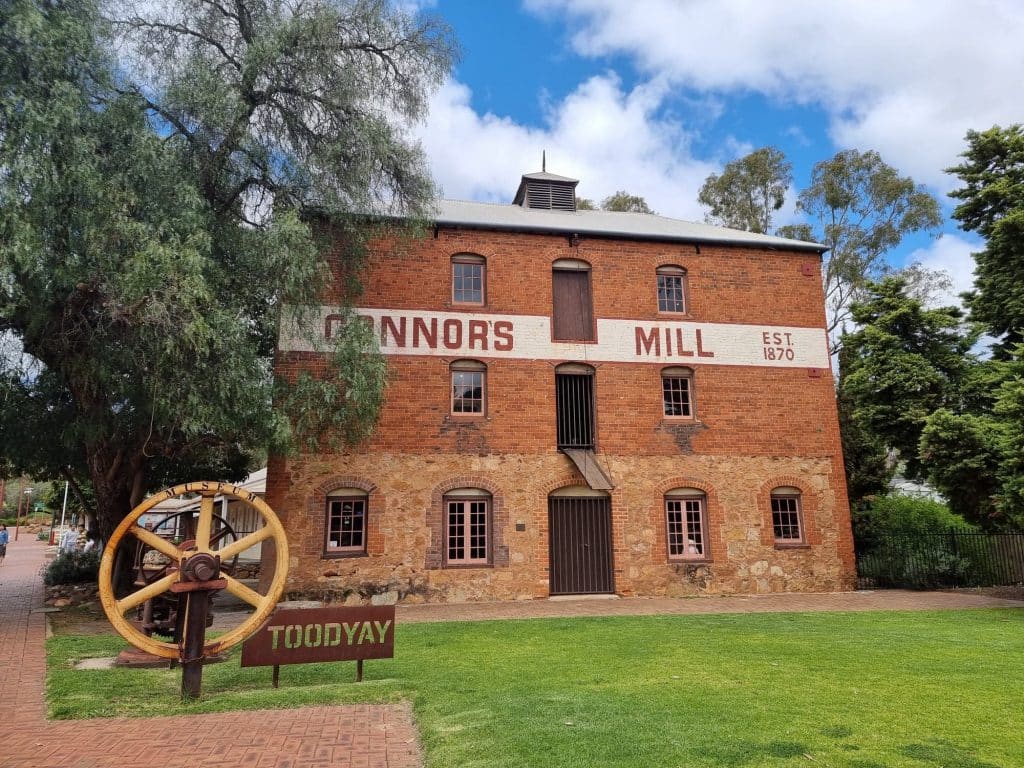 Be sure to pop into the quirky Coca Cola Cafe & Museum, and the insanely huge Christmas 360 shop too. Find more things to do in Toodyay
If you're looking at a winter stay at Ashleigh, keep in mind that 4WD access is best, during very wet months. I found negotiating the gravel tracks fine in my little Mazda during September, but the under-carriage got a good scrape by the long undergrowth.
Check-out time is before 11am, so you have plenty of time to enjoy brekkies with the baa's of the neighboring sheep, before you pack up and head for home.
Heyscape is a wonderful spot for families of 2 to 5 people. The peace and quiet at the Ashleigh cabin certainly helped us switch off from the fast pace of modern, suburban life and enjoy family time on the farm. I can't recommend a Heyscape stay enough!
Find out more and how to book the Heyscape Northern Valleys Cabin Toodyay on their website.
*Amanda Carlin and her son stayed at Heyscape Northern Valleys Cabin Toodyay as invited guests. All photos, words and opinions are their own*