There is a new nature space next to Champion Lakes, across from the Regatta Centre. It is yet to be updated on Google so it could be a bit tricky to locate via google maps. However it is a lovely spot and worth the search. Check out details below.
New equipment suited to most age groups but designed with littler explorers in mind.
There are swings,
a great slide
and a wooden pirate ship!
Loads of climbing opportunities with limestone rocks, steps…
stepping stones and logs.
The playground is situated above the lake level and there are some fabulous views overlooking the lake itself. We went late in the afternoon and it was lovely to watch the sun set over the water.
The lake itself has a fantastic pathway that circuits the entire lake so make sure to pack bikes, scooters and helmets or of course prams! Fur babies are welcome too and our puppy loved her lakeside walkies! There always seems to be something going on at Champion Lakes. This day we went there was a miniature sail boat competition which held everybody's interest.
Adjacent to the playground itself is a beautiful space known as "the ampitheatre".
There is a walkway showcasing indigenous artwork,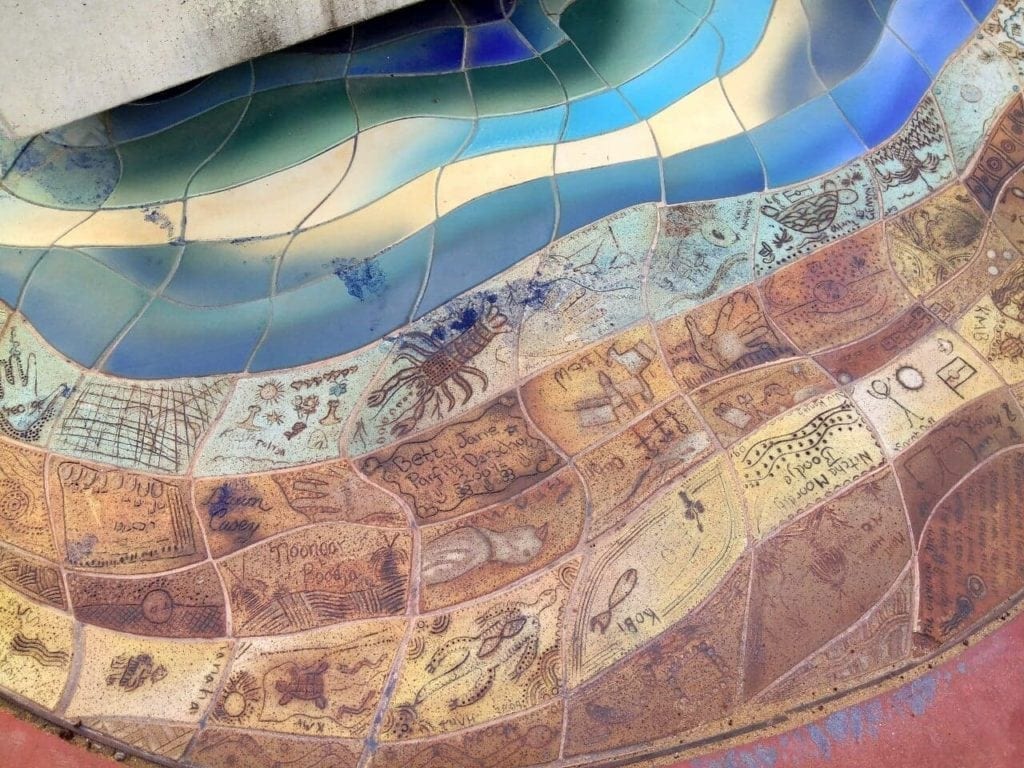 paintings, portraits and quotes of elders past and present.
The ampitheatre itself looks out over the landscape and it was nice for the kids to explore and reflect.
These memorial walks are really interesting and definitely worth checking out, especially for children to understand and appreciate the history of the traditional landowners.
There are toilet facilities and a great carpark. Find the nature space on Henley Drive just off Lakes Road in Champion Lakes.
This is a great spot to pack a picnic in lovely surrounds.
Find more walks and picnic spots
Find more playgrounds in Perth