Mundaring Weir is one of my favourite places to visit with my family on a weekend day trip.
Located 39 Kilometres east of Perth CBD Mundaring Weir is the name of the dam built in 1898 that crosses the Helena River. Since 1903 Mundaring Weir has supplied water to Coolgardie and Kalgoorlie via a 557km steel pipeline. The pipeline is clearly visible as you drive along Mundaring Weir Road.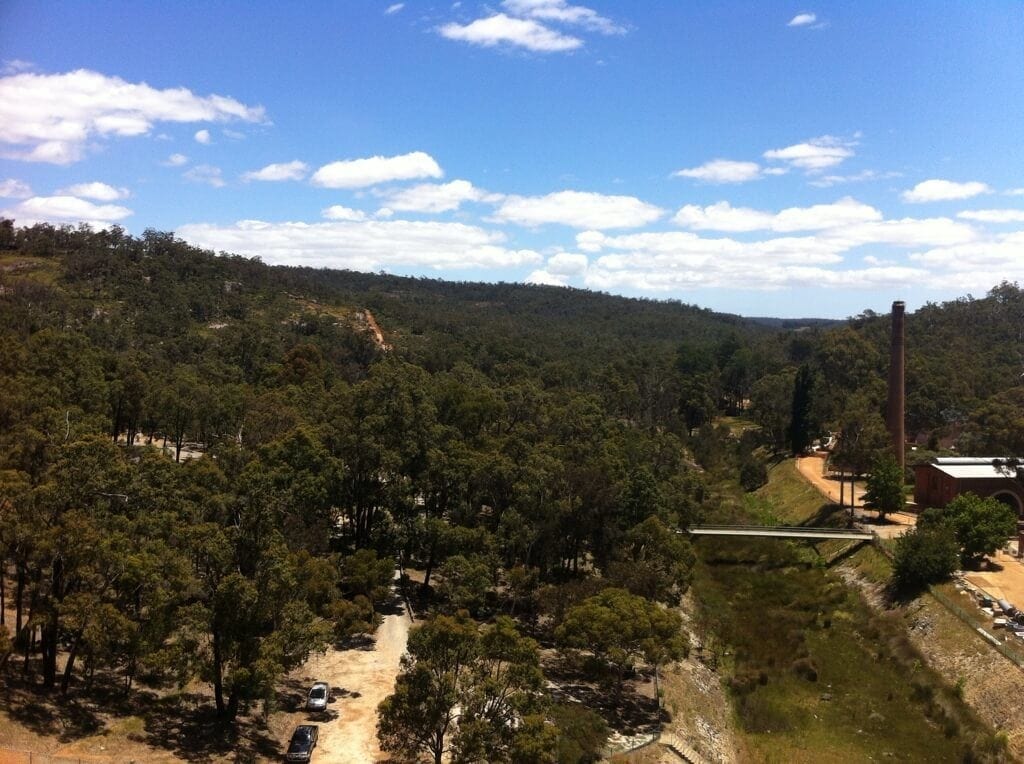 Our first port of call was a visit to the Dam itself. You'll reach the dam by heading along Mundaring Weir Road. Once the Dam comes into vision you'll see the lower car park, this is where the toilets are situated if you need a pit stop. If you wish to walk along the dam wall then carry on a little further along the road and you'll come to the higher car park where you will find the resident ice-cream van in situ.
The walk along the dam wall is great fun and perfectly safe for little people. Just hold on to your hat as a big gust of wind can easily blow it off and over the dam wall.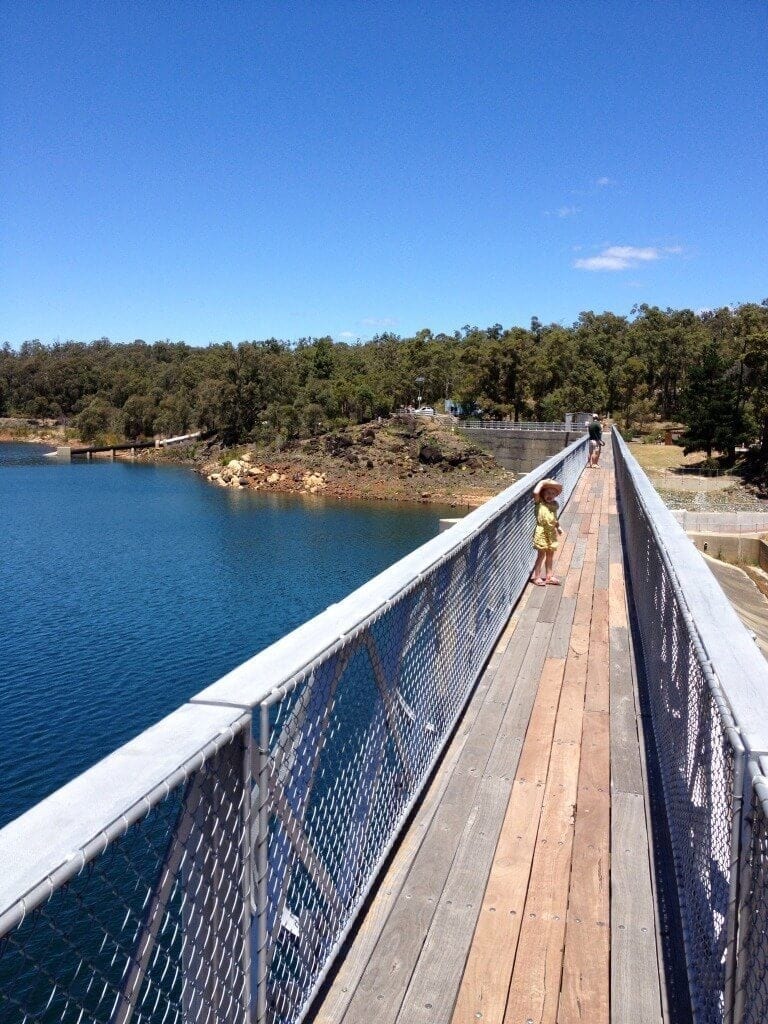 In the middle of the Dam is a service area that has a lovely little building on it that is great for fueling the kid's imagination of who resides there.
After our dam walk, we resisted the temptation of ice cream and got back in the car and headed a little further up Mundaring Weir Road to the South Ledge Lookout point which gives you a great view of the Weir and its surroundings. The journey to the lookout is via an unmade road which is perfectly accessible for all cars. You'll reach a little car park where you'll find toilets, wood-fired BBQs and picnic benches.
The Golden View Lookout is a 400 metre walk from the car park. The walk is manageable for little legs. Miss Almost 2 was carried to the lookout but demanded that she walk herself on the journey back and she managed it with a little strong hand holding now and again. The walk is not suitable for prams as there are 27 steps (we counted) along the way so if you have an infant I'd bring along your baby carrier. There is a stone bench halfway along the walk if you need to take a rest.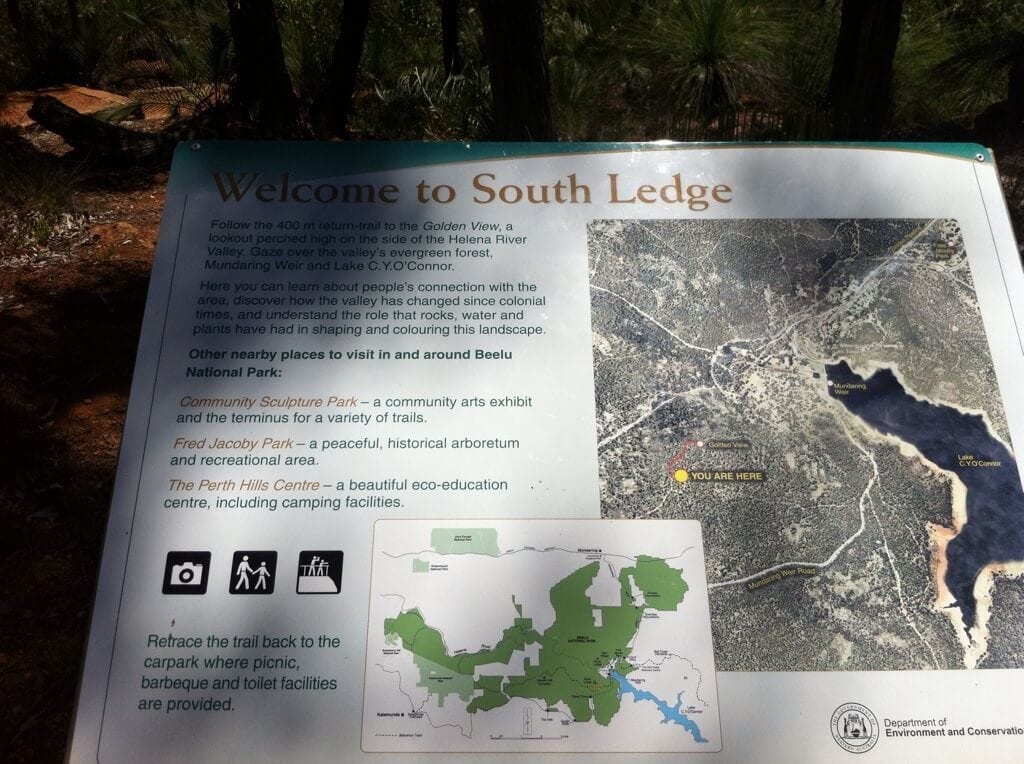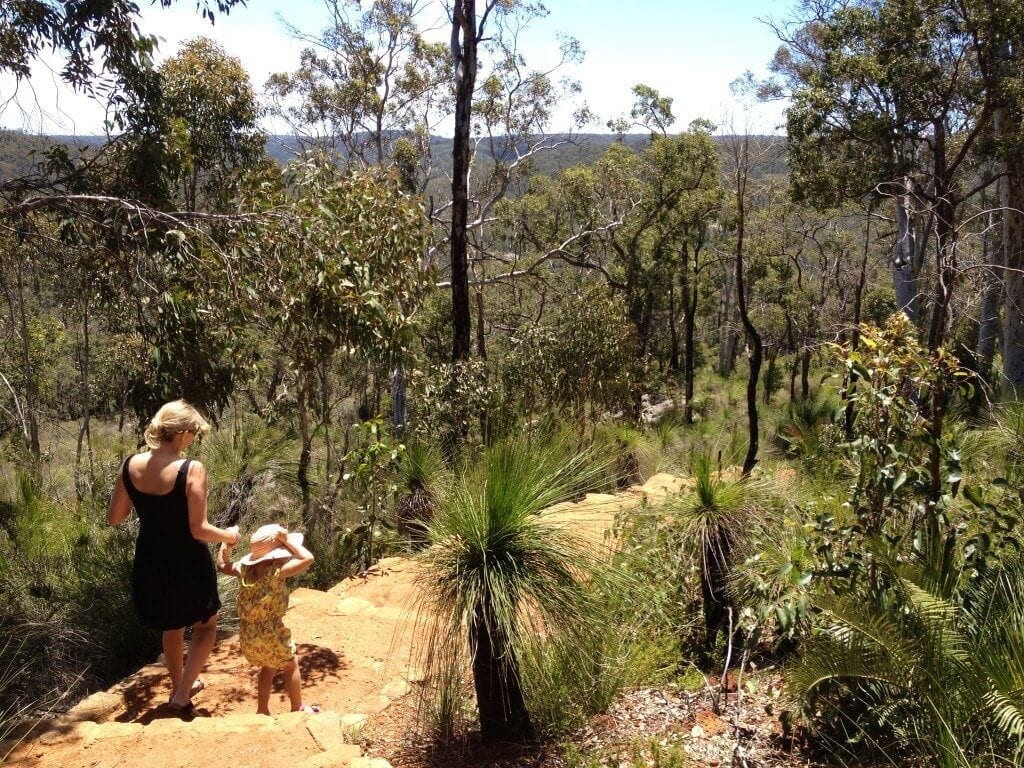 The Golden View Lookout is a wooden platform area that is fully fenced and juts out of the hillside to provide a fabulous view of the Weir. Here you'll find some information stands to the history of the land and the Weir. It's so peaceful and quiet there and Miss 4 loved shouting into the hills so that she could hear her echo.


If you have worked an appetite with all the walking you can head to the nearby Mundaring Weir Hotel which has a great playground that will keep the kids entertained.
For more things to do in Mundaring visit www.mundaringtourism.com.au
Find more walks and Picnic spots