Perth, being a sunny city, has a huge selection of water slides at many different venues including theme parks, water parks, and indoor leisure centres – meaning you can ride the slides all year round! Here is the Buggybuddys ultimate guide to the best water slides for kids of all ages in Perth:
Outside Water Slides
Adventure World, Bibra Lake

There are SO MANY wet and wild slides at Adventure World. The Kraken is an enormous world record-breaking funnel slide. The four-person raft negotiates over 150 metres of dark twists and turns, including a heart-pounding drop and a 360-degree twist before reaching the massive 60-foot funnel – the height of a six-storey building!
Kahuna Falls is a giant wet play area. This attraction has over 100 water-play features, including small tube slides and a giant bucket that tips torrents of water every few minutes!
Old favourites the Rocky Mountain Rapids, multi-lane Tidal Wave speed slides and the very dark Tunnel of Terror- a fully enclosed corkscrew waterslide are also very popular!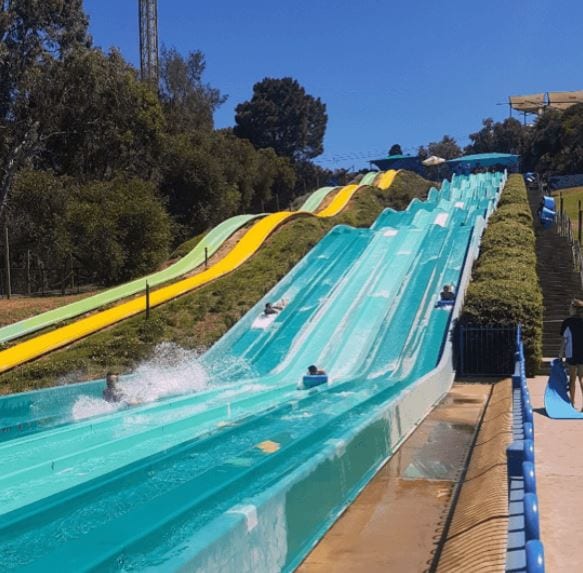 Little ones (under 6) will love the mini water play area – Kingdom Falls. The interactive aqua playground has colourful spray loops, small slides, mini bucket tips, a mushroom rain tree and a giant tipping bucket, keeping kids entertained for hours.
Read more in the Buggybuddys review.
Perth's Outback Splash, Bullsbrook
The waterslides at Outback Splash just keep getting bigger and better! In late 2019 four new thrill-seeking slides opened, including The Wall (a quarter-pipe raft slide) Black Out (featuring colourful light effects), Gold Rush, and WA's fastest body slide – The Wedgie!
Splash Island area includes 6 fun waterslides, as well as a giant tipping bucket, interactive sprays and colourful water cannons. The Plummet inflatable slide stands at over 10 meters high with a 7-metre drop!
And little kids aren't forgotten at Outback splash! In the Octopus Bay area, designed especially for toddlers, there's a shaded 35metre splash pool, 3-slide giant octopus and a mini tipping bucket.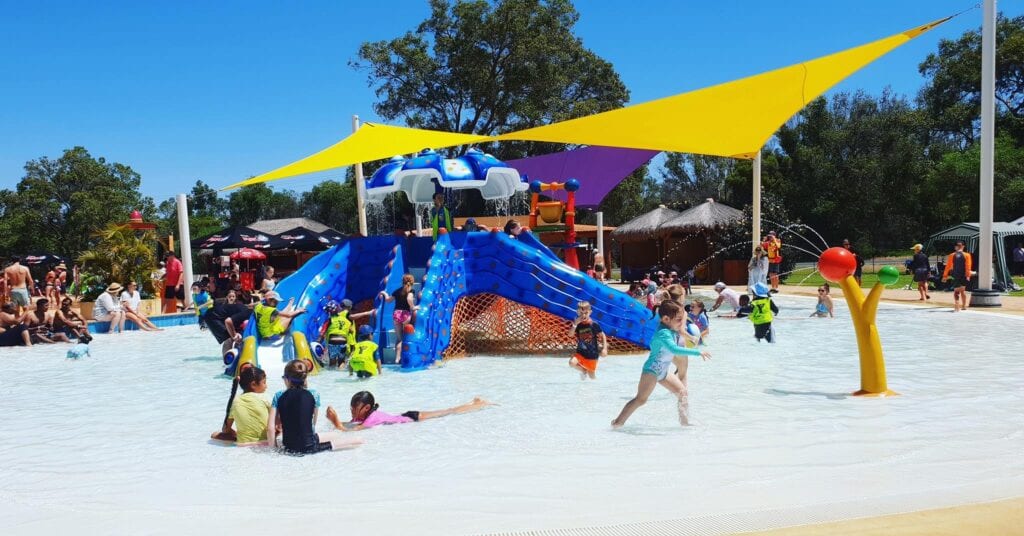 Read more in the Buggybuddys review.
Kalamunda Water Park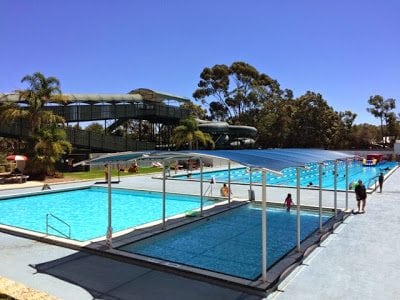 The Perth Hills waterpark has kept generations of families cool. Here kids will love riding the Corkscrew Water Slide, which gets faster as the turns get tighter on the way down. The aptly named Zig Zag Water Slide is a slower, longer slide with sharp, tight. Children must be at least 5 years of age to ride. Read more in the Buggybuddys review.
Northam Aquatic Facility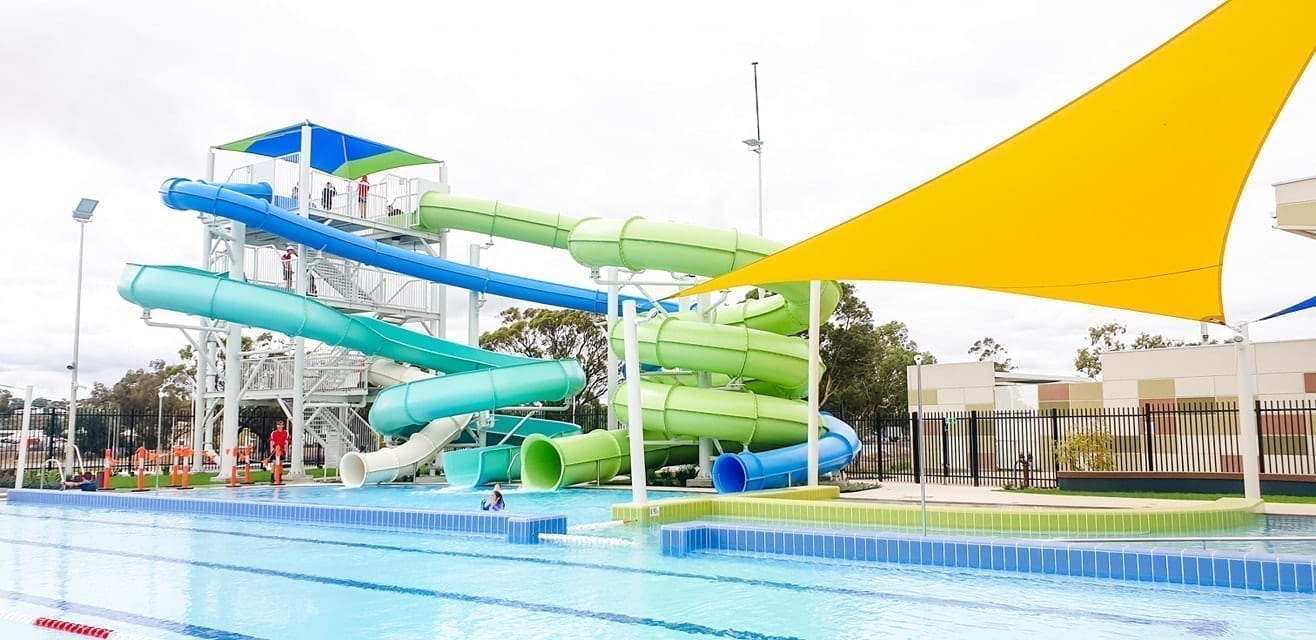 Did you know Northam is home to a brand new $10 million Aquatic Facility? The state-of-the-art venue opened in January 2020 and boasts an Olympic size swimming pool, leisure pool, water slides, splash pad and BBQ facilities. The highlight was the 4 water slides, which range in height, speed and thrill factor! The aqua slide being a firm favourite. The water is 1m deep at the bottom of the water slides.
Read more in the Buggybuddys review
Kulin Aquatic Centre
The tiny town of Kulin in WA's Wheatbelt is home to the state's largest waterslide outside Perth at 182 metres long and 18 metres high. Read more in the Buggybuddys Review
Hillarys Boat Harbour, Hillarys
At the calm Hillary's Boat Harbour Beach confident swimmers will love swimming to the pontoon. There are two slides here, and the best part about these slides is that they are free of charge. Read more in the Buggybuddys review.
Indoor Water Slides
Water Slides South of Perth
Cockburn ARC

Perth's ULTIMATE leisure centre, Cockburn ARC, has three amazing waterslides for daredevils 7 years and up. The blue rocket begins in a rocket launcher, with a scary drop! You will be plunged through lots of loops. The yellow Pipeline is a wild ride, zipping around loops and bends. Ride the Tumbler with a friend! The raft accelerates toward a space shuttle, climbing and dropping down from the walls of an enormous cavern! Read more in the Buggybuddys review.
Cannington Leisureplex Aquatic Centre

A 50-metre thrill slide awaits children aged 6 and up at Cannington Leisureplex. Read more in the Buggybuddys review.
Riverton Leisureplex
Do you dare ride the fun 50m water slide at Riverton Leisureplex?! Read more in the Buggybuddys review.
Mandurah Aquatic Centre
Little thrill-seekers will love the pirate-themed tunnel slide at Mandurah Aquatic Centre! Found in the large indoor pool area, this awesome interactive play area has a beach-style entry and a fantastic waterslide – you'll hear squeals of excitement as the kids go down the slide! Read more in the Buggybuddys review.
Other Leisure Centres with Slides South of Perth:
Fremantle Leisure Centre (mini frog slide)
Leisure World Thornlie
Leisurefit Booagoon
Water Slides North of Perth
HBF Arena Joondalup
HBF Arena Joondalup has a 42m indoor waterslide.
Beatty Park, North Perth
There are two indoor slides at Beatty Park, where older children can race their friends. Children must be able to slide unassisted, the slide pool water is 1.05m deep. Read more in the Buggybuddys review.
Bayswater Waves
The green "curly" tube slide at Bayswater Waves is a big hit with kids! Read more in the Buggybuddys review.
Have we missed your favourite waterslide in Perth? Let us know in the comments below!
Find more water parks in Perth here.