Tiny Town Port Kennedy Review
If you live South of the river and have a little one who loves imaginative play, why don't you head to Tiny Town & Toy Store in Port Kennedy this week? Let your little one explore this magical place that, has been created especially for little hands and minds to thrive in.
Play is a serious business in our house and Tiny Town did not disappoint. From the moment we arrived my 2-year-old was fully engaged. With a quick
baby
chino pit stop he was busy for the whole 90min session. They have created lots of real-life situations which provide endless possibilities for imaginative play and role play.
First off they have a
hairdresser
, fully kitted out like a real mini salon. You can also have your eyebrows done by your two-year-old here if you are lucky!
Next door is the supermarket and fresh fruit and veggie stall. The shop is fully stocked with household items, food, baskets and trolleys, ready for the weekly shop.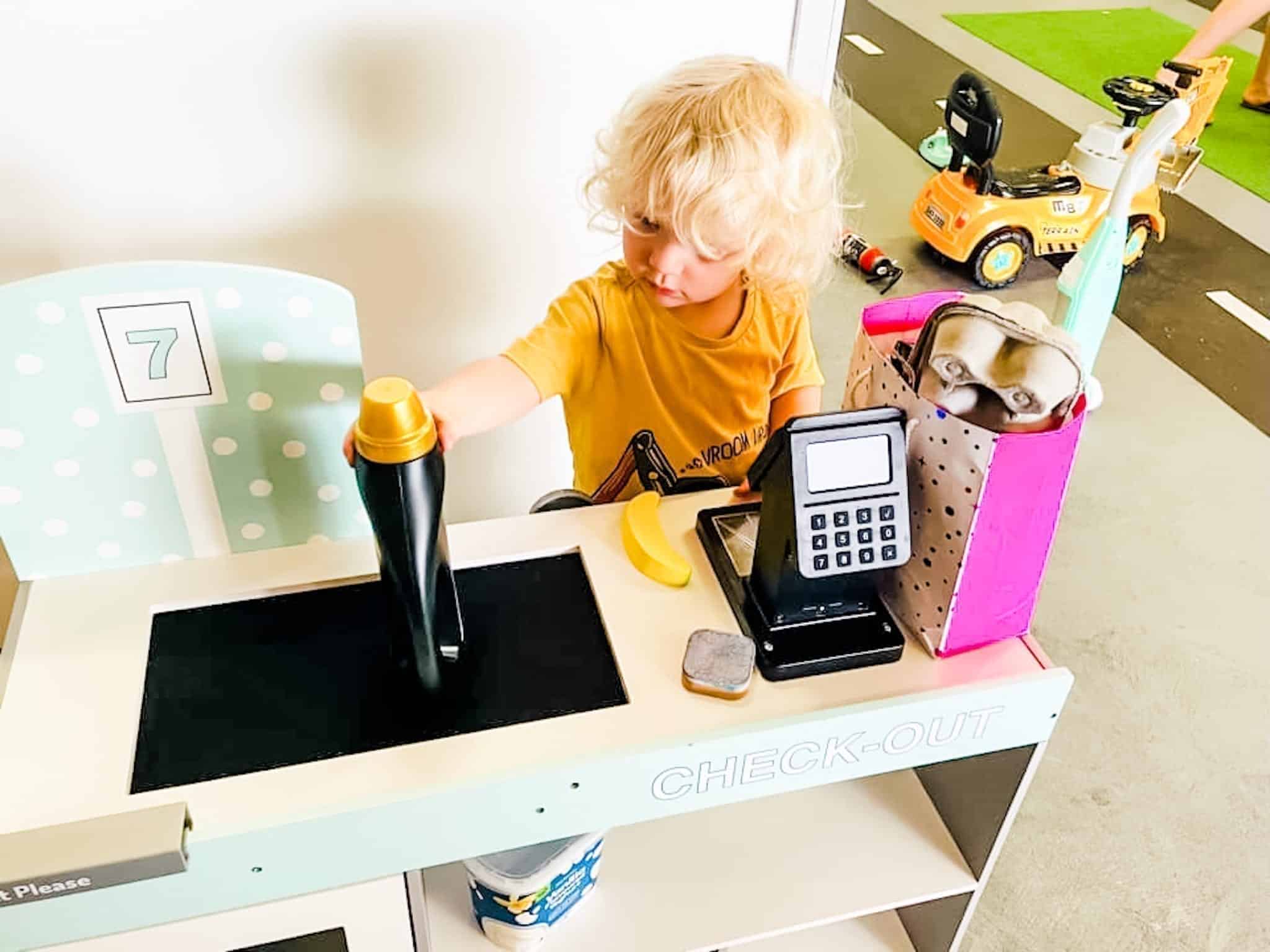 The next section was a home environment complete with babies, prams, a cot, a washing machine, a vacuum, rocking chair and a telephone. This area is perfect for role play.
The next area was my little ones favourite. A fire station complete with a fire pole, a police station and a lockable jail! With his fire helmet on, he loved trying to climb up and slide down the fire pole. Then run to the car and off to the next emergency. It was just brilliant to watch!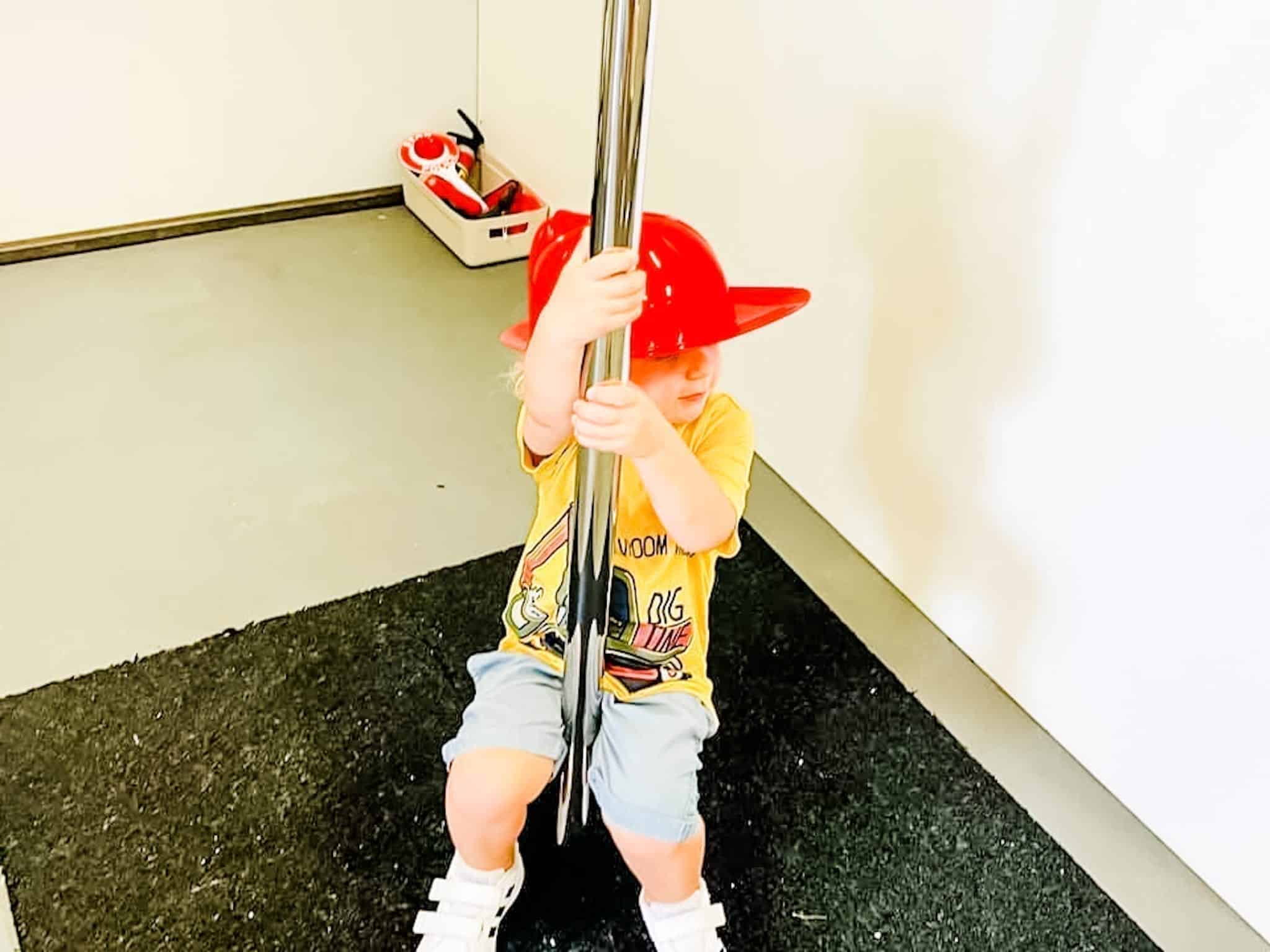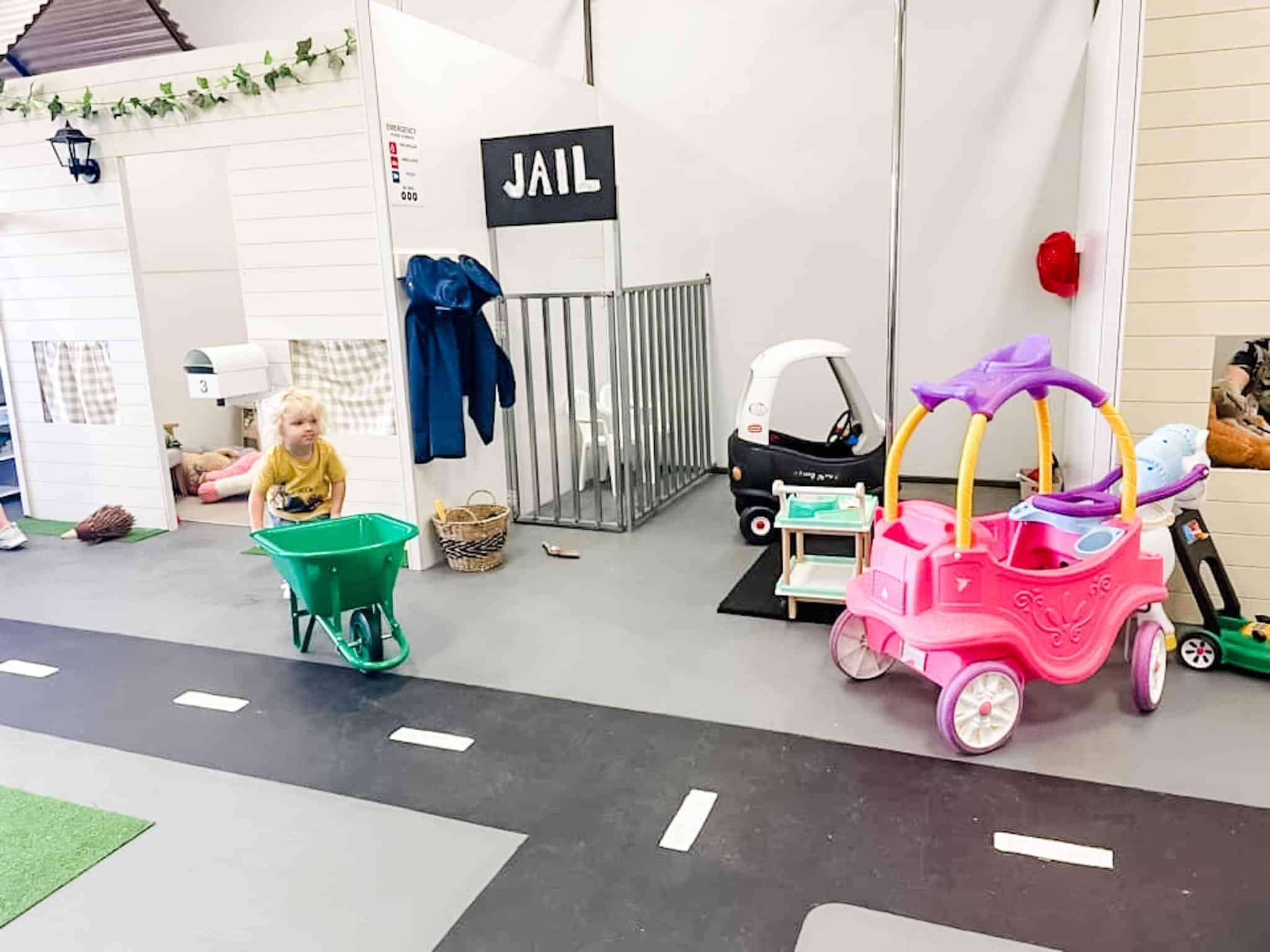 Keeping with the emergency services the hospital was next door. I loved the massive teddies that needed looking after in this area.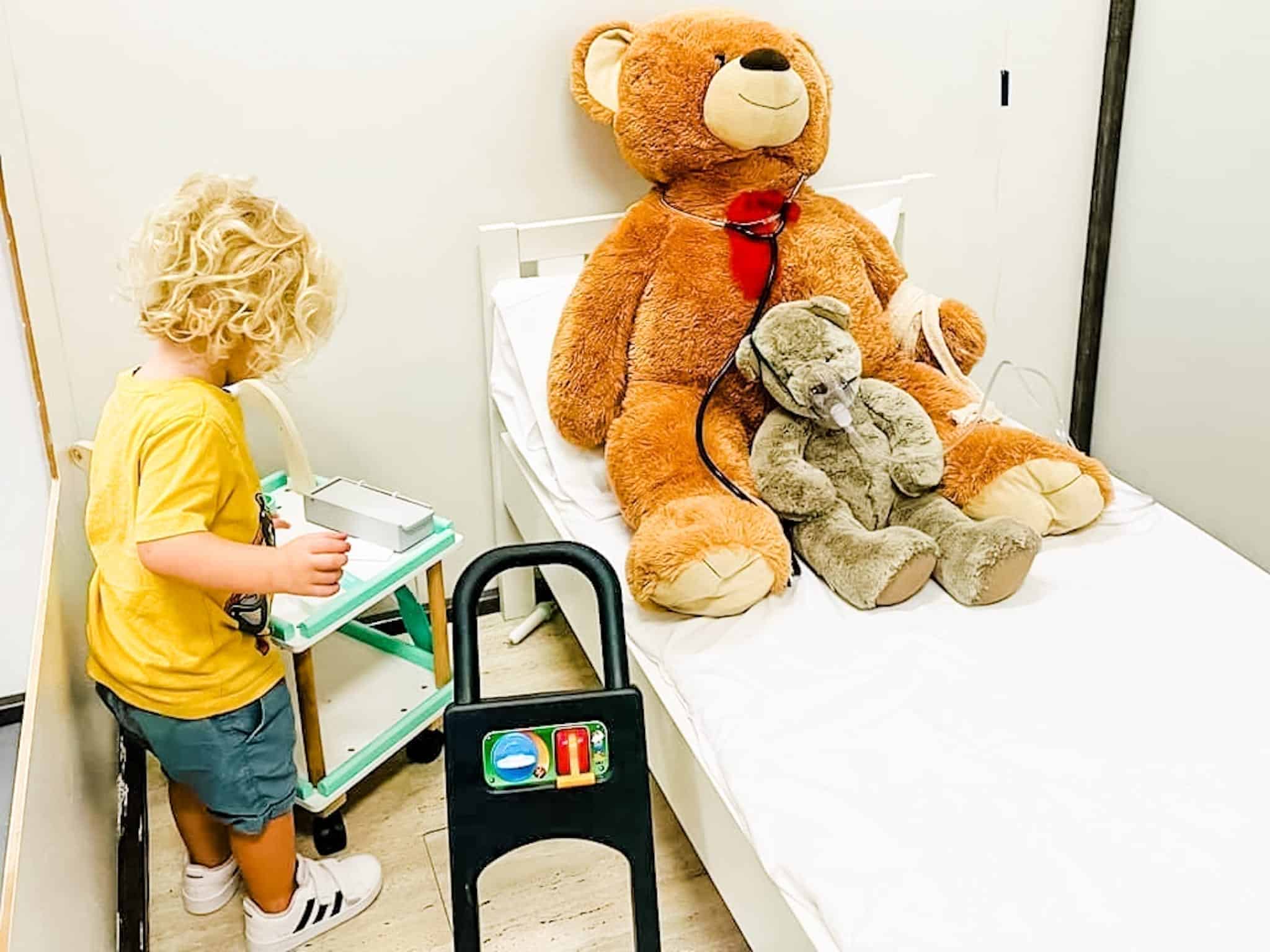 Next up is the school and cafe both areas fully equipped and ready for your little one to be a teacher, pupil, cafe owner, customer or whatever they want to be!
There are also plenty of dress up's all in fabulous condition which are at the back of the town in the theatre. This is a great space. It has a stage, musical instruments, music, microphones,
lights
and theatre style seating. We watched a budding Emma Wiggle perform live on stage!
Tiny Town is connected by roads and they have lots of age-appropriate bikes, cars, diggers, lawnmowers, wheelbarrows and a horse and carriage that can transport your child around the town independently.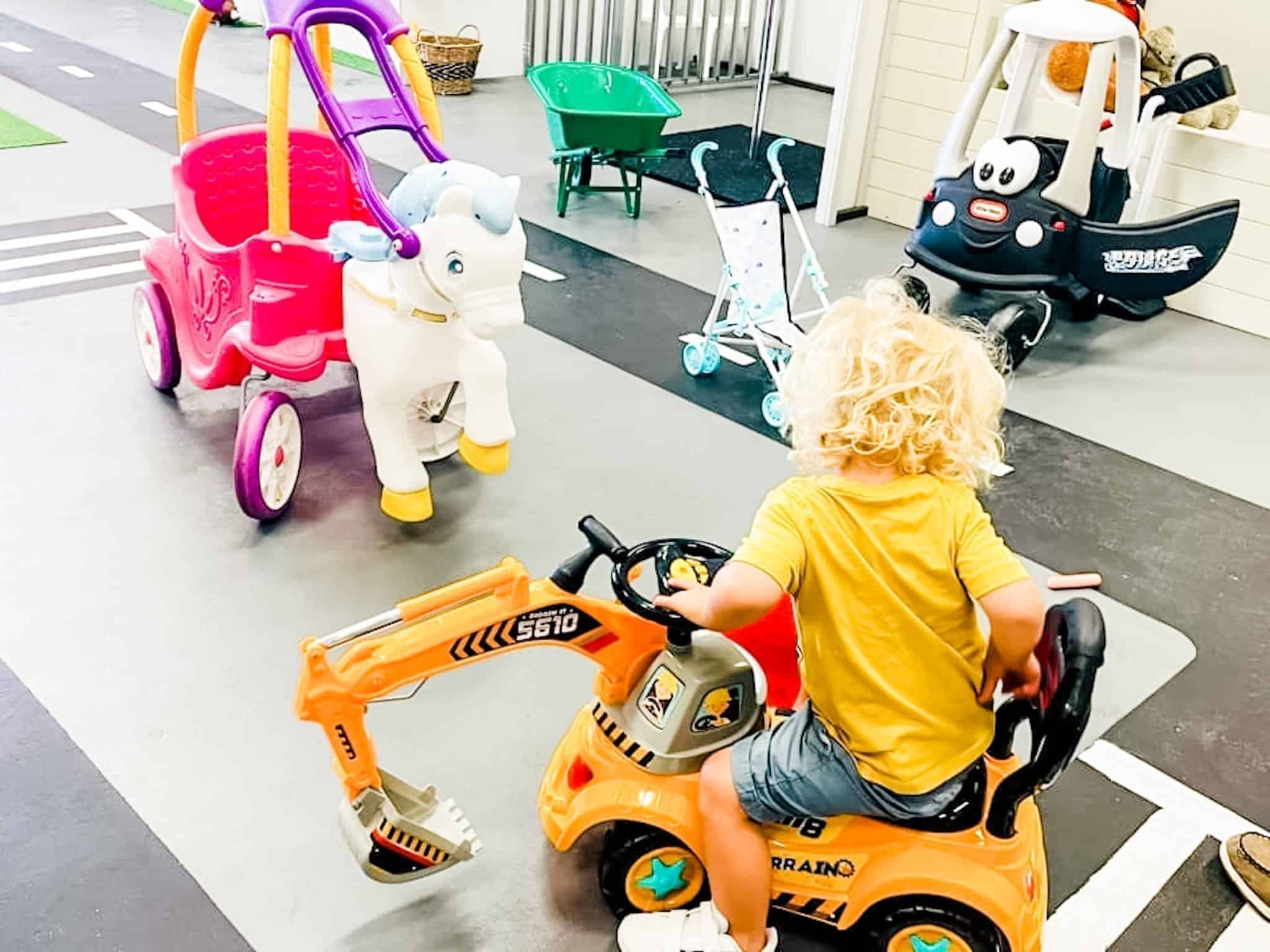 The staff are super friendly and work hard keeping each area tidy in between child's play so that the next busy
toddler
gets the full experience and each area is maintained. Tiny Town is fully air-conditioned and has toilet facilities, baby change and high chairs are available in the designated seating area. There is some free parking directly outside and more spaces around the back of the building if it is busy.
There is also barista coffee and a selection of cold drinks available to purchase as well as a small toy store. If you do rock up with your mums' group be sure to let them know as they are running a $2 coffee special for mums groups which is a total win, win!
Book online or on the
Facebook page
or call them on 0473630948 to book a 90min session. The sessions start at 9am with the last session being at 4pm which is aimed at older children being an after school session. Under 1's are free, under 2's $10 per session and 2-10 year olds $15 per session.
Happy Feet fitness for kids runs here every Wednesday, so if you have a little one that loves to move why not combine it with a play, catch up and a coffee! Head to the website or Facebook page to book your session.
If you and your child love Tiny Town they do run birthday parties and have lots of party packages to choose from, check out the Facebook page for further details or pop down and see them. Such a good idea!
Tiny Town Port Kennedy
Find Tiny Town at 1/3 Fielden Way Port Kennedy, WA, Australia 6172
Book online here bookwhen.com/tinytownandtoystore
Find more playcentres in Perth