If you're looking for a kid friendly spot to feast with your family – you can't go past the Atrium at Crown Perth. One of two buffet restaurants at Crown, the Atrium offers a high quality, yet cheaper alternative to Epicurean at Crown Towers. Open for breakfast, lunch, high tea on Sunday afternoons, and dinner, 7 days a week.
The Atrium is a bright and open restaurant. It's also very spacious, with many large long tables, making it idea for a special family group gathering. The best thing about a buffet, other than being able to indulge I whatever you fancy, is the vast variety of cuisines on offer. As well as western foods, at the Atrium there's also a great choice of Indian and Asian dishes. And for fussy eaters – there's bound to be something to enjoy.
We enjoyed a big breakfast, as part of a stay-cation at Crown Metropol. Anyone can dine at the Atrium, not just hotel guests. The breakfast sitting is held 6.30am to 10.30am.
Atrium Crown Perth – The Food
For starters, choose from a traditional full English breakfast with all the trimmings – sausages, bacon, grilled tomatoes, hash browns, eggs however you like and baked beans. I really enjoyed the minute steak with béarnaise sauce. There's even frittatas, quiche, pancakes and an omelette station too.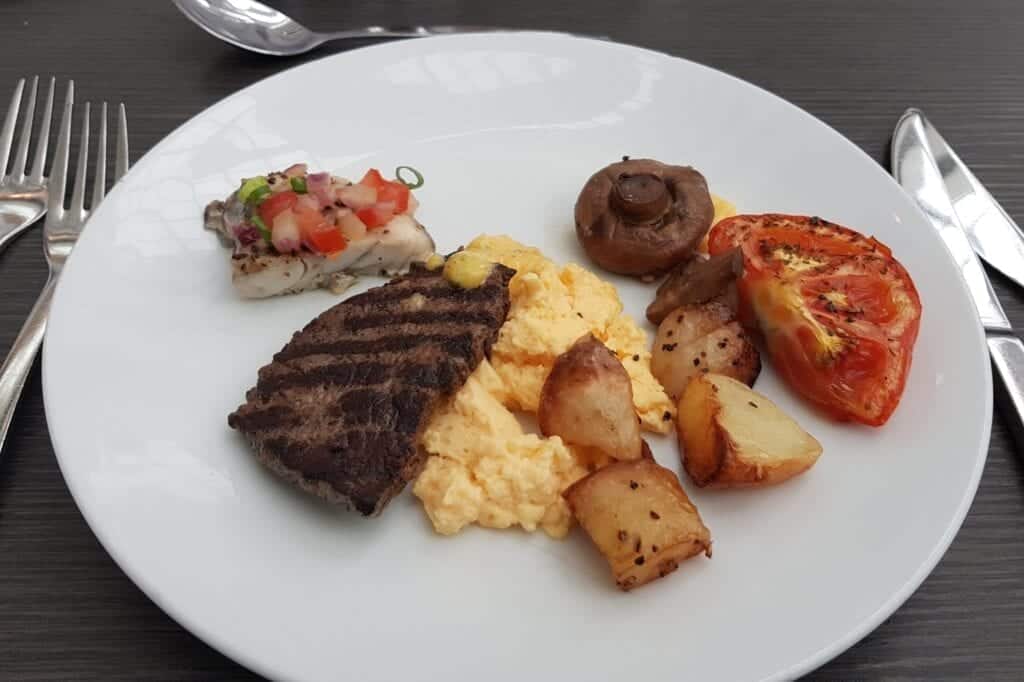 Then I made up a sort-of smoked salmon eggs benedict with what was on offer.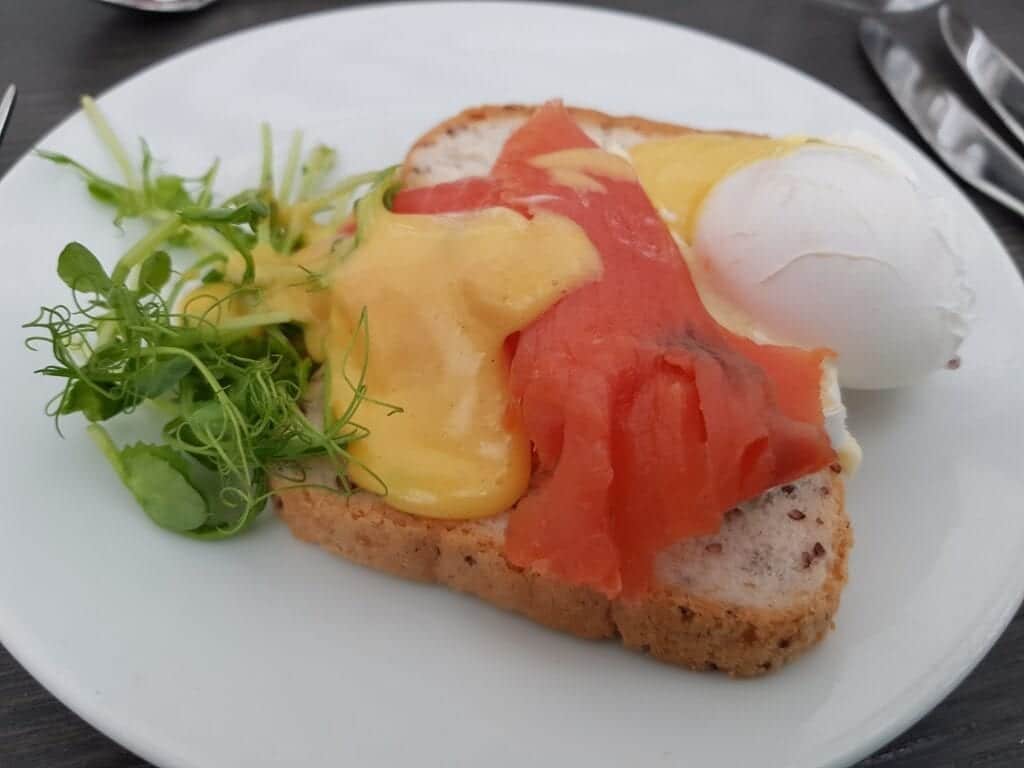 There's a big selection of breads and pastries with bread rolls, fresh pretzels, bagels, English muffins fruit loaf, and gluten free options too.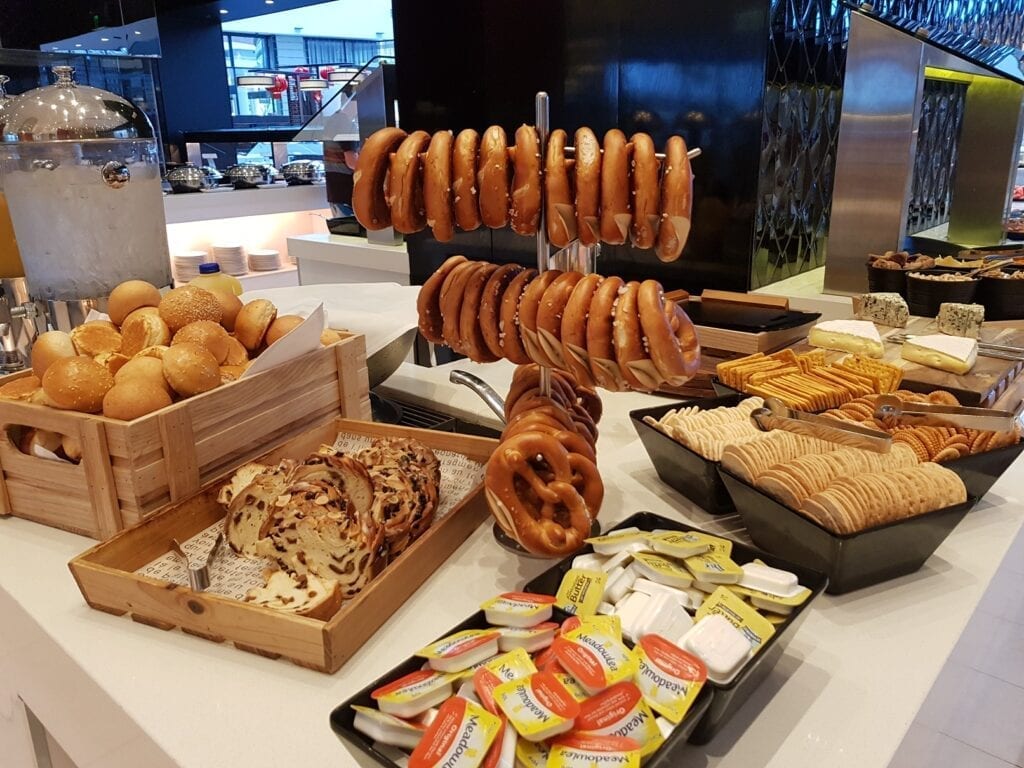 There are healthier options to the humble fry-up with an array of cereals, fresh fruits, stewed fruit, yogurts, bircher muesli and even salmon, cold meats and cheeses.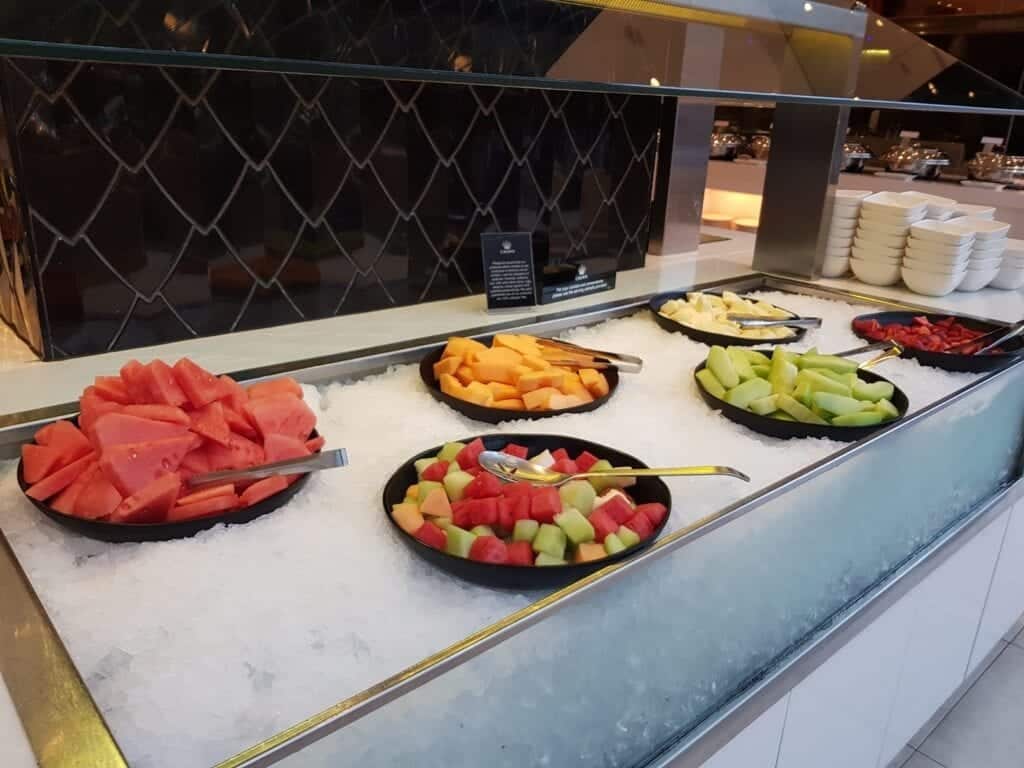 If you're after something really different for brekkie, then why not try a curry, dim sum, nasi lemak, or Chinese stir-fry and prawn crackers.
Little Chef was amazed by all the foods and loved sampling dishes that he'd never tried before. He had a plate of sausage, bacon and eggs, followed by a plate of fresh waffles with fruit and chocolate sauce.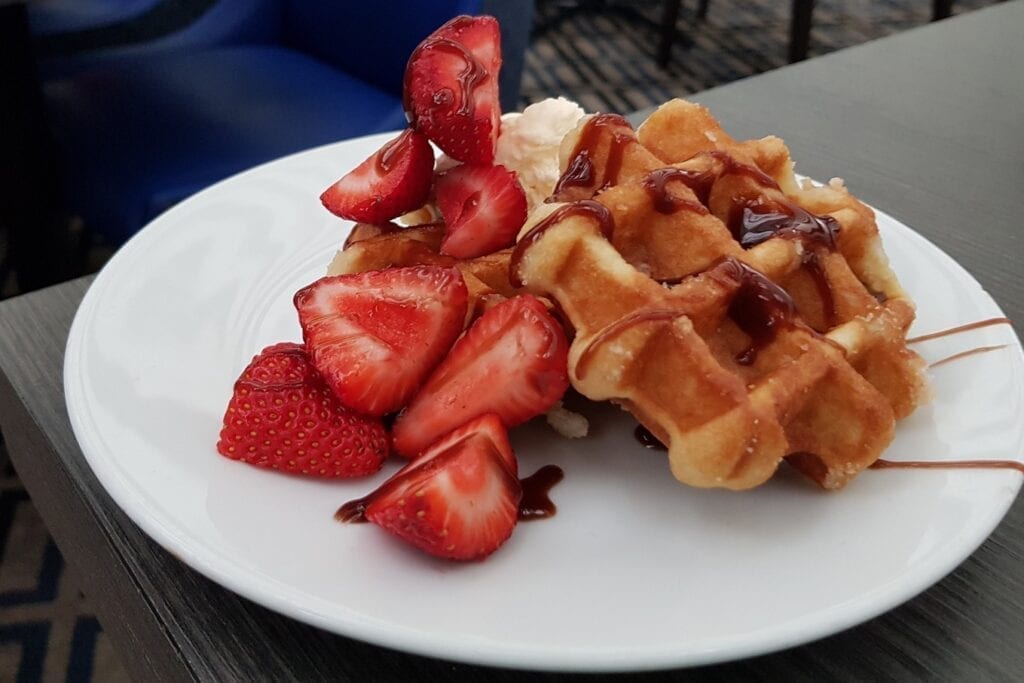 To drink there's tean and coffee, as well as filtered cold water, apple, orange and pineapple juice. On Sundays, enjoy a glasses of bubbles if you like a champagne breakfast. Usually we wouldn't partake in dessert after breakfast. At the Atrium there's a scrumptious dessert station with petit fours, pavlova, Danishes, donuts, muffins, cake, jellies, ice cream, croissants (and chocolate croissants!), waffles… and much more.
Prices as Aug 2019
Mon to Sat – Adults $39, Kids $19.50
Sunday (includes glass of sparkling wine) – Adults $42, Kids $21
Mon to Sunday (continental/cold) – Adults $25, Kids $12.50
Note: Kids 3 years old and under are free and kids 13 years and over pay adult prices.
Reservations are essential at the popular Atrium Crown Perth and we can see why.
Get more info on the Crown Perth Website.
Find more family friendly restaurants in Perth here.