The Telethon Kids Discovery Centre is located on the ground floor at the northern entrance of the Perth Children's Hospital, the Discovery Centre is a fun, interactive and educational space designed to get kids excited about science, health and research.
The Discovery Centre is packed with opportunities to learn and discover new things, with 13 different engaging games, from exploring the human body using ultrasound, x-ray or MRI to discovering why researchers are interested in snot, poo and dust mites… it is hard to walk away without learning something new!
When you enter the Telethon Kids Discovery Centre for the first time your child is given a wristband, bands are available in different sizes and colours. You then sign in and link your child to their wristband, the band stores your child's high scores and completed levels.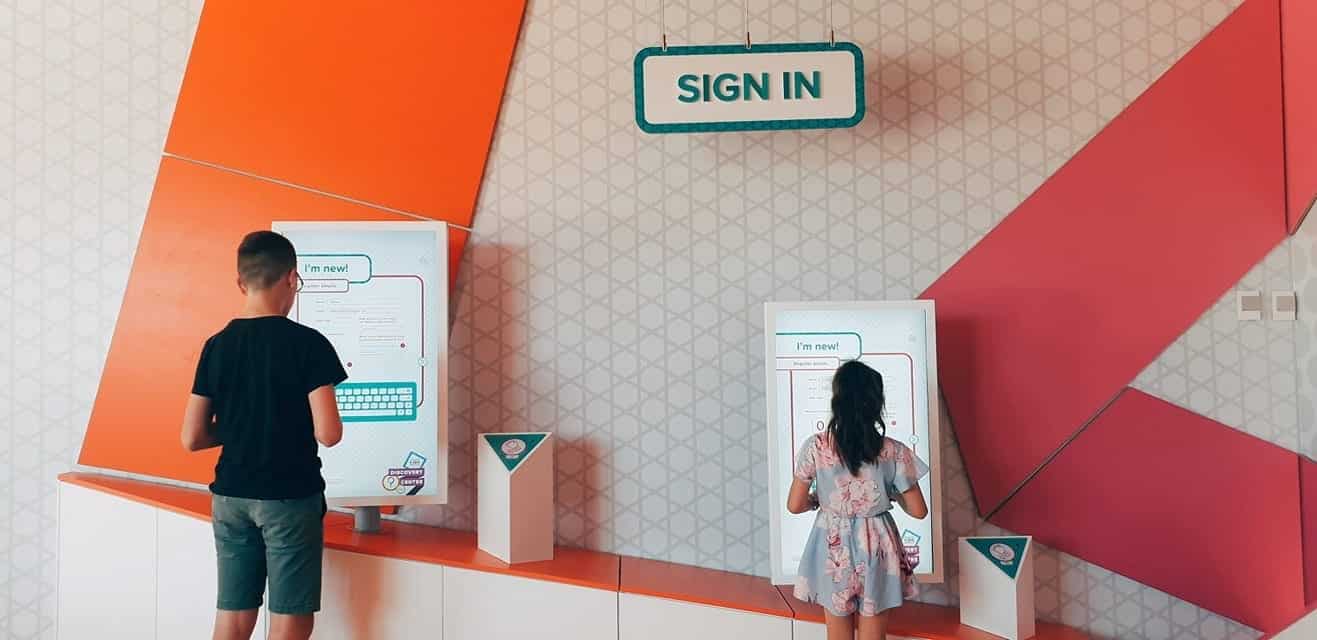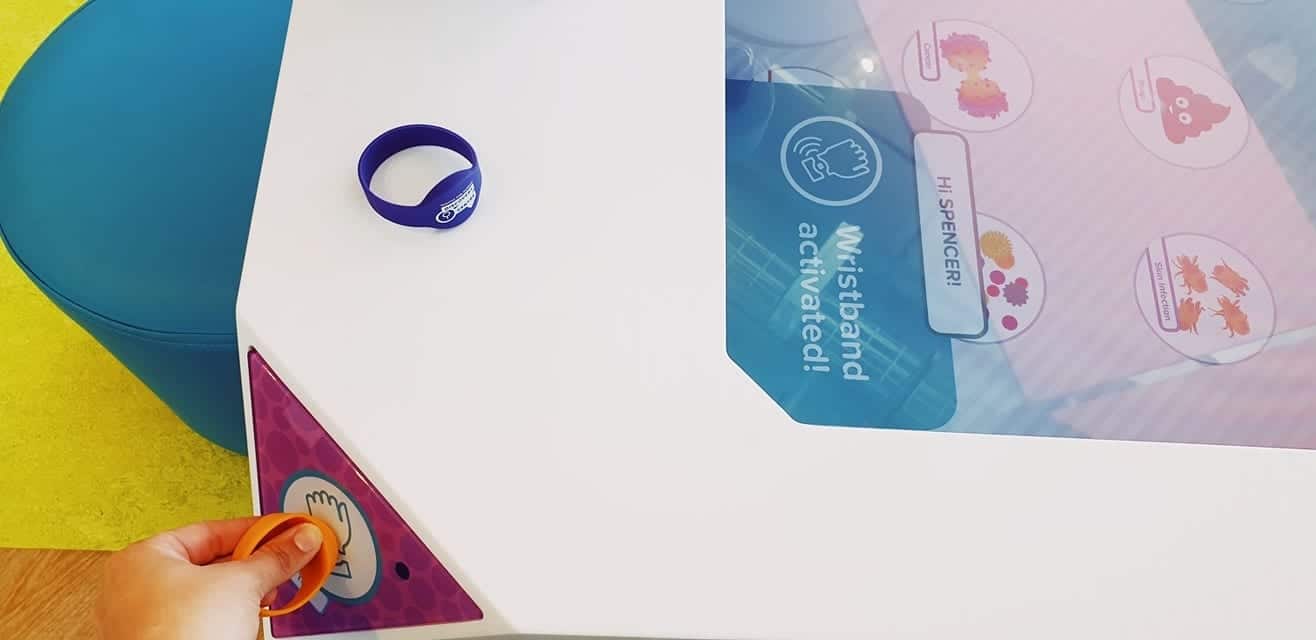 The space is ideal for children aged 7 to 12 years, older and younger children are welcome too. While my toddlers didn't understand most of the activities, they still enjoyed giving them a go – my youngest was completely obsessed with discovering the human body through x-ray!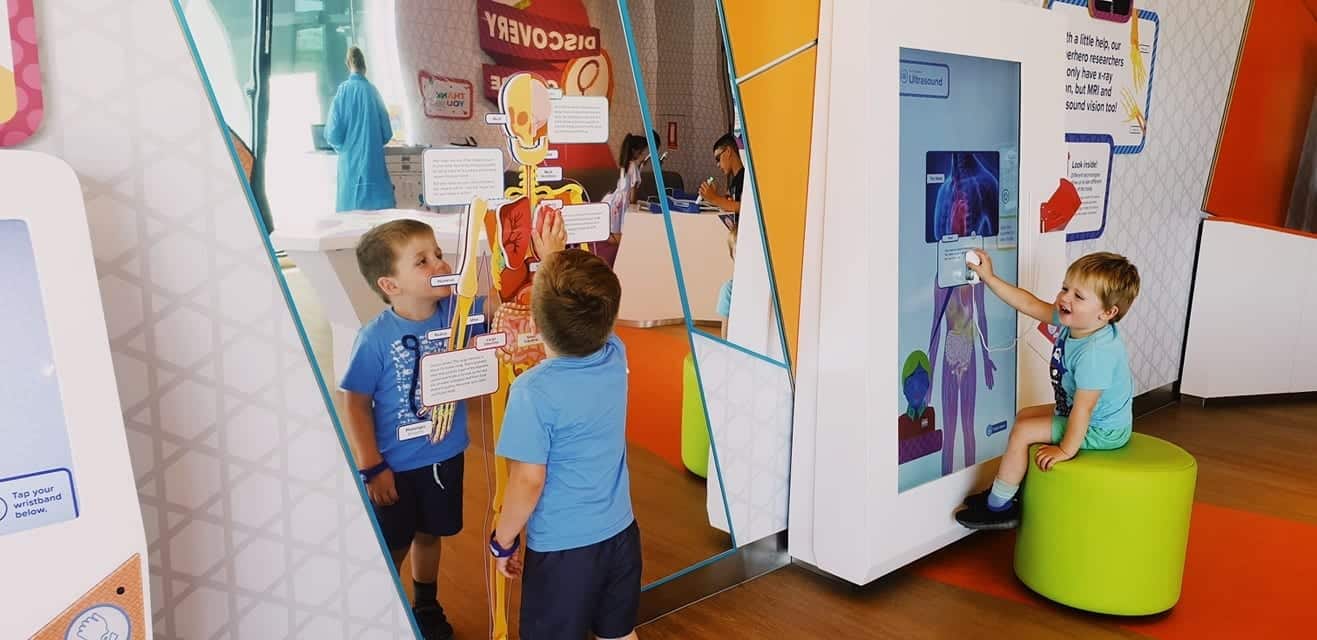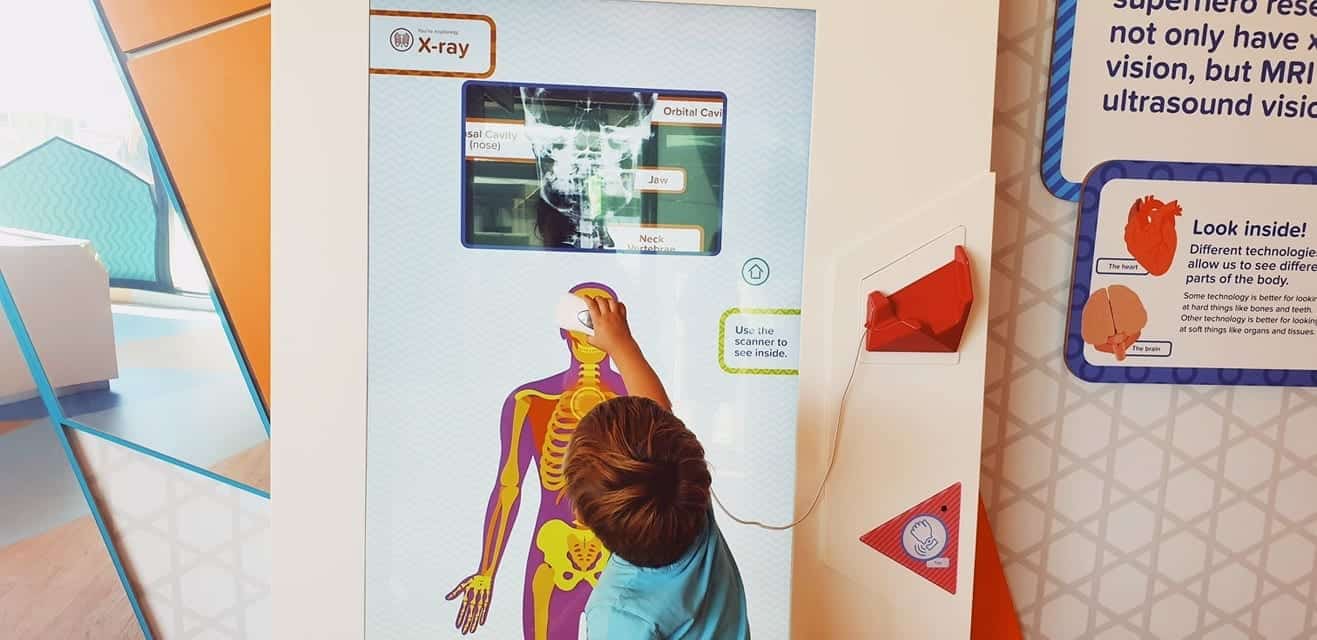 We all enjoyed getting a close up look of our hands, hair and supplied objects such as mouldy bread and feathers using microscopes – there are even microscopes you can attach to your mobile phone camera.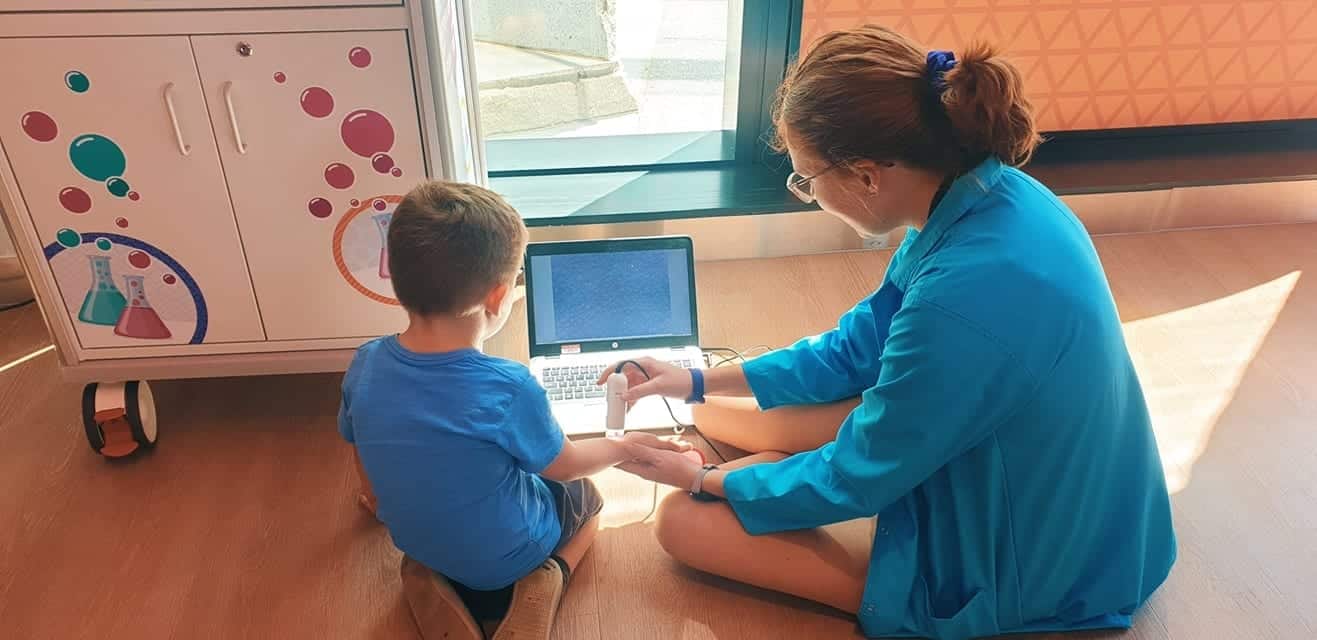 With a younger brother who has recently been diagnosed with a wheat allergy, my daughter was particularly interested to discover how common certain allergies are. She learnt that by 1 year of age, 1 in every 10 children will develop a food allergy, the most common food allergies are egg, peanut, tree nuts, cow's milk, fish, shellfish, wheat and soy.
Catch and Collect was a great game for all the kids to play together… who doesn't love trying to defeat cancer cells using immunotherapy or catch allergens in the airway?!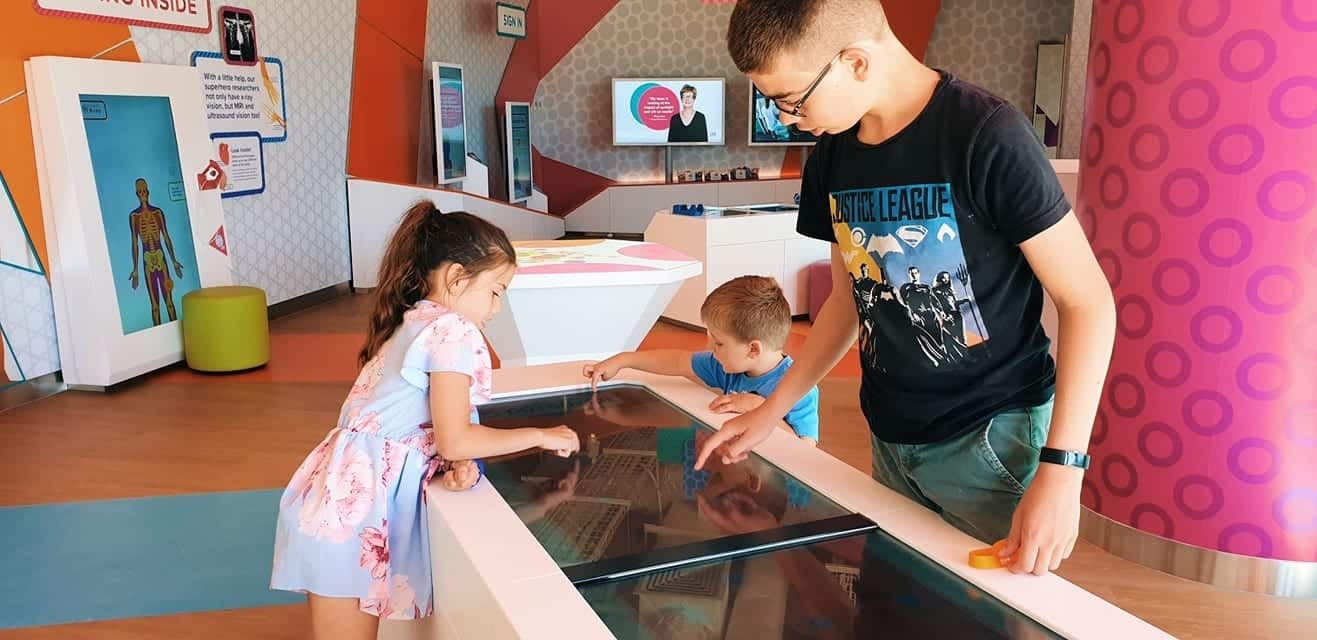 Another highlight was Zoom Into Research, kids can zoom into the mouth, poop, snot and more gross stuff!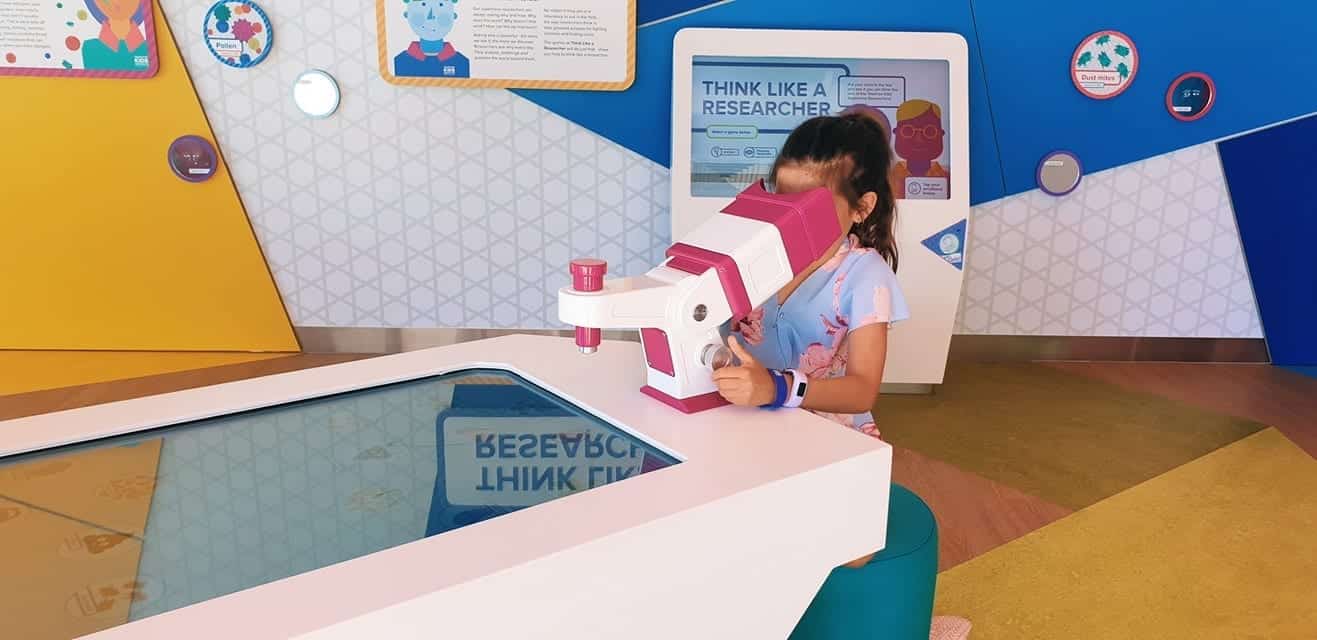 The Telethon Kids Discovery Centre was built thanks to a $1.5 million Lotterywest grant, the centre is now run by volunteers. Telethon Kids Institute volunteers are awesome with kids, they show them how to use the different games, and encourage them to think about what they are seeing/reading/doing, which gets them thinking and helps them get the most out of the space!
We were at the Discovery Centre for a little over an hour, the kids and I loved it… who knows, I might have a future scientist on my hands now!
Telethon Kids Discovery Centre
Open from 9am – 4pm, Monday to Friday. Closed on public holidays and between Christmas and New Year's Day.
The Discovery Centre welcomes inpatients, outpatients, their siblings and visitors.
Corner Winthrop Avenue and Monash Avenue. Parking is available at QEIIMC
www.discoverycentre.telethonkids.org.au