RAC Karri Valley Resort is truly one of the most amazing places we've stayed at as a family! Residing on the edge of the trout-filled Lake Beedelup and set within the Karri Forrest, RAC Karri Valley Resort will amaze you and leave you with happy memories of a great family holiday. The resort is around 3.5hours drive from Perth CBD, so you'll definitely need to plan a few night's stay.
RAC KARRI VALLEY RESORT ACCOMMODATION
Accommodation options include 2 or 3 bedroom chalets nestled in the Karri Forrest overlooking Lake Beedelup and cosy 1 bedroom Lakeside rooms. The wooden chalets are scattered all around the forest so you can get some privacy. There's a road/cycle pathway meandering around the cabins and lake which the kids just loved!
All chalets have wide balconies with stunning views of the lake. Our kids loved running up and down the balcony and it was warm enough for us to eat our meals on the balcony as well as relax and enjoy being surrounded by nature and stillness.
We enjoyed our morning coffee watching the mist swirl around the lake.
We stayed in a 3 bedroom chalet nearest to the lake. The living area was huge, with lots of space and open plan with lounge chairs, kitchen table and fully fitted kitchen. In the winter months there's a log fire in the main living room which would be super cosy.
The main queen bedroom had its own balcony access.
The kids room had 2 single beds and a bunk bed. Thankfully no balcony so you can keep the younger kids contained.
Despite having bunk beds and two single beds to choose from my two hatched a cunning plan to share a queen bed for the night. I wish bedtimes were always like this.
RAC KARRI VALLEY RESORT RESTAURANT/DINING
The resort Lakeside restaurant overlooks the lake and offers more amazing views of the lake for breakfast, lunch and dinner. The restaurant is a foodie's delight with many delicious dishes made from local produce.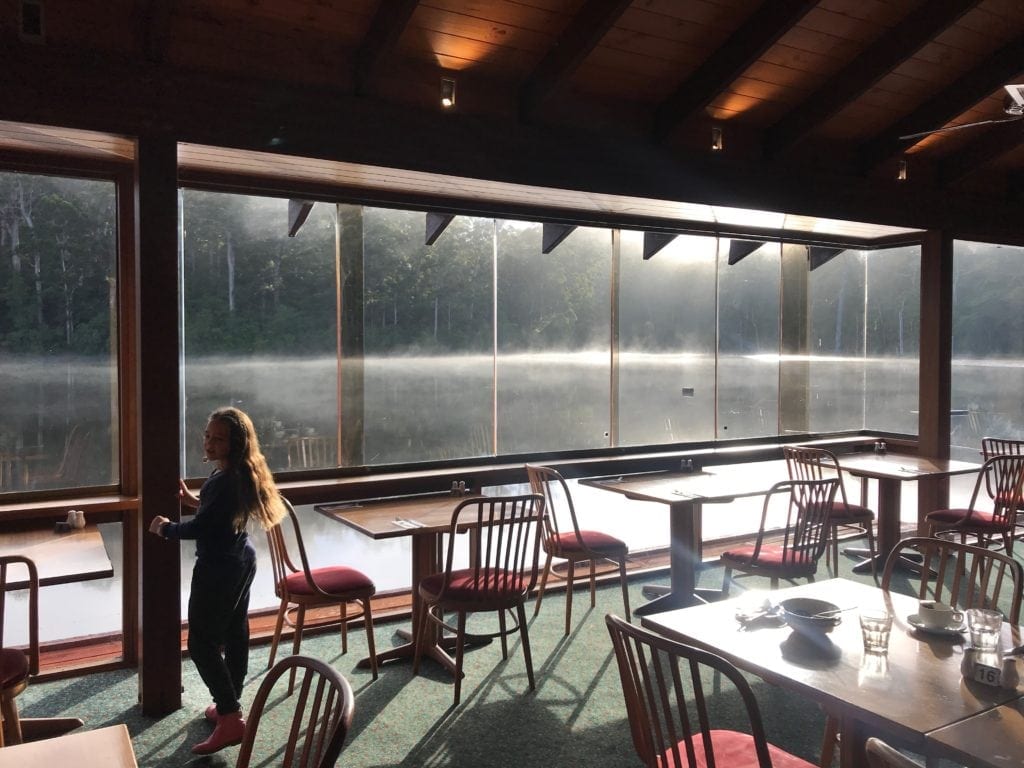 The restaurant has a cosy winter feel to it and we loved the open plan setting overlooking the lake.
Kids meals came with a kids activity pack each which kept them busy throughout our evening meal.
The kids had choices from chicken nuggets, grilled fish, pasta and steak options. We found it difficult to choose our main course as there were so many yummy options including the Spring Valley Lamb, homemade Marron Tortellini and Margaret River Venison Sausages. My husband had the Pond to Paddock – steak and marron which was divine! The dessert options were equally as difficult to choose from. I had the gluten-free blueberry cheesecake. I was spoilt for choice with Gluten-Free options which made it a very enjoyable meal. One thing we noticed was the Chef came out of the kitchen each serving and chatted to every table to check things were OK!
We also had the breakfast buffet. They made good use of it as well, my daughter had 4 sausages as well as everything else. We do love a good buffet before a full day of activities. The breakfast offered the usual fare of sausages, hash browns, bacon, pancakes, mushrooms, eggs done however you like.
The kids don't eat cereal at home so they gorged on the cereal on offer. The kids are dairy intolerant and were offered soya milk in place. I found the staff very welcoming, friendly and super helpful with anything we asked for. So refreshing to have a restaurant who can easily cater for food intolerances.
I delved into the fruit and OH MY was it goooood!! They'd soaked pears and peaches in cinnamon and star anise which was just amazing.
Yet again we had amazing views of the lake and forest.
After a belly full of the biggest buffet breakfast ever we embarked on our first activity of the day, booking up all our activities for the day.
RAC KARRI VALLEY RESORT ACTIVITIES
There's so much to do at the RAC Karri Valley Resort, during our weekend away we managed to cover off nearly all of the activities. Some activities you need to book in for at the activity centre/shop which is open all day. We paid $20 for a family pass for 24 hours to cover off any and all activities we wanted to do including mini-golf, archery, boat hire, canoe hire, fishing rod hire, arts and crafts and animal feeding at the farm.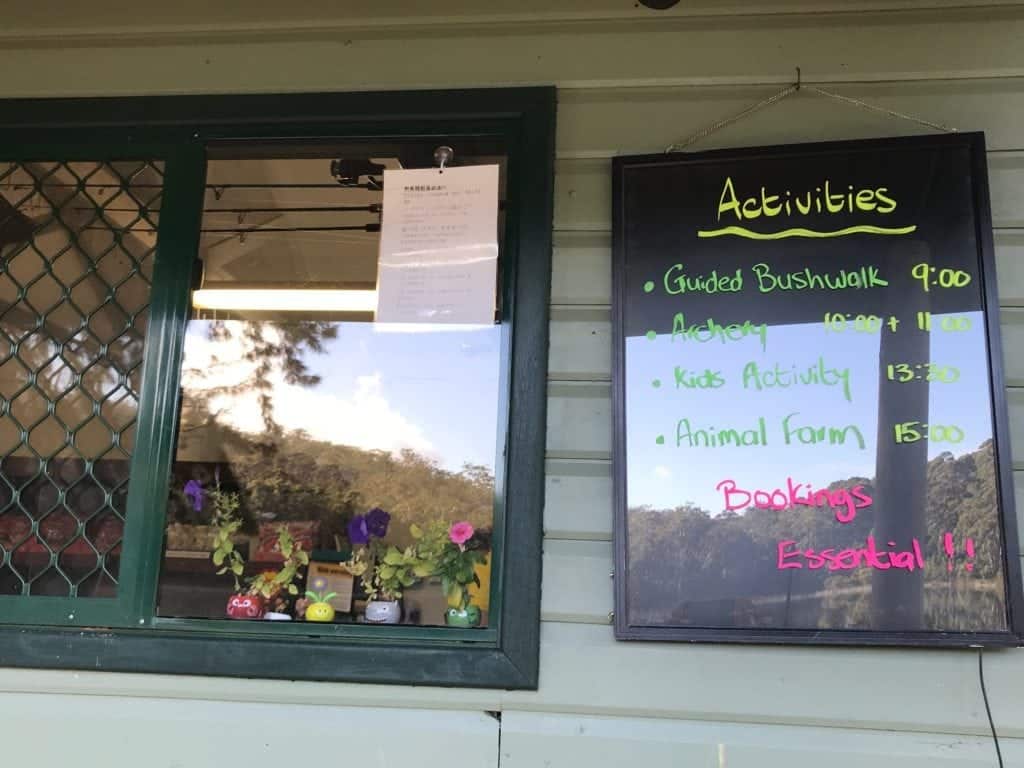 BEEDELUP FALLS WALK TRAIL
The Beedelup Falls trail is about 3.5km round trip, however, if you wish to check out the "walk through tree" then it's an extra 1km. The ground is quite rough and there are some very steep hills to navigate so not suitable for bikes and I would definitely recommend trainers.
We started our walk right outside of our chalet, the kids grabbed some sticks and offer went into the forest.
Don't forget to look up at the sky, the trees are sooo high!
Halfway round the walk you can take a little detour to Froggy's Point where there's a wooden pier and amazing views of the Karri Valley Resort from across Lake Beedelup. The mist was just clearing.
Maggie Dent says walking is good for boys….I totally agree!
Soon enough you'll come to the Fallen Tree… which is nothing more than a fallen tree.
…and a tree you can stand in!
After some very steep ascents we came to the Beedelup Falls, during April we hadn't had much rain so the falls were more of a sprinkle but at least there was some water there. I've been in Winter before and there's usually a lot more rapid water falling.
The wooden stairway takes you down to the Wobbly Bridge. Which is very wobbly if you're 100kg husband wobbles it!! About 5 years ago I tried to walk over this and couldn't do it due to my vertigo but this time I stormed across no worries.
We decided to take the detour to the Walk Through Tree. It was well worth it as the kids loved climbing through it a million times over.
On the nature walk, you'll encounter many animals and sights, we spotted kangaroos, kookaburras, red-breasted birds and even some bright yellow mushrooms growing in the forest. This one was HUGE!
After a quick energy snack, we headed to the Archery centre which is a short walk down the driveway. Kids from age 8 upwards can take part in the Archery activity. My nearly 10-year-old was strong enough to pull the bow back but he did tire after 45mins. He managed to get some great shots in.
My 8 year old managed a few rounds before she got too tired but also got some amazing shots in. I asked the kids what their favourite activity was during the day and they both said the Archery, so a big thumbs up from our family.
Next, we had a family game of mini-golf, there are 18 holes so plan around an hour for this activity. Although depends if you're any good or not 😉 There are some really fun holes on the course, my 9 year old beat me which isn't difficult but still!
We took our own bikes for the weekend but you can hire them whilst you're there.
There's a games room in one of the vacant chalets full of board games toys, bean bags and a table tennis table. The kids can come and go as they please and our kids loved cycling from the chalet to the games room to play.
We did the kids arts and crafts activity in the games room, they got to paint stones and use glitter and stickers to make something creative and fun.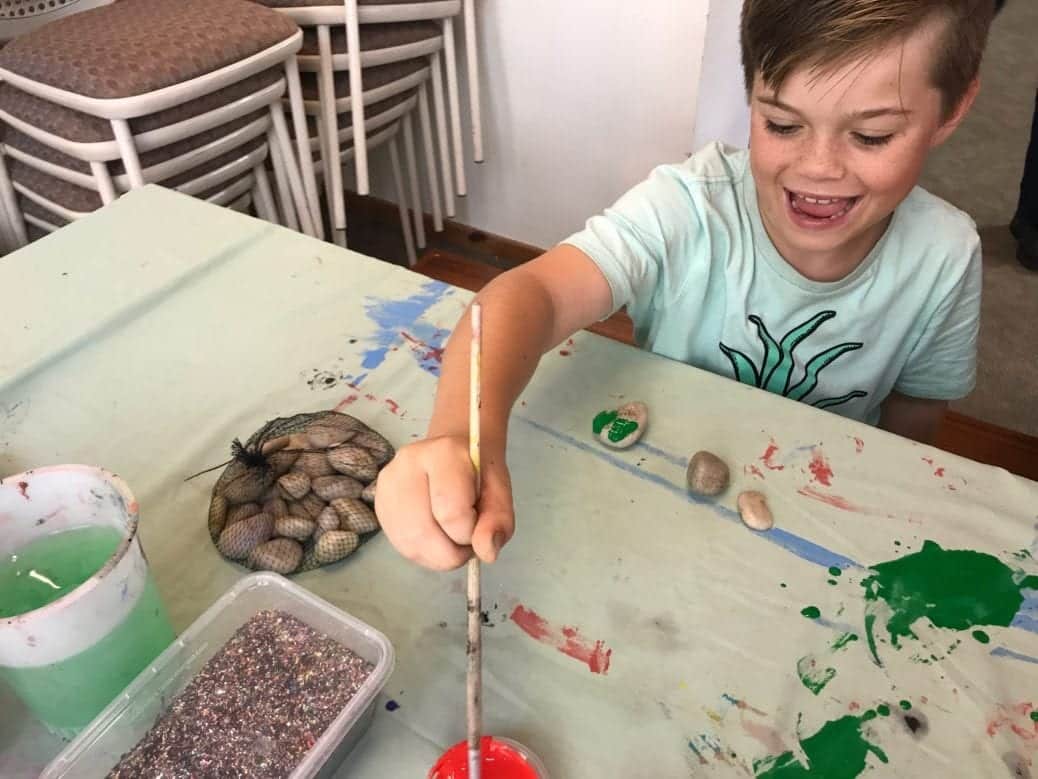 Next, we visited the animal farm which has super fluffy Silkie chickens, a pig called Mocha, two ponies, rabbits and guinea pigs. At 3pm every day the kids get to feed the animals for 45mins and get to have cuddles and tickles with the animals.
Mocha loves cuddles and a good scratch 😉 We got to play with Mocha and watch her play with exercise balls and round up the chickens. She really was adorable!
If all those activities weren't enough there's still so much more to do in the Jetty area. The kids playground overlooks the lake and is quite close to the lakeside chalets and jetty.
The Lake itself has a pontoon to swim out to and you can hire canoes or rowing boats from the activity centre. There's a small beach area and a large grassed area in front of the lake so you can chill out for the day and watch the kids swim and play.
As usual the men in the family spent a lot of time preparing and doing fishing….but alas once again for the 5th year running they didn't catch a thing!
Read the reviews on Tripadvisor
Find other great places to stay in Western Australia.