Hamelin Bay Holiday Park is nestled in the Leeuwin-Naturaliste National Park in the Margaret River Region of South West Australia. The park offers ocean view cottages, ensuite cabins, powered and unpowered camping and caravan sites.
We had a 4 night stay over a long weekend and was our first camping trip to the stunning Margaret River/Augusta region.
The park itself is mainly sand based with a few grassy areas, there are plenty of mature trees for shade coverage and privacy. The sites are nicely spaced around and a few areas which accommodated small and large groups together in little nooks. The campsite is full of character with beautiful colourful flowers and bushland.
We had a large pitch for our pop-up caravan directly next to the main playground, which did get noisy at peak times but great if you have little one's you want/need to keep a watchful eye on.
Plenty of open spaces for groups and ball games.
Ensuite cabins set amongst the trees and main camping area, so a great choice for those who want to experience a camping vibe in glamping style.
The campsite is located a few minutes walk from the sea and offers good sized cottages with amazing ocean views.
The playground is sand based and includes a simple fort, slide and climbing frame. It was in full sun for most of the day but didn't get too hot.
Other camp facilities include a kiosk for essential grocery items, milk, break, confectionary, ice creams, bottled water, ice and fishing tackle.
The main attraction of Hamelin Bay is of course the stingrays. They are fairly tame and can be seen swimming up and down the shallow waters of the bay looking for food and attention. We saw many people touching them and chasing them along the shores but this is not recommended for obvious reasons. They are beautiful to watch but I must admit was a bit scared when I wanted to head for a swim and they were swimming directly underneath me!
There's a long boat ramp down the beach from the main car park up at the campsite. The waters are very shallow and calm, ideal for canoeing, snorkelling, paddle boarding etc.
You can catch some amazing sunsets here, the kids just loved being down at the beach at this time for a late afternoon dip.
We did venture along the coast and rocks on a few adventure walks and also managed a stunning early morning run along the cape.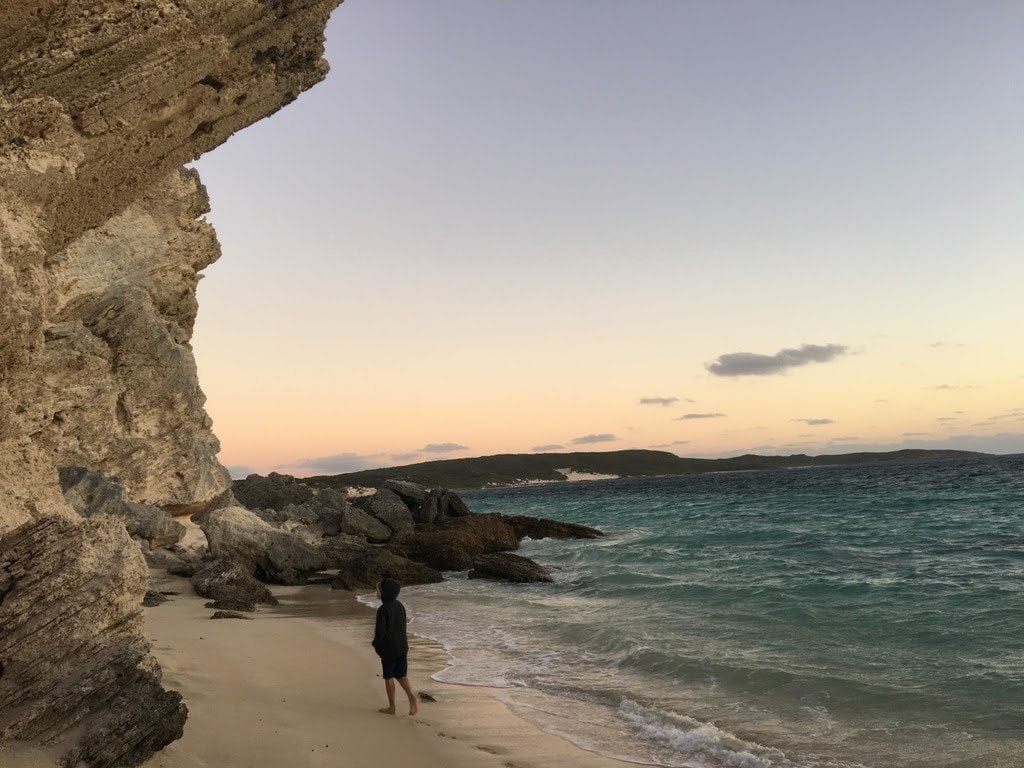 Hamelin Bay Holiday Park