Maison Saint Honore is a delightful French-style cafe, nestled in the heart of the Swan Valley, serving a tempting range of sweet and savoury crepes, croissants, cakes and Macarons.
It has the added bonus of being hugely kid-friendly with its expansive outdoor playground meaning you can relax as you watch your kids play.
There is a large shaded chalkboard featuring French characters Asterix and Obelix decorating the soft fall.
There is a small kid's savoury menu featuring a Ham & Cheese Toastie with crisps, Tuna Mayo Sandwich with crisps or a Ham and Cheese Crepe, all priced at $7. But I am sure no child will be able to resist a traditional French Crepe topped with a choice of Nutella, Sugar, Salted Caramel, Homemade Jam or Honey. All of which are priced at $8.
A new offering at Maison Saint Honore is their Crepe Party which would be perfect for a casual kids birthday party. The Crepe Party ($50) features 8 crepes accompanied by 6 toppings, whipped cream, homemade ice cream and cut fruit. This was a big hit with the kids.
Do yourself a favour and try one of their delicious macaroons! Purchase 7 or more and they will come presented in a beautiful wooden style canister.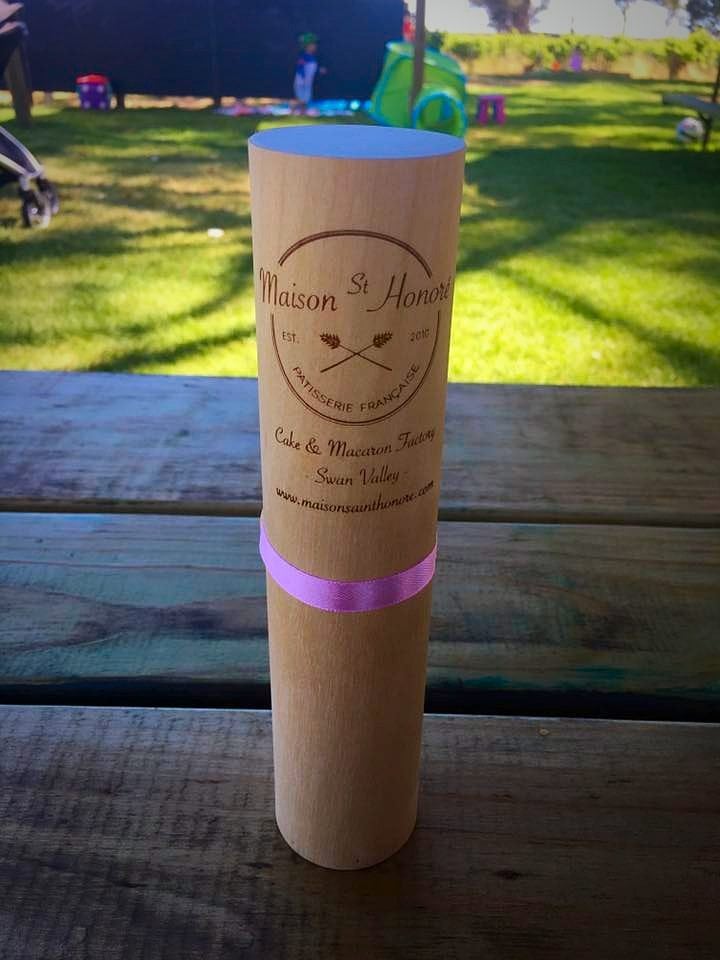 There is a delightful gift shop located inside with wonderful gift ideas and yummy treats. If you fell in love with their homemade strawberry jam or salted caramel sauce you'll be pleased to hear you can purchase it from the shop. The toilets located through the back part of the cafe. A baby change table is located in the disabled toilets.
Maison Saint Honore is located at 100 Benara Road, Caversham, opposite the Big 4 Caravan Park.
Maison St Honore also has a sister cafe in Floreat. Read our review here 

Find more family-friendly restaurants