Forest Adventures is an adrenaline packed family fun activity to do if you visit the South West at any time of year.
Located in the Tuart Forest smack bang in between Busselton and Bunbury, Forest Adventures offers 2 hours of exhilarating action packed climbing, crawling and flying fox fun. Incorporating 77 activities over 6 challenging courses, suitable for kids from 7 years and over.
We visited Forest Adventures during the Summer holidays and we were thankful we got a cooler, overcast day. Dress to sweat! Trainers, long pants or shorts and a t-shirt, sunscreen and a water bottle. You'll be active for 2 hours literally hanging from trees.
What to expect for your 2 hour Forest Adventure:
6 courses: yellow (kid course), green (kid+ course), light blue (family course), red (advance course) and black (adrenaline) course
Courses vary in height and difficulty, ranging from 3 – 18m off the ground
More than 500 meters of flying foxes, some 150 meters long!
Uni-cycle up high, tarzan ropes, wire walks and bridge tunnels
13 meter base jump
BMX on a wire
Spider webs
Choose the kids course first to get everyone used to the equipment and height. You can then move onto the kids + course and then the family course. Once you've committed to start a course you must complete each component to get to the end. If you get stuck/frozen then one of the many staff around the course will help you very quickly.
6 huge courses, 2 hours of amazing fun!
On arrival we were kitted out with all the safety gear then we were given a safety training session to ensure we each knew how to clip on and off the ropes. The training session includes completing some low ropes and obstacles.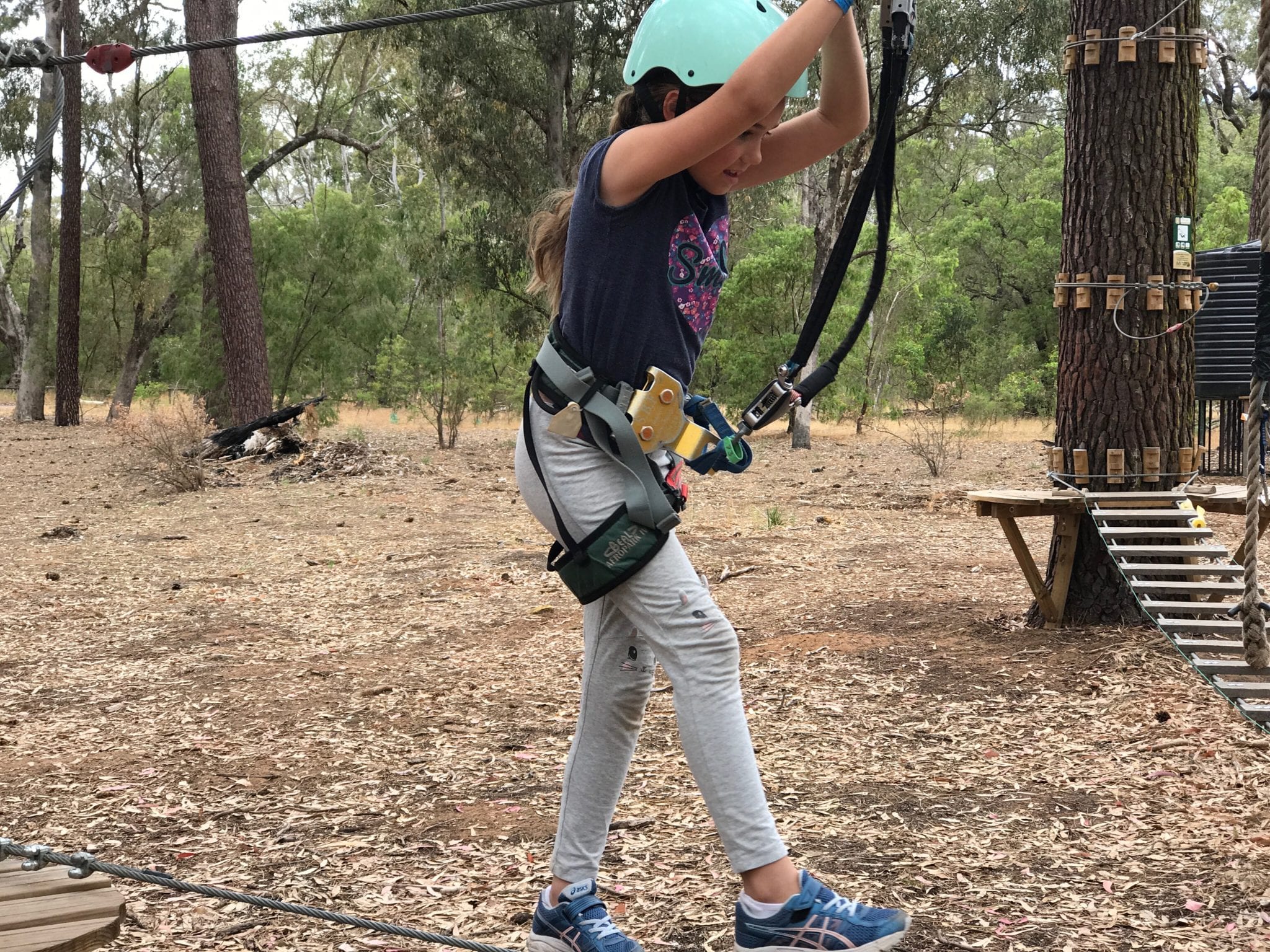 Kids course
We skipped the basic kids course as our time session was quite busy, you can move to any course you wish and each takes anything from 15 minutes to 40 minutes depending on how many people are in front of you and how fast they are. They do cap the amount of people on the course in each time slot so it doesn't get too busy.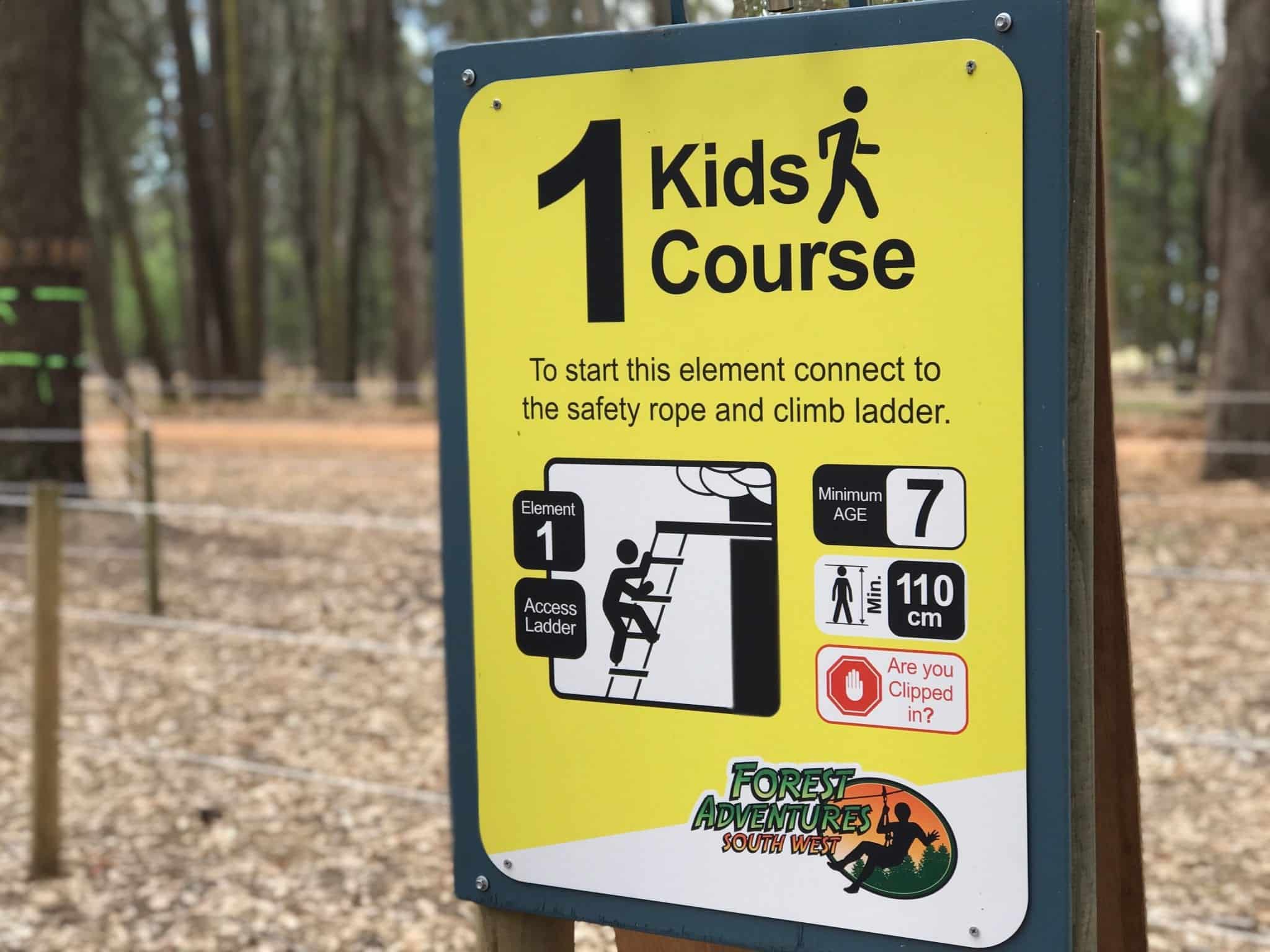 The basic course certainly gets you in the mood for things to come and includes this tunnel bridge which you must crawl through. It's a killer on the knees I'm told!
Course 2 – Kids + course
We started on this course, when I say "we" that included everyone in the family BUT me as I had cricked my neck the day before and couldn't climb. Anyway this course was the perfect start for the family to get used to be a little high up and clipping on and off the ropes.
This is Miss 8 finding her own style of walking across the high wire.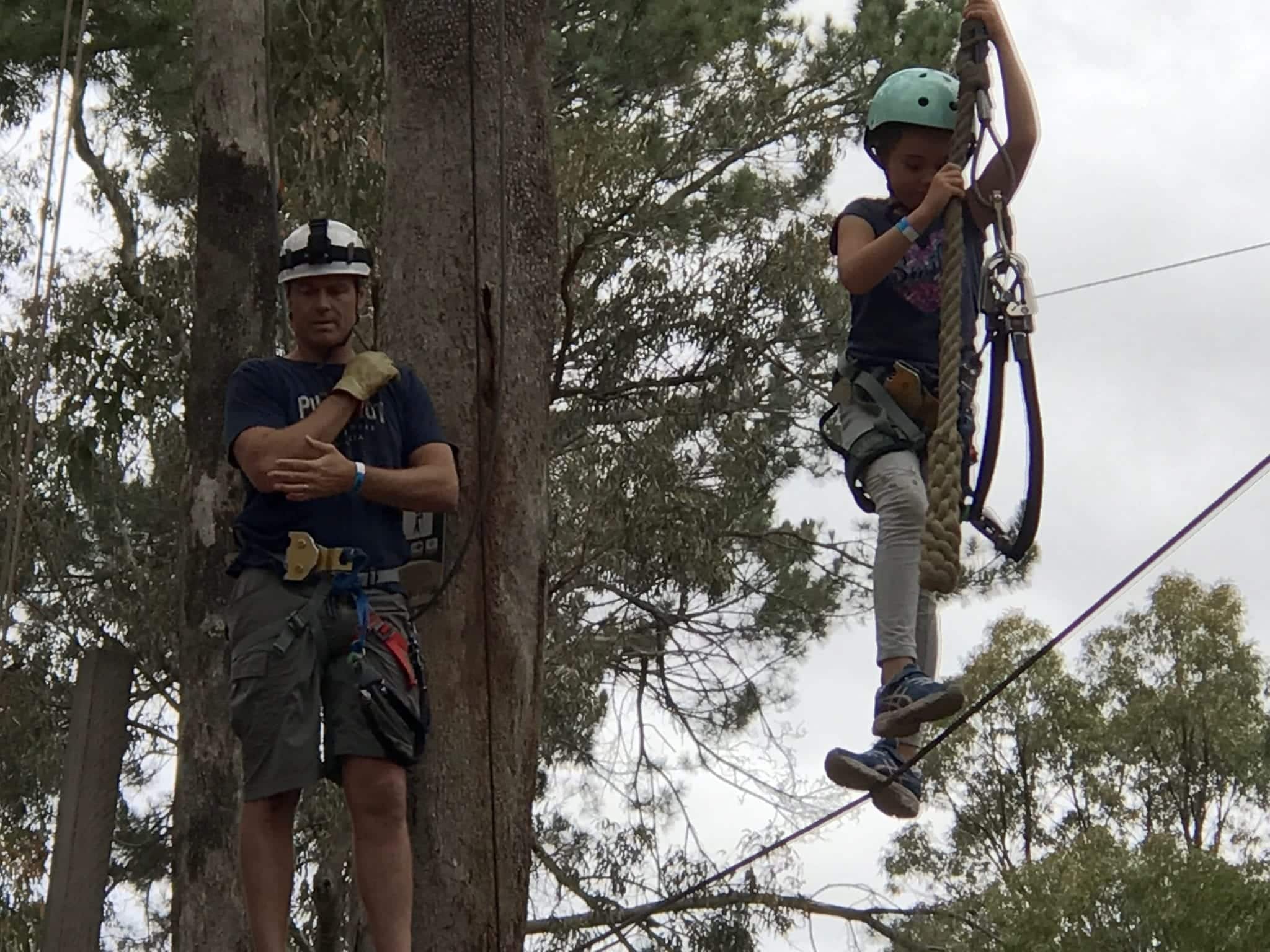 Mr 10 was apprehensive at first but soon found his confidence as he moved through the course and was soon laughing at how easy everything was!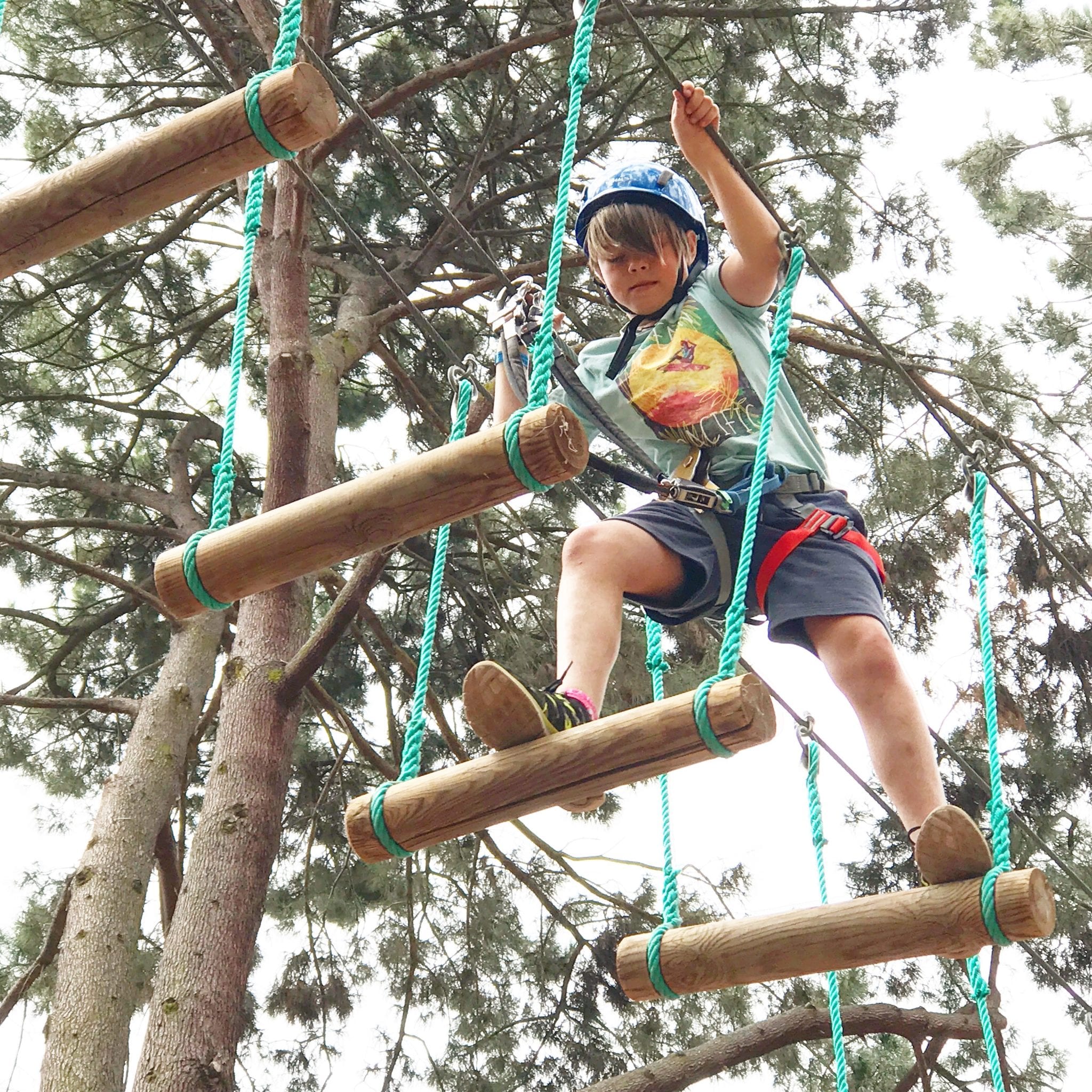 The rope spiders web was a firm favourite of the kids!
Course 3 – The Family Course
This course was the kids favourite as there were lots of different and unique activities which included riding a bike and riding on a snow board between two trees!
Miss 8 on the snow board.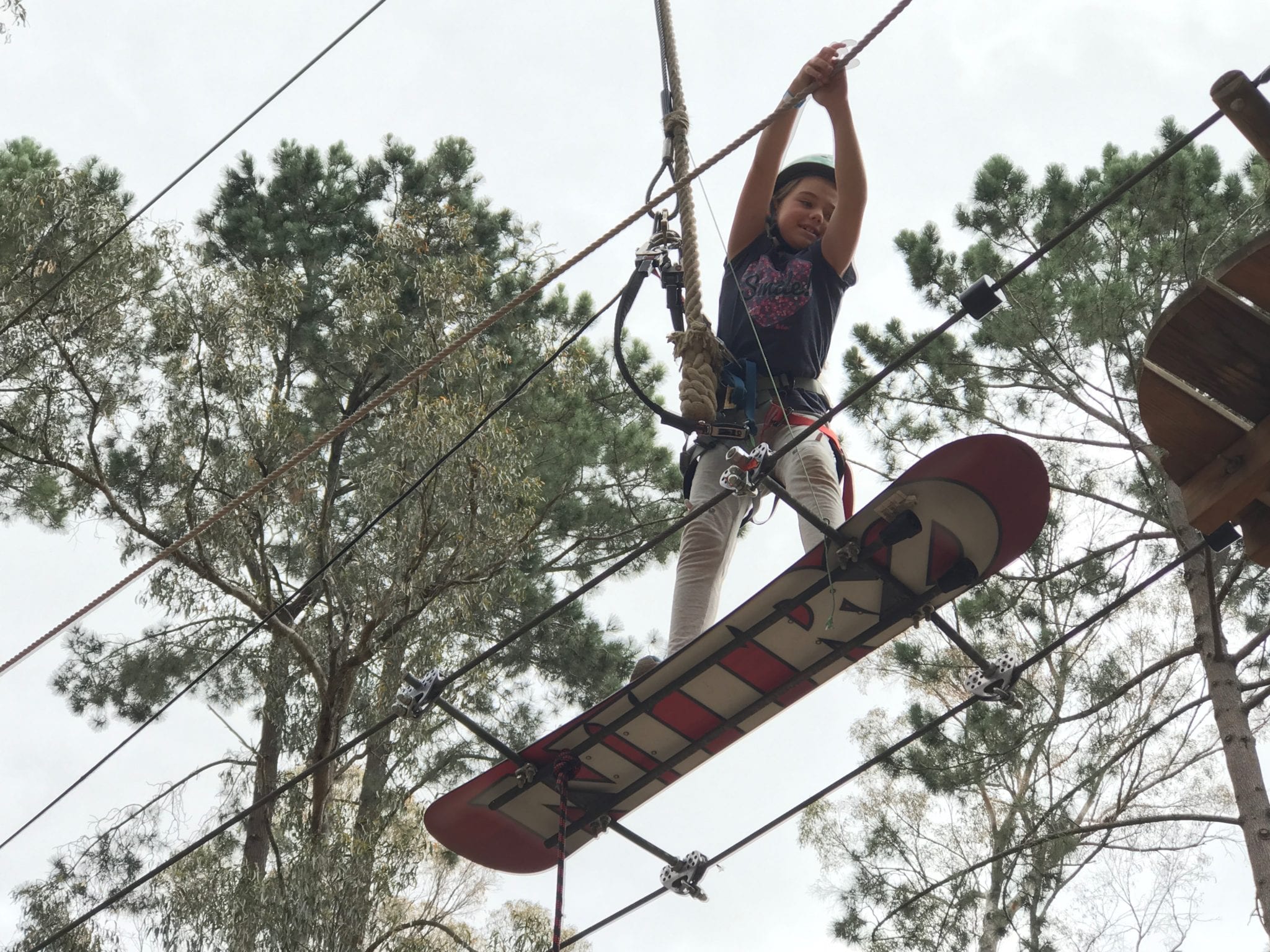 …and the hand cycle which she couldn't quite reach.
And Mr 10 on the bicycle which looked terrifying but was actually really easy.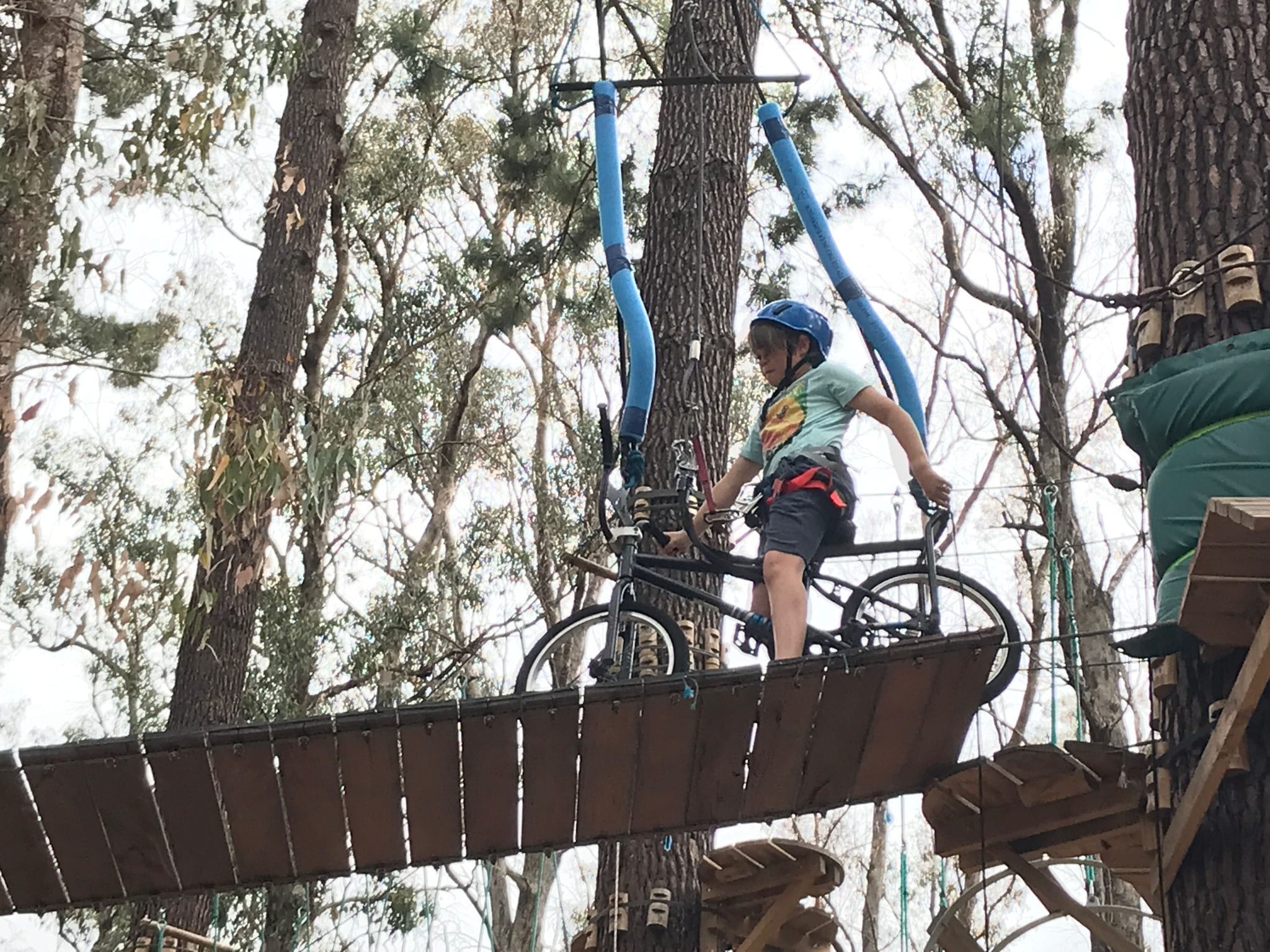 The other obstacles became a lot more challenging and required a bit more upper body strength and flexibility to complete.
Course 4 – The Zip Line Course
He looks brave but Mr 10 turned down this course and we let The Daddy and Miss 8 go it alone. The zip line blue course starts with an 18 metre climb up a wooded ladder followed by a descent of eight consecutive amazing flying foxes.
You do have the decision to go on the higher (like seriously high) zip lines or the lower ones (which are still high). The Daddy chose the higher zip line course and Miss 8 the lower one. She did really well and loved the longer flying foxes and managed them quite well.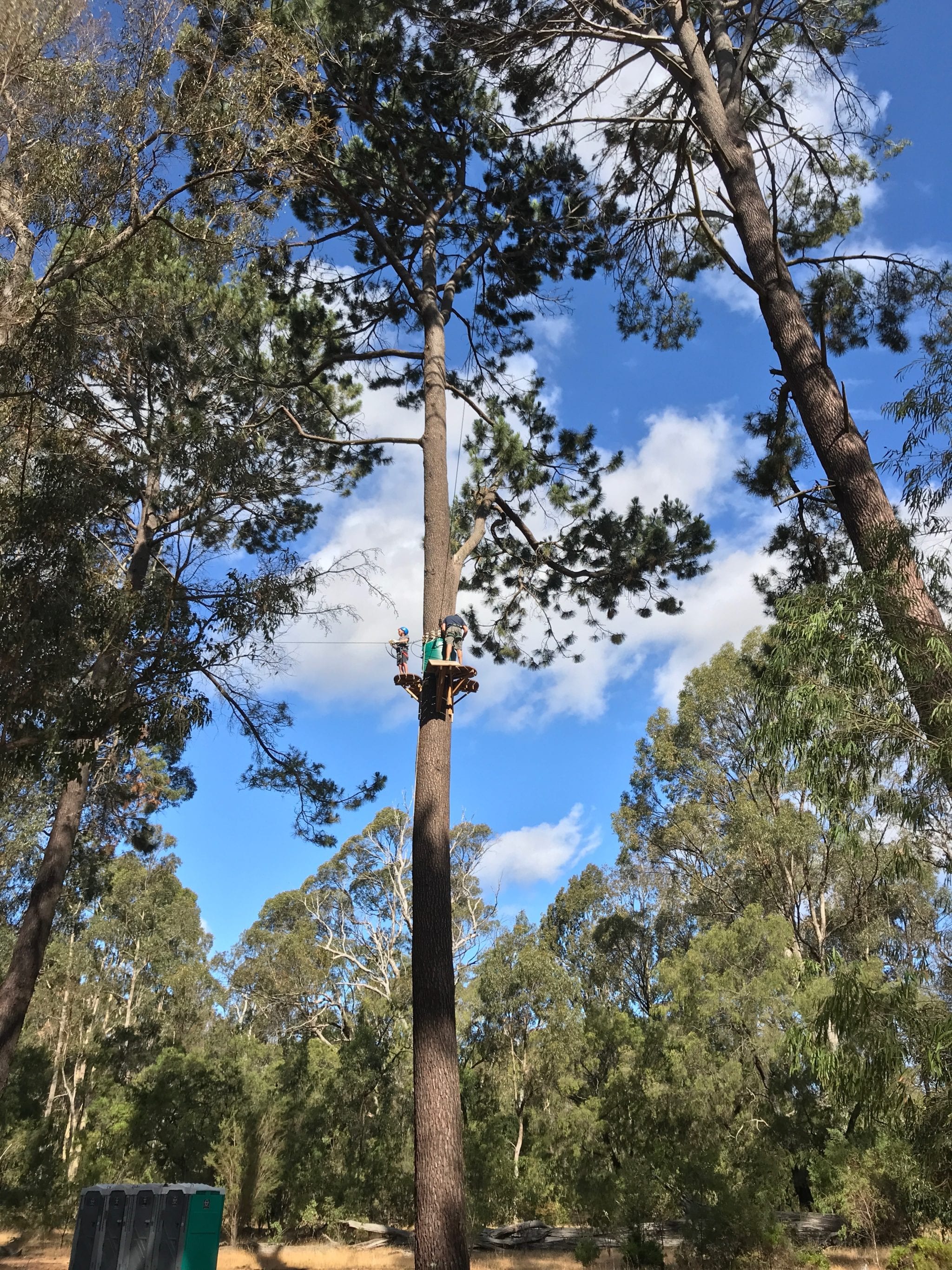 The Daddy flying very high on the longest flying fox in the park.

We completed 3 of the 6 courses during our 2 hours, we didn't feel like we wanted to try the advanced level this time round but I think we will give it a try when we go again 😉
We saw a few die hards starting this course…. and failed to get any further than the first element. The first challenge is to climb a vertical wall and if you fall then you're returned to the ground to start again.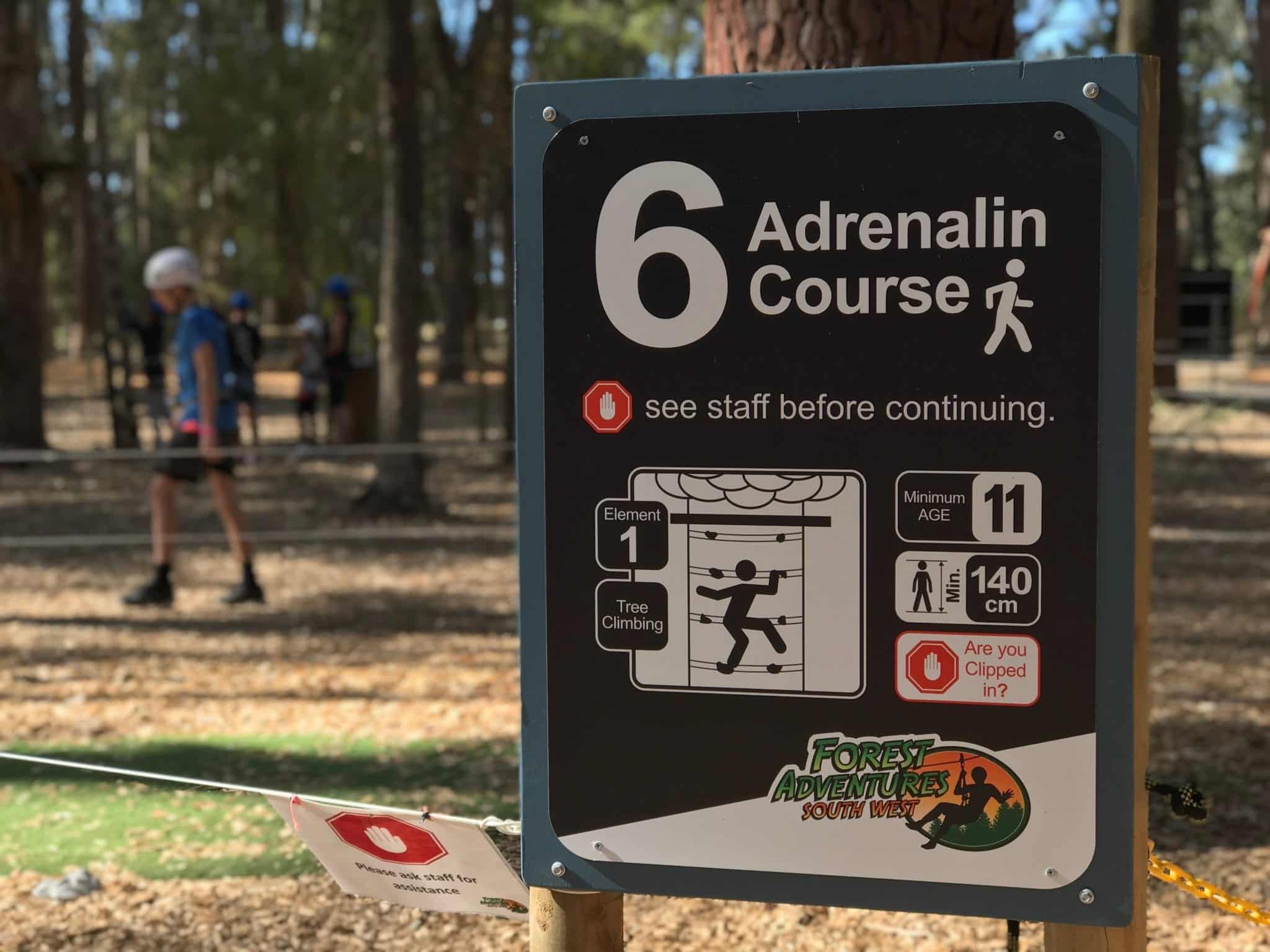 For the younger kids there's a wooden fortress, climbing slope and slide to play on. We also found toy dinosaurs scattered around the park which make a great adventure trail for the younger kids. As well as a cute little fairy garden hidden amongst the trees.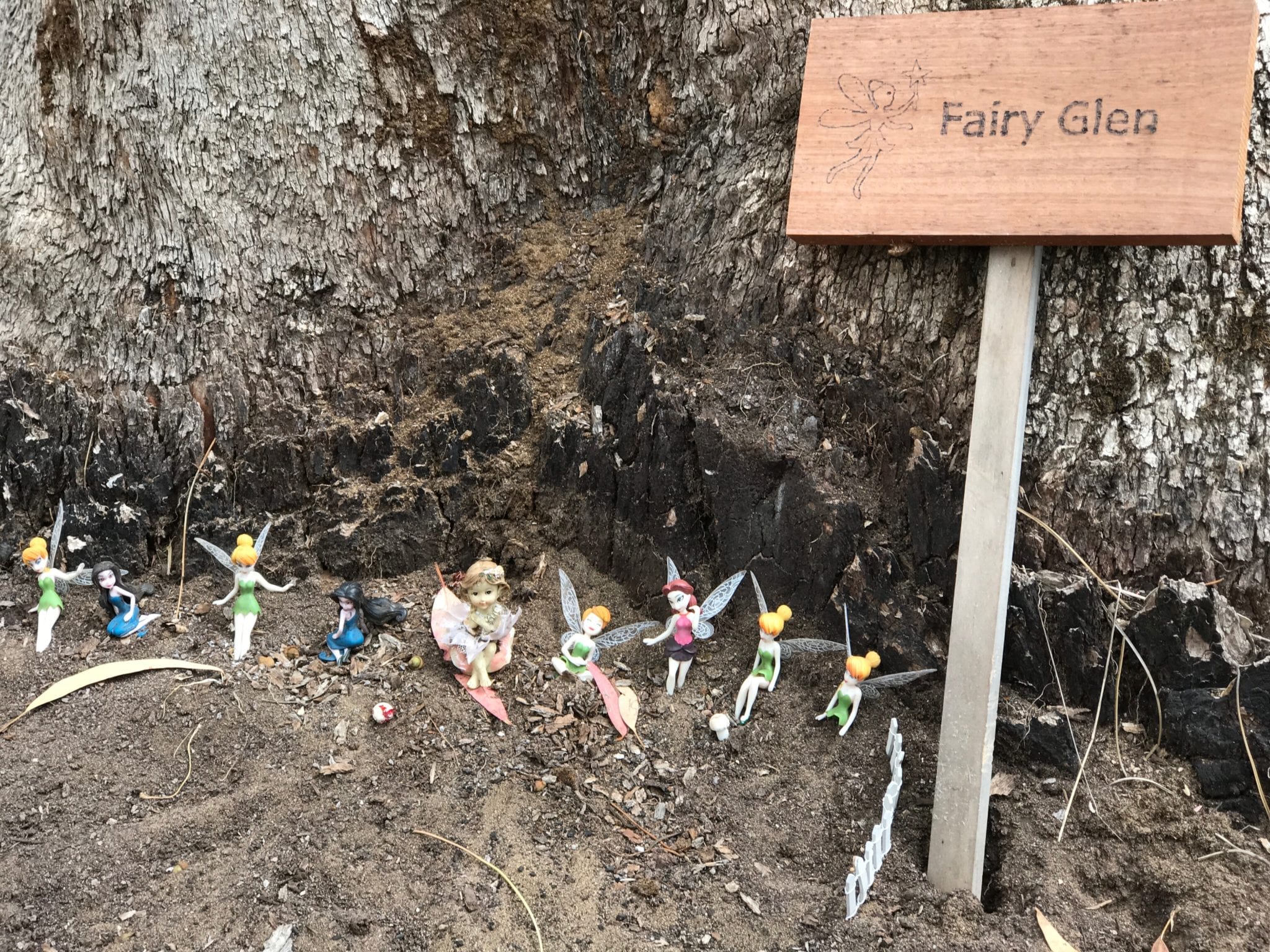 We had an amazing time at Forest Adventures, we'd definitely recommend it as a must visit if you're in the area or to make a special trip there for a half day family activity.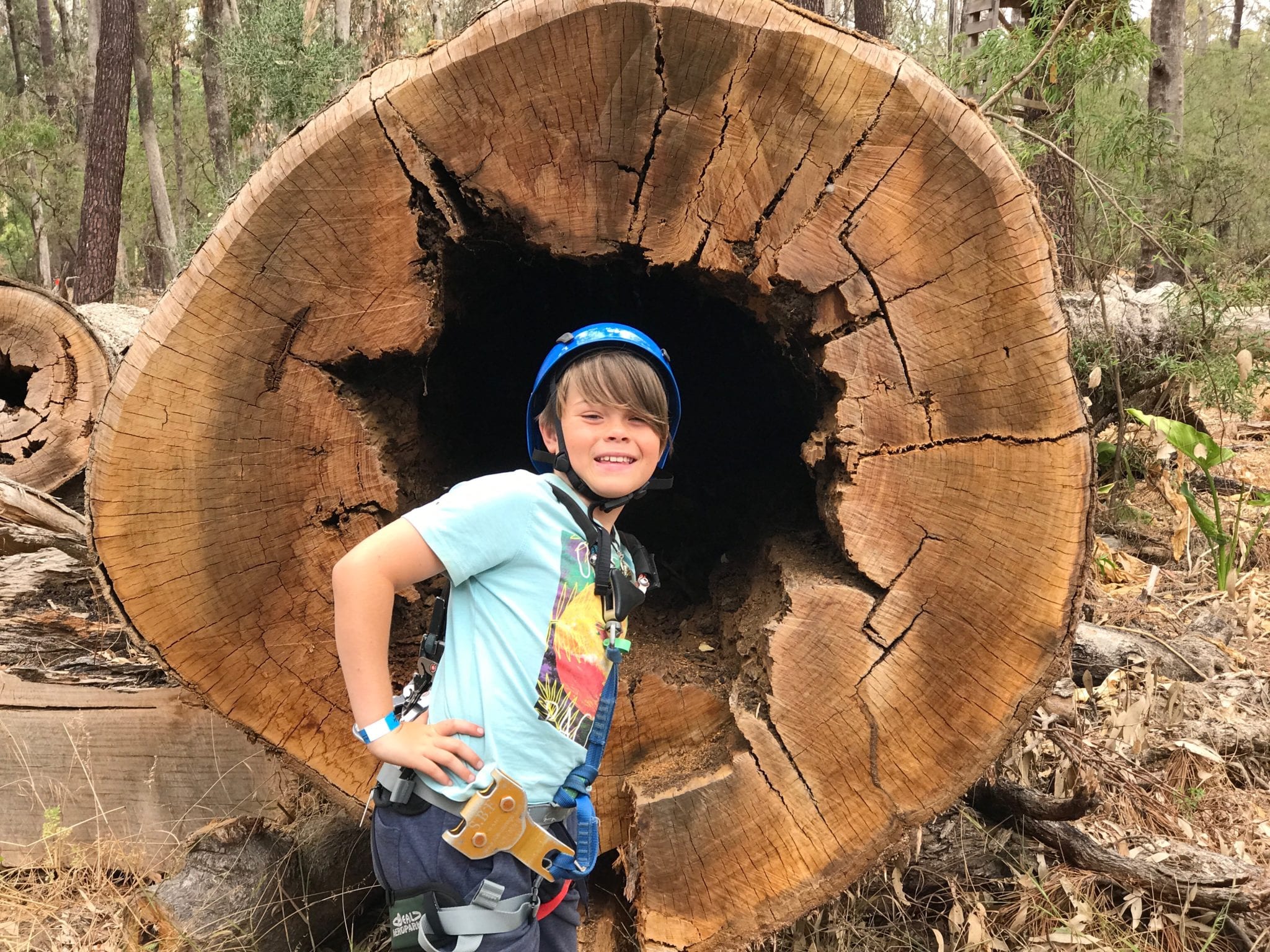 WEBSITE: https://www.forestadventures.com.au
Save 5% off the entry fee of Forest Adventures with Klook
Get 5% off your first booking on the mobile app – use code BetterOnApp
Find other great things to do in Busselton & Bunbury