Located at Kerem Camp in Bullsbook, next door to Perth's Outback Splash,  The Climb Zone offers fun open day sessions every school holidays that are not to be missed!
The Climb Zone offers three zones, High Ropes, Low Ropes and a Rock Climbing wall, all of which are guaranteed to provide kids and adults with the ultimate adrenaline rush!
The Climb zone caters for kids and adults aged 5+ during their 3- hour school holiday sessions. Children aged 5-6 years are restricted to the Low Ropes Course. Those aged between 7 and 9 years much have an accompanying adult with them if they want to take part on the High Ropes Course. Accompanying adult tickets are available at a discounted price of $25.
On arrival at The Climb Zone, the friendly instructors will take you through a safety briefing where you will be fitted with a harness and helmet.
We started off on the Low Ropes course which is at ground height and is like an obstacle course with monkey bars to swing across, wobbly bridges to balance across and cargo nets to scale across.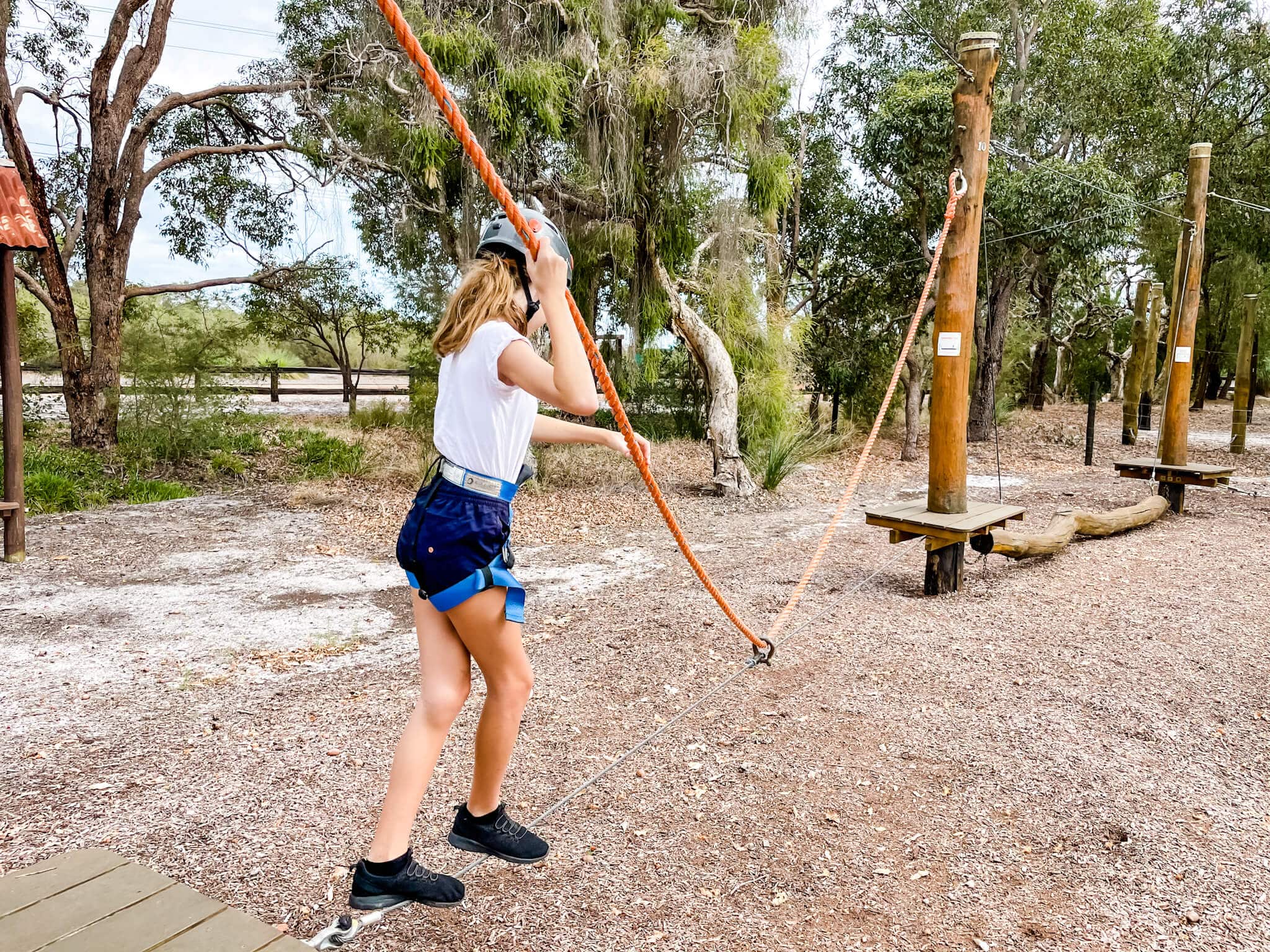 From there we moved onto the High Ropes course. Before we commenced the course we were taken through another safety briefing and a practice session on how to use the Carabiner.
Once you are clipped on to the safety system at the start of the course you are locked on for the duration of the course, there is no clipping and unclipping required as you move through the obstacles.
The High Ropes course operates over two levels featuring bridges, rope swings, balancing beams and cargo nets. There are various points across the course where if a participant decides they don't want to continue or they get stuck they can be rescued by one of the instructors.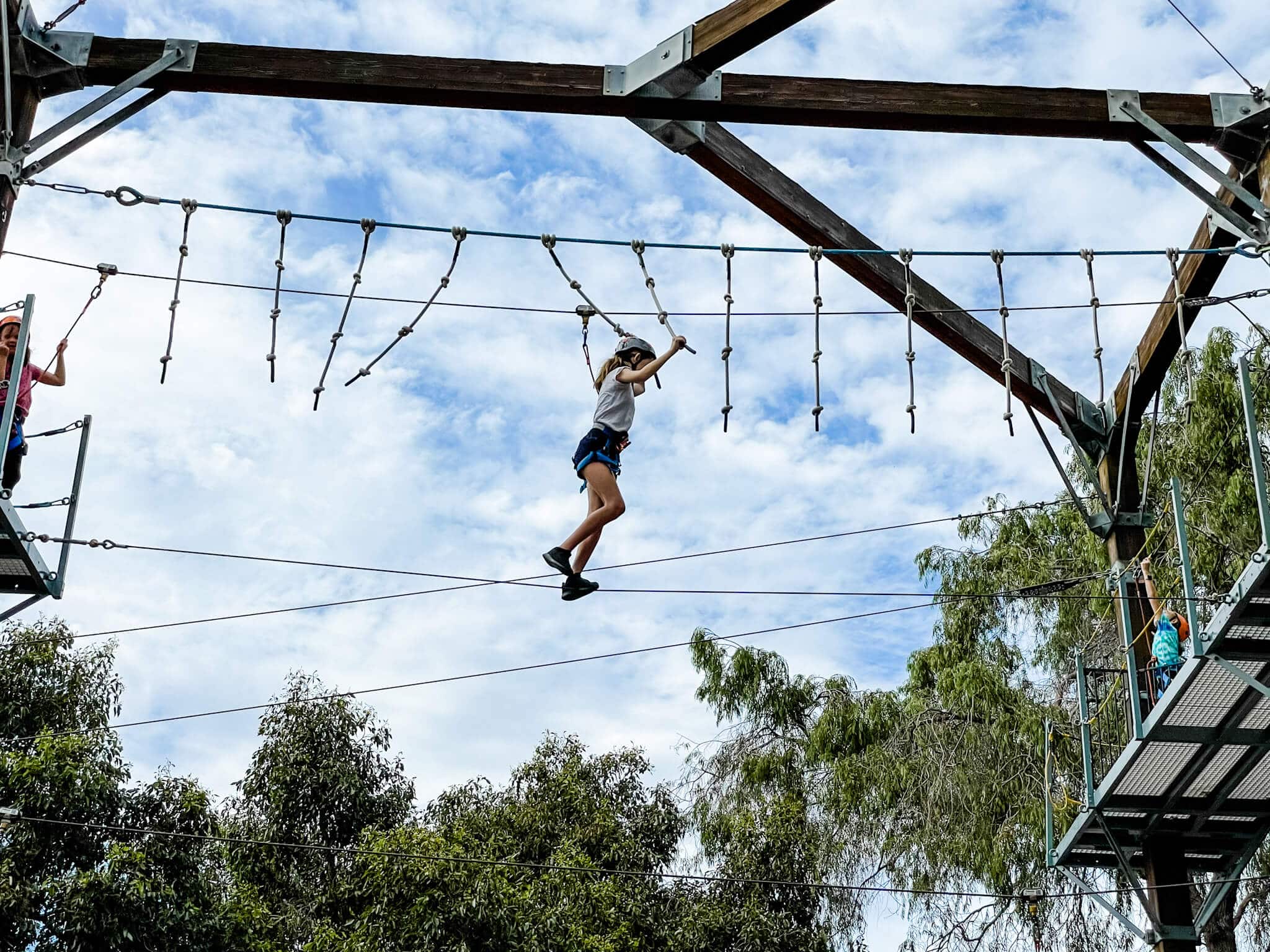 The ultimate adrenaline rush comes from the flying fox that takes you from the end of the course back down to the ground.
If that hasn't tired you out, you can try your hand at the Rock Climbing Wall, where you can race your friends to the top.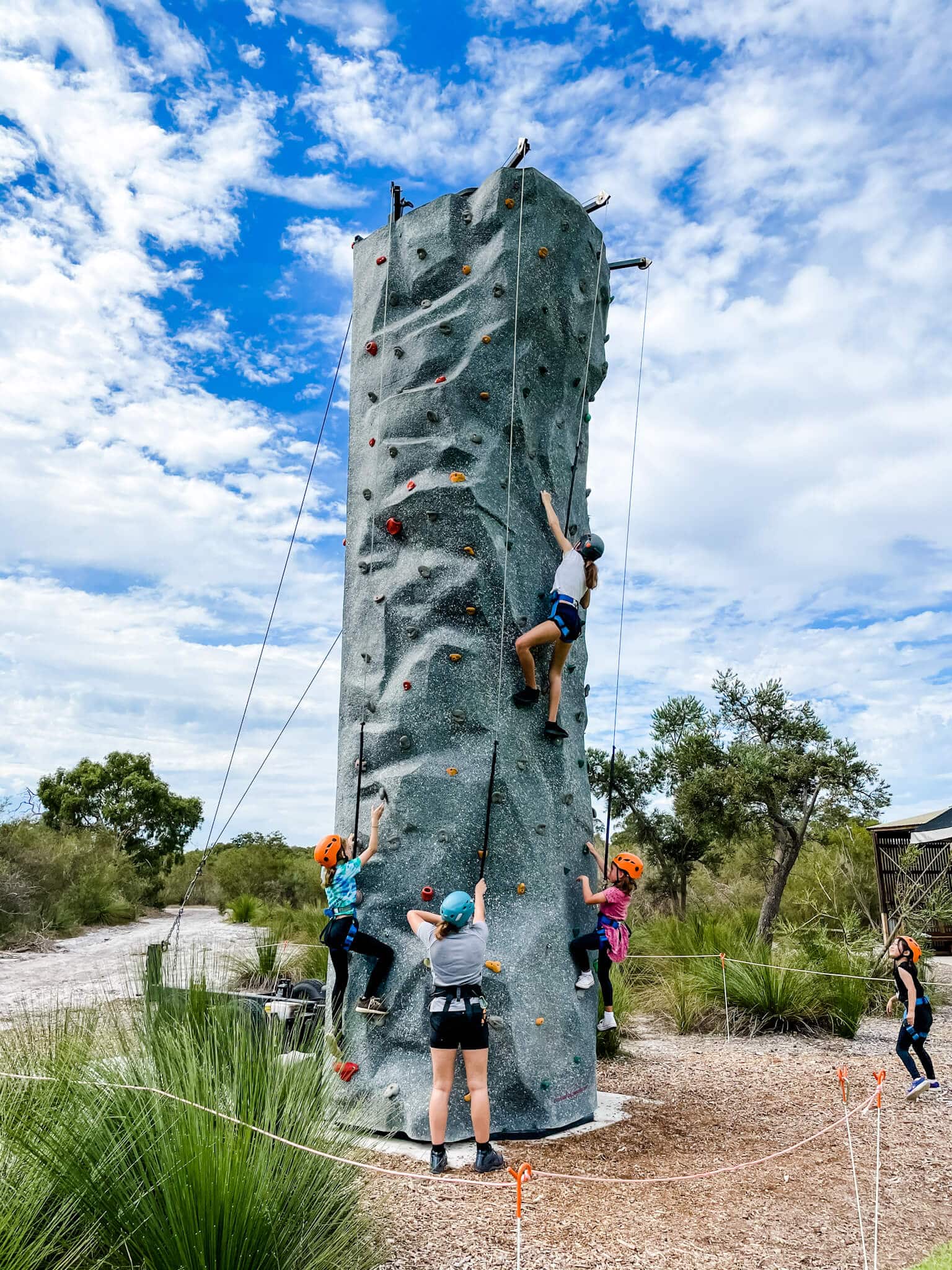 There are no catering facilities at The Climb Zone but you are welcome to bring along a picnic and enjoy it at one of the many picnic tables or throw a rug down on the lawn.
During our three hour session, the instructors rotated us around the 3 areas multiple times so everyone was able to get the most out of the experience.
The Climb Zone is open during school holidays only. Keep an eye out on their Facebook page for the next available sessions.  Sessions are $37.74 for 7+ years and $27.74 for 5-6 years. Adults who are accompanying younger children on high ropes course are $25. Spectators and children under 4 are free.
What to wear
– wear comfortable clothing suitable to weather conditions
– closed in shoes are required; sports shoes or joggers are recommended
The Climb Zone is located at 100 Kirby Road, Bullsbrook
Find more high ropes and zipline courses in WA
Find more things to do in the School Holidays