Silks offer award-winning Chinese cuisine in its opulent dining room. The menu offers a tantalising range of handcrafted dim sum, barbecue dishes, an extensive seafood selection and multi-regional noodle and rice dishes.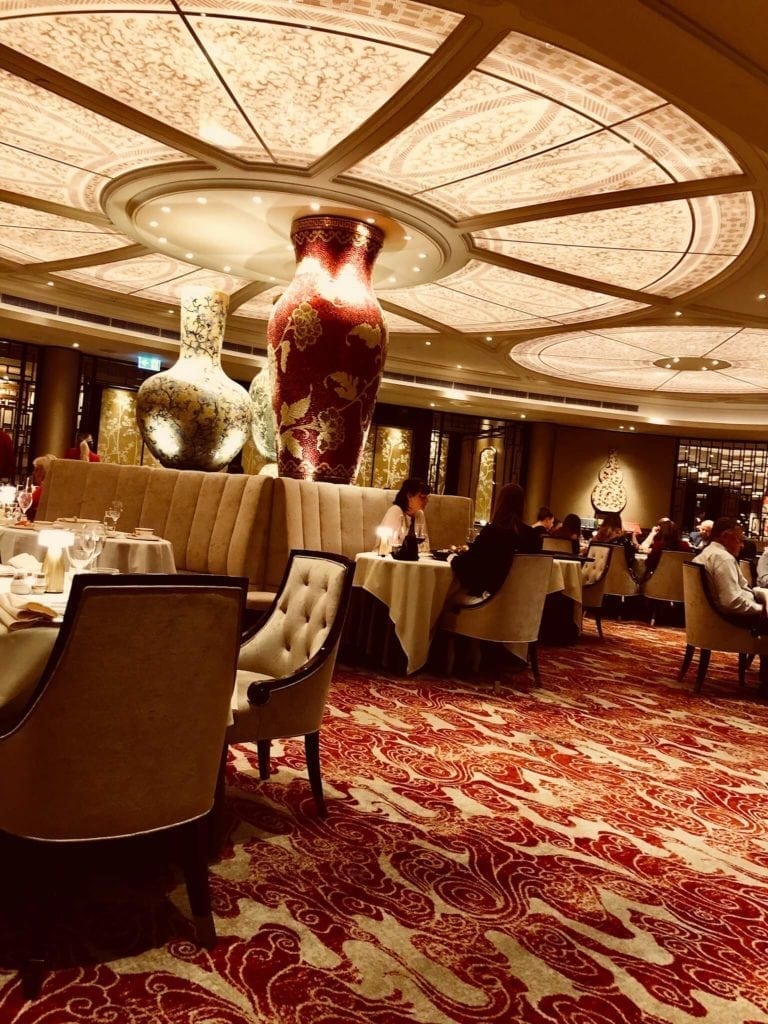 Dining with our two children for dinner, we were seated in our own private booth which was ideal for the kids as it meant they could be entertained with their ipads once they had finished their meal without the risk of disturbing any of the other diners.
No need to worry about your kids getting the hang of chopsticks! Kids cutlery was provided without us having to request it.
During the school holidays kids can usually eat free on certain days at lunch time. In order to qualify for the kids eat free deal, one child can eat free, for lunch with each adult that spends over $55. The spend can be either from their a la carte menu or on the $55 ultimate lunch or dinner menu which is currently on offer.
We ate from the $55 Banquet menu. My husband doesn't eat seafood and Silks were very accommodating in replacing the seafood dishes with the meat dishes from the alternative menu.
The free kids meal consists of vegetable spring rolls & prawn crackers, Pork Sweet & Sour and special fried rice. Their meal was served at the same time as our entrees and it was beautifully presented. My kids gave it a 5-star approval!
Our Entrees were divine! We were served WA 'Kung Pao' Lamb Cups, Vegetable Spring Rolls and Barbecue Pork Buns.
Following on from the Entrees came the main part of the banquet which consisted of Wok Fried Local Beef Fillet with Honey Pepper Sauce, Deep Fried Chicken with Garlic and Shallot, Slow Cooked Pork Ribs with Chinese Bean Sauce, Stir Fried Seasonal Vegetables with Ginko Nuts and Fragrant Jasmine Rice. We couldn't pick a fault in any of the dishes, they were all really fresh and tasty and there was plenty to eat.
At the same time, the children's dessert arrived. Once again this was beautifully presented and comprised of a very refreshing Coconut and Lime Sorbet, Mango Coulis and a small selection of lollies.
We found service at Silks to be faultless. The timing of the kids meals alongside our banquet resulted in a very pleasant, stress-free evening which we all enjoyed.
Silks at Crown Perth
https://www.crownperth.com.au/restaurants/premium/silks/info-booking
Find more family-friendly restaurants in Perth