Miss 7 is OBSESSED with Minecraft and Miss 5 is quickly following suit. I don't think I am alone, most parents I speak to seem to also have Minecraft obsessives in the home! Both my kids can spend hours playing the game and watching tutorials and Minecraft generated content on YouTube.
Since its release in 2009 Minecraft has become one of the most popular computer games in the world. The game can be played on multiple platforms from computers to smart phones, tablets to games consoles such as Xbox and Play Station.
Minecraft has been described as 'virtual LEGO'. It's a virtual world where players can create their own lands using building blocks and resources that they find within the game. Players are only limited by their imaginations.
Minecraft isn't one of the run of the mill mind-numbing video games. Minecraft's focus is on creativity, exploration, teamwork, problem solving and resource management. It has been commented that parents of children with autism have found that the game has improved their children's social and communication skills. Schools are also finding a benefit in Minecraft by using it as a tool to teach kids about programming, maths and other subjects. Due to be released soon is an expanded version of Minecraft especially for the classroom called Minecraft: Education Edition.
It is no surprise then that dedicated Minecraft Camps are becoming increasingly popular. Mind Buzz have been running Minecraft Camps across Perth since 2013. The founder of Mind Buzz is Sean Firth, an ex-teacher and former Principle with over 10 years of teaching experience.
Mind Buzz hold Minecraft Camps all across Perth and Regional WA from Jurien Bay to Geraldton. Camps are aimed at kids aged 6 to 14 years old and run 9am to 3pm weekends during term time and throughout the school holidays.
Participants use PCs to access the game, laptops are provided so you don't need to bring your own. Mind Buzz camps cater for all skill levels, advanced players can earn leadership ranks to help the beginners. If your child has only even played using a tablet or games console that is no problem as the workshop commences with a tutorial focusing on controls, keys and other skills need to navigate successfully.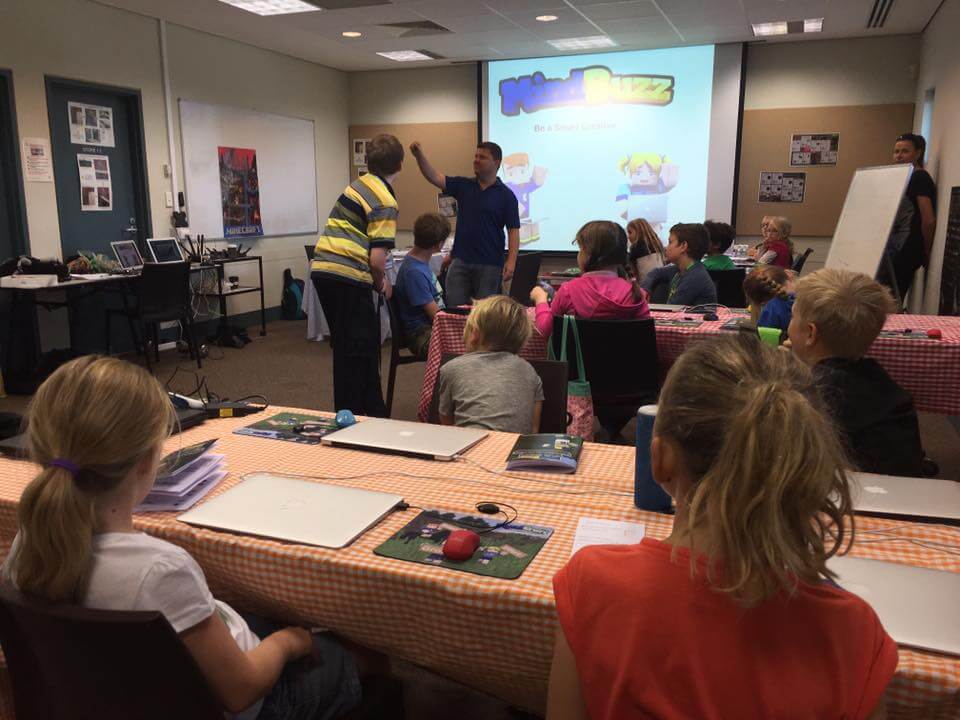 A Minecraft account is not required to take part in the camp but it is recommended as every participant receives one month's free access to the Mind Buzz server after the event. This means that attendees can continue collaborating and building with new friends that they have met at camp once they go home. A Minecraft account can be purchased from https://account.mojang.com You just need to remember to bring your log in details along on day.
In the past 6 months Miss 7 has been along to two of the Mind Buzz camps and we are booked in again for the next school holidays. She loves it! The first time she had never played on a PC before and at her second camp she was promoted to Coach status. As a parent I love that she gets access to a safe server that is only accessed by previous Mind Buzz Camp participants and is heavily moderated.
To find a Mind Buzz Minecraft camp near you visit www.mindbuzz.com.au
Find more things to do in the school holidays