Four Elements Farmstay has four self-contained two bedroom chalets that can sleep up to six people, and is located in the Margaret River Region – roughly halfway between Dunsborough and Margaret River.
The four chalets are extremely well-kept, clean and spacious inside, they have an open plan living, dining & kitchen area with a wood fire for winter and air-con for summer.
The bedrooms are a great size, the master bedroom has a queen size bed, and the second bedroom has 2 single beds – we preordered portacots for our baby and toddler for a $10 fee.
Bathroom with shower, separate toilet, and laundry with washing machine.
Outside there is a front verandah with a BBQ and outdoor setting, on the back verandah you'll find a tilt-up washing line.
Each chalet is named after one of four Elements, we stayed in Wind. Chalets are approximately 30 metres away from each other, meaning you have plenty of space and privacy away from other guests, but close enough if you are wanting to holiday with extended family or friends.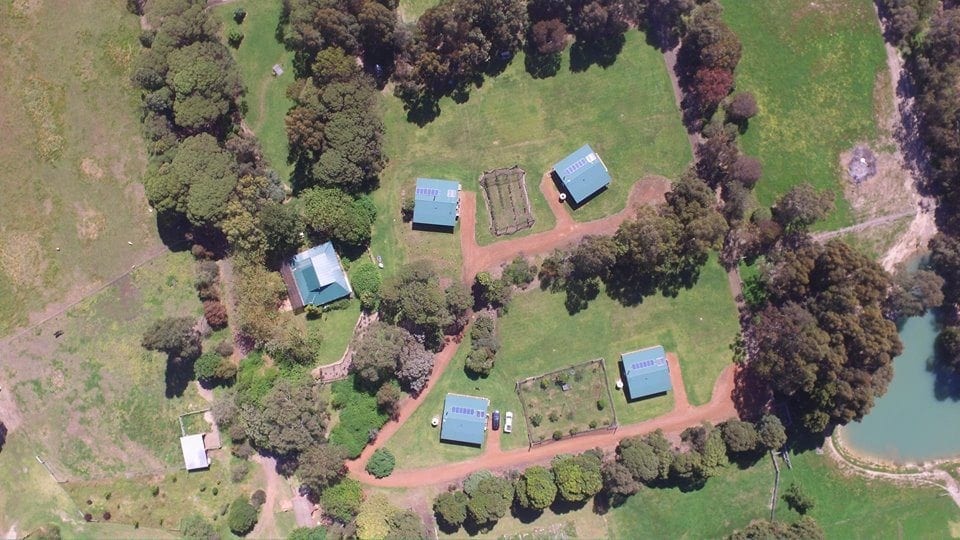 The variety of farm activities offered at Four Elements is outstanding, and we only did a few! Activities are seasonal meaning there are fun and exciting things to do all year round.
Our first day my older children help release the chickens and collect their eggs, which we enjoyed for breakfast the following morning. The chickens were very friendly and loved coming over to play with the kids.
At dusk we were collected from our chalet by the tractor, we headed to the dam where 'Farmer Peter' (as my 7 year old like to call him) showed us how to bait and set a marron trap.
On the way back to our chalet we went for a drive through the vineyards where we spotted wild kangaroos.
The next morning 'Farmer Peter' arrived to take us to feed the animals, there were ducks, goats, sheep and Hogan the horse.
After all the animals were fed we jumped back on the tractor to see how many marrons we caught, there were 6 or 7 in the trap that we set the evening before. 'Farmer Peter' took the time to show us which marron were male and female, as well as showing us the eggs one of the female marrons was carrying. My 11 year old was brave enough to pick one up to release back into the dam.
We also enjoyed a tour of the orchard, 'Farmer Peter' explained all about the different types of fruit trees and fruits currently in season; mandarins, oranges, limes, lemons, and lemonade (a combo of a lemon and orange). We were able to pick some mandarins to eat too – yum!
Later that night we headed out into one of the paddocks to enjoy a bonfire, it was such a great experience – pictures cannot do it justice and the heat radiating from the fire was incredible. The next morning before heading home the kids wanted to check out the remains of the bonfire, they couldn't believe what it had reduced to.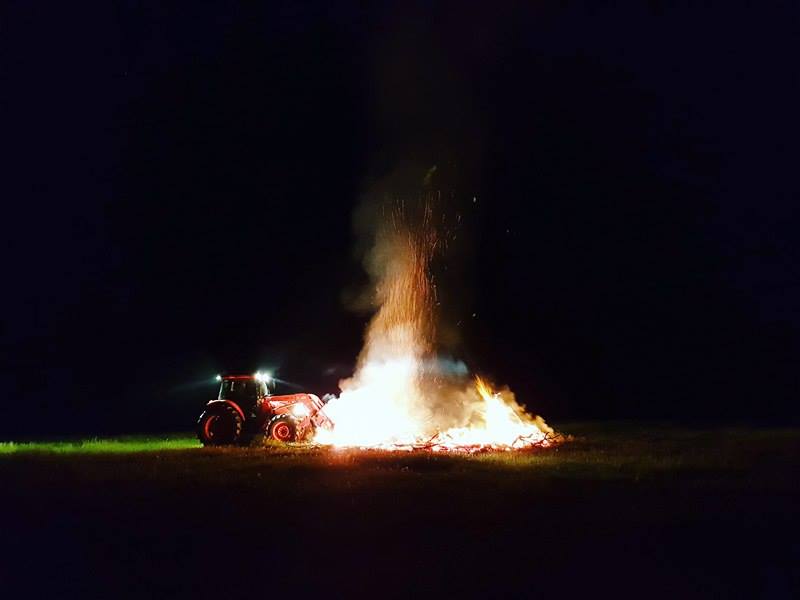 We thoroughly enjoyed our stay and would highly recommend Four Elements to other families. Owners Peter & Sam are extremely lovely, accommodating, full of information and they clearly love what they do.
Four Elements Farmstay is within walking distance from Bootleg Brewery, a 5 minute drive to the Margaret River Chocolate Factory and 25 minutes from the Margaret River town centre.
During our visit the weather was beautiful so we opted to head towards Yallingup/Dunsborough way, we visited Sugarloaf Rock, Eagle Bay, Bunker Bay and Injidup Natural Spa – definitely some locations I would recommend visiting.
Four Elements Farmstay is located at 234 Johnson Road, Wilyabrup. For more information visit their Website or Facebook Page.