Cafe Elixir is located in the Library and Cultural Centre in Wanneroo. This gives you the perfect excuse to pop in while you visit the library or museum but don't think you need an excuse!
As soon as we were seated a bottle of water, glasses and a plastic cup arrived on the table with the menus. The all day menu offers breakfast and lunch options, desserts and drinks. There is a separate dinner menu for the Friday and Saturday nights they are open. The menu offers a large range of meals from pizza scrambled eggs to choc-nutella pancakes for breakfast to bruschetta, sliders or parmigiana for lunch and everything in between. There are options for the little people which are all around $10. The breakfast options for kids were beans on toast, egg and bacon on toast with a hash brown or pancakes. Lunch options included fish and chips, steak, chicken tenderloins, nuggets all with chips or pasta. These all have the option of adding a side salad for $2.50.
There are also a selection of cakes including gluten free options on display, should you be tempted if you're just popping in for a coffee.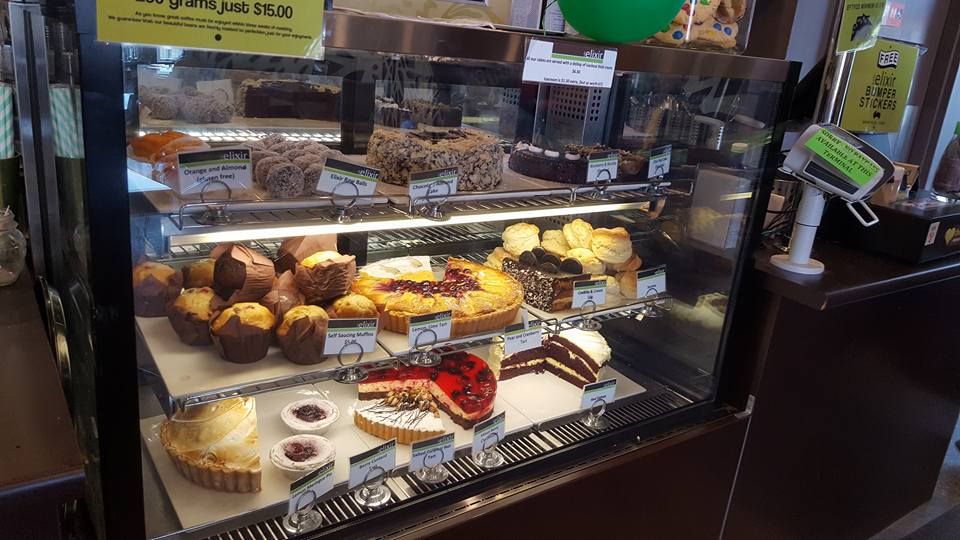 While we read the Cafe Elixir menu, a colouring in book and crayons were offered for the toddler. This kept him very happy until our meals arrived.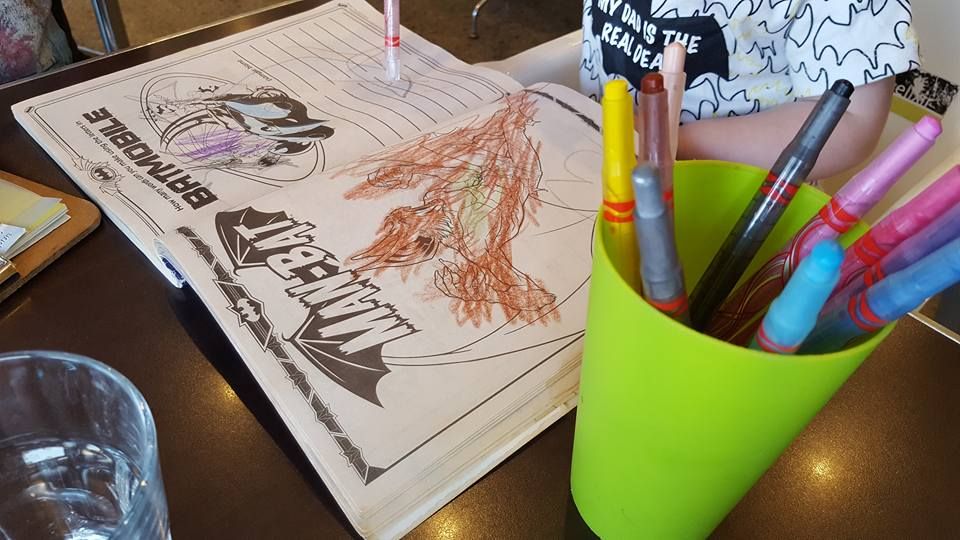 We ordered a the Elixir breakfast wrap which combines all the goodness of a cooked breakfast, bacon, egg, and hashbrown into a toasted wrap with hollandaise sauce, spinach and cheese and the cinnamon scroll pancakes with cream cheese glaze.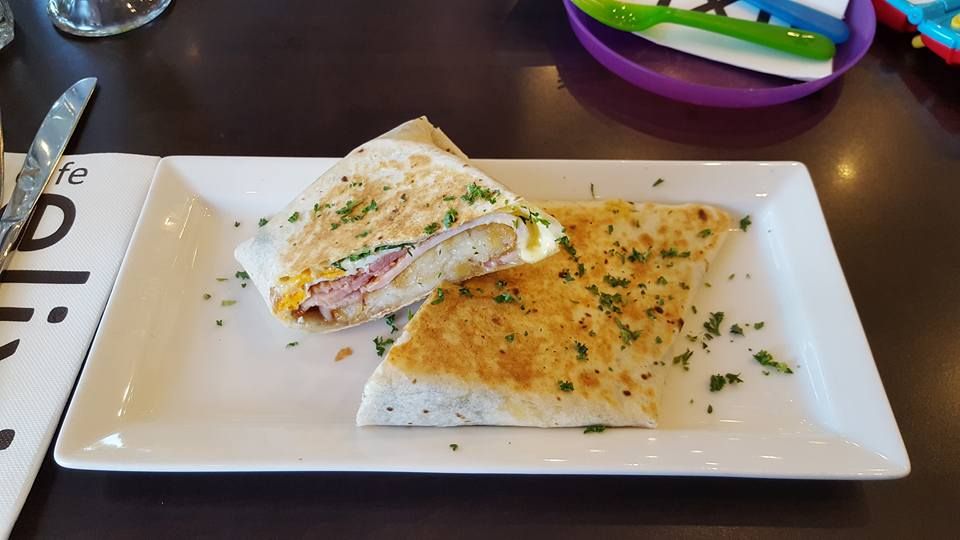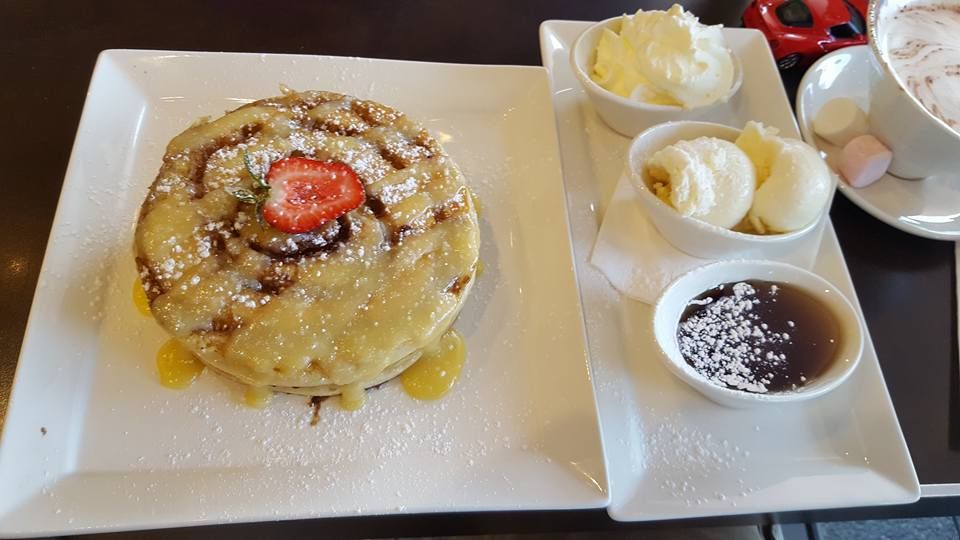 Both meals were absolutely delicious and between two adults and our little one, we couldn't quite finish them! For this reason we hadn't ordered a separate kids meal although they always look to be a decent size. A plastic plate and cutlery were provided without us asking, so he could share our meals.
The Cafe Elixir drinks menu is big, including the usual teas and coffees, soft drinks, juices, smoothies, smashes and milkshakes including the speciality birthday cake milkshake! Elixir is also a licensed venue. We opted for a white hot chocolate which was gorgeous and a mango smash which was perfect for a hot day, sweet and refreshing. The service was attentive and friendly, the food arrived quickly and was absolutely delicious!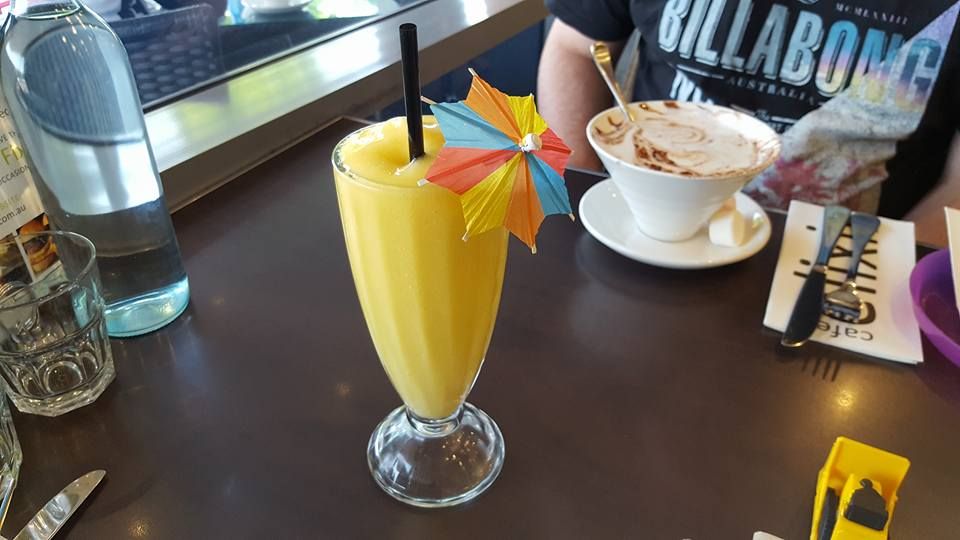 There is seating inside and outside, with a basket full of cosy blankets outside for those cooler days. If the dividing doors are open between the restaurant and the cultural centre any littlies will be delighted to play with the wooden truck and petrol station which sits outside the museum. Over the weekend it can be hard to get a table at peak times so a reservation or phoning ahead could be a good idea. Weekdays tend to be a little quieter however.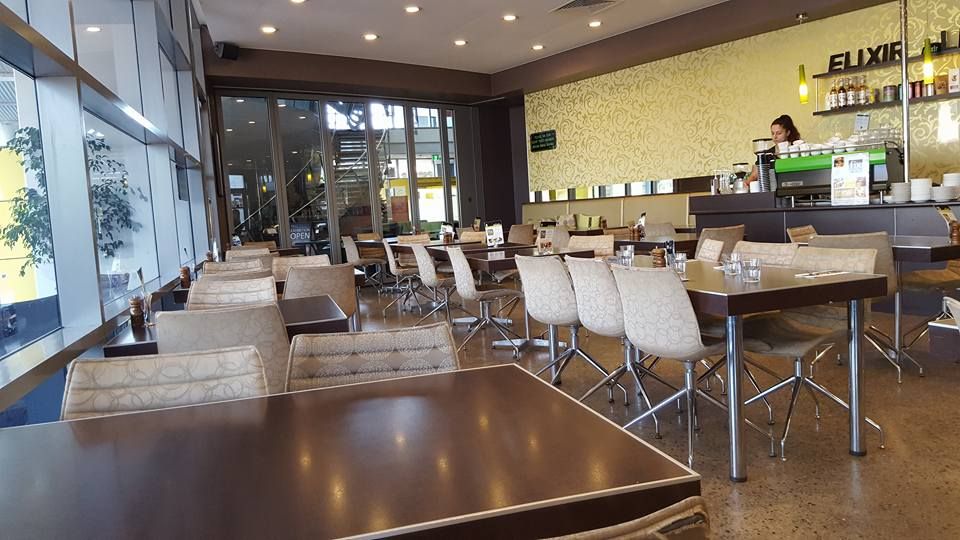 As usual we were impressed with the friendly staff and delicious food and we'll be back as soon as we can!
Cafe Elixir can be found at 3 Rocco Way, Wanneroo and is open:
Monday- Thursday 7am-5pm
Friday – 7am-10pm
Saturday – 8am-10pm
Sunday – 8am-5pm