Pears on Pottery, Mount Hawthorn
Pears on Pottery in Mount Hawthorn is a family run pottery painting studio. Run by Jane and her husband, this cosy paint your own pottery studio offers a quiet space to create your own piece of art or a keepsake.
On walking in, Miss 5 and I were greeted warmly by Jane. She helped up pick out a blank piece of pottery each. There is a good range to choose from. Children will love the range of figurines, money boxes and treasure boxes. There are also items such as plates, bowls, mugs and cookie jars to choose from.
After umming and ahhing for a few moments Miss 5 picked out a small cat figurine, while I chose a small sunflower shaped dish. The cost of each blank piece varies from around $15 for a figurine up to around $55 for a larger item such as a cookie jar, plus a $7 per person studio fee.
Jane set up a selection of paints, brushes and water on our table. She gave us sponges and explained the pieces need to be sponged with water first to remove any dust. This also helps the paints go on better for glazing.
In the middle of the table is a guide to how the paint colours will look when glazed. One coat and they go on light, similar to watercolours. Three coats and you have a deeper, richer shade.
If you're worried about mess or stained clothes, don't fret! The paints are all clay based with coloured pigments. This means they wash easily out of clothing. We dressed in older clothes, just in case, but needn't have worried. Jane assured us her young children often paint and get messy but it just washes out. The paints are also non-toxic, so there's no need to stress too much about little ones who put things in their mouths. They can safely paint, too.
Miss 5 had a great time painting her cat. She probably took around 2o minutes to paint all the colours she wanted on to him. I took a bit longer on my dish, probably closer to 45 minutes. Miss 5 wasn't bored while she waited for me to finish however. She took herself to the sink and washed the paint off her hands, and then joined the other children in the lounge area.

The lounge area at the back of the studio has a large rug for littler ones to sit or play on. This is surrounded by comfy arm chairs. There's a dolls house to play with as well as a box of assorted books and toys.
Overall, we enjoyed our visit to Pears on Pottery. The service is friendly and it's a comfortable space for families to visit. It would be a great place for a painting date with friends or for kids to paint with their grandparents.
If you're after a special keepsake piece, such as a plate with baby's hand or footprints for example, these can be made. Jane has created some beautiful prints of her own children. Just ask for assistance and you could have your own gorgeous piece to treasure, too.
The turn around for your completed, glazed piece is generally 5 to 7 days, though staff will advise if it may be completed sooner. You will receive a phone call when it's ready for you to pop back and collect.
Parties and Private Events at Pears on Pottery
Are you looking for something a little different for your next party? Parties and private painting events are available upon request at Pears on Potty. Priced from $25 per person, (this includes an $18 item such as 12oz coffee mug and $7 studio fee) your items can be prearranged specific pieces for themed parties or include a selection of any or all of the pre-fired ceramic charged at shelf price plus studio fee.
Minimum commitment for exclusive studio hire is $250 for 2 hours, or $350 for 3 hours (available for groups of 10+).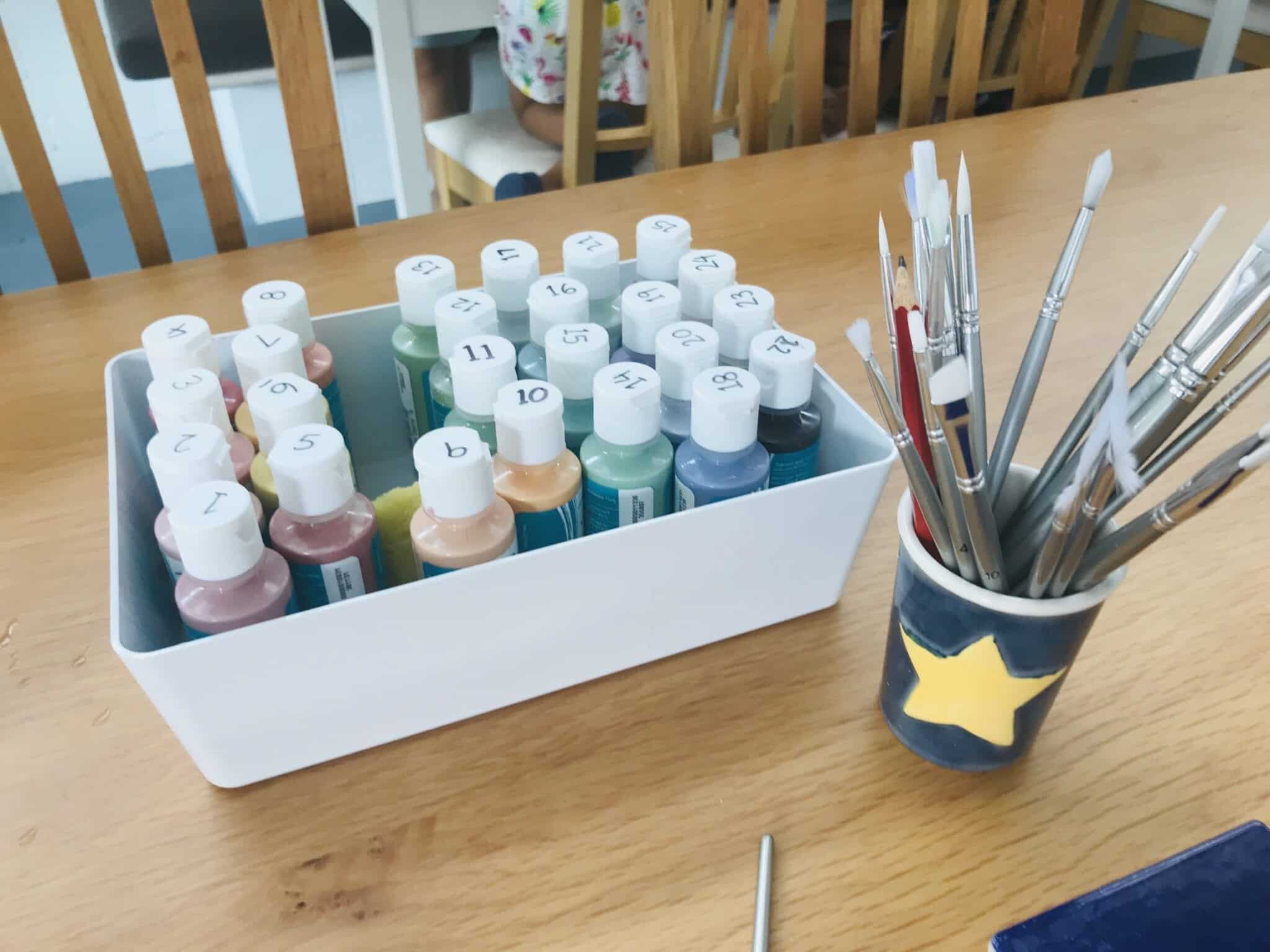 In the case of children's parties, these can be booked for either 1.5 or 2 hours for exclusive studio use. (Painters under 10 years old typically paint for 45 minutes to 1 hour which leaves 30+ minutes for cake and presents too.) The studio can accommodate 20-25 children and a few helpful adults. Once painting is completed, the studio staff can transform some table space for celebratory food and cake. A complementary commemorative plate for the guest of honour will be included for parties of 10+ painters.
Adults painting events are also available, such as for baby showers, bridal showers and girls nights. If you have a group of friends and are interested in arranging an evening paint session, please email or call the studio to arrange a time to book in.
Pears on Pottery, Mount Hawthorn
Located at 73 Coogee Street, Mount Hawthorn.
Pears on Pottery is open Tuesday to Friday from 10am to 4pm, and Saturday from 10am to 3pm. Check their socials or call ahead to check if opening hours may have changed.
Visit their website, Facebook page or Instagram for more information or images of the beautiful pieces.