Perth Zoo opened its doors on 17th October 1898 and it has been open every day since including Christmas Day. The first exhibits included two bear caves, a monkey house, a mammal house and a model castle for guinea pigs. The first animals on display included an orangutan, two monkeys, four ostriches, a pair of lions and a tiger. Perth Zoo today has grown to house a diverse animal collection comprising of around 170 species and nearly 1200 animals.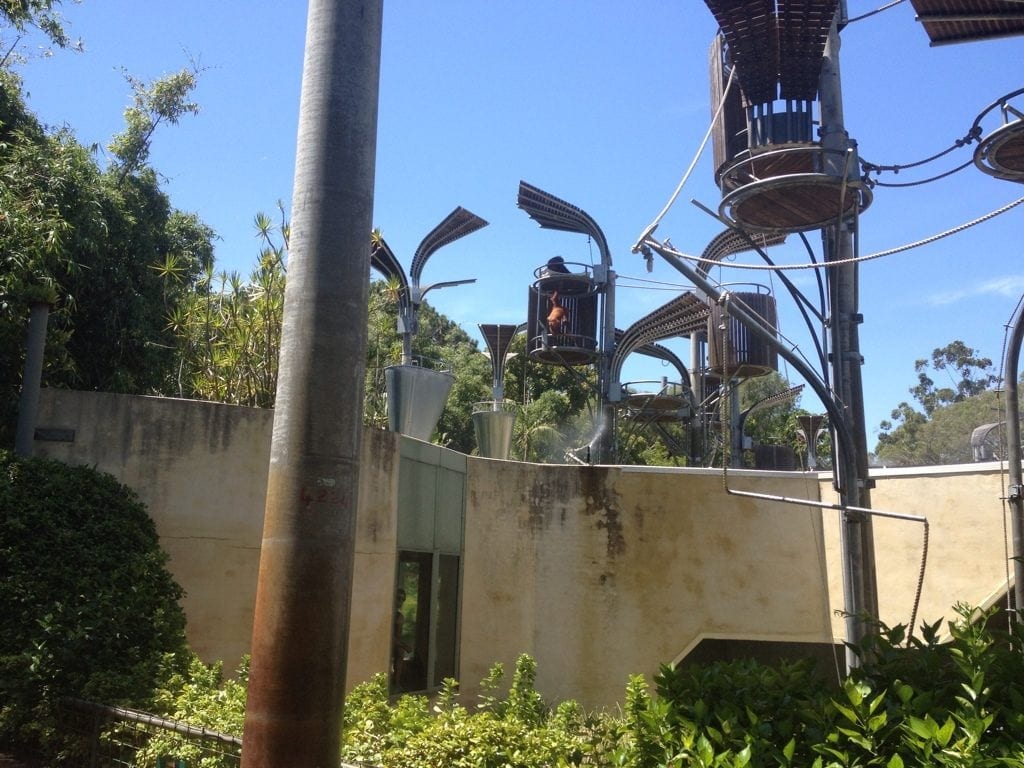 Parking around Perth Zoo is paid for by the hour at $2 per hour. We got a space very easily in the car park right outside the Zoo gates. When we got out of the car we realised that we had left Miss 2's stroller at home but we need not have worried as you can hire great little pull along cars that seat two children at the Zoo entrance for the day. The kids loved it and it made our journey around the zoo very easy as we had no one complaining about tired legs. If a stroller is more your thing you can also hire them too for the same price.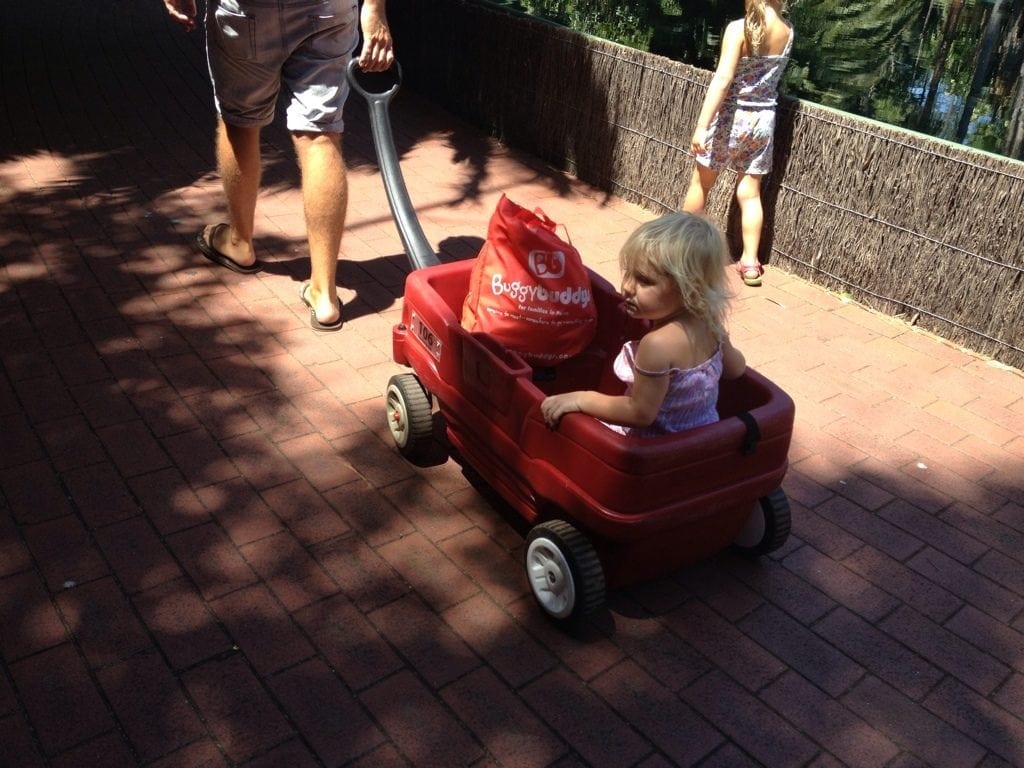 Perth Zoo is open every day from 9am to 5pm apart from New Year's Eve when it closes at 4pm.
One thing I really loved about Perth Zoo was the way in which the animals were exhibited. I have been to numerous zoos around the world before having children and on many occasions, I have left feeling upset about the health of the animals. Many looked like they were going stir crazy! Perth Zoo exhibits its animals in a way that encourages natural animal behaviours. Given this approach, they encourage visitors to "wait, watch and listen" in order to view the animals. The exhibits try to be as naturalistic as possible to allow the animals to interact with the visitors and each other on their own terms thus promoting the animals' physical, psychological and social well-being.
We were really lucky that we got to see a lioness up close as she was sitting right next to the viewing glass in the lion enclosure. She sat there for quite a while watching us, stretching and napping until she decided that she'd had enough and got up and wandered off into her enclosure where she was no longer seen. We weren't so lucky with the Tigers as they were all hidden away so we didn't get to see any.
The zoo gardens play a big part in the Perth Zoo experience. The pathways around the zoo are lush with plantation and provide a great deal of shade as you are walking along. You almost could be in the jungle! There are many significant plantings including trees that are over 100 years old. The Rainforest Retreat contains over 5,000 plants and is one of the finest collections of palms in southern Australia.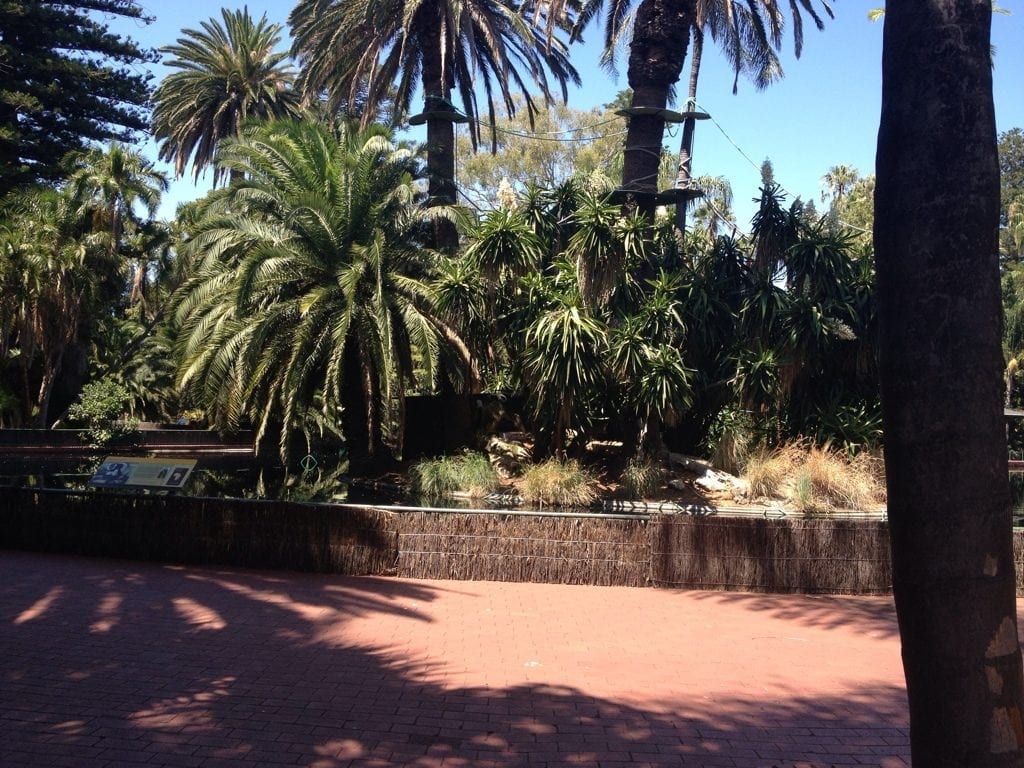 We visited the Zoo on a hot 35-degree day and were worried that it would prove too hot to fully enjoy the day but we need not have worried. Not only are the walkways shaded by plantation but each exhibit has its own shaded viewing area complete with benches so you can sit down and enjoy the view in the shade.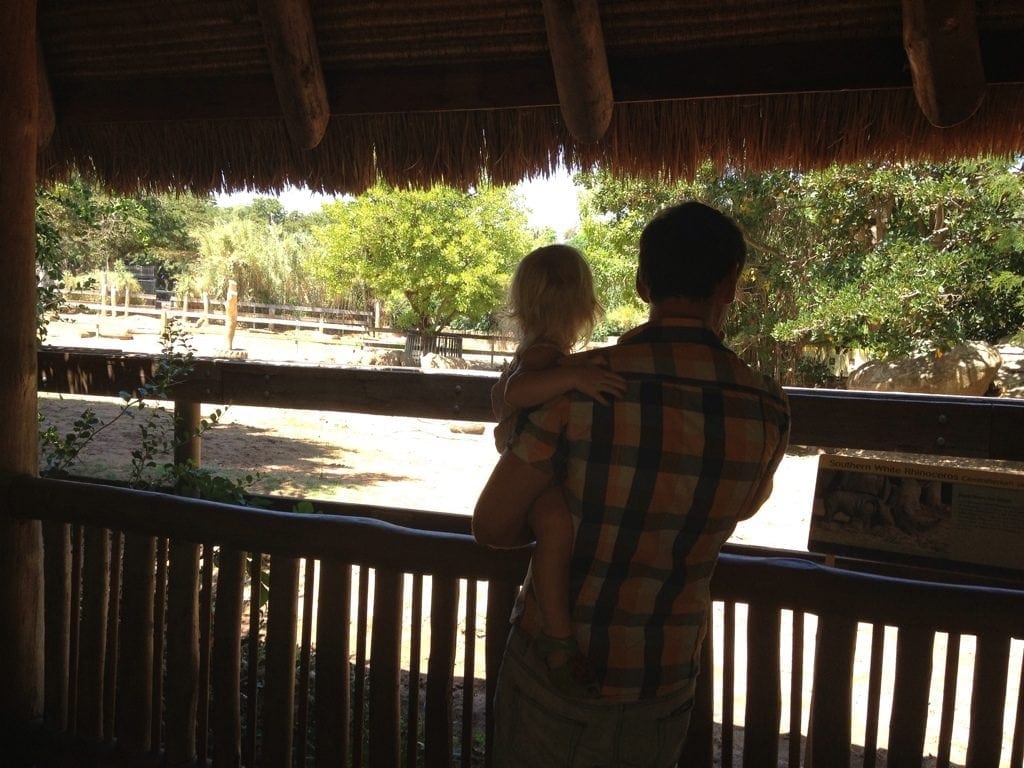 We really enjoyed our visit to the elephant enclosure as we were in for a special treat. One of the male elephants was being fed and he put on quite a show for us. After fully submerging himself in the pool area he emerged, rose up on his hind legs and squirted water from his trunk! It was an amazing sight! At 1.45pm each day you can officially meet the Zoo's female Asian Elephants and their keepers in a special 15-minute presentation in the Zoo's amphitheatre.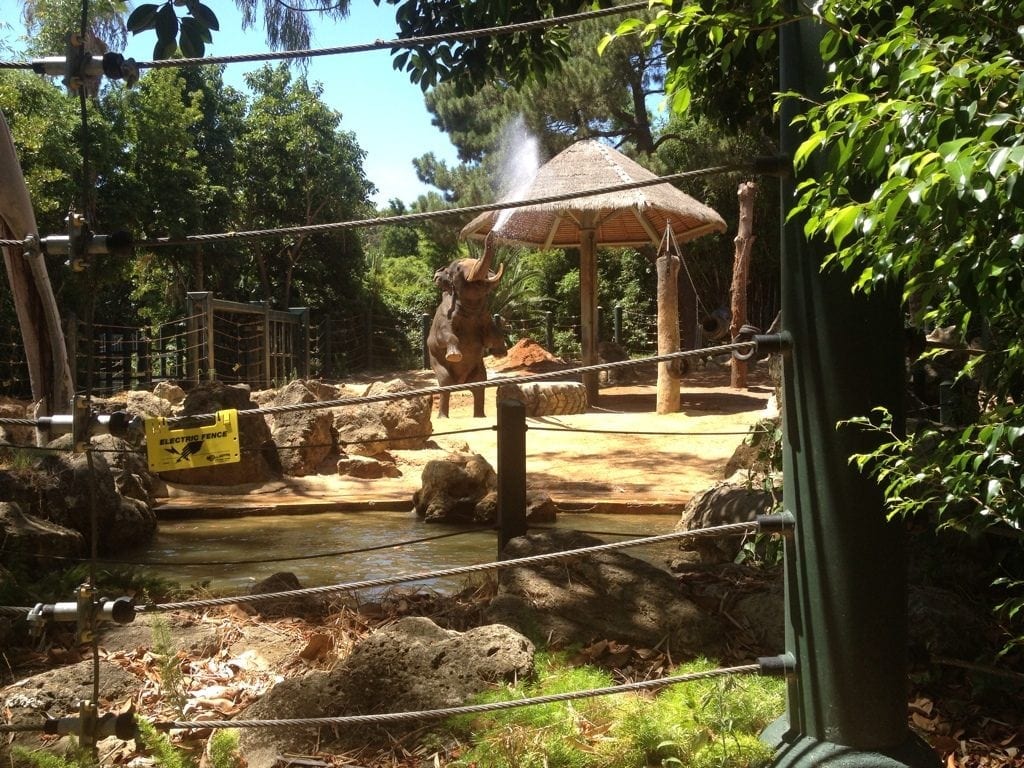 Outside the lion enclosure, we discovered a 'touch table' where the girls were able to get touchy feely with hides from various animals. We 'stroked' a Zebra, a Kangaroo, a snake and a turtle amongst other things. The girls loved it!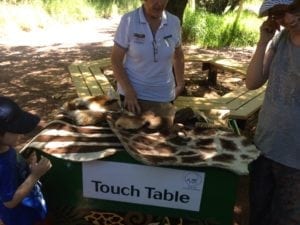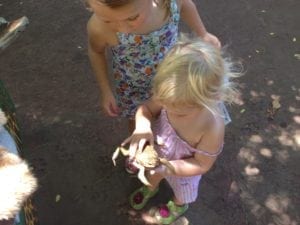 If you are planning your trip to the zoo in advance you may want to book 'Close Encounter' which takes you behind the scenes to experience the zoo's animals up close. There are many experiences on offer from Giraffe feeding to a tour of the lion's night quarters. Close Encounter experiences start from $5 per person.

If you are a Zoo Friend and have a preschooler you may be interested in enrolling them into 'A to Zoo' which is a 45-minute fun, factual hands-on program specially designed for children aged two to five years old. Each week the children are introduced to a different animal through storytelling, crafts, movement and music. After learning about the animal, the children journey through the zoo ground to find the animal. The sessions take place each week at either 9.30am, 11.00am or 1.00pm on a Wednesday or Friday. The cost is $56 for an eight-week term. If you are not a Zoo member then the accompanying adult and any children aged four and over will need to pay the standard zoo entry fee on each visit.
During the school holidays, Perth Zoo runs Zoo Crew which is an educational adventure day for kids aged 8 – 13. You can drop your kids off at the zoo for them to spend the day getting up close and personal with zoo animals, make special animal treats and go into restricted access areas of Perth Zoo. The day runs from 9.30am – 3.30pm and costs $86 per person per day.
We made an unexpected discovery on our visit to Perth Zoo – the Variety Playground!

The playground has recently been upgraded but don't worry, the much-loved elephant slide remains!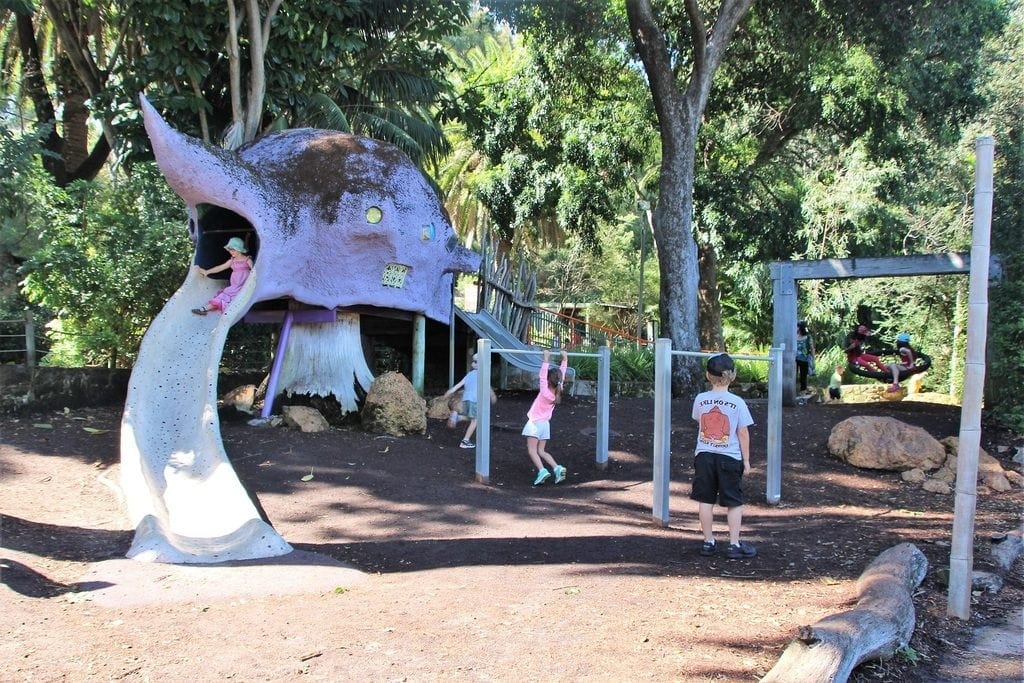 The playground has a focus on being an area where children with and without special needs can play together. My girls absolutely loved cooling off in the water play area -it proved to be such great fun and we had a hard time dragging them away from it! Remember to take a spare change of clothes with you as they will get wet!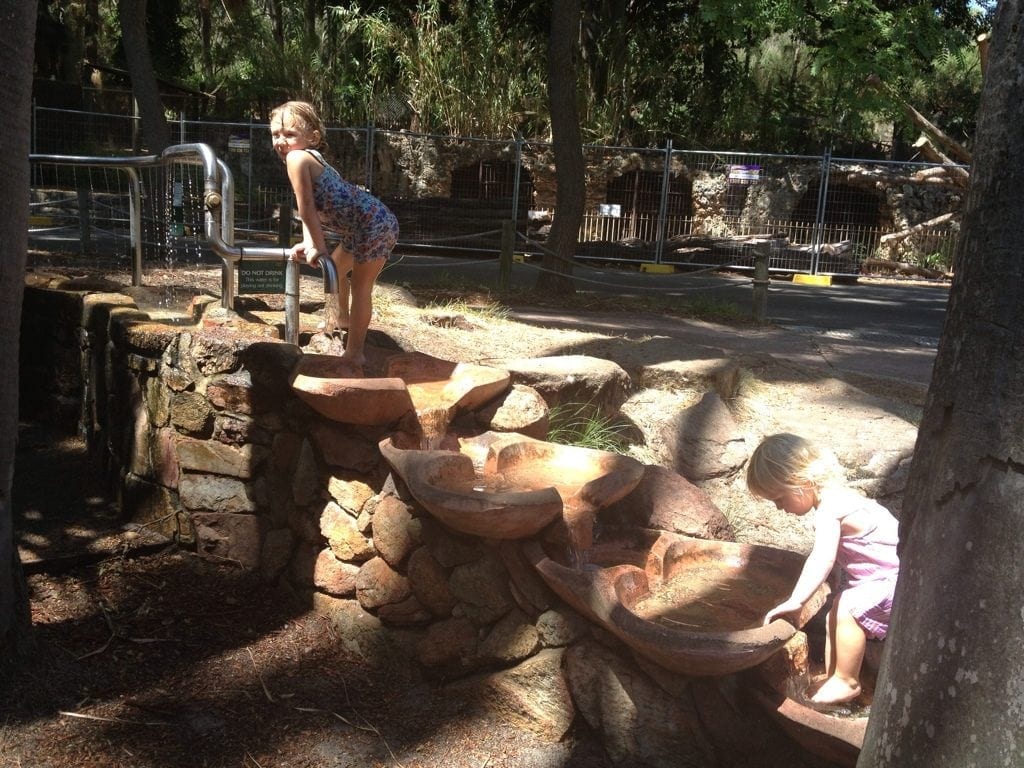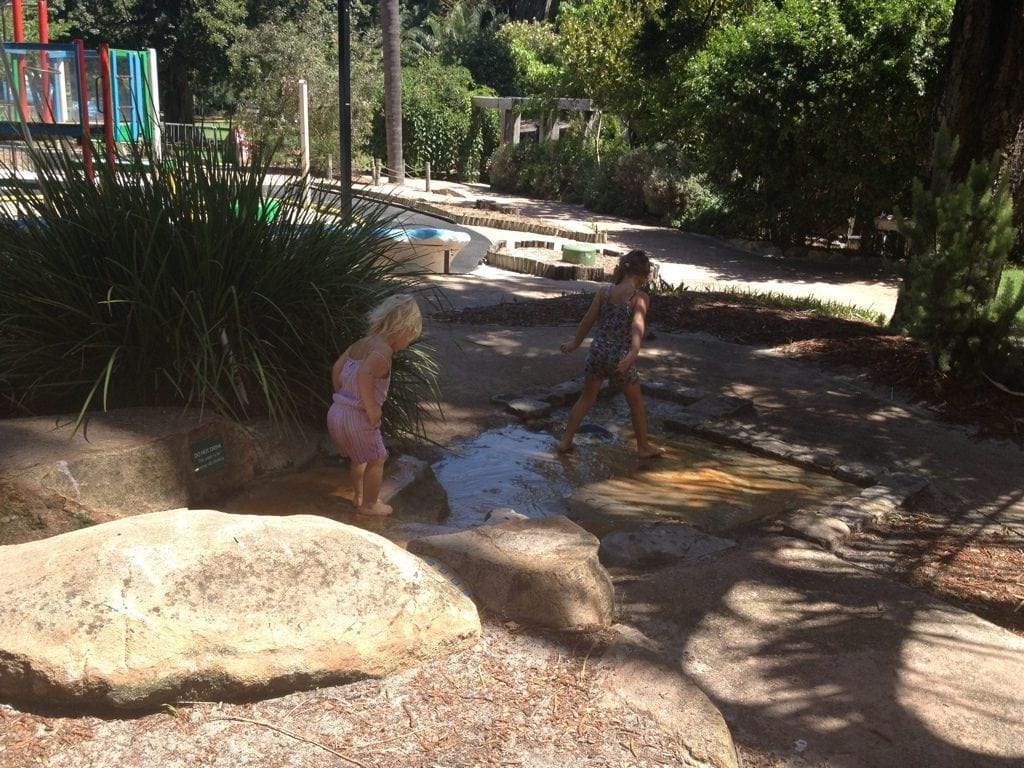 There is also a rustic cubby house area – great for imaginative play.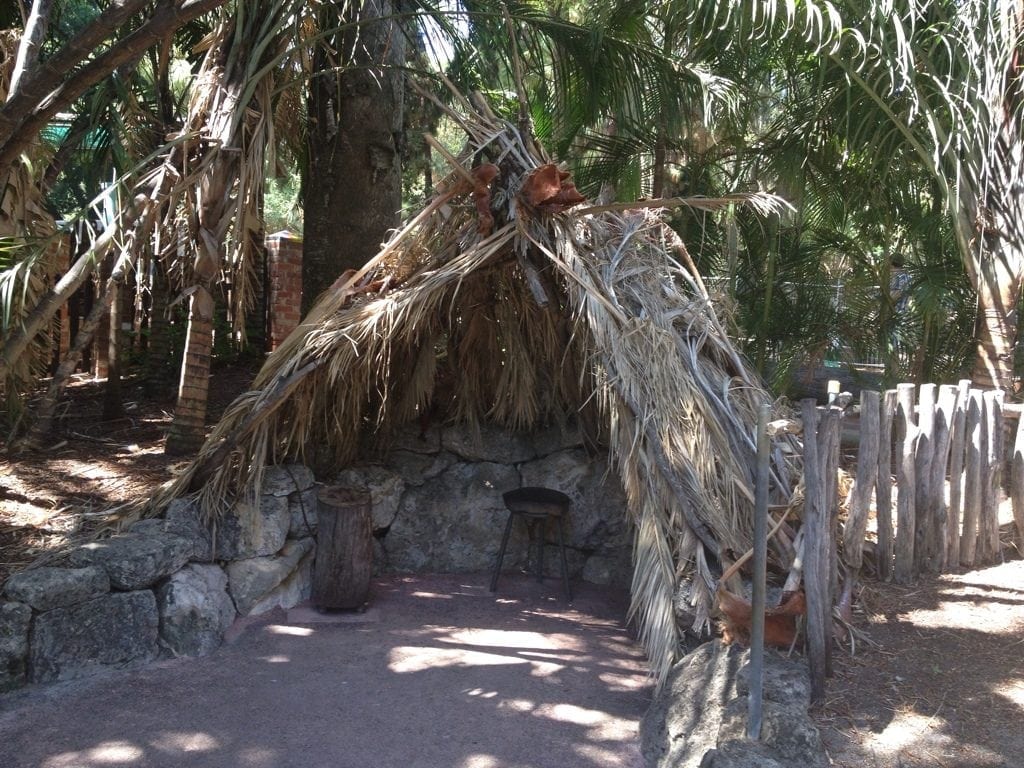 I would advise packing a picnic for your visit to Perth Zoo. Food outlets there are very limited but there are plenty of great picnic spots. You'll even find free BBQs. If you feel in need of a snack, a drink or even an ice-cream whilst you are wandering around the zoo you will find several vending machines dotted about. I was impressed with the number of water stations that are available – we got through a lot of water that day as it was a hot one!
If you would like to visit Perth Zoo more often I would recommend becoming a Zoo Friend which enables you to enjoy free zoo entry for twelve months, You will also receive 10% discount at the zoo shop and cafe and free entry to other participating zoos throughout Australia including Taronga Park Zoo, Melbourne Zoo, Adelaide Zoo and Western Plains Zoo.
Perth Zoo also runs special events throughout the year. Teddy Bears' Picnic promises to be a jam-packed day full of fun including loads of games and entertainment. Kids aged 4 to 15 years can enter the zoo on that day for just $2 and under 4's are free. Perth Zoo has also offers free entry for mums on Mothers Day and the same for dads on Fathers Day. Keep your eye on the Perth Zoo events page for more details.
We really enjoyed our visit to Perth Zoo – my husband remarked that it is the best zoo he has been to. We will have now got a zoo friends pass so we can return all year round. When I asked Miss 2 what her favourite animal was that day she answered "The Pink One". No idea what that one was – maybe it was the Baboon's bottom!
For more information visit www.perthzoo.wa.gov
Find more places to visit with kids in Perth