The newly opened Vines Mini Golf course at The Vines Resort is very impressive, it was constructed by the same peeps behind the Wembley Mini Golf Course. This stunningly landscaped miniature golf course has 18 holes, some are scaled down versions of holes on their full-sized championship golf course. There's wine barrels, tractors and lots of timber, giving it a real Swan Valley feel.
The course has been designed for both adults and children to enjoy. And we do love a family game of mini golf! You pay and collect your golf clubs, differently coloured golf balls and score sheet at the Greenside Café.
Everybody tees off from the same point, but depending on your own choice, you can aim towards the blue or red flags.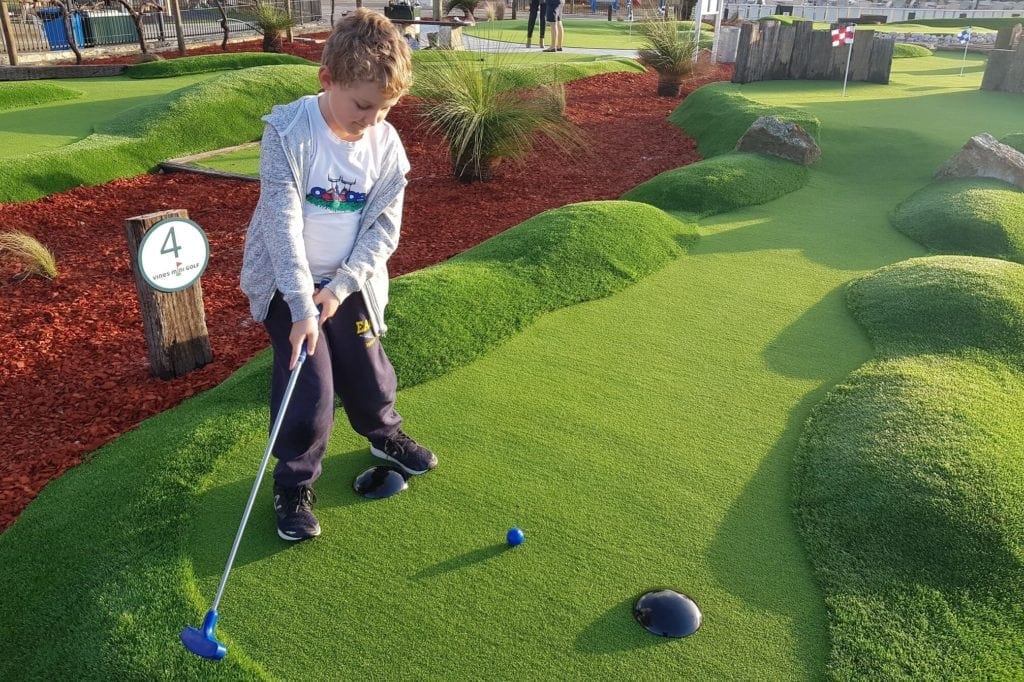 It's designed this way to give you a slightly different experience if you play more than once. Little Chef decided he'd try the blue holes, I tried the red.
Each hole has its own individual challenges – sand traps, slopes and hills, bridges, tunnels and water features. There are streams meandering past many of the holes. We lost a couple of balls in there… whoops! Be mindful of the water if you have small children with you. There's some koi in there too.
There's a hole with two tunnels, taking the balls down to a lower level, that was a big hit with Little Chef.
I thought all the holes were fun and each had its own individual challenge. Here are some fun facts:
1100 m2 of synthetic grass was used.
Over 140 m3 of concrete was used.
40 tonnes of rock and 35 tonnes of smaller river rock has been used.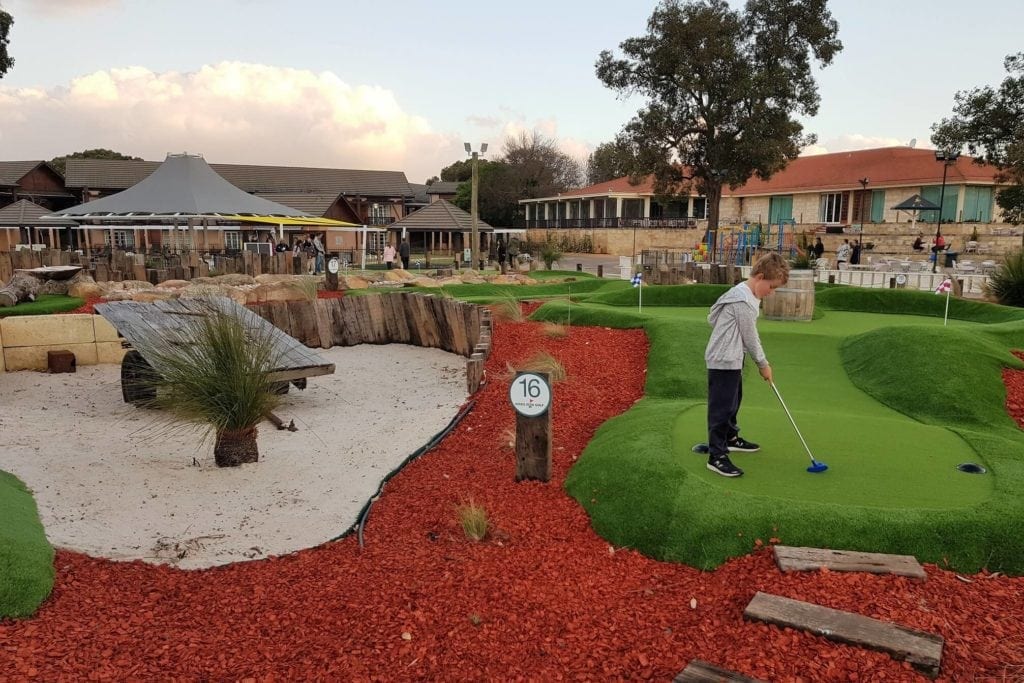 Little Chef was stoked that he got TWO holes in one! When we played, we were lucky to get a sneak peek before the course opened to the public. They were still making a few finishing touches, including a fun "winner's podium", just to make it a little more competitive.
Unlike traditional golf at The Vines, there's no strict dress code, though everyone must have footwear on at all times and you cannot wear high heels on the course.
The course is very well done and challenging for all skill levels. Vines Mini Golf is a good idea for a kids birthday party too. There's no shade and the average play time is about 1 hour, so remember to slip, slop slap! There are a few benches around the course.
Next to the mini golf course is a playground, surrounded by sand.
You can enjoy a bite to eat after your game at Greenside Café or the Vines Café. There are vending machines and a kiosk for refreshments and toilets nearby.
Vines Mini Golf is a "hole" lot of fun! We enjoyed the challenges of trying to keep the ball out of the water and of course, Little Chef beat me. I'll be challenging to a re-match very soon. We will definitely go back there again. It's loads of fun for the whole family – no experience necessary!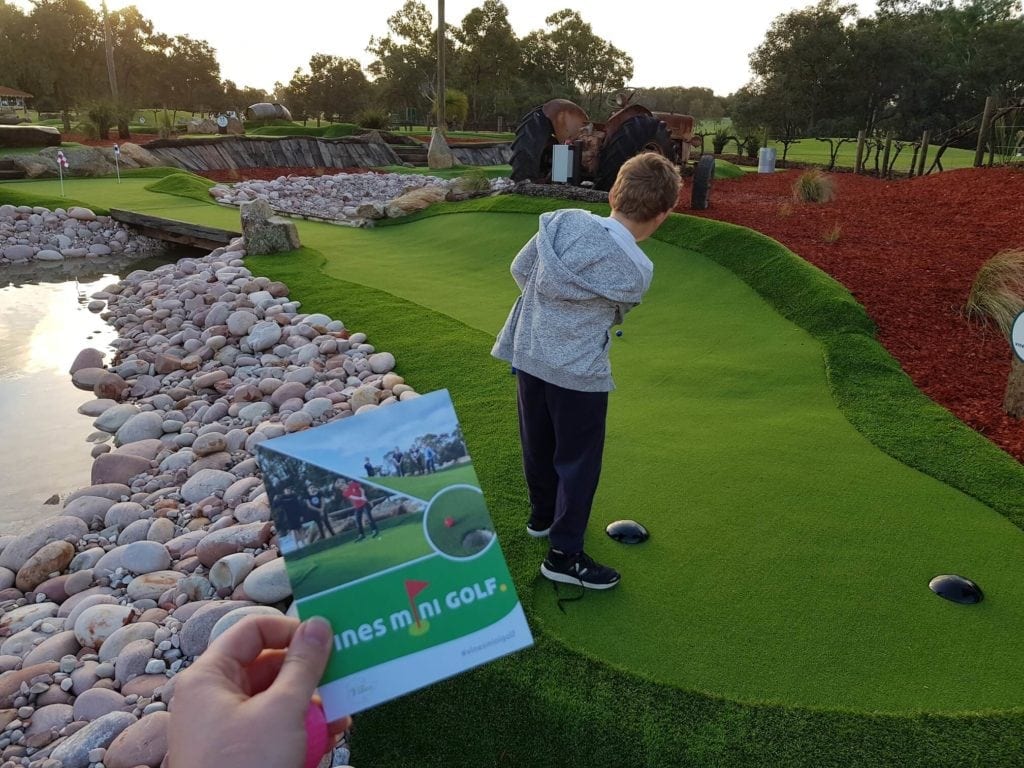 Information
The Vines mini golf is open seven days.
OCTOBER to APRIL: 8am – 9pm (last tee-off 8pm)
MAY to SEPTEMBER: 8am – 5:30pm (last tee-off 4pm)
By night the course is floodlit.
Bookings aren't required, only if you have a group of 20 or more.
Prices
Adults $15
Children/concession $10
Family Rate (two adults, two children OR 1 Adult, 3 children) $39
Kids Under 5 Free
Find out more on their website.
Find Vines Mini Golf at The Vines Resort and Country Club, Verdelho Drive, The Vines, WA 6069
Find more mini golf courses in Perth.