All hands hoy The Pirate Ship Mandurah and get ready for a seriously fun pirate adventure through Mandurah's inland waterways and canals!
Having done scenic cruises through Mandurah several times in the past, I was expecting a similar experience, but I was very wrong. The Pirate Ship Mandurah offers a completely unique experience that adults and kids of all ages will love – I know we did! The 45 minute cruise departs from eastern foreshore near The Bay Cafe, cruises depart on the hour every hour starting at 10am and the last cruise departing at 3pm.
Having booked online, my kids were prepared, wearing their best pirate costumes and ready to embrace their inner pirate – Aaaarrrrgggghhhh! But don't worry, there is a treasure chest full of pirate hats for everyone on board to wear – you might even get donned the pirate's wench or Captain Jack Sparrow.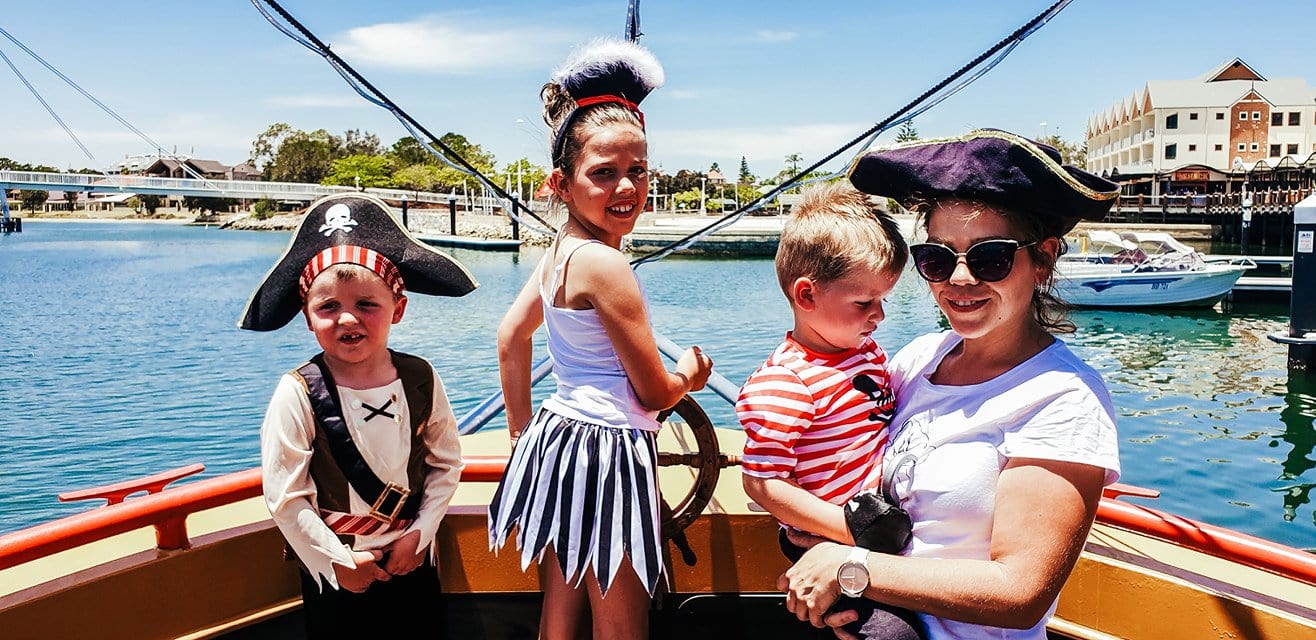 The open-air design of the pirate ship means no matter where you sit on the boat you can take in the gorgeous scenery and have the opportunity to spot local dolphins easily. There is a toilet on board, and refreshments available for purchase.
Among the highlights was Crazy Pirate George! And as his name suggests, he is pretty crazy (a slight under exaggeration there), a little bit naughty and very entertaining for both the kids and the adults! He plays his role as a pirate extremely well, and definitely had my kids believing he is a real pirate!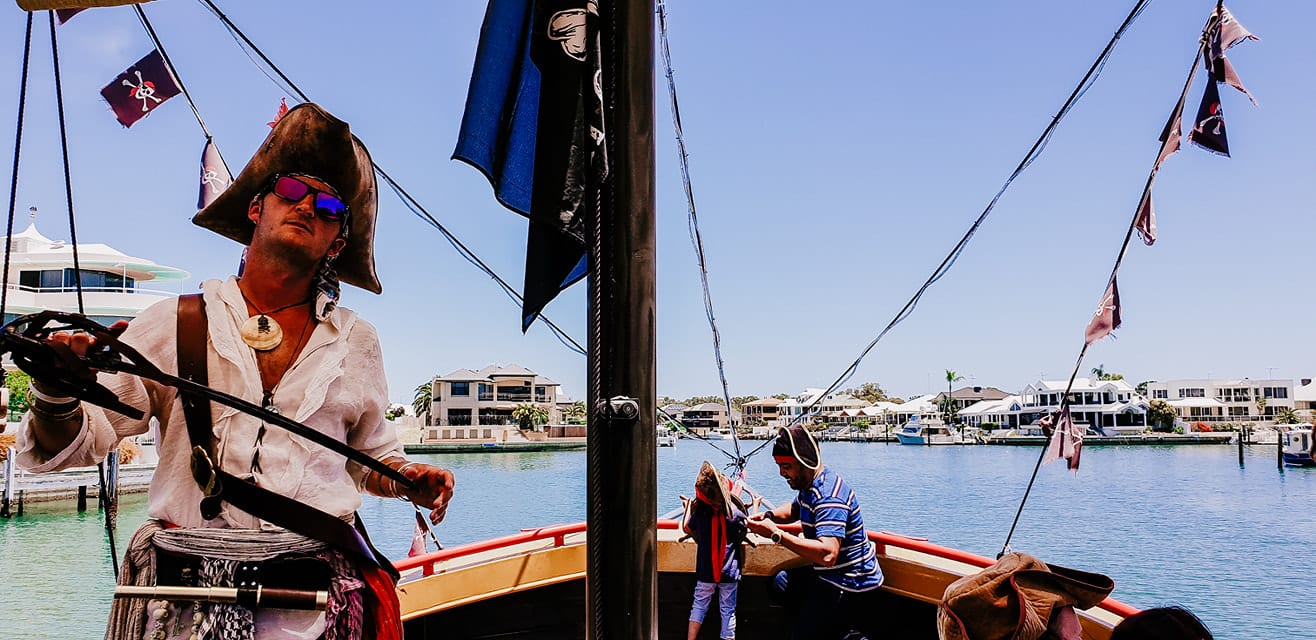 Another highlight for the kids was steering the ship with the pretend wheel, not that they knew it was only pretend.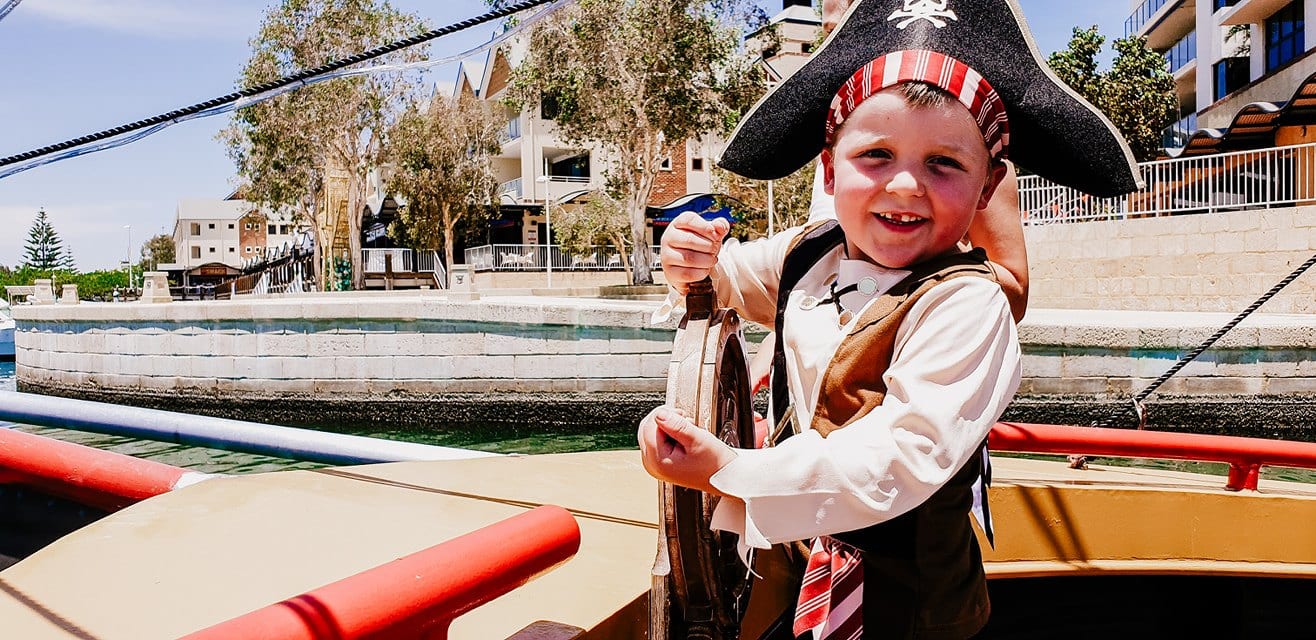 They also enjoyed watching Crazy Pirate George lower the masts to navigate under the canal bridges, they would watch in anticipation to see if we would make it under safely or not.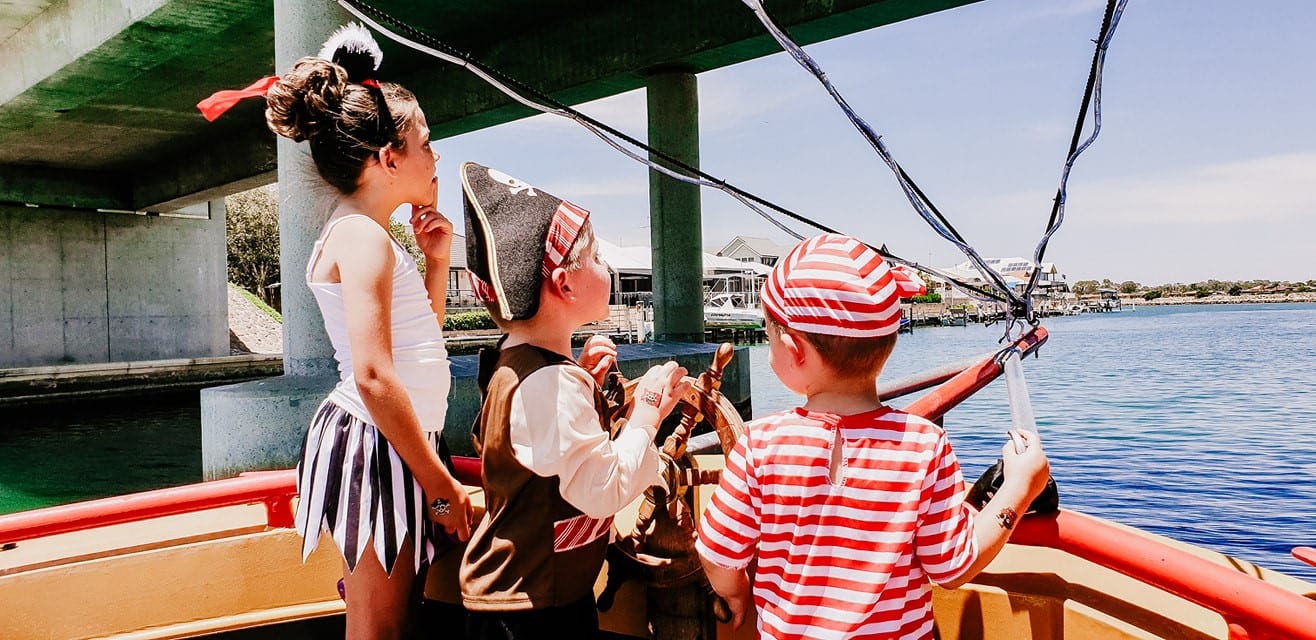 The cruise is informative as well as entertaining, with facts about the ship itself and information about key landmarks – we even spotted some dinosaurs and fellow pirates.
Before returning to the foreshore, Crazy Pirate George give the kids pirate tattoos, making their transition to pirates complete.
Cruises operate every day in the school holidays, Thursday to Sunday during the school term and only on weekends during winter (weather permitting). Online bookings are recommended especially during peak periods. Bookings can also be made at the Mandurah Visitor Centre or the boat before departure. In addition to the 45 minute scenic pirate cruise, The Pirate Ship Mandurah also offers a lunch cruise, Christmas lights cruise, private hire & birthday parties.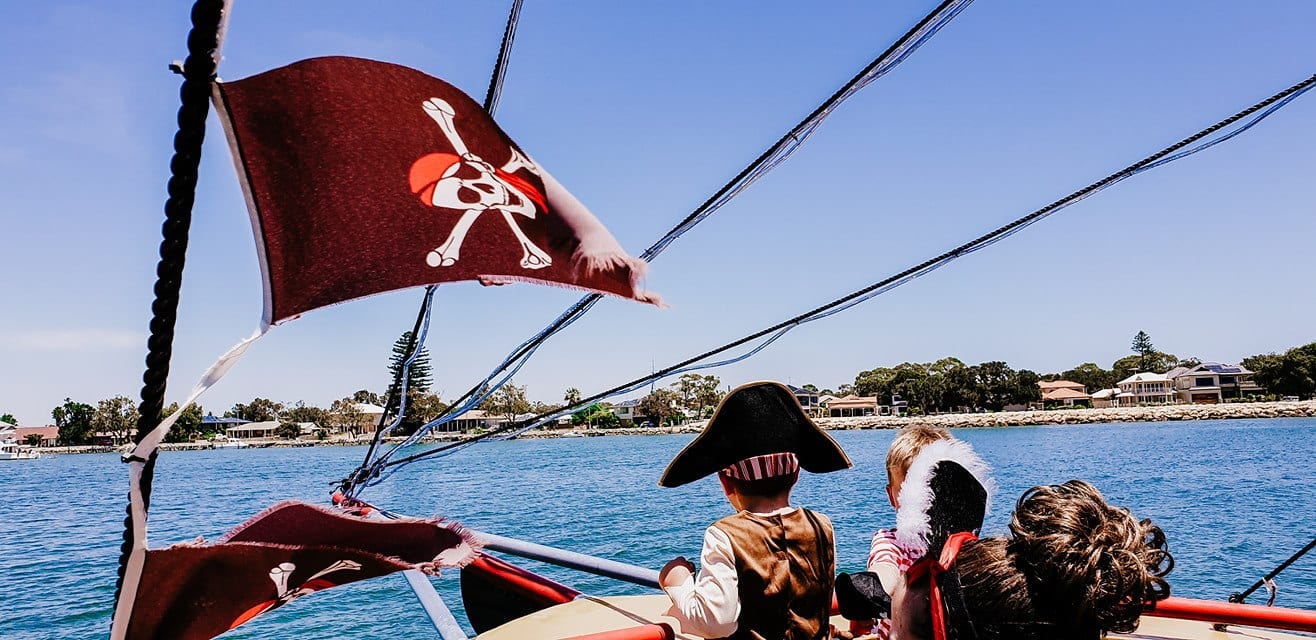 The Pirate Ship Mandurah
Eastern Foreshore Jetty, Near The Bay Cafe & Opposite 26 Mandurah Terrace.
Pricing
Adults $24
Kids $12
Family (2x Adults 2x Kids) $64
Seniors  $20
www.facebook.com/pirateshipmandurah
www.instagram.com/pirateshipmandurah
Find more things to do in Mandurah